Maria Kowroski was born in Grand Rapids, Michigan, where she began her ballet training at age seven with the School of Grand Rapids Ballet.
Ms. Kowroski entered the School of American Ballet (SAB), the official school of New York City Ballet, in the fall of 1992.
She became an apprentice with New York City Ballet in the summer of 1994 and was invited to join the Company as a member of the corps de ballet in January of 1995.
In the spring of 1997, Ms. Kowroski was promoted to the rank of soloist and in the spring of 1999, she was promoted to principal dancer.
GEORGE BALANCHINE
Agon
Apollo
Brahms-Schoenberg Quartet (Fourth Movement)
Bugaku
Chaconne
Concerto Barocco
Cortège Hongrois
"Diamonds" from Jewels
Episodes
"Emeralds" from Jewels
Firebird
The Four Temperaments

Ivesiana

Kammermusik No. 2
Liebeslieder Walzer
A Midsummer Night's Dream (Titania)
Monumentum pro Gesualdo
Movements for Piano and Orchestra
Mozartiana
George Balanchine's The Nutcracker®

(Sugarplum Fairy, Dewdrop, Coffee)
Prodigal Son
Robert Schumann's "Davidsbündlertänze"
"Rubies" from Jewels
Slaughter on Tenth Avenue
Stravinsky Violin Concerto
Swan Lake
Serenade
Symphony in C (Second Movement)
Union Jack (R.C.A.F. and Wrens)
La Valse
Variations pour une Porte et un Soupir
Vienna Waltzes
ULYSSES DOVE
ELIOT FELD
WILLIAM FORSYTHE
Herman Schmerman Pas de Deux
ROBERT LA FOSSE
Concerto in Five Movements
PETER MARTINS
Harmonielehre
Jazz (Six Syncopated Movements)
Morgen
Naïve and Sentimental Music
River of Light
Romeo + Juliet (Lady Capulet)
The Sleeping Beauty (Lilac Fairy, Carabosse, Diamond)
Sophisticated Lady
Swan Lake
Suite from Histoire du Soldat
Todo Buenos Aires
The Waltz Project
ALEXEI RATMANSKY
Middle Duet
Russian Seasons
JEROME ROBBINS
Antique Epigraphs
The Cage
The Concert
Dances at a Gathering
Fanfare
The Goldberg Variations
I'm Old Fashioned
In G Major
In Memory Of...
In the Night
Moves
Piano Pieces
RICHARD TANNER
Ancient Airs and Dances
Schoenberg/Wuorinen Variations
Sonatas and Interludes
CHRISTOPHER WHEELDON
After the Rain Pas de Deux
Carnival of the Animals
DGV: Danse à Grande Vitesse (NYCB Premiere)
Liturgy
Polyphonia
Mauro Bigonzetti
In Vento
Luce Nascosta
Oltremare
Vespro
Boris Eifman
Jorma Elo
Eliot Feld
Douglas Lee
Edwaard Liang
Peter Martins
Bal de Couture
Them Twos
Thou Swell
Wayne McGregor
Benjamin Millepied
Matthew Neenan
Justin Peck
Susan Stroman
"The Blue Necklace" from Double Feature (Dorothy Brooks)
"Blossom Got Kissed" from Duke!
Helgi Tomasson
Christopher Wheeldon
After the Rain
Les Carillons
Variations Sérieuses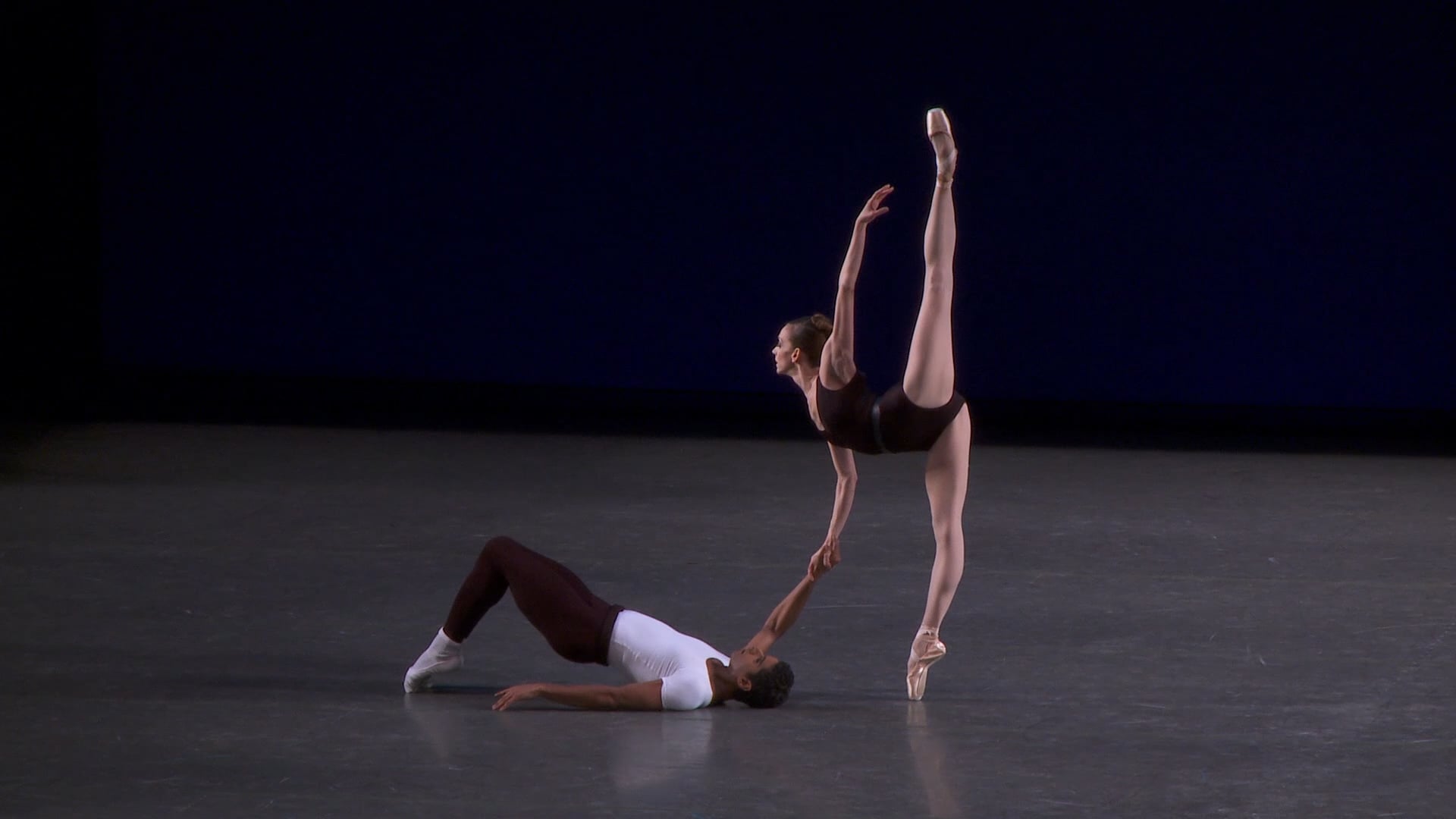 Anatomy of a Dance
Maria Kowroski on Balanchine's AGON
Maria Kowroski discusses how this Balanchine classic is, at its root, the story of a relationship. Agon translates as "contest" in Greek, and the ballet's central pas de deux is a back-and-forth conversation between a couple, manifested in physical form.
OTHER PERFORMANCES
In May of 2002, Ms. Kowroski appeared in the Live from Lincoln Center broadcast of "New York City Ballet's Diamond Project: Ten Years of New Choreography," dancing in Them Twos and Red Angels, and in May of 2004 she appeared in the Live from Lincoln Center broadcast of "Lincoln Center Celebrates Balanchine 100," dancing in Concerto Barocco.
Ms. Kowroski has performed as a guest artist with the Maryinsky Ballet in productions of Swan Lake and Jewels, as well as with the Munich Ballet in Apollo and Brahms-Schoenberg Quartet.
HONORS
Ms. Kowroski was the recipient of the Princess Grace Award in 1994.
Portrait © Peter Hurley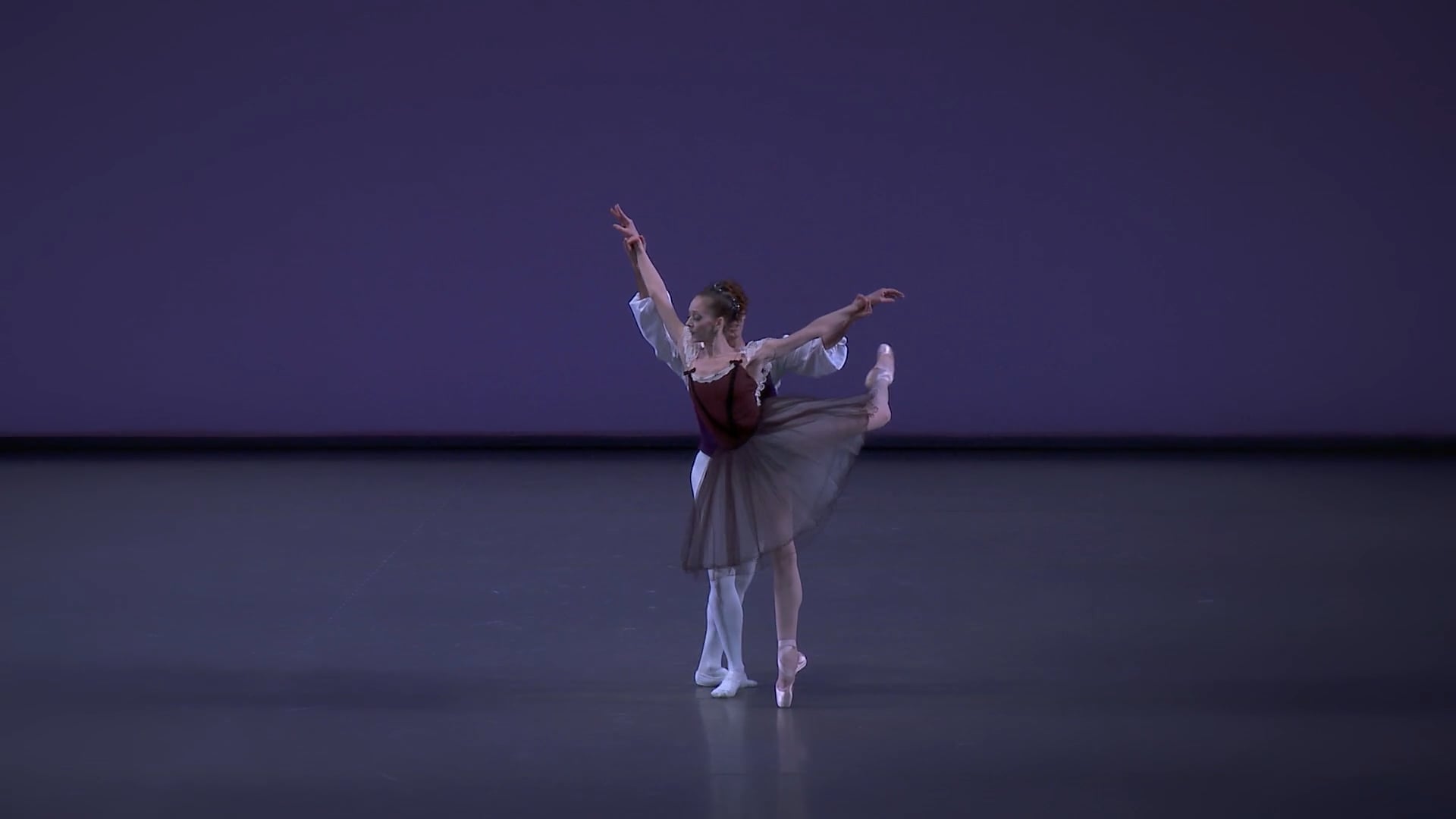 Anatomy of a Dance
Maria Kowroski on MOZARTIANA
The lead role in this late-career Balanchine work often goes to to the most senior ballerina in the company. Maria Kowroski had to wait her turn, and it was worth it – the musicality of the work gives her space to interpret the steps in a manner that's both individual and reflective.