Jerome Robbins: American Dreamer
What Makes Jerome Robbins' Choreography an American Classic?
By Ellen O'Connell Whittet, May 8, 2018
"I think that when I dance a Jerome Robbins ballet, I feel the most like myself," says NYCB dancer Sterling Hyltin. During the Robbins 100 festival (May 3 – 20, 2018), a centenary celebration of the choreographer's brilliance, she'll have plenty of opportunities to show this quality. NYCB's Robbins 100 festival showcases 20 of the choreographer's ballets along with Something to Dance About, a revival of Robbins' Broadway choreography staged and directed by Warren Carlyle, and a Justin Peck premiere, Easy, that pays tribute to Robbins' classic collaborations with composer Leonard Bernstein.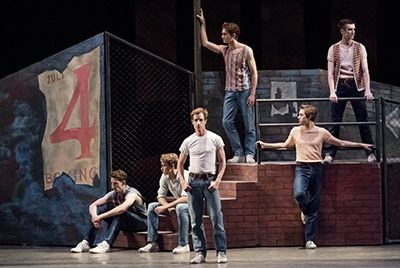 Born in 1918, Robbins led an exceptional artistic career as a choreographer, director, and artistic spark whose work blazed a path through American dance and theater. During that time, Robbins answered once and for all the question of whether ballet could be distinctly American. His masterpieces relied on jazz, sailors, and rival gangs, along with America's promises and its realities. He made his subjects, and the stories he told about them, stay true to the world that he saw.

Robbins' skill for choreographing on the stages of both Broadway and Lincoln Center gave him the unparalleled ability to build entire worlds of imagination through dance. And his gifts still have an effect on NYCB's dancers — including Principal Dancers Hytlin and Andrew Veyette, and Corps de Ballet Members Harrison Coll and Daniel Applebaum. This spring, all four performers will have featured roles in some of Robbins' best works, and they have a unique, intimate perspective on this American genius.

As Andrew Veyette says, "When someone does a Jerome Robbins piece, they become those characters. Jerry's ballets feel very internal," he says. "It's much more about dancing with and for each other." Citing ballets like The Goldberg Variations and Dances at a Gathering, he adds, "There could be no audience at all. It's more like watching something cinematic that's happening on a hillside somewhere rather than on a stage." This world unto itself allows dancers to dance more for each other than usual, he says. "You're living in the world that the ballet is taking place in." Robbins' dancers look like people we know, dancing together in a world we recognize, telling stories through their bodies' natural responses to the music.
The various characters' interactions create Robbins' trademark combination of dance and theater. "The most I've learned about how to stage act has come from dancing The Concert," says Hyltin. "There really is a narrative for each section. It's been the most useful vessel for me to test comedic timing, and how much time needs to go by before I can move on to a new gesture." Robbins wanted this dance-acting to be a natural expression of each dancer's own particular style, unconscious and spontaneous rather than studied and artificial. His choreography is earthy, full of tension, and undeniably human.

"I think that a lot of times, audience members very well might get the most authentic versions of the [dancers] when they're performing a Robbins ballet," Hylin admits. Dancers have to learn not only the steps of the ballet but the moods of the roles they dance in a Robbins ballet — the small moments of storytelling tucked within longer works, and the sense of community that creates onstage.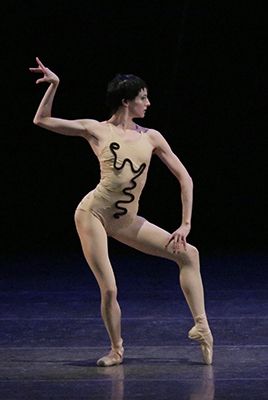 Robbins, the son of Russian-Jewish immigrants who grew up mainly in Weehawken, NJ, was able to capture the promise and the myth of the immigrant experience particular to twentieth-century America. "He provides a much more complicated experience," says Daniel Applebaum. "He allows you to see his demons." In ballets like Dybbuk, inspired by a Yiddish play about the spirits in Jewish folklore that take hold of people, and the Broadway production West Side Story, about the warring gangs of the Polish-Irish-Italian Americans Jets and the Puerto-Rican Sharks, the tension and integration of Old World stories poured into the great melting pot provide the flavor for the contemporary narratives and characters.

"There's something interesting about having a different version of an immigrant story, [told by someone] who grew up here but still very much had a taste of his own history," Applebaum says. "I think Robbins is very much in tune with the outsider, and what it's like being the outsider trying to find his way in." The conflict arising from distinctly American values like assimilation and progress provides the backdrop for much of Robbins' work both on Broadway and for NYCB. They are also his most lasting legacy.

Even the ballets that don't rely on the optics of Americana reimagine classical tropes by setting them in a modern world. "I feel very proud that an American choreographer created these iconic works," says Harrison Coll. "He expressed his heritage so strongly through art. And he encouraged his dancers to connect with their roots. In America, all of us have different roots."

NYCB's dancers look forward to many moments of the Robbins 100, particularly those that invite a new perspective inspired by an old repertory. "I'm doing The Concert and it starts with a grand orchestrated version of a Chopin mazurka," says Applebaum. "The curtain goes up and there are a bunch of laughs. And there are these two chords that come on right before I enter. There is something so peaceful about that entrance. There's something about the way I prepare myself in the wings that's a little different in a Robbins ballet. I have to accept myself. I'm just allowing my imperfections to show."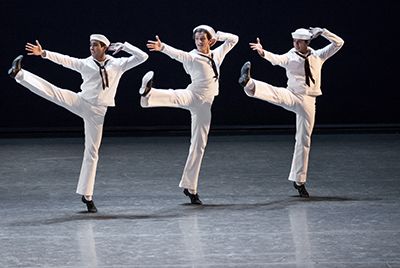 "I'm excited to be doing the pas de deux in Fancy Free because that is one of the ballets that inspired me to be a dancer," adds Coll."I remember sitting in the audience watching Damian Woetzel and Tiler Peck dance this pas de deux. And now I get to dance it with Tiler Peck." He says, "I'm really excited to be part of this company and part of this festival. I would call it the highlight of my career."

For Hyltin, who has performed in a wide range of Robbins ballets, including Afternoon of a Faun, The Cage, The Concert, Dances at a Gathering, and Opus 19/The Dreamer, among others, one ballet has a special significance during the festival. "I'm excited to debut in Dybbuk. It's a really rare Robbins work that only comes back every 10 or 11 years." She calls it a masterpiece. She elaborates: "They're all masterpieces, all of them," she adds, "and I'm glad he's being celebrated."



NYCB Performance photos © Paul Kolnik
The Concert featuring Principal Dancer Sterling Hyltin
West Side Story Suite featuring Principal Dance Andrew Veyette and ensemble
The Goldberg Variations featuring Corps de Ballet dancer Daniel Applebaum and Principal Dancer Taylor Stanley
The Cage featuring Principal Dancer Sterling Hyltin
Fancy Free eaturing Corps de Ballet dancers Sebastian Villarini-Velez, Harrison Coll, and Roman Mejia