Marcel Dzama And His Incredible Things
By Terry Truco, January 12, 2016
Marcel Dzama stands over a large table in an art-filled back room at the David Zwirner gallery in Chelsea, paging through drawings for his latest project—the costume and set designs for The Most Incredible Thing, the new ballet by New York City Ballet Resident Choreographer Justin Peck. His creations seem poised to leap off the page, but you won't see tutus or leotards or really anything you've ever seen on the NYCB stage. "Early on I censored myself a little bit and did a few really ballet-looking drawings. And that's when Justin said, 'You know what? I want you to do them in your style,' " says Dzama.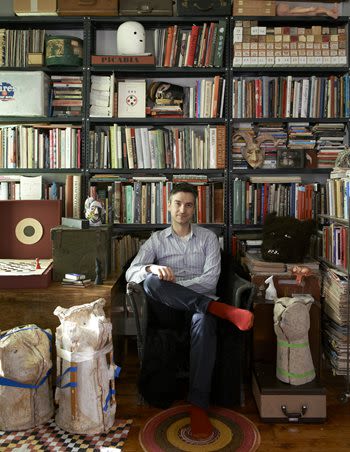 The Dzama style, familiar to the legions that have followed the Winnipeg-born artist's white-hot, multidisciplinary career, starts with delicate pen-and-ink drawings that usher you into exquisitely imagined fantasy worlds, surreal and spooky.

Enigmatic characters appear, shaped in varying degrees by the myriad influences found in Dzama's idiosyncratic work—Marcel Duchamp, William Blake, Hieronymus Bosch, Francis Picabia, Dante, and The Red Shoes, to name a few. Here in Dzamaland, hooded women warriors swinging AK-47s pose in arabesque and mysterious figures enveloped in polka-dot bodysuits wave swords, brandish babies, and when the mood strikes, fall into a high-kicking chorus line.

The dance references are no fluke. After moving to New York in 2004, Dzama's response to a claustrophobic city was to create densely populated images. "The work became a chaos of characters, and slowly I began to put them into dance positions to give order to the chaos. From that I became fascinated by dance," he says.

And yes, he dreamed of working on a project with a ballet company one day. "I thought, maybe when I'm 60. But it materialized much sooner than I thought it would," says the soft-spoken 41-year-old artist, with a little smile.

On February 2, the curtain rises on Dzama's mind-bending costumes and backdrops, with the world premiere of Peck's new ballet, based upon The Most Incredible Thing, a little-known story by Hans Christian Andersen and set to a commissioned score by composer Bryce Dessner. "It's like an homage to the Ballets Russes days, when a designer with a visual arts background would come in and do the sets and costumes," says Peck.

But Dzama's contribution goes beyond The Most Incredible Thing. This Winter Season NYCB's Art Series returns with a multidisciplinary installation created by Dzama for the Company's Lincoln Center home—the first time in the Art Series' four-year history that an artist's work is simultaneously on view onstage and throughout the theater. The theme for Dzama's Art Series installation on the Promenade of the David H. Koch Theater is chess, a nod to the artist's ongoing obsession with the chess-loving Duchamp. Look for towering sculptures of chess pieces separated into red and blue teams, a merry-go-round dressed with mischievous puppets, a video playing on two giant screens, and a grand-scale surprise or two.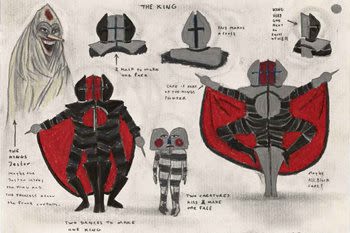 The ballet came first. Peck and Dessner, a Brooklyn-based composer and co-founder and guitarist for the Grammy Award-nominated band The National, had previously worked together on the ballet Murder Ballades, for L.A. Dance Project. Seeking to add a visual artist collaborator to the team for their next piece, they saw Dzama's solo show at Zwirner featuring Une danse des bouffons (or A jester's dance), Dzama's film with Kim Gordon of Sonic Youth fame, in September 2014. With his storytelling ability and affinity for dance, Dzama seemed the ideal visual artist to work on their next piece, even though Peck had not yet decided what it would be. But having Dzama on board inspired Peck to flex a fresh set of muscles and create his first one-act story ballet in the tradition of such NYCB classics as George Balanchine's Firebird and La Sonnambula. "Marcel was a huge factor in the choice of The Most Incredible Thing. If it was a different artist, we probably would have done something else," says Peck.

With its tale of a young man who builds a spectacular clock in an attempt to win a contest and a princess, The Most Incredible Thing called for Dzama to devise a fanciful kingdom with three hand-drawn backdrops and costumes for 56 characters, from a two-faced villain with a club for an arm to the Five Senses, imagined as clock mechanisms shaped like tops. A big influence for Dzama was the Bauhaus artist Oskar Schlemmer and his avant-garde Triadic Ballet from 1922. "He had the dancers perform with giant helmets and weird prosthetic legs that restricted their movement," Dzama says admiringly. After Peck described how much dancing each character would do, the artist went to work, adjusting his designs to each dancer's needs.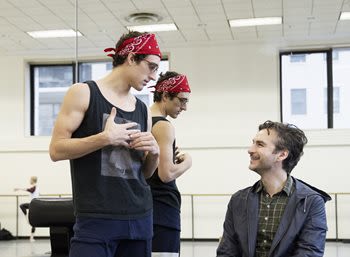 Dzama's first memories are of drawing—"anything with a robot in it," he says of his earliest influences. Diagnosed with dyslexia as a child, art became his natural language. At the University of Manitoba School of Art he was a founding member of the Royal Art Lodge, an artists' collective whose darkly humorous drawings landed an exhibition in a prominent Winnipeg contemporary art space. Dzama's singular talent for depicting "humanoids running amok," as one critic put it, was noticed. Solo exhibitions followed in quick succession in Santa Monica, Rio de Janeiro, São Paulo, San Antonio, Berlin, and New York. At 23, the self-effacing Canadian had an international following.

His work resides in the permanent collections of The Museum of Modern Art and The Guggenheim Museum in New York and Tate Modern in London, among other places, but Dzama regularly steps outside the visual art world. He's designed a record album cover for Beck, contributed drawings to Dave Eggers' literary journal The Believer, and art-directed short films for Spike Jonze.

And then there's his work with NYCB. Earlier, he had said that he ventured into film and dance to get outside his comfort zone, to tap into the energy that comes with trying something that extends beyond what you know. Was working with NYCB a comfort-zone-altering experience?

"I've never worked on a piece this large and dense," he says, gazing down at his backdrop drawing for a scene early in the ballet. It's an intricate, eye-dazzling Dzama tour de force, depicting nearly 50 otherworldly candidates hoping to win the prize for the most unusual thing. "I'm glad I didn't have to paint that curtain," he says.


Marcel in his studio © Jason Schmidt, courtesy David Zwirner
Sketches © Marcel Dzama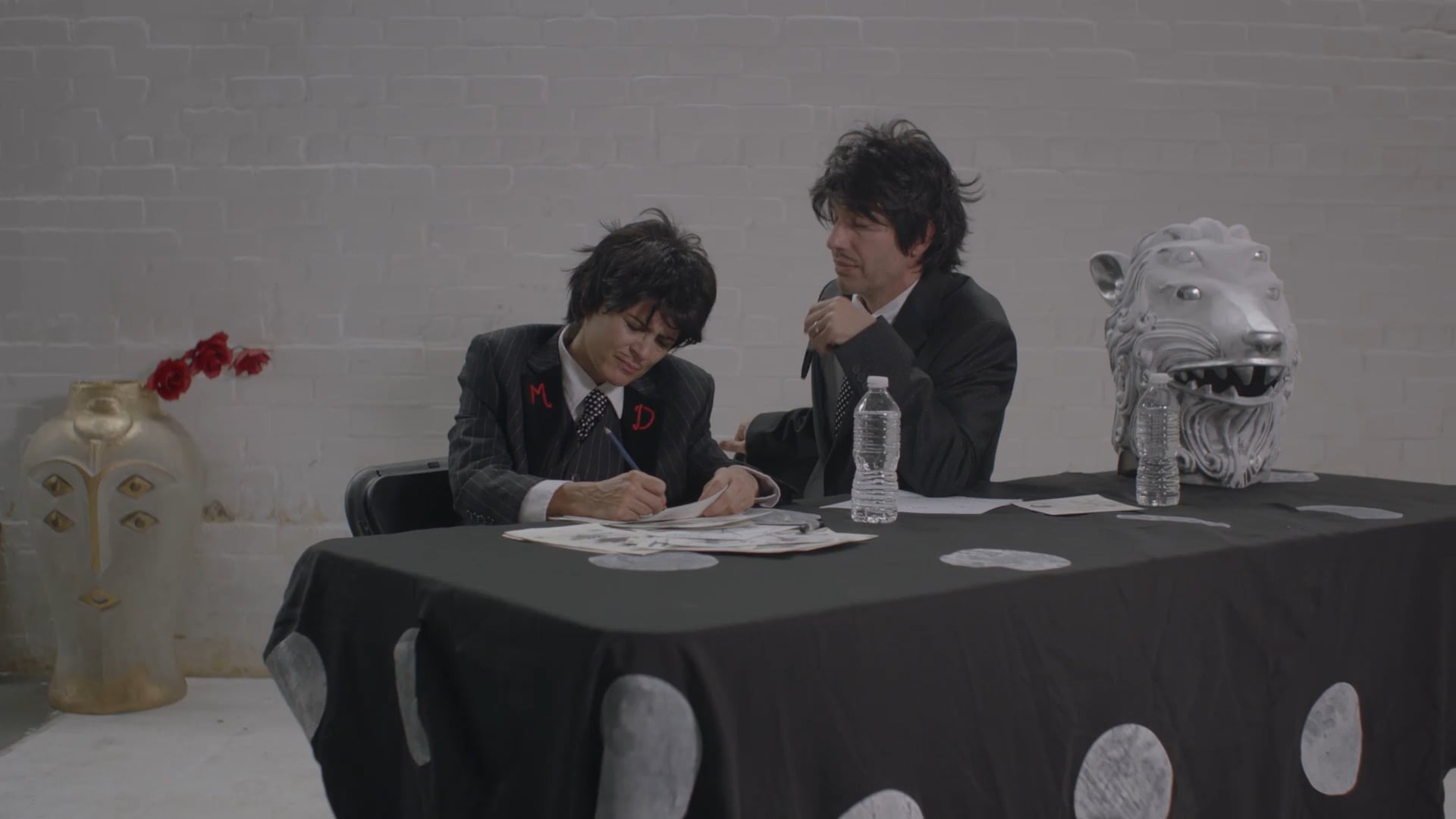 NYCB Art Series Presents Marcel Dzama
New York City Ballet welcomes Winnipeg native and Brooklyn based interdisciplinary artist Marcel Dzama for the 2016 Art Series. Dzama will exhibit Art Series' first ever digital installation this winter on the theater's Promenade, complete with a chess match dance off and an incognito appearance by Amy Sedaris.