Studio Visit: Chun Wai Chan
Get to Know One of NYCB's Newest Dancers
By Madelyn Sutton, November 16, 2021
After an unthinkable year away from our Lincoln Center stage, Marie, the Nutcracker, and all the enchantment of the Land of Sweets are making their triumphant return, reviving the joy and wonder that accompany this annual tradition. This year, a new member of the New York City Ballet family will be taking part in the magic.
In October of 2020, NYCB announced that Chun Wai Chan would be joining the Company as a Soloist beginning with the 2021-22 Season. Initially trained at the Guangzhou Art School, Chun Wai was a finalist in the 2010 Prix de Lausanne, which led to a full scholarship to study with Houston Ballet II. He joined the Houston Ballet as a corps de ballet member in 2012, and was promoted to the rank of principal dancer in 2015.
More than a year has passed since the initial announcement that Chun Wai would be entering the NYCB ranks, and much of that year was spent far from New York City; now that he has officially made the move and completed his first onstage performances with the Company, we sat down to get to know him a little bit better.
Please tell us about your early years as a dancer.
Last year, when I went back to China, I saw some pictures from 1996 where I was watching my sister dance; in 1997, when I was 5 years old, I started to dance myself. And since then I just fell in love with dance. Every time the kindergarten teacher would ask, "Who wants to be in the New Year recital?" I raised my hand.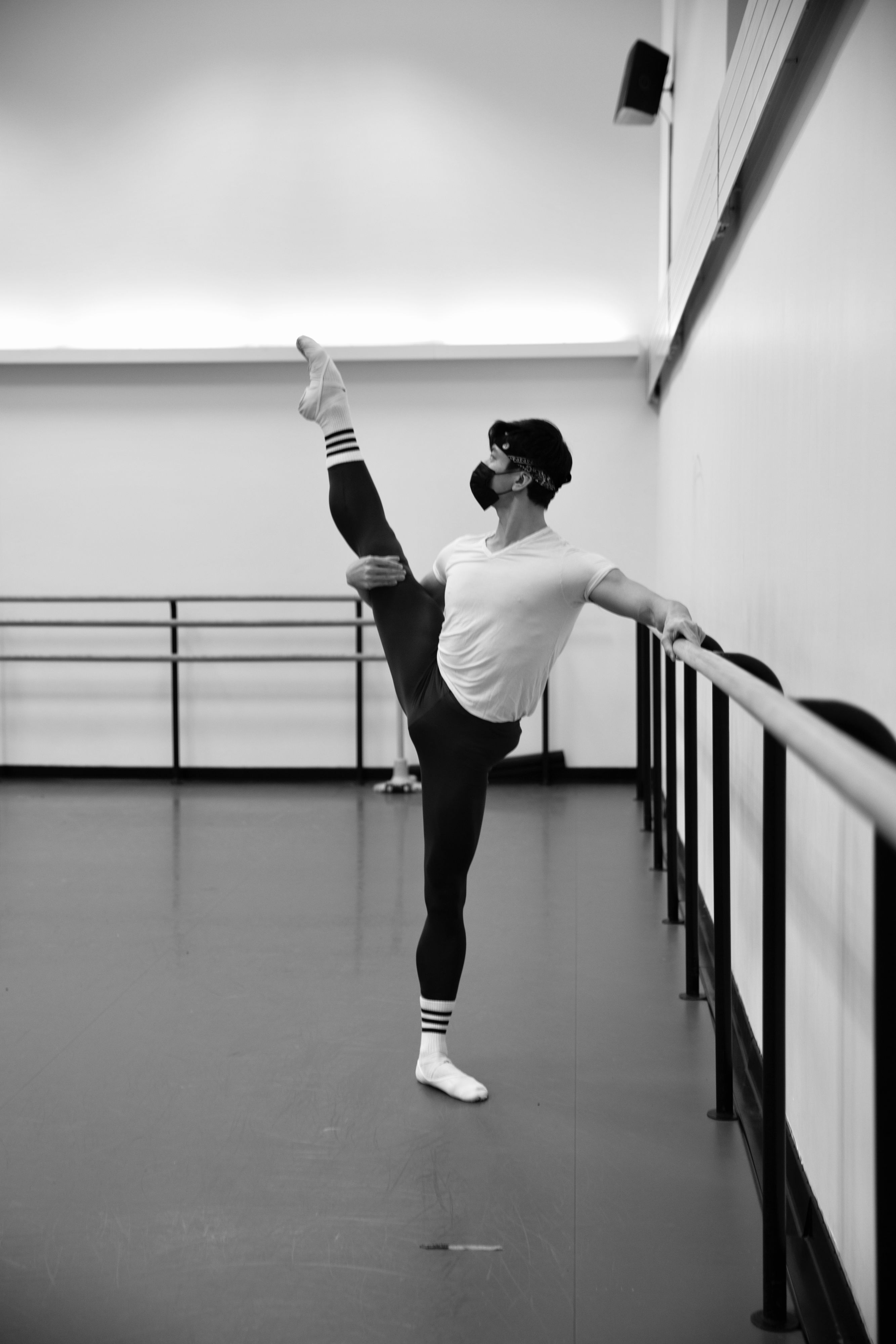 I really felt a sense of accomplishment. I enjoyed staying in the studio at the end of the day when everyone was finished—that's when I would start to rehearse. When my mom saw me dancing in the recital, she was like, "No way he can do all the cartwheels and stuff. Nobody taught him that at home, and now he can do it!" She was very surprised, and since then she's been very supportive. Every weekend when my parents were working, they would just put me and my sister in the dance studio.
At the age of 12, they asked me if I wanted to go to boarding school to start training for professional ballet. I said yes, even though my grandparents were like, "No." They were refusing because they were thinking, if I'm a professional dancer, it will be dancing in the background. But I insisted that I really did feel that this was what I wanted.
To train in Guangzhou, we had to leave home—everyone had to stay at the school. We would have a half-day of dancing, including Chinese folk dance, and contemporary, and classical Russian training, and then another half-day was studying. The schedule was very compact and we had to wake up around 6 in the morning, and then go to bed at 10; there was a teacher who was responsible for our schedule, and she would even check if we turned off the light on time or not. So it was very restricted with the schedule. It was mostly ballet training—it would be three hours a day of ballet, and then the rest would be like one hour folk, one hour contemporary.
You had such an impressive career in Houston; can you share how you got there, and what your years in Texas taught you, both as a dancer and as an artist in general?
The Prix de Lausanne was the last competition before I moved away from Guangzhou; there were six men from my class who went to the competition—13 of us auditioned and six of us were picked. We were all willing to pay the fees and to follow the conditions because we knew all the schools around the world wouldbe watching us—not only the performances onstage, but also how we interacted with the coach, how we listened to notes. I luckily received offers from nine different schools and companies, including Houston Ballet.
I wasn't sure where I should go between all the offers. Then I watched a movie called Mao's Last Dancer [2009]. It was the story of [Li Cunxin,] a principal dancer with Houston Ballet. So I felt like I knew Houston much better. Also, the year I was in the competition, the winner was [Emanuel Amuchastegui] from Houston Ballet['s Ben Stevenson Academy], and I saw how he performed, his technique, and I was very intrigued by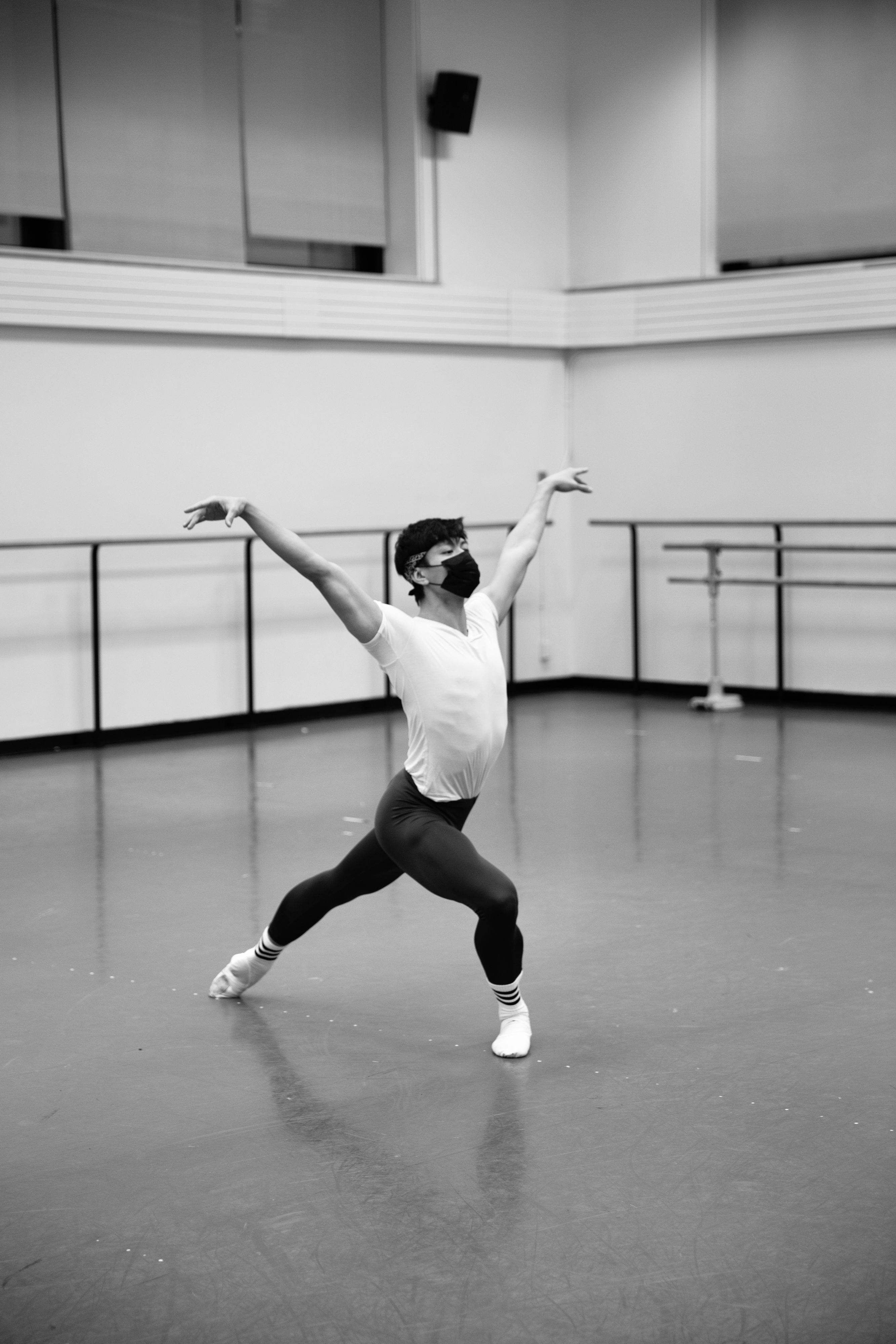 his performance. So I decided to go to Houston with one of my classmates. Along the way, I really enjoyed how they talked, and how much I grew not only in classical training but also in understanding the history of the art. I performed well in partnering and contemporary and acting—those are the three major things that I learned and developed in Houston, other than the technical stuff. And then two years later I joined Houston Ballet as a professional corps de ballet member, and within five years [of leaving China] I was promoted to principal.
It was very lucky—I was honored as I went through all the ranks; each time when they promoted me, it really gave me a lot of encouragement. They recognized my hard work, so I was very happy. And each time I just put more effort and energy into my dancing. So I guess they liked what I was doing.
An injury almost pushed me out of my professional career. I got injured twice during my first year in the company. The first injury happened onstage, my right thumb ligament was torn, and I decided to get surgery. After three months, our director was still willing to give me a chance and a lot of performances onstage, but [then] my ankle wasn't ready—it was really swollen. I didn't have the knowledge to take care of myself when I was hurting, so I was just pushing and pushing to the point that I couldn't dance anymore.Then our director told me, "You know, one of the most important things for dancers is that we are able to dance onstage; even though we have talents, if we cannot use them, then it means nothing." So from that meeting, I realized that a dance career is very risky, and I was doubting if that was something that I wanted. So I applied for the University of Arizona. I was like, "Well, since this wasn't what I imagined, because if we always have to start from the bottom after we get injured, that's not something that I want."
I got a full scholarship to the University, thinking, "I can still keep dancing, but I need to look for something else." But by the time I got the scholarship, I was working very smartly; I started very slow with dancing again, and the more I danced, the director just kept giving me chances. I know my parents were very happy that I got a scholarship to the University, but I told them that I think my heart still belongs to ballet. I wanted to stay in the company because the director cast me as Romeo; even though it was the fifth cast, the joy I felt from that was more than what I felt about getting a full scholarship to the University. So since then, I knew what I really wanted to do, I knew what I was in love with. The knowledge of how to take care of my body was the key to being promoted to the rank of principal, because I knew how to take it easy when I was hurting, and I knew that when I'm tired, I have to be extra focused on what I'm doing and instead of continuing to try steps, I have to think before I try. So the first year, that injury, it was a turning point in my career.
What convinced you most to join NYCB?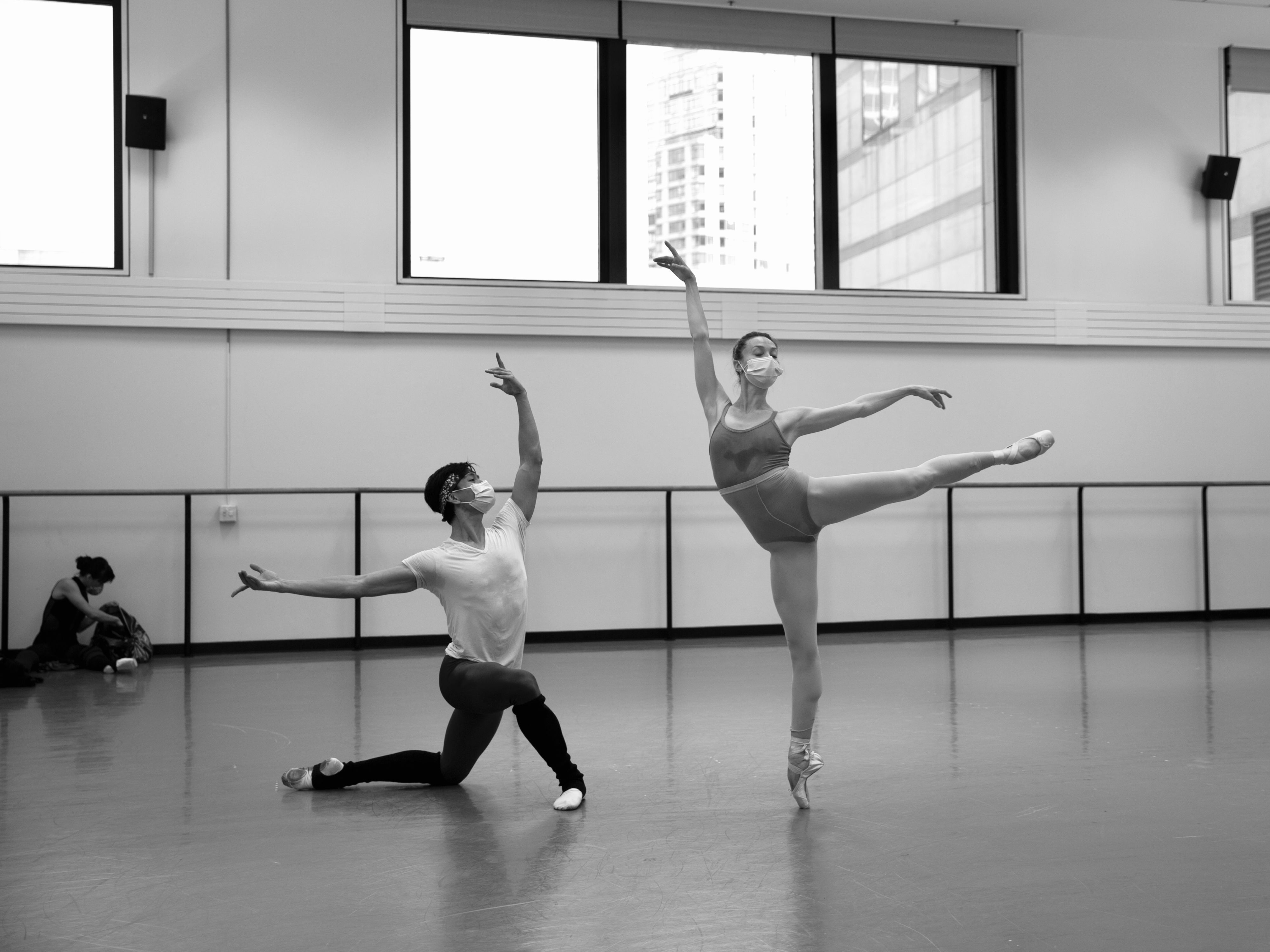 I guess that was Justin Peck. He created [2019's Reflections] on Houston Ballet, and I was doing a pas de trois, and then he gave me a chance to do a pas de deux, and I had a solo in the end—he just kept adding to my part in the ballet. At that time I was very happy and I had established everything in Houston, and my parents really wanted me to go back to China—I could do whatever I wanted as long as I was near them. That's how I got the principal guest position with Hong Kong Ballet. So I was like, "Well, I will either keep dancing in Houston or go to Hong Kong, because it's hard for me to start from zero and it's hard to make my parents wait so many years to be with me."
But then there was a turning point after the opening night of dancing in Justin's piece; it was that sense of freedom inside of his movement, with the music, and it was very different from what I had done before. Then I started looking at the Company, and my audition last January [2020] just totally changed my mind. Everyone is so nice, and the city is beautiful, and the repertory is great. The more I looked into New York City Ballet, the more it was like, "Wow, this is exactly what I've been looking for." So I was super excited when I got the job here. It was very unfortunate that we had the long break after the announcement [in October 2020]. But I really enjoyed all of last year because it felt like, I'm about to join NYCB. That sense of excitement lasted for a year.
How did you prepare as NYCB's opening night approached?
Last year, during the pandemic, I was in China, and for four months I was doing TV shows, running around and learning choreography and filming. It was a lot of traveling, with teaching and even some projects onstage. But for preparation, I asked Jon [Stafford] if he could share the link to the [virtual Company] classes, because I thought it was really going to help me to adapt to the style of Balanchine. So by taking the class, I was preparing. And the break last year was great because I started to let go of my habits, so that when I joined the Company, it was really like, okay, now I'm a New York City Ballet dancer. It was more the mental preparation, telling myself to let go of everything. I have to start from zero. I'm like a blank paper. So whatever the coach, whatever the director, whatever my colleagues are helping me with and telling me, I will just be open to change.
Your first full performance period is completed—how did it go?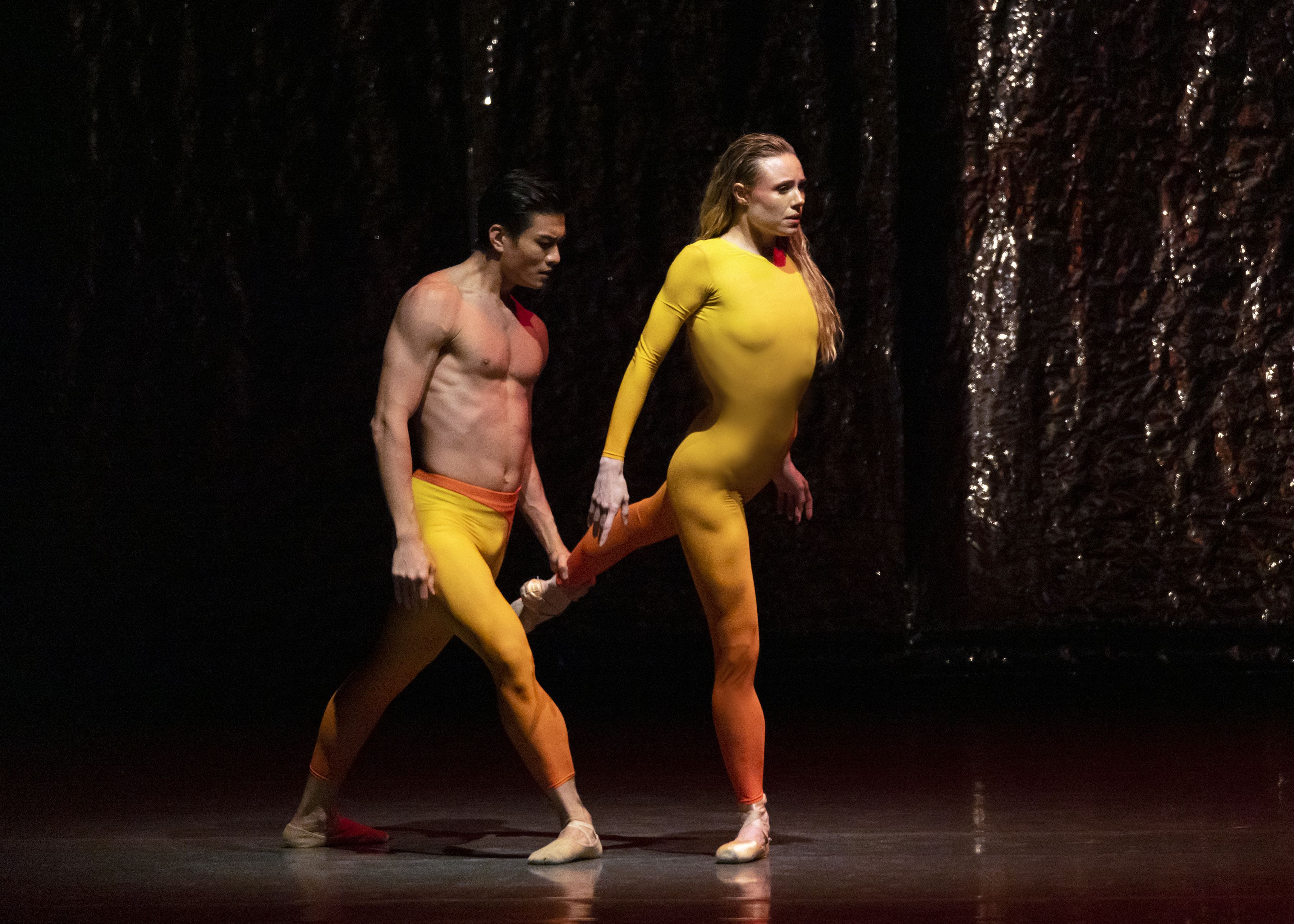 It went very well. I did Justin Peck's Pulcinella Variations and also Andrea Miller's sky to hold. These two ballets are very different, and I think that's one of the highlights, that I was able to show my classical side and then more of my contemporary side. It was so much fun dancing two different styles in one season. And I was very honored that I was able to be in a new piece already, in the first period since I've joined—there's something that I could contribute to the piece, with all the partnering skills that I've learned through the years in China and in Houston. That's very meaningful to me.
I noticed in an interview with Pointe Magazine last year you mentioned really enjoying Andrea Miller's new song film for the New Works Festival. Now, you've originated a featured role in her first onstage work for the Company. Can you tell us about that?
I forgot about that! It's like coming full-circle! The process with her was the longest ever for the Company, because we never have that much time. But to me, I had that experience in Houston, because we didn't have as many performances there and we had a longer rehearsal period. So, I was able to do the things that I had been doing over the years, and I was staying calm and just trying to help and do my part. Whatever the choreographer asked, I would just make it happen. And the process was really hard, the role has a lot of steps. It seems impossible. But I was always trying to look for a way to make it possible. My part wasn't just to perform well onstage. I also wanted to be a part of the creative process.
And I loved it because, especially to the ballet dancer, we don't often step out of our comfort zone. We want people to tell us what to do. And that's something that I have struggled with. But over the last year, during the competition show in China, there were a lot of choreography and steps to learn from other kinds of dance. So I was like, "Okay, even though it's uncomfortable, just do it, because nobody knows it's uncomfortable. Just make something; if it works, great. If it doesn't work, keep trying."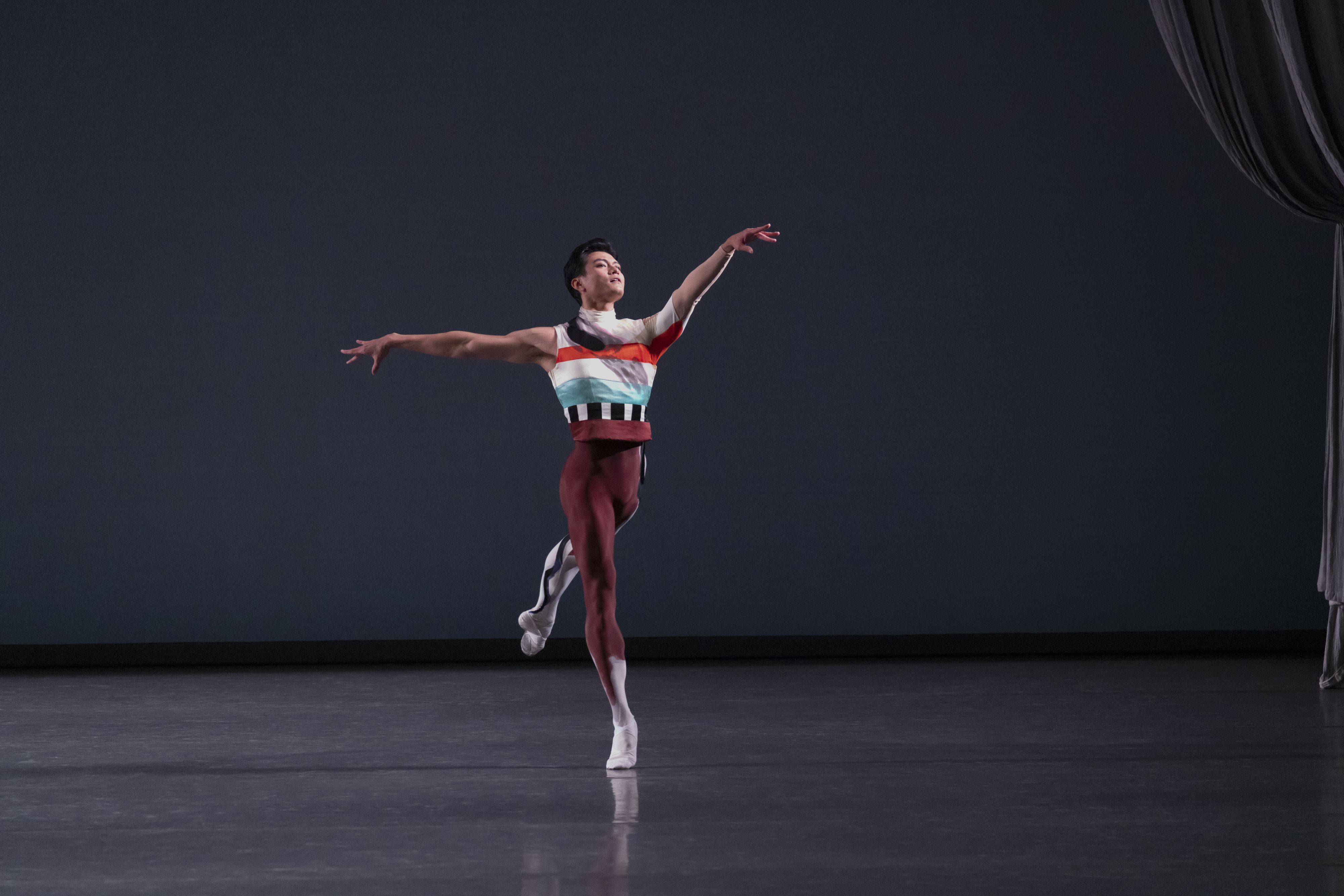 As you mentioned, you also debuted in a featured role in Justin Peck's Pulcinella Variations. What was that like?
It was so fun because I was finally able to perform. It was actually my first piece with NYCB, and it was a great way to start. The costume is super fun, the group was super fun; it was more about dancing Pulcinella at Lincoln Center, in Koch Theater—it's like a dream. Everything was so comfortable and when people asked me if I was nervous, I was like, "I think I'm more calm than ever," because I was trying to enjoy every second of it. It's like it was yesterday.
Balanchine's Nutcracker is such an essential part of the NYC holiday experience—a tradition that's been part of so many peoples' celebrations over the years. Can you talk more about your sense of the ballet, and what you're looking forward to with the performances?
So The Nutcracker was actually the first ballet I danced with a professional company, just like most kids in the states. It's really rare in China because The Nutcracker wasn't a tradition for us. But somehow I also performed as a party scene kid [in Act I] for my first ballet; I feel like I'm connected to everyone by that. I really love all the Christmas music and Christmas-themed ballets, movies, and stuff; I would put on Nutcracker or Christmas music even in the summer because I feel that all the music and ballets have a sense of joy. So even though we cannot go home and spend time with our own families, we are able to bring that joy to all the families in the audience—it's wonderful. And I've been doing that in Houston. But this is the first time I'm doing Balanchine's, so I'm very excited to perform. I've been rehearsing since last week, and the steps are so refreshing because it's so different from the classical version. I did Ben Stevenson's version, Stanton Welch's, and the director of Hong Kong Ballet's version, and this is my fourth Nutcracker. So it has been a long journey for me with The Nutcracker.
I was wondering if you wanted to talk a little bit about some of the other projects you're working on. I was looking a little bit at Chunner Studio and these video tutorials you've made.
First of all, I haven't done Chunner Studio for ages, because I have been overwhelmed with my life in China last year and overwhelmed with my new life here in New York City! But one day I'm going to go into the studio with my camera and film.
I started because my brother-in-law was like, "Could you teach me how to stretch?" Even though he's a policeman in China, he wanted to be more flexible. I was like, sure. Then I filmed it because I did not have much time left in China during the summer break. So I said, "Once I get to America, I will film a video for you about how to stretch, and you can learn from it." And then since I filmed a Chinese-language version I was like, why don't I just film an English-language version? Because when I was growing up, I didn't have many male ballet teachers to teach me all of this. That was at the time when I got promoted very quickly. I was like, "Oh my God, I'm so lucky, I need to contribute to the community." So throughout the year I just kept making videos on how to partner, how to improve your flexibility, how to not be nervous onstage, it was all how-tos for male dancers. I thought it would be wonderful for the kids around the world to see all of these videos. That was my motivation and I need to get back on it. But with the New York City Ballet version.
This is the latest in our ongoing series of Studio Visits, where the artists and professionals of New York City Ballet provide a firsthand glimpse behind the curtain into what it takes to bring our repertory to life onstage.