Bringing Ballet—and More—to the Schools of NYC
By Madelyn Sutton, Malik Winslow, December 14, 2022
Back in the summer of 1933, when the two creative titans were just young artists with big dreams, Lincoln Kirstein and George Balanchine met and began outlining the plans for what would become New York City Ballet. The overall vision was not only to bring ballet to America, but to lead the way in crafting a distinctly American version of the art form; as such, a theater and a company would be needed. Balanchine reportedly then said to Kirstein, "But first, a school."
The "school" referred to is today's School of American Ballet (SAB), where the Balanchine technique, among other things, is taught to aspiring dancers. But the founders' shared interest in beginning with education finds an additional expression in the work of the Company's Education Department, headquartered in the Rose Building, a short walk from the NYCB stage. Alongside virtual and public workshops for children, adults, and people of all ages and abilities, the Education Department also provides in-school residency programs that bring ballet to students citywide.
Among these residency programs is the annual Nutcracker Project, offered for 3rd and 4th grade classes, in which the curriculum focuses on active art-making, collaboration, and critical reflection, taking inspiration from George Balanchine's The Nutcracker®. The Nutcracker Project celebrated its 40th anniversary in 2019; this year, the program is being offered in 24 schools and 87 classrooms in all five boroughs, serving a total of 2,046 students and 110 teachers. About 75% of the participating schools receive Title 1 funding, which provides financial assistance to schools with high numbers or high percentages of children from low-income households.
Led by the department's teaching artists, who are dispatched to participating classrooms, the Nutcracker Project is comprised of six workshops: an introduction to the Project and the history of NYCB; the story and themes of The Nutcracker; creation of a collaborative poem; creation of movement inspired by words; creation of group movement; and a final "rehearsal." Classes are invited to attend a matinee performance of George Balanchine's The Nutcracker® at the David H. Koch Theater, and are encouraged to share the work they've done with their peers and families via a celebration or performance.
Essential to the Balanchine technique prioritized both at SAB and in the Company is musicality, or a direct connection between a musical composition and movement. So, one might ask, why the creation of a poem in the Nutcracker Project? In a way, this extended meditation helps students move away from understanding music and movement as purely narrative tools, which would be an easy move to make within the magical universe of The Nutcracker. By introducing abstract responses and linguistic interpretations, students can begin to explore both music and dance as open to every interpretation—most importantly, their own.
The story of The Nutcracker is divided up into three themes for the classes, which open pathways of creative exploration—imaginative, linguistic, and physical: A Special Gift; Dreams & Fantasies; and Journey to a New and Different Place. The same could be said of the experiences this program affords the students and teachers involved. We spoke with some of this year's participating teaching artists, classroom teachers, and students, to learn more about this important educational program.
Kaitlin Borror, a 4th grade teacher at the New Explorations into Science, Technology and Math or NEST+m school on the Lower East Side, is in the midst of her fourth year in her current teaching position, though her sixth year partnering with NYCB on the Nutcracker Project. "Both of my parents were musicians with the NYCB Orchestra for many years—now retired, so I grew up around the ballet world, just more on the musical side of things," she shared. "When my sister sent me the Nutcracker Project application link she saw on Facebook, I was immediately interested, as I have especially fond memories of seeing The Nutcracker every year as a child. My parents would rotate each year who would sit with us kids in the audience and who would be playing in the pit. It was always an exciting part of the holiday season for me and my siblings, and I wanted to bring that same joy I felt as a kid year after year to my students."
We asked Kaitlin how The Nutcracker Project fits into her school's educational philosophy. "The Nutcracker Project provides our 3rd and 4th grade students with the opportunity to dance!" she said. "We do not have an in-house dance teacher, so this program exposes students to an artform they might not otherwise experience in another setting. I also believe it helps make students more well-rounded and provides a break from the daily academic rigor, while connecting to [English Language Arts] concepts—theme work and poetry forms."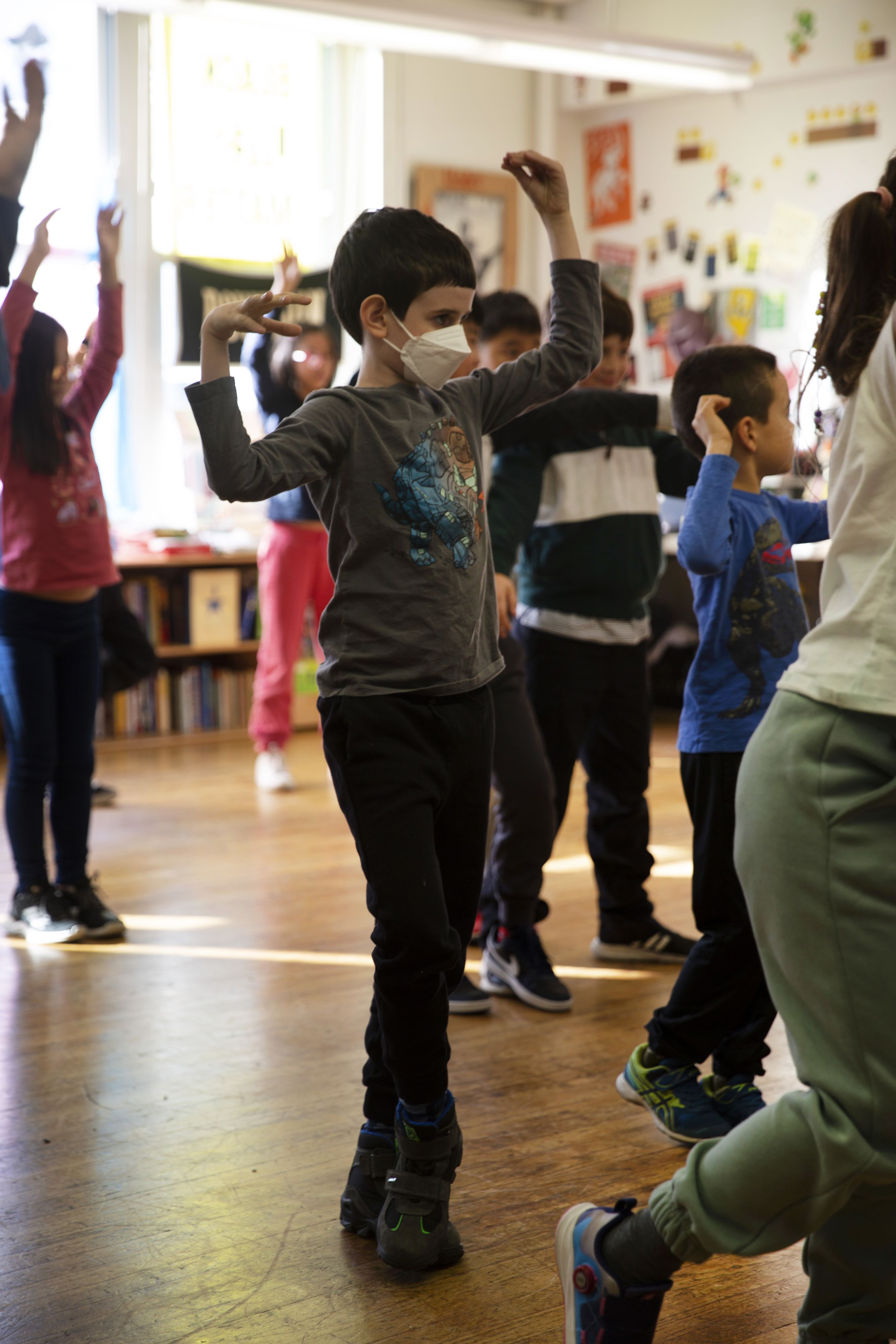 For Teaching Artist Becky Allen Ibarra, who has been leading the Nutcracker Project for five years, including this winter at NEST+m, the curriculum's focus on the beloved holiday ballet similarly offers her an opportunity to revisit her own childhood. "I began studying dance when I was three years old," she said. "One of my first ballet memories is going to see The Nutcracker being performed in New Jersey. Two of my aunts took me and bought me a tiny Nutcracker figurine afterwards. I remember that later that day, I purposefully snapped its arm off so it would be more realistic to the ballet!" After receiving a BFA in Dance from Rutgers University, Mason Gross; an MA in Dance Education from Hunter College; and an MFA in Dance from Montclair State University, Allen Ibarra began teaching with NYCB, while also a company dancer and the director of education with Lori Belilove & The Isadora Duncan Dance Foundation.
"My teaching philosophy is that children learn best in a joyous, creative environment," she explained. "I believe that movement is an essential part of our learning process, reaffirming the connection of our outer and inner selves. As a dance educator, my goal is to instill a love of the art in my students. After the Nutcracker Project programming, even if a student never takes a dance class again, I want them to have had an experience they look back on fondly and have walked away with a little more knowledge, exposure, and appreciation for ballet.
"As a dance educator, it thrills me that students get to have this incredible creative movement experience—but for those where dance is frighteningly far from their comfort zone, the literacy component provides another entry point for students to begin to experience and communicate about dance," she continued. "I have had entire classes tell me they have never been to Lincoln Center or on a field trip at all, and then see their faces in awe of it all the day of the student matinee performance. The Nutcracker Project gives students an opportunity to try something new, and be someone different than who they are in their normal school day."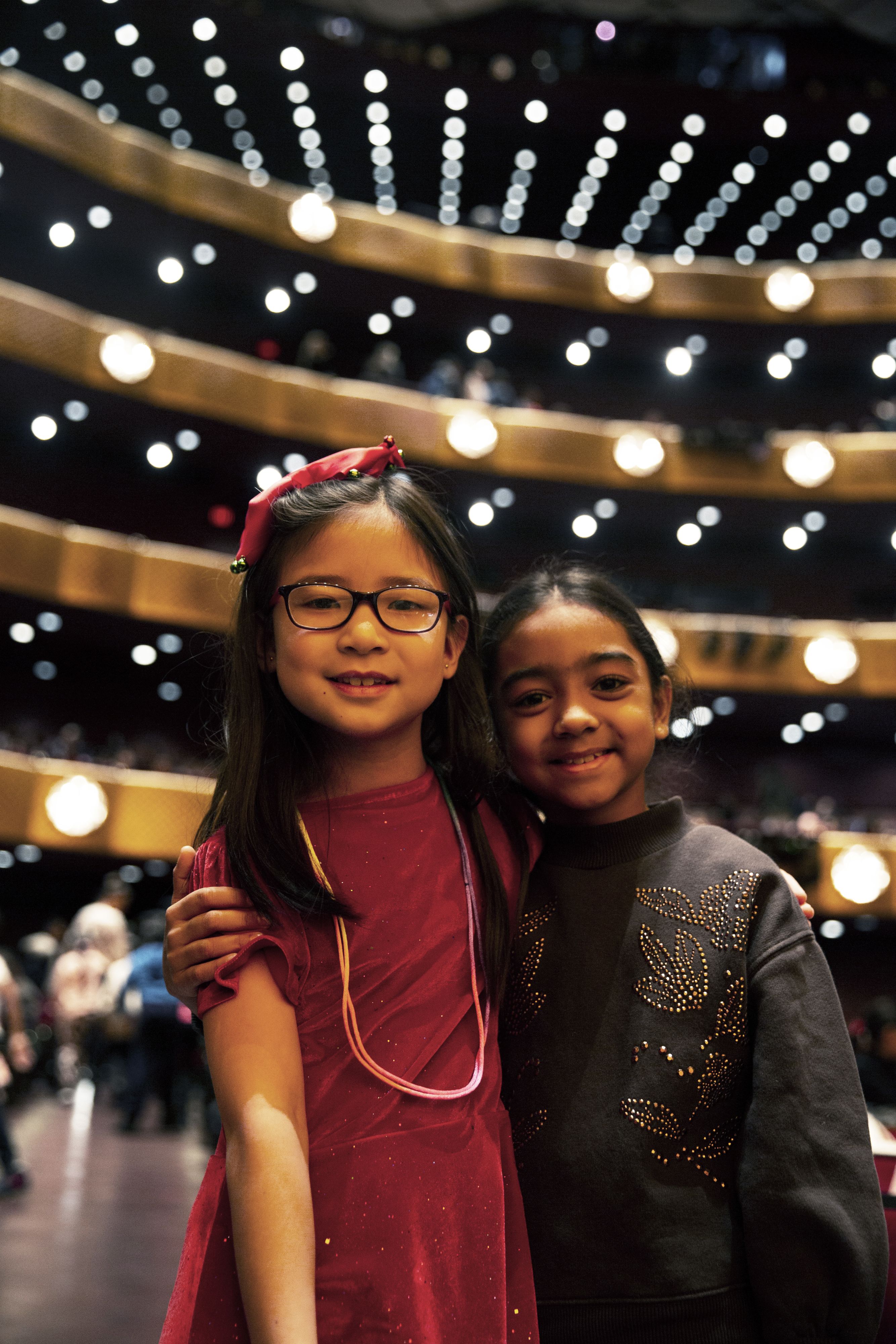 3rd graders Lilia and Laila were most looking forward to "The candy land!" (said in unison) when attending the matinee performance. "My favorite thing is about the dancers dancing," Lilia said. "My class discovered that some of the dancers might whisper onstage during some of the scenes!"
"One thing I learned from the Nutcracker program was about how the dancers move their bodies, how they dance onstage," Laila added. "How they jump and move around."
"We learned a lot about Marie, and the Prince…we had one question: when she went through all those scary happenings and exciting things, was she dreaming?"
"I started ballet when I was four—I saw a video of The Nutcracker and fell in love with the music and the movement," recalled sixth-year Teaching Artist Lily McAteer, who is currently visiting classrooms at the Academy of Innovative Learning or PS 65 on Staten Island. She began teaching with NYCB after receiving her BFA from The Ailey School at Fordham University and dancing professionally with Eglevsky Ballet, Ballet Neo, and XAOC Contemporary Ballet. "NYCB is an organization I deeply respect, admire, and value—and have my whole life. Balanchine's work and the Company as a whole have been a major influence on my early artistic upbringing through [former NYCB Principal Dancer] Patricia McBride.
"I love seeing students connect with the story of The Nutcracker in their own, personal ways," she continued. "Balanchine choreographed The Nutcracker based on Hoffmann's story, Tschaikovsky's music, and his own personal experiences and imagination. In the Nutcracker Project, our students also get to create art based on these same elements and gain confidence in themselves as creators. Their physical and spatial awareness improves, as does their ability to make connections between different art forms. Students' ability to collaborate grows, as they learn to say "yes, and—" to each other. Their peers' ideas can spark, aid, and support their own creativity, and vice versa.
"One of my favorite early lessons in TNP is discussing with students 'What is a choreographer?' A choreographer is someone who makes up dances. I ask if they're choreographers. Sometimes a few people say 'yes,' but most say 'no.' But if a choreographer is someone who makes up dances, and we are making up moves together, then what does this make them? 'Choreographers!' the students shout excitedly. One of my favorite aspects of NYCB's education programs is that we're removing barriers to entry, while also showing various paths towards being an artist in dance."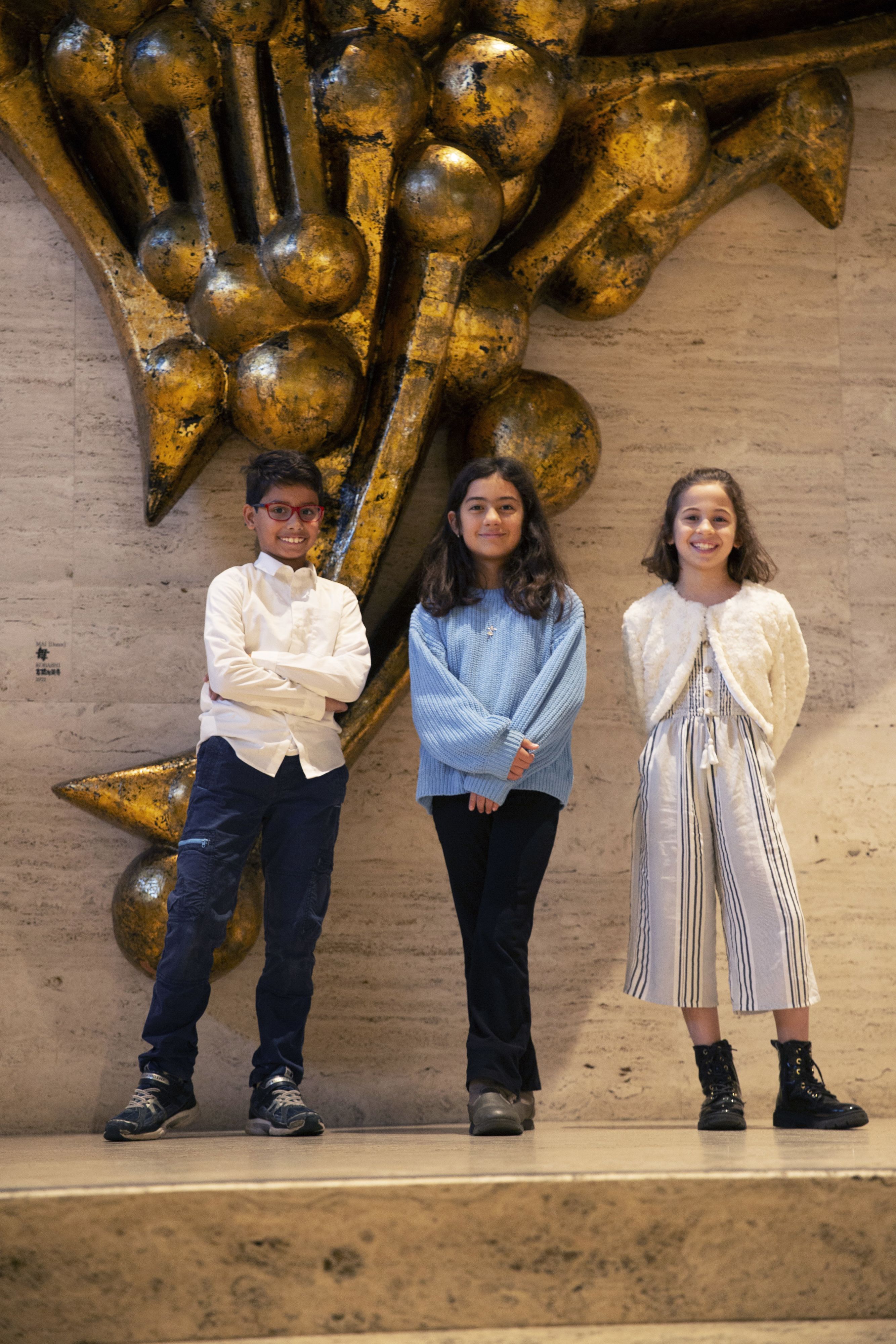 For little movers Arthur, Isabella, and Leyla, all NYC 4th graders, the collaborative poem-writing aspect of the workshop was a highlight. "I liked doing the poem, because it didn't have to be anything, it just had to be creative," said Arthur.
"I really did enjoy the poem, where we learned all those words and combined them into a poem," agreed Isabella. "That was really fun, and it kind of got us to mix everyone's ideas together, so we got to see how other people think."
"I liked the poem, but I also enjoyed when we chose the moves to the dance routine," shared Leyla. "That was really fun because it was like the poem, but in movement."
"My favorite part of the show was when the third dancer came out of the present boxes [the Toy Soldier]," added Arthur. "I felt like his movement was more singular. The other two dancers [Columbine and Harlequin] had a very synchronized routine, which was also very impressive."
"My favorite part is the tree. I also like the Mouse King scene—although I have a fear of rats," said Leyla. "I think it's really cool how they make it so Marie is scared, but they are also dancing."
"I also loved the part when the tree was growing bigger—that was actually very funny and very cool," said Isabella.
For Teaching Artist Frederica Lewis, now in her eighth year with NYCB and currently working with Waterside Children's Studio School or PS 317 in Queens, dance was a part of life from the very beginning. "I have been dancing since I was a newborn, held in my mother's arms as she danced around the house soothing my cries," she said. "When I was 3 years old, she enrolled me in a Creative Movement class with the Caribbean Dance Company on St. Croix, but once I took my first ballet class, I was hooked."
After a break from dance to study theater and English Education in college, Lewis returned to New York, where a performance by the Company inspired her return to the art form—and eventually her current career as an educator. "In the past several years, my philosophy has been moving toward a more liberatory approach," she shared. "I have been intentionally moving away from my need to control student behavior, to being a facilitator who empowers students with autonomy and choice, giving them room to be human. There is space for students to show up in whatever way feels best to them. That is my favorite thing about [the Nutcracker Project] program: the room for student choice. There are no wrong answers, and students light up when they encounter this.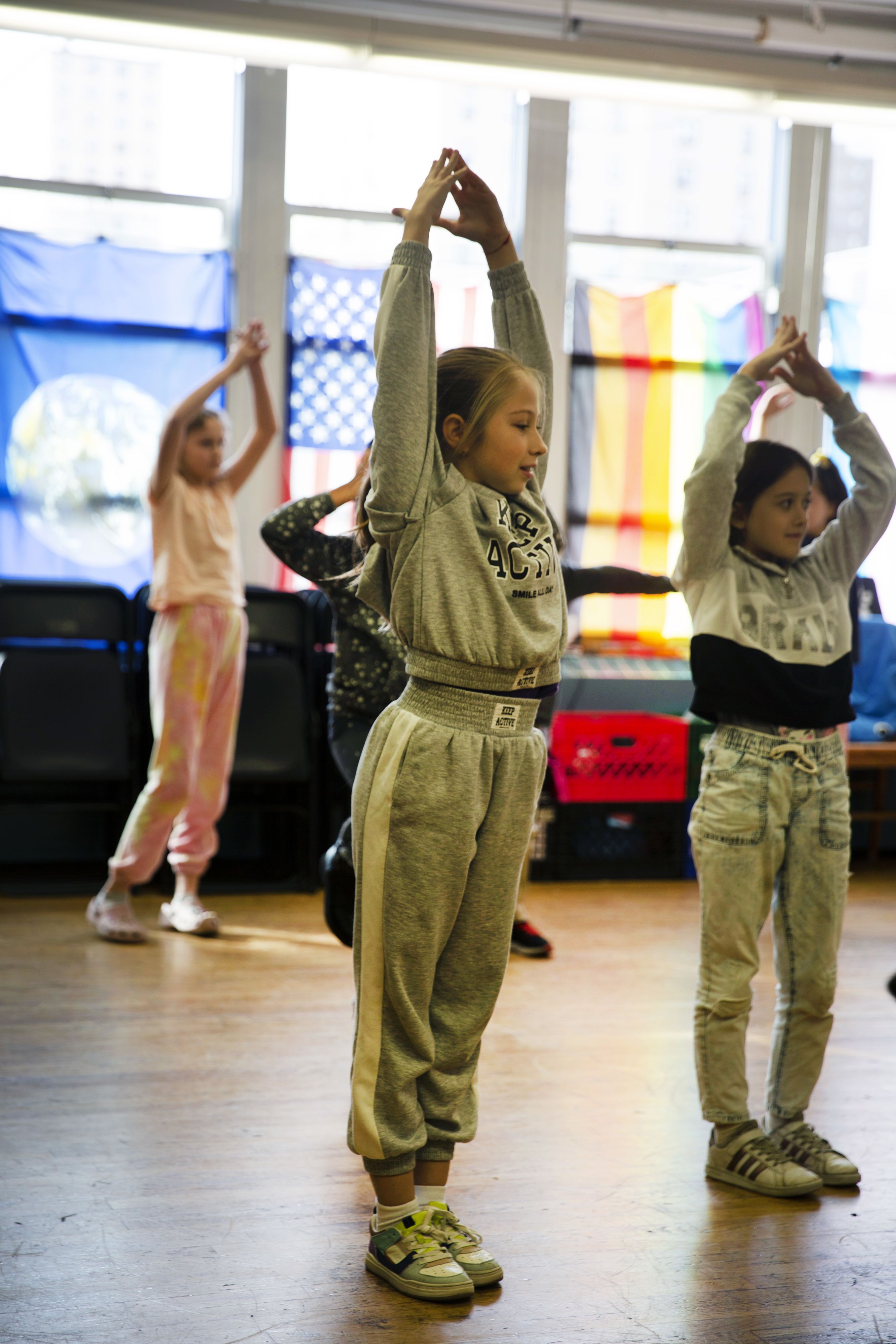 "Recently, Class 302 at PS 317Q decided the most magical ringing bells would be covered in leaves from different kinds of trees," she continued. "Class 301 from the same school wants to float 'like 100 blue nutcrackers!' A student brought in translations so we could include words in our art from the languages she speaks at home. When students take initiative to do extra work outside of the classroom, you know that something about what we are doing is speaking to them, and that is the most important and magical moment of all. It's like that spectacular tree growing up, up, up, up, up, and away.
"My colleagues in the Education Department are the most generous, brilliant, caring teachers who infuse their teaching with love," she added. "I can never say enough about how they have impacted me as an educator and an artist. Also, the amazing classroom teachers who partner with us and who work with our city's children day in and day out. We cannot hold them in high enough regard, and we need to cherish and protect them at all costs. Classroom teaching is a complex job that demands everything from you. I learn so much from our city's teachers every year."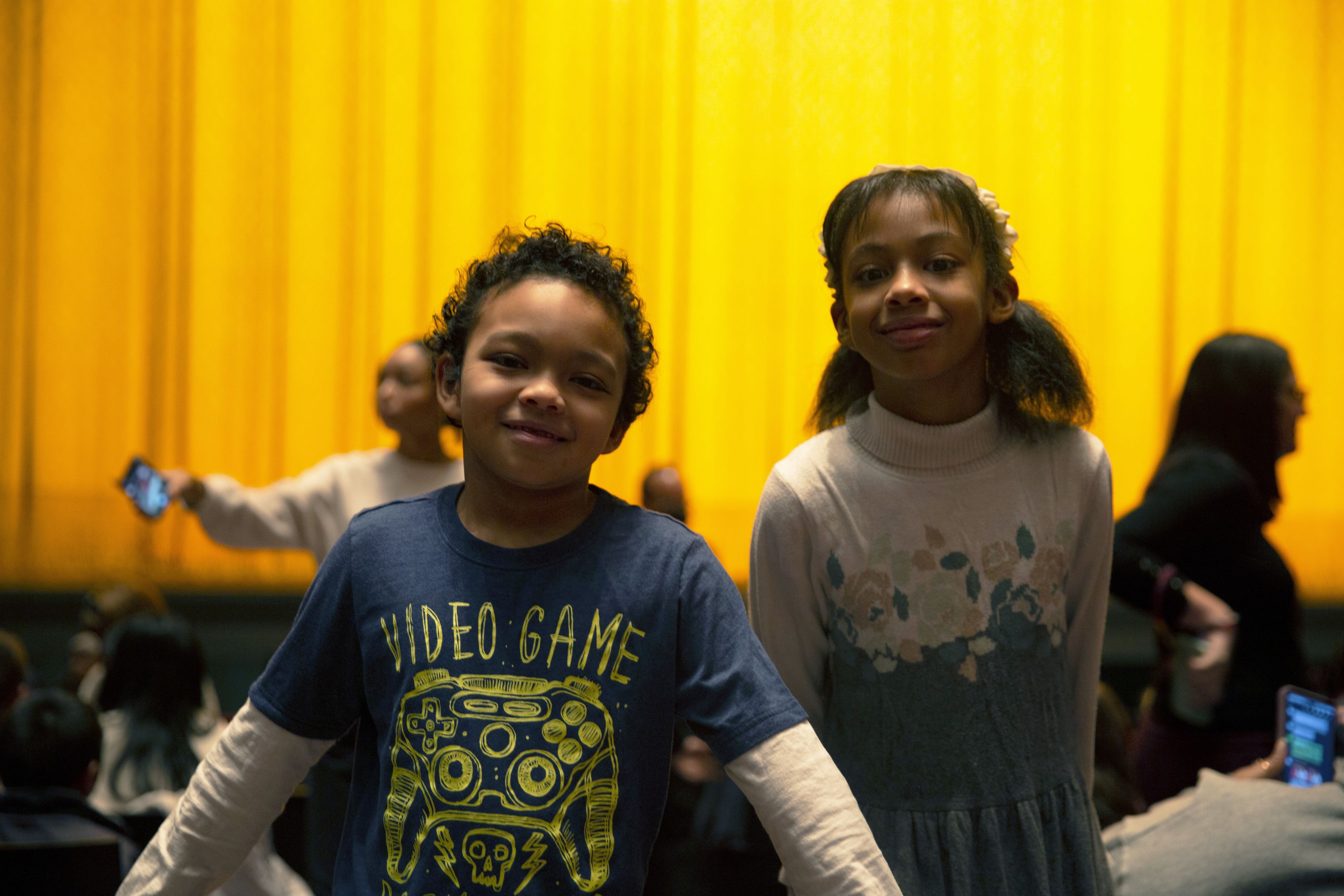 3rd grader Zen shared, "I'm most excited about seeing the last part…the candy land. It happens after the Nutcracker and Mouse King fight."
"In the ballet program, I really liked learning the fondu," says 3rd grader London. "I really hope they show the part where the Prince fights the rat!"
"I believe strongly that the arts enrich our lives and that our students should have opportunities to participate in and learn about the arts," said Rosalia Bacarella, principal at Frederick Wachtel or PS 199 in Brooklyn. Bacarella's connection to the dance world is especially personal—a connection that informs both her commitment to sharing the arts with her students today, but also her relationship with NYCB. "I've always loved ballet but never had an opportunity myself to study dance. When I was young, some of my friends attended dance programs but my family, who immigrated to NYC when I was four, couldn't afford it. When my daughter was old enough, I enrolled her in a local dance program. She went on to dance at BalletTech, NYC School for Dance, briefly at SAB, and Ballet Academy East."

As Bacarella explained, the students at PS 199 have stories not unlike her own. "Our community is mostly an immigrant community. They have rich cultures and their own rich dance traditions. Our partnership with NYCB provides opportunities to explore ballet, an important part of dance culture, as well as the cultural opportunities available in our city.
"I love the excitement and joy they experience when they see The Nutcracker," she continued. "For most of them, it is their first time experiencing this beautiful production and their first time at Lincoln Center. As they go through the residency, I see them building confidence and exploring their own creativity with movement. They also gain literacy, language, and social-emotional skills through the program."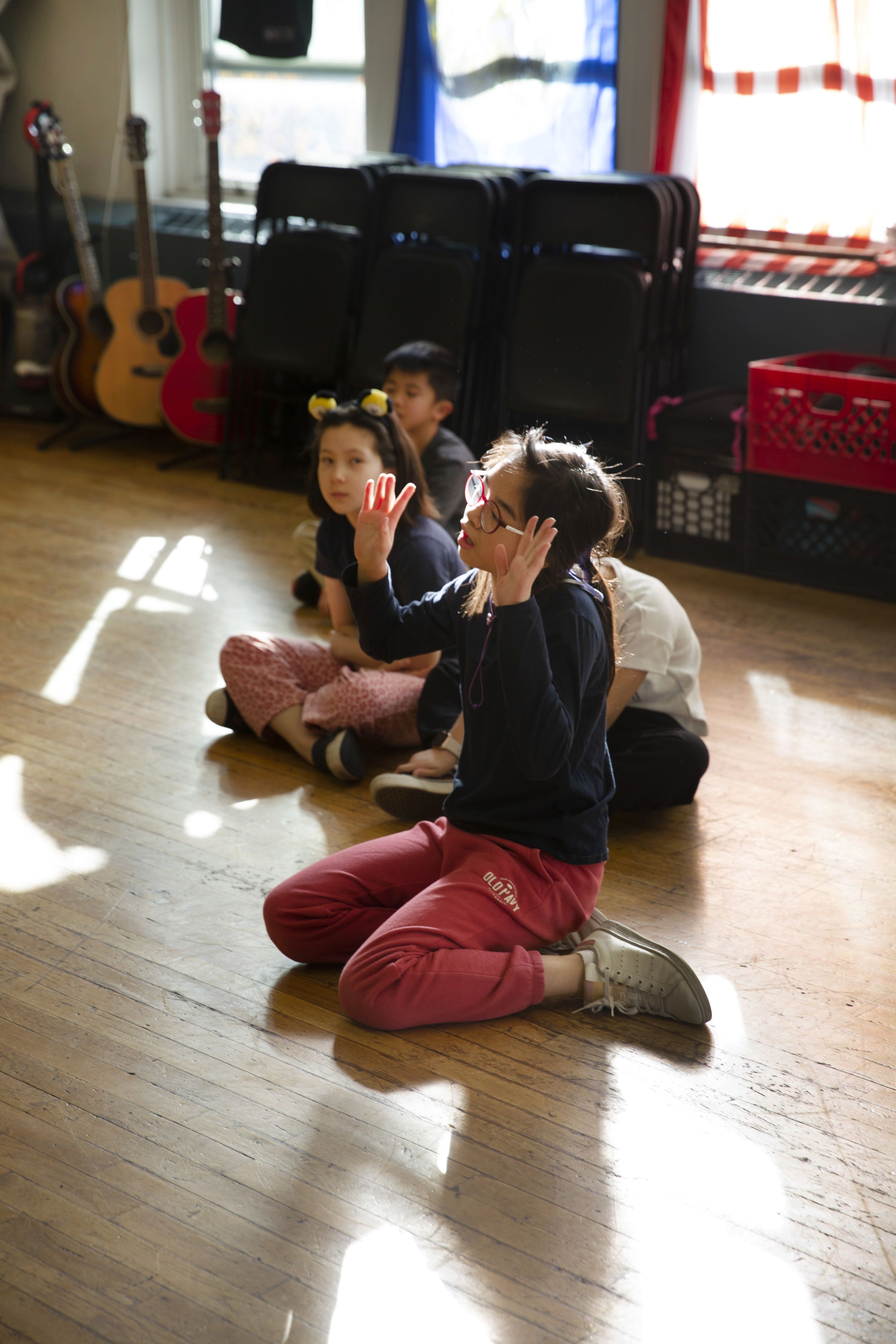 Teaching Artist Sarah Dahnke, in her ninth year with NYCB and a current partner with PS 199, shares a belief in the importance of sharing dance. "I began my performing career in Chicago, and while I was there, I was a teaching artist with Hubbard Street Dance Chicago," she said. "Through that program, I was first exposed to the power of bringing dance into public schools, facilitating student choreography explorations, and storytelling through dance with students. Now, I'm primarily a choreographer and work often devising dance in collaboration with communities. I am the artistic director of a project called Dances for Solidarity, which co-creates choreography with people who are currently and formerly incarcerated. The ways I collaborate with students mirror how I collaborate when creating performance."
As someone who has worked with NYCB's Education Department on-and-off for nearly a decade, Sarah has seen the potential the Nutcracker Project has to empower young movers creatively and intellectually. "Students are often a bit intimidated by the word 'ballet' on day one," she said. "I love asking them what they think we will be doing, and they assume I will be teaching them ballet technique. Once they realize we get to explore and invent movements, they get excited. They have a space to contribute their ideas and be affirmed for their creativity. Even though they are often nervous to share their dance creations at the end of our time together, you can also see so much pride and joy in those sharings.
"With everything I teach, I see my students as collaborators," she continued. "I want to know what they are interested in, what their experiences are, what they want to make, and then find ways to incorporate that into what we create together. NYCB encourages this philosophy wholeheartedly and has adopted these student-led techniques to guide how teaching artists operate in the classroom.
"Right now in my classes, students are dreaming with wild imaginations about what their own Land of Sweets would entail, and we are beginning to write poetry about chocolate volcanoes and waterfalls of Takis," she added. "They get so animated when they have space to dream without limits, and I can't wait to see where we go."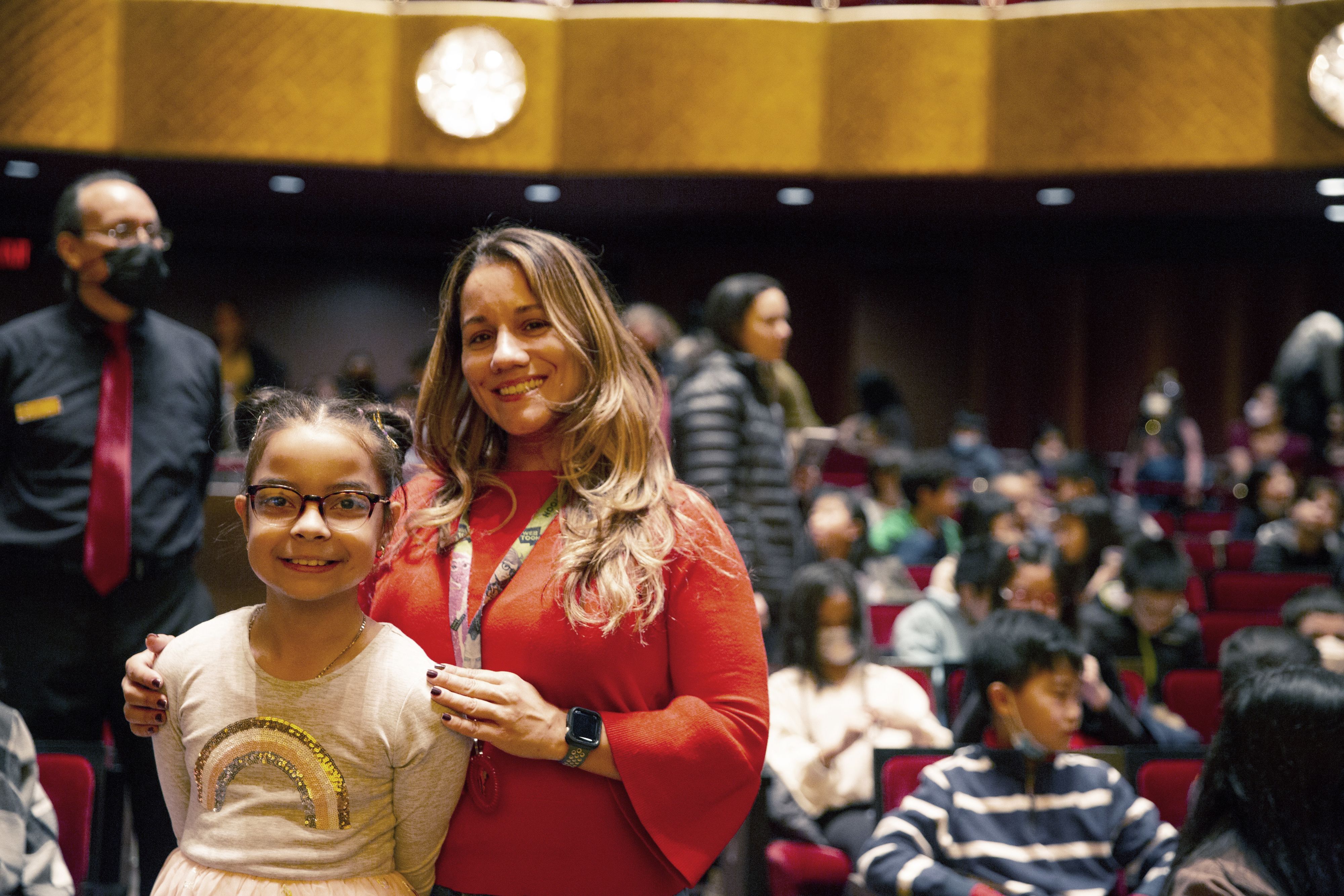 "My favorite part has been learning all the moves," said 3rd grader Bella. "I'm excited to see Mother Ginger."
"It's interesting because I have some kids who were very shy; at first, I didn't want to force or push them," said 3rd grade teacher Krystal Cabrera. "Those are the kids now that I see blossoming, and they're excited for [the program] when it comes in—they've actually taken a lead when [the teaching artist] had them choreographing their own skits."
For Teaching Artist Callie Hatchett, who has worked with NYCB's Education Department for eight years and is currently partnering with teachers at The Grove Hill School or PS 157 in the Bronx, the personal connection to The Nutcracker runs deep—and full circle. "I was in a Nutcracker every year of my childhood and performed in a few as an adult, so to return to that was just amazing. I love the Nutcracker story—it just infiltrates my whole world from October on." The latter is more true this year than ever, as her son, Hannon, is performing as Fritz in New York City Ballet's production this year. "I haven't told all of my students yet—I'm waiting for that to be a surprise. But I think that'll be a fun connection for them.
"I'm super excited about the performance because the kids haven't gotten to do that for three years now," she said, referring to this year's return of in-person student matinees. "Just to be in the theater with 2500+ seven- to ten-year olds—there's a constant buzz of chatter and giggles, and you can feel the excitement. I've spoken to several dancers that say they really like to perform those student matinees, because they can feel it, too.
"One thing I love about teaching for New York City Ballet is getting to travel to all these different neighborhoods in New York City," she said. "The kids come from different places. Sometimes they are really shy and reserved, and even just getting up—whether it be onstage or in the classroom—and presenting their work to another group of students, that's huge for them. I think it's a valuable lesson for life, to be able to have that confidence to present yourself and say, 'This is my work. I did it. It's okay that it's not a masterpiece, but I'm proud of it. And I had fun.' I really see the kids grow in confidence.
"We are still dealing with stereotypes about who ballet is for, and I'm super proud to be part of the generation that is hopefully changing the face of ballet," Hatchett added. "That's part of what the Education Department is about—that everybody can do ballet."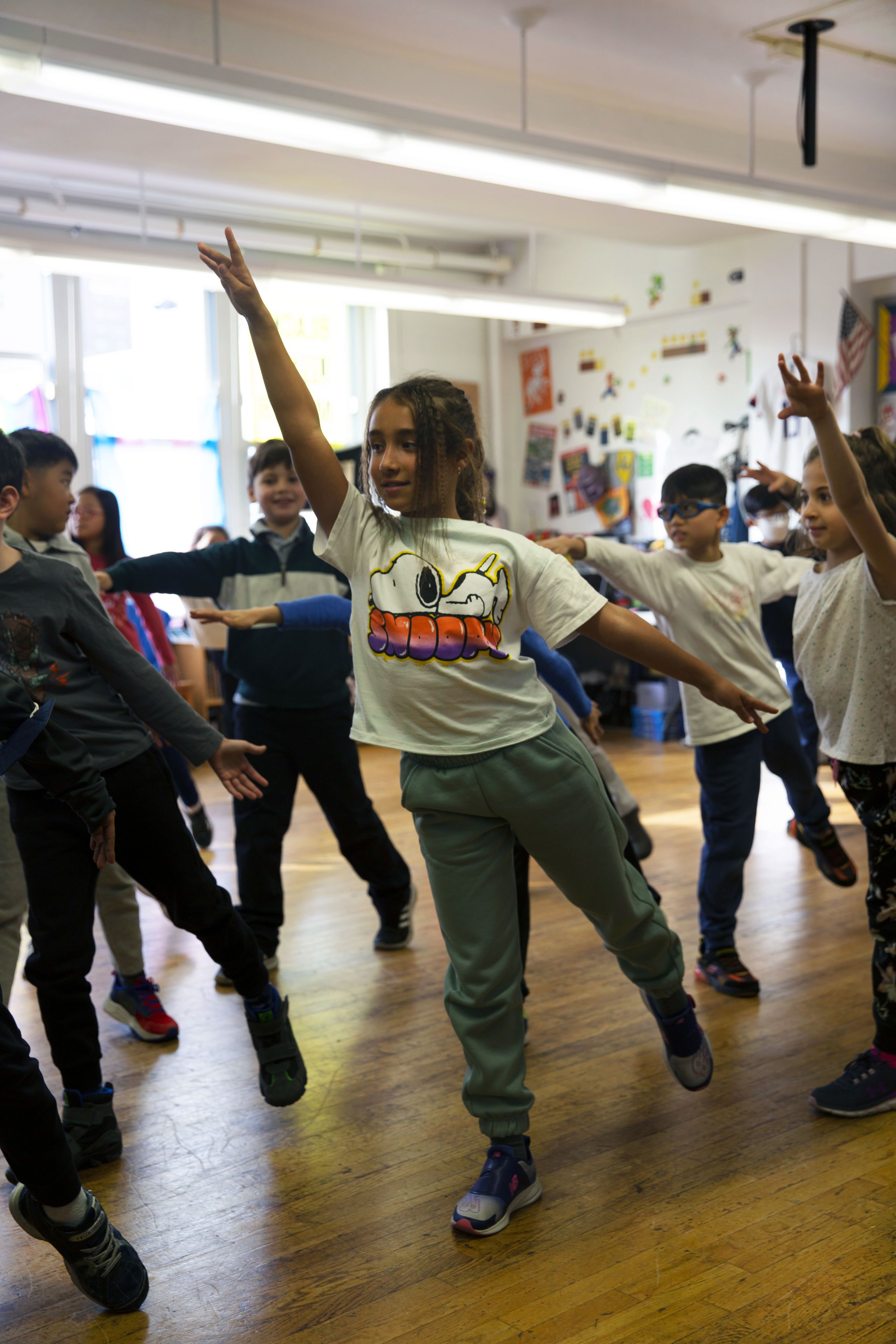 3rd grade classroom teacher Erica Bucci was not new to ballet when she first began working with NYCB six years ago. "I vividly remember the hours spent on the weekends and after school at my dance studio in Scarsdale, NY," she shared. "Ballet taught me the value of dedication and determination. I will never forget how I felt when I would walk into the studio—my body felt strong, my mind was focused, and my heart was proud. Those feelings are just some of the reasons why I want my students to have the exposure to what NYCB offers. I always try to remind myself that I won't be able to shape all my students to love dance or ballet, but if one or two students every year feel what I used to feel when dancing, then it was a success and worth it!"
She described seeing these changes in action as part of the school's participation in the Nutcracker Project. "These workshops offer the students multiple opportunities to open their creative mind, work as a team, and think outside the box," she said. "There is no right or wrong, good or bad. The workshops are what each child wants to offer that day, how much they want to express in the moment, and how confident they are feeling within themselves. Even as a veteran teacher, I am always learning, always improving, and always open to trying new approaches to support my students. The NYCB program does that for me. It reminds me that no two children are the same, and exposure to different experiences allows my students to learn who they are and who they want to be."
We caught up with Ms. Bucci during intermission at the student matinee performance. "Another wonderful part of the program is getting the opportunity to come to the performance, which is a once-in-a-lifetime opportunity for our students," she said. "They really get immersed in the hard work and dedication that the dancers put in, and they get the opportunity to see themselves onstage, which is really important—for them to know that the opportunities are endless, and that with hard work and dedication, anything can happen."
The guide for classroom teachers participating in The Nutcracker Project concludes with a quote from dance critic Clive Barnes, writing on the 50th anniversary of NYCB's production. What he has to say of the ballet captures the enduring power of George Balanchine's The Nutcracker® to inspire children and adults alike—and in doing so, expresses the importance of programs like the in-school residencies presented by the Education Department.
"So what is the never-ending charm of George Balanchine's The Nutcracker®? For children, there is the special pleasure of seeing children, not that unlike themselves, onstage. Then there is the Battle of the Mice, staged by Jerome Robbins in the City Ballet version, and the exotic dances of the last act. The story makes no demands on anyone (no child ever has to ask, 'Why are those ladies swans, Mummy?'), the music tinkles in the memory like a lost music-box, and the dancers swirling through the snow, or just swirling as rose petals, are enchanting for child or parent alike. To me, it seems good for another 50 years at least."