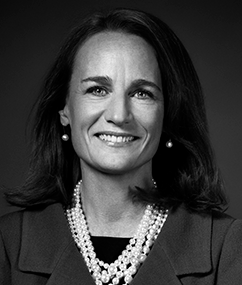 Katherine Brown is the Executive Director of New York City Ballet and the David H. Koch Theater, and in this capacity oversees the management and administrative functions of NYCB and the David H. Koch Theater, managing a budget of approximately $89 million.

Before assuming her position at NYCB in 2009, Brown was the Chief Operating Officer of WNYC Radio. In that capacity, she oversaw all non-programming areas of the nation's largest public radio station, including development, finance, marketing/public relations, digital operations, legal, engineering, human resources, and administration. She managed an annual budget of approximately $40 million and a non-programming staff of approximately 100. She also led a number of the organization's special initiatives, including the launch of its Jerome L. Greene Performance Space, and helped manage its recent acquisition of the classical music station WQXR.

Brown served in various capacities at Jazz at Lincoln Center (JALC) from 1997-2007. As Executive Director from 2005 to 2007, she was the chief executive, responsible for oversight of all aspects of the organization's operations, including JALC year-round concert, touring, media, and educational activities and the operations of Frederick P. Rose Hall. She managed an annual budget of $38 million and oversaw a full-time staff of approximately 125. As Director, then Vice President for Development, from 1997-2004, she led a capital campaign raising $132 million to design and construct JALC's new home, Frederick P. Rose Hall, and she increased annual contributed income during the period from $3 million to $12.5 million.

From 1993 to 1997, Brown served as a manager of major gifts for The New York Public Library, where she directed the major gifts portion of a $700 million capital campaign, including contributions through such programs as patrons, major gifts, and planned giving. From 1988 to 1993, she worked as the Director of Individual Giving for New York City Ballet. From 1976 to 1987, she served in various capacities at the National Endowment for the Arts, including as the Acting Director of the Dance program. She is a member of the Board of Trustees of Dance/USA and serves as chairman of its Managers Council made up of the country's largest dance companies.

Brown has a BA in music from Randolph College in Lynchburg, Virginia and is a resident of New York City.
Photo © Henry Leutwyler