5 Questions with... Teresa Reichlen
By Madelyn Sutton, January 29, 2022
Principal Dancer Teresa Reichlen was born and initially trained in Virginia, beginning at the age of 10 at the Russell School of Ballet. She first attended the School of American Ballet's summer program in 1999 before enrolling full-time that fall. A year later, in October 2000, Teresa began her remarkable 22-year career with the New York City Ballet as an apprentice. In the following October, she joined the Company as a member of the corps de ballet, and was promoted to the rank of soloist in January 2005, and principal dancer in 2009. She was the Janice Levin Dancer Honoree for 2004-2005.
Throughout her tenure, Teresa has performed featured roles in works that span NYCB's repertory, including George Balanchine's Agon, Firebird, and Symphony in C; Jerome Robbins' The Cage, Glass Pieces, and Moves; Christopher Wheeldon's Polyphonia and This Bitter Earth; Ulysses Dove's Red Angels; and many more. She has originated featured roles with choreographers Justin Peck (Everywhere We Go, Year of the Rabbit), Mauro Bigonzetti (Luce Nascosta), Benjamin Millepied (Plainspoken), and others.
Teresa will give her "swan song" performance with the Company in George Balanchine's one-act interpretation of Swan Lake on the evening of Saturday, February 19, 2022.
We caught up with her between rehearsals to ask her about a memorable performance, her plans for the future, and her advice for up-and-coming dancers.
Is there a tour or performance memory that you cherish, or look back on and laugh?
I had one show of Tchaikovsky Piano Concerto where I was dancing with [recently-retired Principal Dancer] Ask La Cour. He was a last minute replacement, so we only had one rehearsal before the show. In the middle of our first pas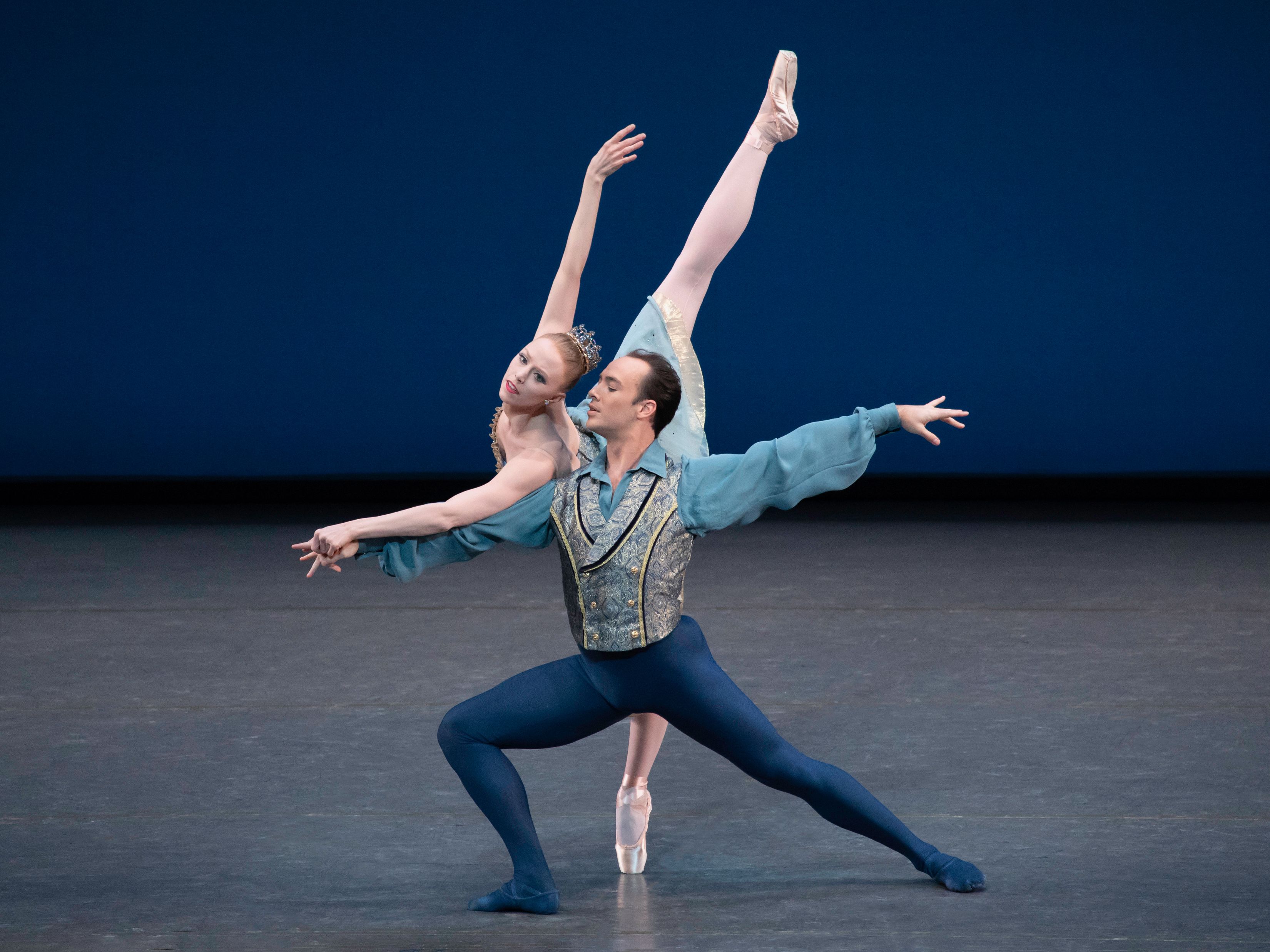 de deux, there's a moment when he carries me while shuffling backwards, and he lost his footing and fell while holding me in the center of the stage. While I was sitting on his lap I thought, "This is the worst thing I've ever seen!" Luckily the rest of the show was fine and we were able to laugh it off over whiskey in our dressing rooms later that day.
Are there any roles or ballets that you wish you'd had a chance to perform?
So many! I would have loved a chance to dance in pretty much any of the Balanchine ballets but Stravinsky Violin Concerto, Allegro Brillante, Mozartiana, Theme and Variations, and Square Dance are at the top of that list.
Was there a pivotal moment in your career that helped shape who you are today?
Yes. When I was a soloist I actually almost left NYCB. When I decided for myself that I wanted to leave, but before I told anyone about it, I made the choice that I was just going to have as much fun as possible in the time that I had left. That choice, along with some lucky timing, must have affected my dancing because I got great feedback, many new roles, a promotion soon after, and a new freedom and sense of joy in my dancing.
What are you looking forward to about this next phase of your life/career?
I have always found a particular satisfaction in trying to support all of my colleagues through work with the dancers' union, AGMA [American Guild of Musical Artists], including this past year, fundraising while we were in the pandemic and without pay for a little while. I will be joining my husband's gallery SHRINE which supports both outsider and emerging artists, and I think it will be thrilling to work directly with artists through the gallery to champion their work and hopefully support them so they can fulfill their full potential.
Do you have any special words of wisdom or helpful hints to share with dancers who are either new to the art form or to the Company?
Allow and push yourself to have outside interests! It was always very important to me to have something to turn to, other than ballet, for fulfillment. I've had a fantastic career but that doesn't mean there weren't times that I was struggling in the Company and needed something to ground me outside of the theater. I also feel that having a robust life outside of the Company has helped improve my dancing, as I was able to bring experiences from outside to inspire and inform many of my roles.