Costumes from the Archive and the Dancers Who Wore Them
By Madelyn Sutton, Malik Winslow, October 6, 2023
Igor Stravinsky is often considered George Balanchine's most significant collaborator, with works like Orpheus (1947) and Agon (1957) representing the direct fruits of their creative partnership, and masterworks like Symphony in Three Movements (1972) choreographed through Balanchine's deep engagement with the composer's work. But there is another artist whose contributions to the historical formation of New York City Ballet are innumerable, and whose vision, realized in partnership with Balanchine, helped shape the Company as we know it today: Barbara Karinska. Madame Karinska's costume designs are an essential element of NYCB's identity. Through repairs, reimagining, and revitalization by the incomparable artisans of the Costume Shop, those designs continue to be worn by dancers today.
As our 75th Anniversary Season celebrates the Company's singular history, beginning this fall with George Balanchine's ballets, we visited the the New York City Ballet Costume Archive to highlight several of Karinska's remarkable costumes and spoke to some of the legendary dancers who wore them.
"There is Shakespeare for literature and Madame Karinska for costumes."

George Balanchine
Emeralds

"When I first started dancing Jewels, it was the in corps de ballet of Emeralds and the corps of Diamonds; it was an incredible treat to be in both," says Repertory Director Kathleen Tracey, who once wore the deep-green-hued costumes Karinska designed for Balanchine's Emeralds pictured here. "Then, a couple years in, they had me do the Emeralds Pas de Trois, which was so much fun because it was with two people who I was especially fond of. Then, they had me do the role that was created on Violette [Verdy], which was pretty much a piece of heaven to dance onstage. I felt so honored, because when you know that the person that you're inheriting the role from is so special–someone like Violette–it just raises the bar to that cherished position, and it makes you feel like you've made it—that you've gotten to be a part of history."
As the story goes, Balanchine was inspired by a trip to the Van Cleef and Arpels showroom to devote an evening-length work to jewels. Though real emeralds, rubies, and diamonds would have been too heavy to append to the dancers' costumes, Karinska captures the richness and multi-faceted quality of each gemstone, from its hue to its sparkle. Emeralds was choreographed to excerpts from two Gabriel Fauré operas, Pelléas et Mélisande (1898) and Shylock (1889), and its delicate footwork conveys the romance of the French classical style.
"It's an incredible honor to do anything in Emeralds, and to have worked your way through the ballet, especially because it's not obvious," continues Tracey. "Rubies is an obvious fan favorite that's very dynamic, fun, and musical, and people love how edgy it is. Diamonds has that classic gorgeousness, and it's so imperial and rich in its approach. But Emeralds has that mystery, the je ne sais qoui. It's layered–you have to dig deep for it to reveal itself, because it's not obvious.
"Watching Emeralds is like going to a museum and seeing impressionist paintings, and suddenly you're in this world—it's clear, but it's not quite as in-your-face. You have to keep peering around the corner to see if there's a hint of what you're looking for; it's slow to evolve and to reveal itself."
Principal Dancer Indiana Woodward, photo by Paul Kolnik
Stars and Stripes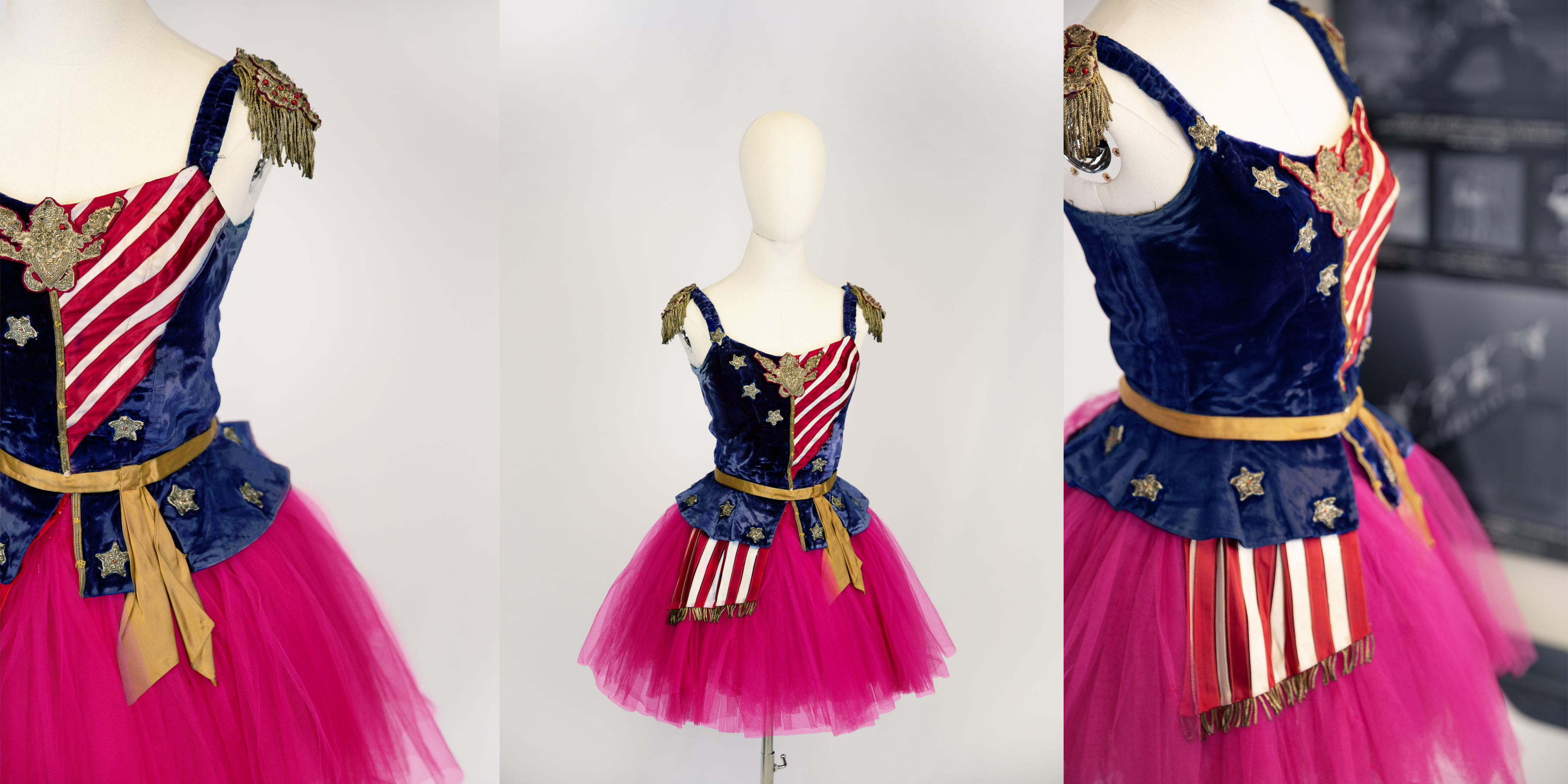 In 1958, Balanchine decided to create a new work set to excerpts from the music of John Philip Sousa, the "March King," because, as he claimed, he simply liked the music. Frequent collaborator Hershy Kay orchestrated the tunes, and Karinska completed the patriotic picture with her red, white, blue, and, in the case of this tutu, pink looks.
"This is the lead of the 'Small Girls' regiment—she's right in the center, downstage, when the curtain goes up," Repertory Director Christine Redpath says of the bright and brassy costume for Balanchine's Stars and Stripes pictured here. "The excitement of the overture building before the curtain went made it very fun to do, in the corps too. It's so musical, fun, challenging, all of that. I also did the lead in the 'Tall Girls' regiment—that was fun. I did Liberty Bell on gigs with Jacques d'Amboise; he was so helpful and wonderful to all of us that he took with on his tours, always teaching us how to do things."
"In Saratoga back then, they had 'Ballerina Day' at the track while we were in residence at Saratoga Performing Arts Center (SPAC) for the month of July," recalls Redpath. "The press obviously wanted us to go, so we had to wear the full costume—the scarves around the neck, the hat, the gloves—in the beastly July weather. The socks! The white socks, with white shoes, pink tights. We couldn't cut the heel out of the white socks like they do now—[longtime Wardrobe Mistress] Madame Pourmel would have had a fit.
"We were actually on the track, walking around in the dirt in our pointe shoes, or sitting behind the jockeys. The whole audience was looking over at us. It was all fun, an adventure, but we were admittedly grumbling a little bit—what were we doing out there in pointe shoes in July?! But dancing it was a lot of fun."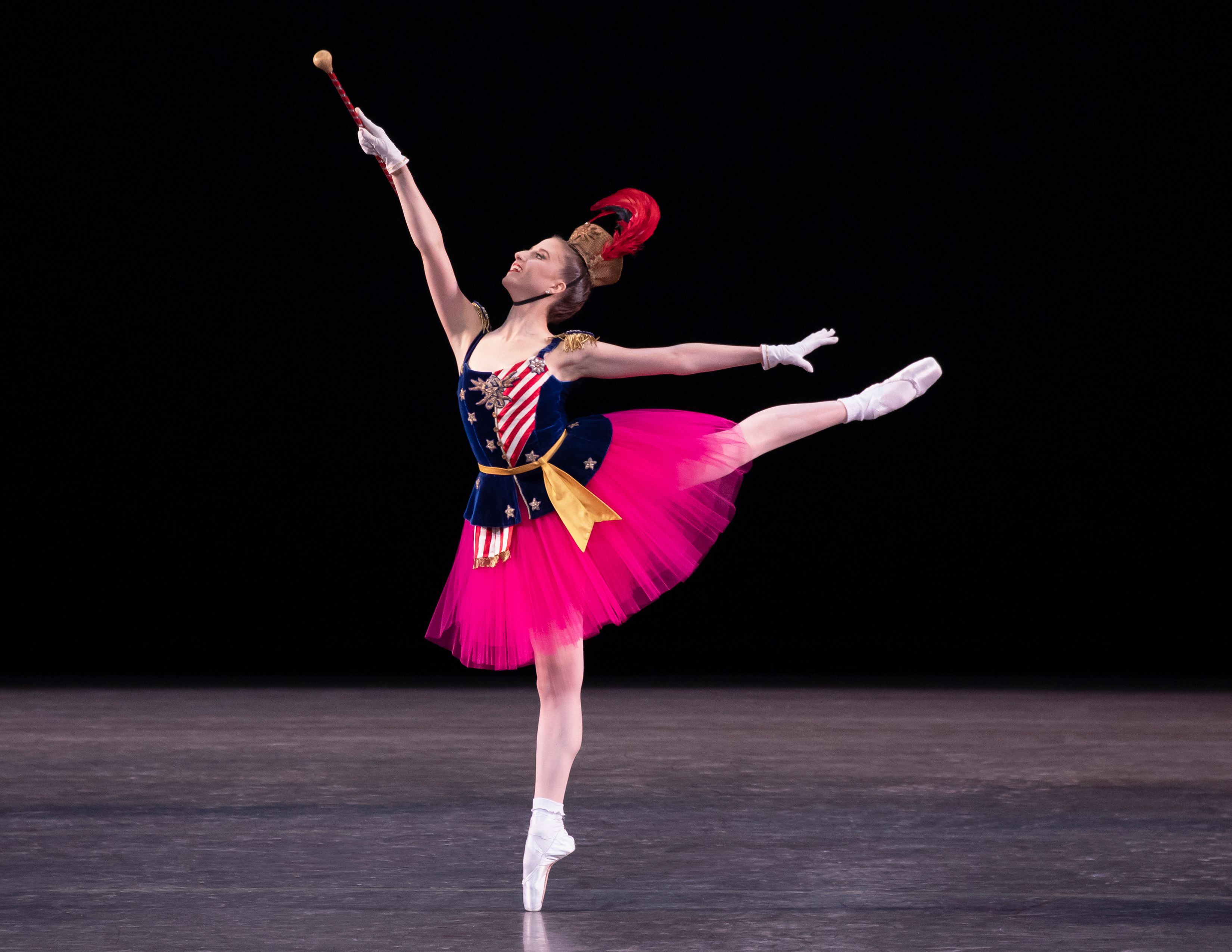 Soloist Sara Adams, photo by Erin Baiano
Ballet Imperial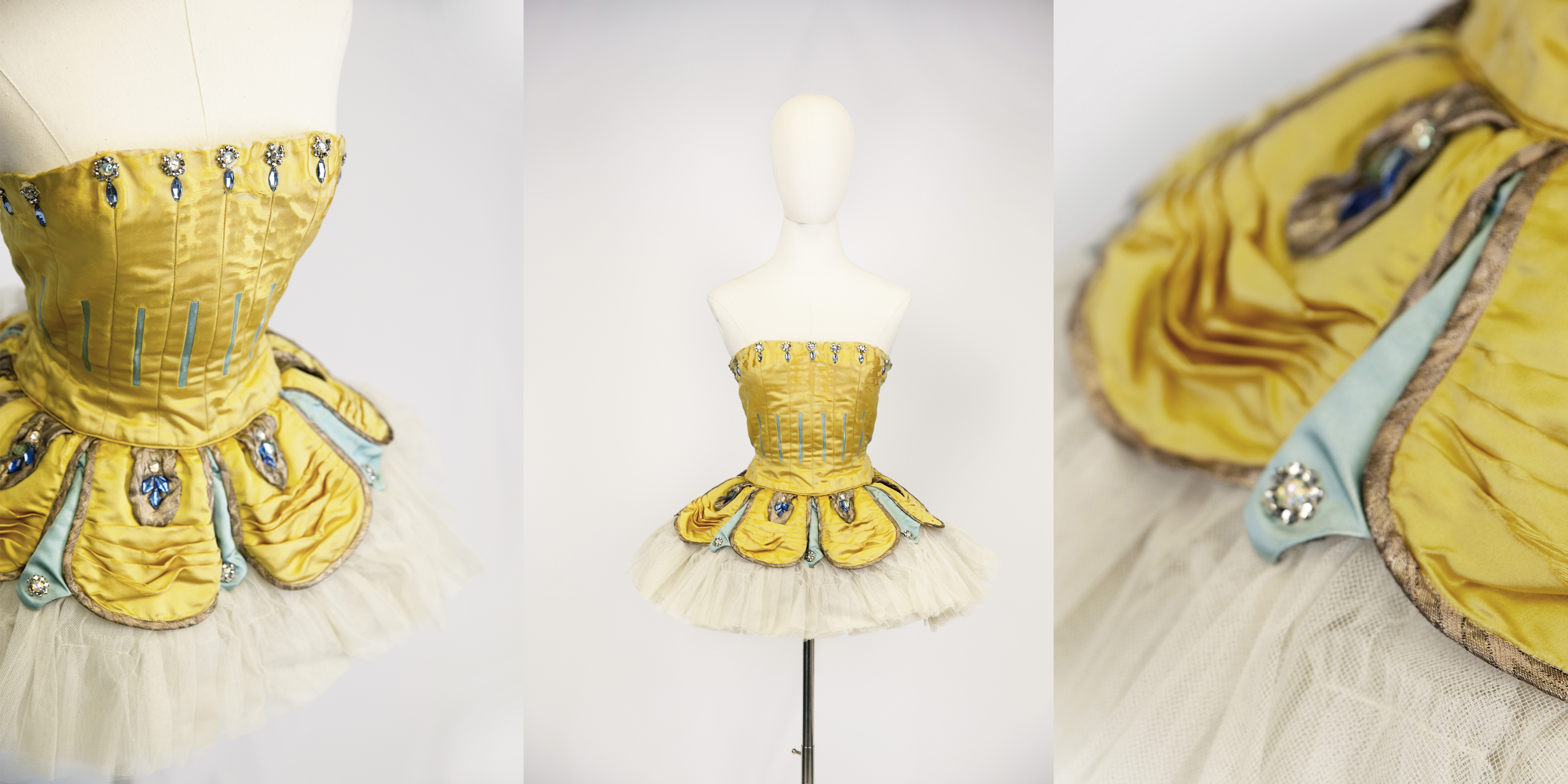 Choreographed in 1941 for a tour of South America by American Ballet Caravan, a precursor to the Company, George Balanchine's Ballet Imperial was intended as a representation of classical technique for unfamiliar audiences. Rather than re-stage an earlier work for this purpose, Balanchine chose to set a new ballet to a piece by one of his favorite composers—Tschaikovsky's Piano Concerto No. 2. This would become the work's title when it premiered on NYCB in 1973, with romantic blue costumes and sparkly headdresses that while different in color and shape, conveyed a similar sense of Balanchine's Russian inspirations.
"What I remember most were the headpieces, because they were very heavy," says Kay Mazzo, former NYCB dancer and current faculty member at the School of American Ballet. "The coloring was very reminiscent of Russian colors to me. When we were on tour in Russia, we saw a lot of gold and blue motifs, and I think that's what Mr. Balanchine was hearkening to. But dancing in those headpieces was so difficult.
"In any other ballet for which Karinska made the costumes, the tutus were easy to lift your legs in and they didn't seem to weigh too much. But these were big and heavy! And there was a lot of running and a lot of jumping in Ballet Imperial. When he re-worked it into Tschaikovsky Piano Concerto No. 2 years later, he changed the costumes to chiffon skirts. I didn't dance it at that point. I thought that the minute he changed the look of the ballet, putting it in those longer chiffon skirts, he made it a different ballet—one that everybody enjoyed dancing more. And it looked more like a Balanchine ballet.
"It's a little bit similar to when he redid Donizetti Variations for me and Eddie Villella. It was originally costumed with tutus, and all of a sudden, we had these wonderful puffy skirts, like we came from a little Italian village. It was a totally different ballet—and much, much more pleasurable to perform. Think of something like Vienna Waltzes, where the costumes are long and sumptuous, but they were light as a feather. I didn't feel that way in Ballet Imperial.
"When we first rehearsed it, everybody knew it was going to be a challenging ballet, but nobody realized how much more challenging it would be to perform in those tutus," she adds. "It's still an incredible ballet, no matter what."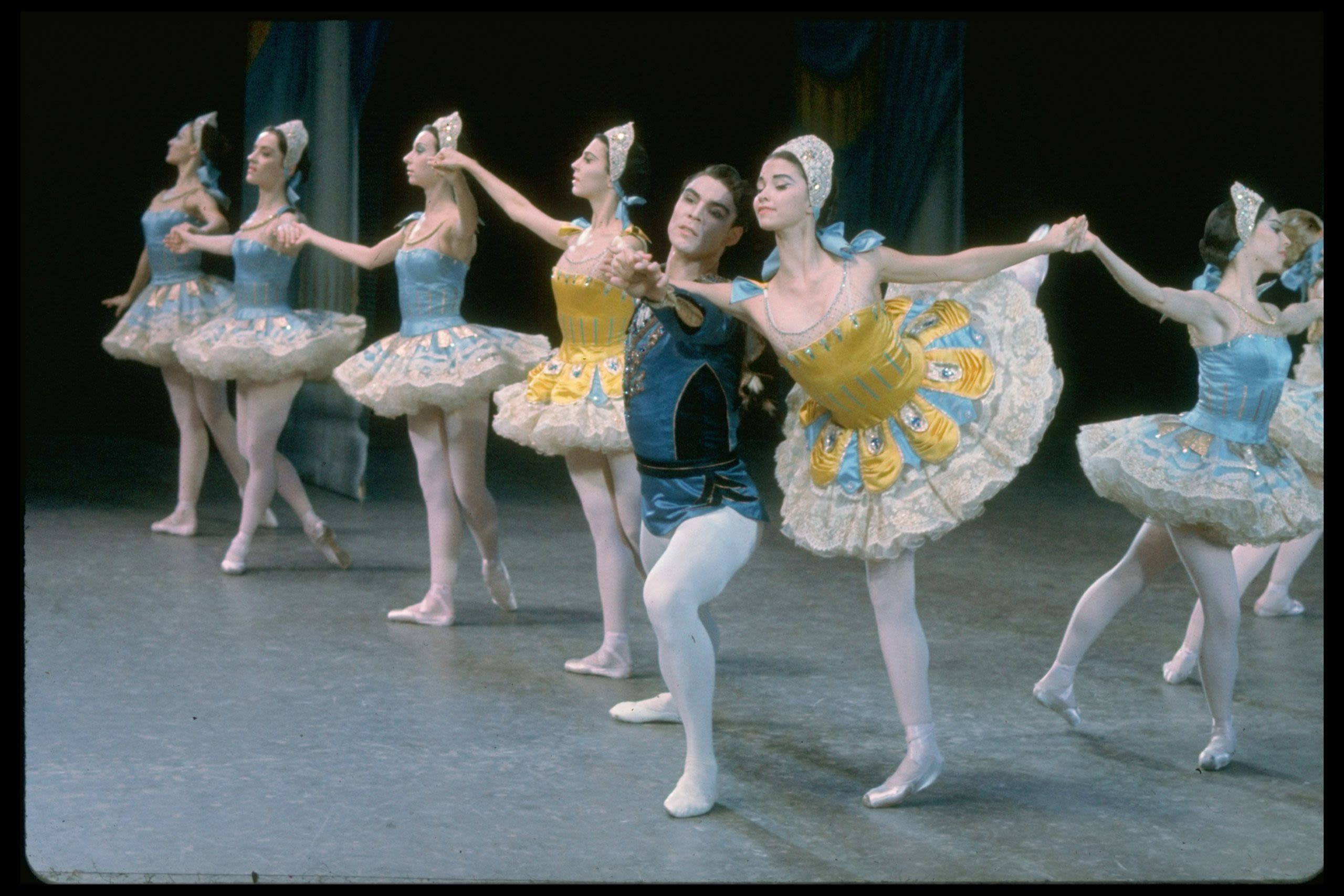 Former NYCB Dancers Suzanne Farrell and Jacques d'Amboise, photo by Martha Swope, 1964
Symphony in C
"I did the Third Movement corps of Symphony in C as a new Company member and I stayed in that same spot even until I was a soloist—I danced the heck out of that part!" says Associate Artistic Director Wendy Whelan of the Balanchine ballet. "I loved to jump—jumping was my 'thing' when I joined the Company—so that was always kind of who I thought I was. After I was promoted to soloist, I stayed in Third Movement corps because I wasn't on every night; I told Rosemary [Dunleavy, Senior Repertory Director], 'If you need me to do the corps, I'm happy to,' and she was like, 'Great!' So I did it forever."
In 1947, Balanchine choreographed Le Palais de Cristal to Georges Bizet's long lost Symphony in C on the Paris Opera Ballet, where he was engaged as a guest ballet master. Just a year later, the work premiered on NYCB, sharing the score's title and with black and white costumes; though simplified in many ways, the ballet was just as regal and classically elegant as ever.
"Once I became a principal, I started to learn the First Movement principal lead, and thought, 'Okay, this is probably a good fit for me.' And then somehow, suddenly I was cast in the Second Movement principal role, and I thought to myself, 'Okay, well, that's not really a jumping part…' I started performing in the Second Movement in 1992; I remember very clearly my first performance and my last performance of this ballet, from 1992 to 2008—I danced Symphony in C Second Movement a lot. The costume looks pretty fresh in my eyes for having danced in it so much!
"I was often thrown into that part, always doubling up or adding Symphony in C on to my program, but I loved it. My first performance in Second Movement, I remember William Forsythe was in the audience—we had recently premiered Herman Schmerman quintet. He stayed in town for a bit after the premiere, and he came to see my Second Movement debut. He came backstage and grabbed me and said, 'I wasn't quite sure you were a ballerina before, but after seeing you in this, now I know you are. I want you to dance the pas de deux of Herman Schmerman when I come back to add it on to the quintet next year.' So I originated that pas de deux at NYCB because of my first performance of Second Movement—a very memorable debut.
"My last performance in Symphony in C (also Second Movement) was at the Paris Opéra on the Palais Garnier stage in 2008. The Company was on tour and mostly performing at the Bastille, but we did one joint performance with the Paris Opéra Ballet, dancers from both companies mixed and matched within a program. I'll never forget that performance either, because my ballet teacher, who first sent me to New York, was French and studied at the Paris Opéra Ballet School. So, to dance on the stage where the teacher who literally signed me up for my School of American Ballet audition was trained, and to finish out my last performance of that particular ballet in that particular theater, where it was created, was the greatest gift. I could never have imagined that I would end up there, saying goodbye to that ballet.
"There was a gala that night, which I was a little late arriving to because Symphony in C had been the last ballet, and when I walked into the room, everybody applauded. And I was kind of like, 'Wait…is that for me?' I didn't know, and I still kind of half-doubt that it was… but I think it actually was, and when I think about it, I go, 'Was that a dream?' I never saved shoes from special performances, but I saved those shoes."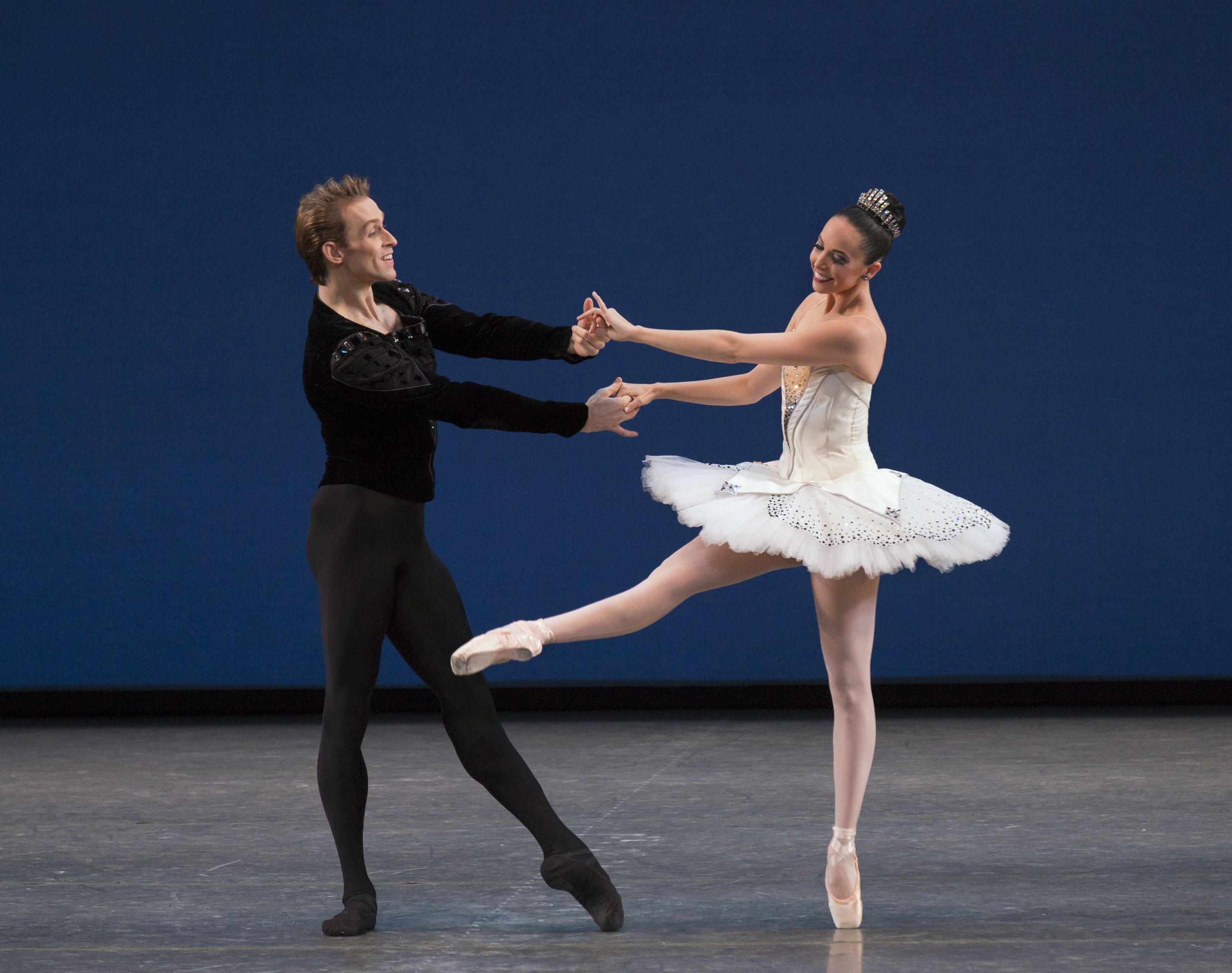 Principal Dancer Adrian Danchig-Waring and Soloist Brittany Pollack, photo by Paul Kolnik