NYCB Dancers on Keerati Jinakunwiphat's Fortuitous Ash
By Madelyn Sutton, February 7, 2023
In keeping with the Company's longstanding tradition of engaging with emerging choreographers of the art form's avant-garde, this season's programming included the world premiere of a new piece by Keerati Jinakunwiphat. Though trained from a young age in ballet, amongst other dance genres, gymnastics, and figure skating, Jinakunwiphat has been a member of A.I.M by Kyle Abraham since 2016, and has choreographed several works in the intervening years that might best be described as of a contemporary vernacular. As she recently told The Washington Post, "I love a ballet step, but I love to stretch and pull it out in different ways."
Jinakunwiphat first interacted with NYCB dancers while assisting choreographer Kyle Abraham on a recent commission. She then participated in the New York Choreographic Institute's Fall Session 2021, which culminated in Impeccable Quake, a piece for six Company members set to the eponymous track by Chinese-born American composer and Pulitzer Prize-winner Du Yun. This was followed by an additional NYCI working session in the summer of 2022 in the lead-up to her own first commission for the New York City Ballet stage, which premiered on February 1 this year. Also set to the music of Du Yun—"Air Glow" and an excerpt from "Run in a Graveyard," specifically—Fortuitous Ash features some of the same dancers as Impeccable Quake, and similarly stretches and pulls their experience and expertise.
We spoke with six of the nine originating cast members about Jinakunwiphat's approach to the creative and rehearsal processes, her unique choreographic voice and vocabulary, and what this momentous work means—broadly, and to each of them.
"I first met Keerati during the creative process behind Kyle Abraham's The Runaway," recalls Soloist Sebastian Villarini-Velez. "Her kindheartedness and understanding [then] were qualities that drove me to feel more comfortable with a foreign, contemporary vocabulary, and she recreated this with Fortuitous Ash. She'd come up with an idea as a springboard for us to create whatever felt most natural to us." Both Villarini-Velez and fellow Soloist Harrison Coll only began working with Jinakunwiphat this past fall, rather than taking part in the NYCI sessions.
"Immediately when she gave us a couple phrases to work on, I was like, 'Holy crap, I don't know if I can move like that,'" says Coll. "She's an amazing mover. Usually I think that I can replicate a choreographer's movement, but this involved such different muscle groups and different finessing; her plié is insane and her legs are so strong. There was so much floor work that looked so cool when she did it. And when I did it, I felt so lame! But she worked on it with us, and we worked as a team to see what ultimately worked."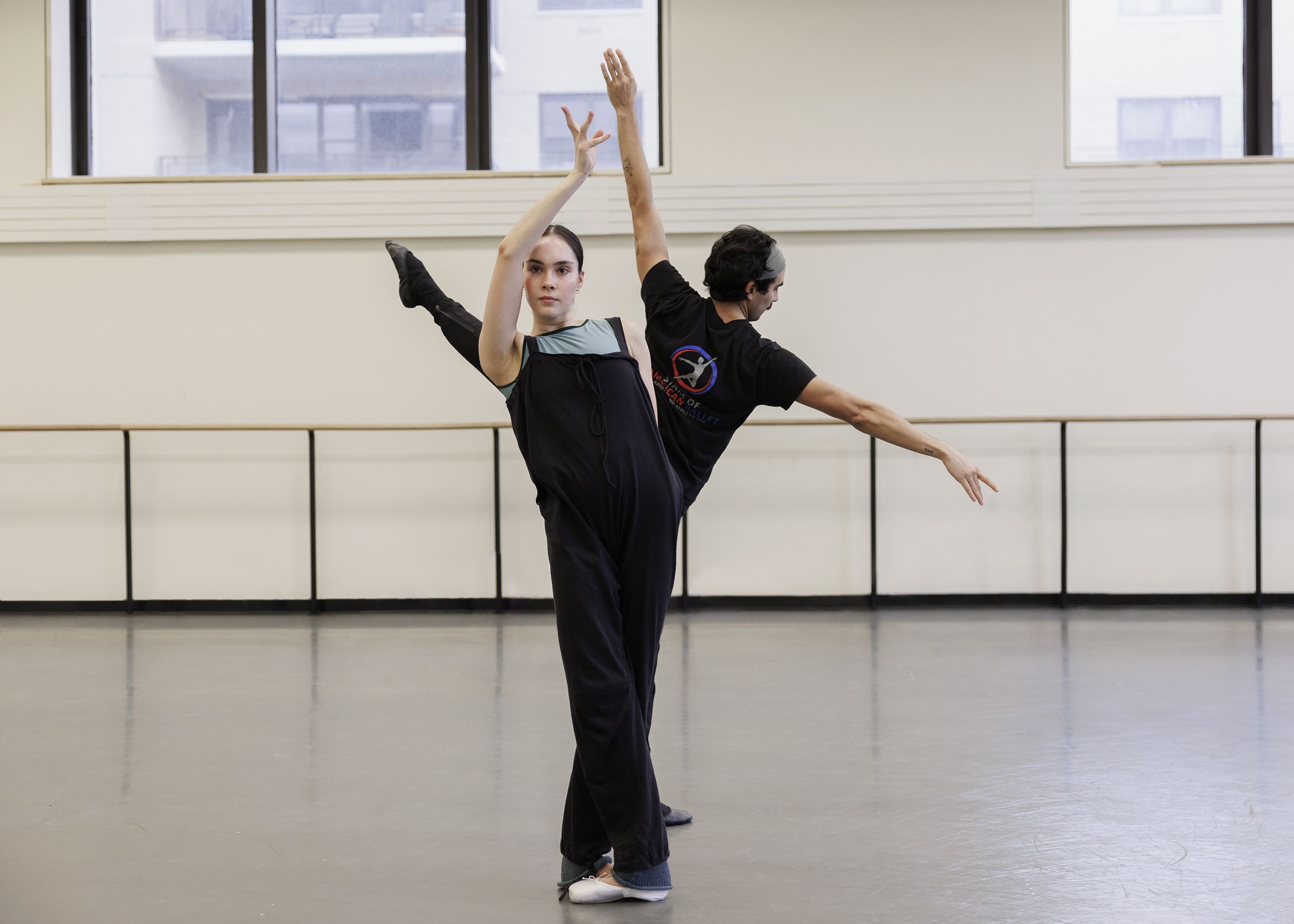 Becoming comfortable and confident in a new or unique style of choreography brings additional challenges to the creative demands of originating a role. For Soloist Mira Nadon, Jinakunwiphat's rehearsal structure helped bridge the gap. "Keerati definitely moves in a more contemporary way than I usually do," says Nadon. "She led us in some improv-based warm-ups at the start of rehearsal, which was something I had never done. The exercises she gave us allowed our bodies to loosen up and get more grounded after a long day of classical ballet."
"Keerati's movement vocabulary is different from what I am used to dancing everyday," agrees Corps de Ballet Member Kennedy Targosz, who participated in the creation of Impeccable Quake in 2021 as well as this new piece. "It's much more free and open to interpretation than typical ballet positions. She encourages us to explore and play with the movement rather than replicate an exact vision or a specific step. She helps us find new ways to challenge ourselves artistically and creatively." Like Targosz, Corps de Ballet Member Quinn Starner was brand new to the Company when she first worked with Jinakunwiphat during her initial NYCI session. Both dancers trained at the School of American Ballet prior to becoming apprentices and joining the Company's ranks; in a way, their early experiences with a choreographer like Jinakunwiphat, whose approach contrasts so distinctly with their preceding education, represent formative moments in their journey as performers. "I love being in the studio, learning from her," says Starner. "I feel I always grow as a dancer and artist with every new experience I have had working with her. She creates such a safe environment for us to let our guards down and explore new ways of moving."
For Principal Dancer Chun Wai Chan, who first "fell in love with" Jinakunwiphat's movement and ideas during the Summer 2022 workshop, the collaborative nature of the choreographer's approach similarly offered the possibility for self-discovery. "She gave me a lot of room to explore—she would provide some phrases, then ask us to choose from those phrases, and then try a different order to find the best approach for our own voices. I was able to create a solo with the material she gave me. She made the movement for this piece, but I really felt a sense of ownership."
Though the individuality and specificity of each dancer is significant to the unfolding work, Jinakunwiphat remains unambiguous about the importance of her own individual, specific voice speaking clearly through the finished piece. "After working with Keerati on two different pieces over the past year, I feel that I understand her process so much now," says Starner. "She challenges us with different ways to move to see what we can do with it. She pushes us to help bring her choreography to life. We would do a lot of little tasks to get our brains thinking—for example, she would draw a shape on a piece of paper and try to have us match it with her choreography. It was challenges like this that I am so thankful for, as it helped me think in different ways and helped me improve my movement."
"The other really interesting thing was, we didn't work with the music until the end of the process," shares Coll. "I was getting frustrated during one rehearsal because I didn't know what the counts were in a certain part. We're so used to working with counts and having a framework; I'm a little bit of a control freak in that way, because I feel like I'll get lost if I'm not on the music or on the count. She was like, 'Don't worry about the music. I just want to see how the movement looks naturally and how you would pace it.' We had so much control, so much agency, that it was almost scary."
"The music from Du Yun is very special," adds Chan, referring to the unique challenges of the contemporary score. "At first, I was like, 'How can we get the notes, and how can we have any musicality within our movement?' But there's a very interesting chemistry between the movement of the dancers with music that is very unlike anything we've heard before. I really like how we put these two very different things together. And that creates a sense of uniqueness in this piece."
The work's title refers to a phoenix "rising from the ashes," as the dancers explained, as though their movement sets the stage for a rebirth following some kind of devastation—perhaps that of the COVID-19 pandemic, which was in full swing while Jinakunwiphat was first creating for the Company in 2021. But it is the "fortuitous" quality of the dancers' connections which affects a rich, living humanity. "This piece feels very communal," remarks Nadon. "The moments of eye contact and each of us connecting with each other onstage are really important. It's been fun to work with this group of people and bring this piece to life."
Beyond the potential symbolism or imagery conjured, the ballet has meaning that is both significant to NYCB as a whole and on a personal level for the dancers involved. "Fortuitous Ash marks a milestone for the Company—both the composer and the choreographer of the piece identify as women of Asian heritage, which has never occurred at NYCB," says Targosz. "As an Asian American dancer, this piece is very special to me, and I am so grateful to have been a part of it."
"To me, it's like something has broken and then, with time and different circumstances, rises again. So there's a lot of optimism in this piece," says Chan. "I noticed that KJ [Takahashi] and I are wearing the same color costume; before he leaves the stage, he looks back, and then I come out onto the stage. To me, it's like I'm looking back at the younger version of myself. It's what I experience when I see myself in videos from when I was 16, 18 years old. I had a lot of drive at that time, it was like nothing was impossible, the sky was the limit. And I really went for it, every day, even though I was super tired, and the next day, I'd wake up and start all over again. So this piece gives me that feeling again, like the younger version of myself, craving so much. Nowadays, we are often down on ourselves, not chasing as much, because we've had the experience of, 'Oh, it's not working again.' But this piece makes me remember that optimism."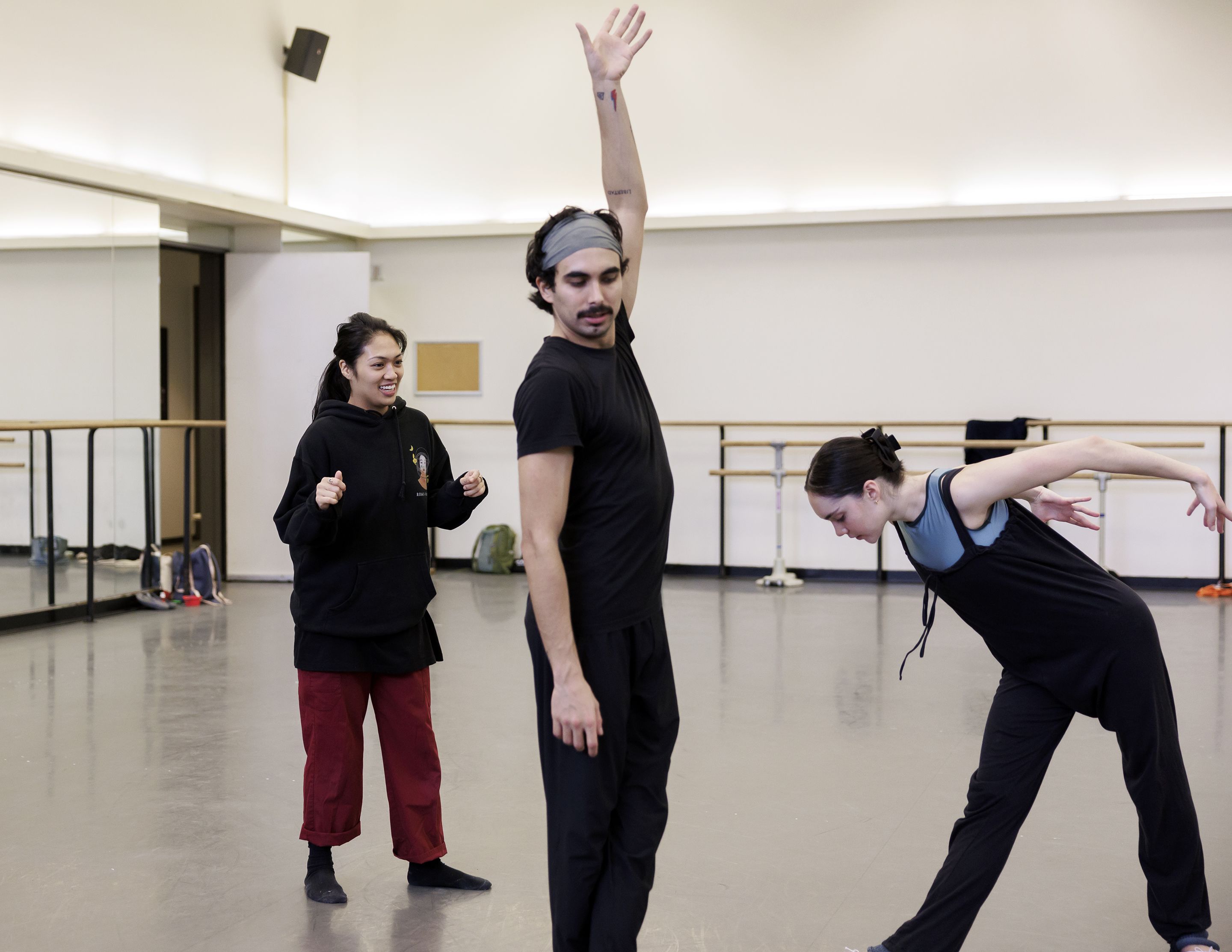 "As artists, we are exposed to a heavy level of scrutiny, mostly from ourselves," adds Villarini-Velez. "At times we might be insecure when a choreographer asks us to do something that takes us away from our usual, classical vocabulary. I felt like some of my peers who aren't exposed to this movement would feel insecure at times, but nonetheless, rise up to the challenge of exploring new levels of artistry. It's easy to rely on our usual bag of tricks, but I enjoy the risks of detaching from what looks good and moving in a way that feels good. It's our responsibility to rise up to these challenges and expand our artistic horizons."