Get to Know the Company's Newest Dancers
By Madelyn Sutton, Malik Winslow, July 30, 2022
As the 21-22 Season came to a close this past spring, three apprentices were elevated to the ranks of NYCB's corps de ballet. To get to know them a little better, we asked David Gabriel, Ava Sautter, and Mckenzie Bernardino Soares, all of whom were students at the School of American Ballet before joining the Company, a little bit about themselves and their journey to becoming members of the NYCB family.
Condensed and edited for clarity.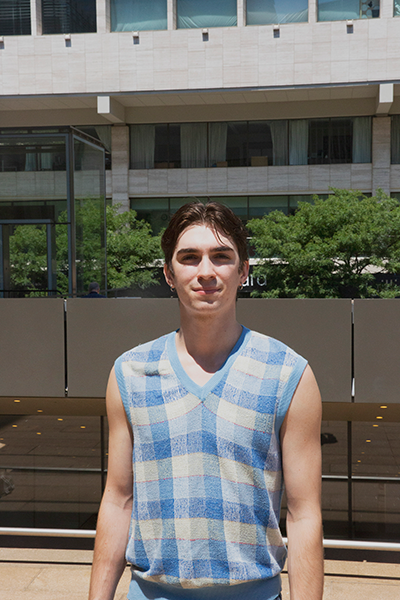 David Gabriel
What did you do when you first found out you'd be a part of the Company?
I was under the impression that in order to get a corps contract I would have to make it to the end of [NYCB's tour at] Saratoga [Performing Arts Center], but I got in in a very surprising and unconventional way. I had missed a few performances in the spring because I had COVID and I was really not expecting this to happen when it did. I was backstage getting ready for a Midsummer complete onstage rehearsal, and Jon [Artistic Director Jonathan Stafford] called me over and told me I was now a corps member, and I was absolutely stunned! And then I just went onstage and rehearsed like nothing had happened, except I could not stop smiling and shaking because of how happy and excited I was. My first performance as a corps member was "Fall" from Jerome Robbins' The Four Seasons, and I don't think there is a better ballet to encapsulate the joy I was feeling on that day!
What have been some of your favorite moments as an apprentice with the Company?
My first performance was very memorable: I was thrown into Glass Pieces, which has since become one of my favorite ballets to watch and dance. Some of my other favorites include Tea in The Nutcracker and The Goldberg Variations. I've also thoroughly enjoyed getting to know so many of the Company members and forming new friendships with such an amazing community of dancers.
What makes NYCB special?
I love how much the corps de ballet gets to dance. It feels so incredible to be dancing alongside my friends and to see everyone smiling and so happy together!
What do you do when you're having an off day, or an off week, to get back into the right headspace?
Whenever I have an off day or week I try to remember why I love ballet, and that makes me happy. I try to find something small to focus on and motivate me to better myself and my dancing. I find that if I am very focused on bettering myself instead of criticizing, it gives me a more positive outlook.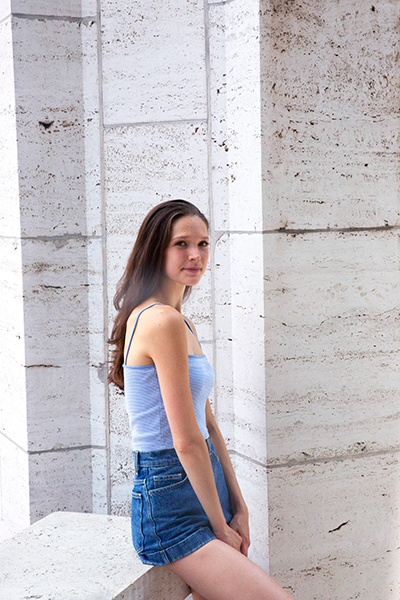 Ava Sautter
What have been some of your favorite moments as an apprentice with the Company?
One of the most special moments I had as an apprentice was stepping into the "Phlegmatic" movement from Balanchine's The Four Temperaments. I had seen The Four Temperaments various times while I was a student in the School of American Ballet and had dreamt of being a part of it some day. I had only performed large corps parts prior to this—Nutcracker, Swan Lake, and Walpurgisnacht Ballet. The Four Temperaments was different. Only a leotard, bright lights, and three other corps de ballet women next to me. I was filled with a rush of pure excitement and thrilled when I stepped out on the stage, and it was a moment I knew I'd never forget.
Who inspires you most or is a particularly important model or mentor?
Former Principal Dancer Maria Kowroski has always been my number one idol as a dancer, but more importantly, as a human. Maria carries herself with poise and passion inside and outside of the studio. I have always been drawn to her emotional connection to her work. Maria came alive onstage and brought the audience with her on each and every journey. As a tall dancer, moving quickly can be a challenge, but Maria made it possible and for that she made me believe in myself.
What do you do when you're having an off day, or an off week, to get back into the right headspace?
When I am having an off day in the studio, I turn to what makes me most happy outside of the studio. My favorite things to do are cook new meals and spend time with loved ones. However, I remind myself that in order to have good days, you must have the bad. Being an artist is vulnerable and scary at times but that's what makes us thrive in the studio and onstage.
How do you unwind after a tough day of rehearsals or a performance?
My favorite way to unwind after a day of rehearsals or a performance is with a protein shake in one hand, a bowl of popcorn in the other, and my feet submerged in an ice bucket.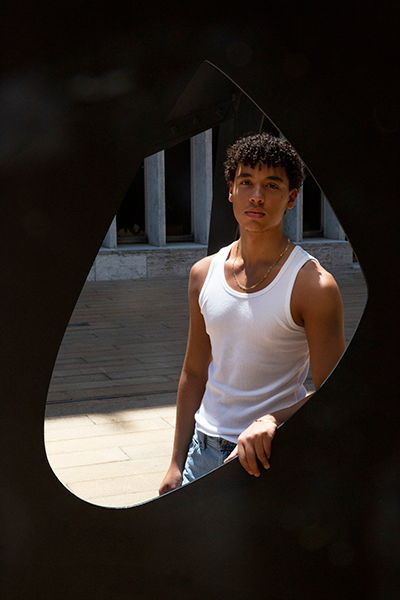 Mckenzie Bernardino Soares
What did you do when you first found out you'd be a part of the Company?
I was speechless. It happened right before the Company's first dress rehearsal for A Midsummer Night's Dream, the last program of the 21-22 Season. I was in a skirt and pink tights when Jonathan Stafford approached us backstage and congratulated us on becoming the newest members of the corps de ballet! It was so unexpected, which made it so much more special. The first thing I wanted to do was call my mom and tell her, however, I did in fact still have rehearsal. So afterwards I quickly changed out of my costume and ran outside the Theater to call her. As an apprentice, you definitely feel like you're walking on eggshells a little bit, just really trying to showcase who you are as a dancer to the Company. So now, being in the corps de ballet, I look back and feel like, "You know what, I must be doing something right!" Which is the best feeling in the world. I just couldn't be more grateful to be here.
What makes NYCB special?
I started training at SAB when I was six years old, and from the second I stepped onto the David H. Koch Theater stage as a child, I knew that this is where I wanted to dance. I remember my first time on the NYCB stage as a soldier in The Nutcracker like it was yesterday. I was so nervous to step onstage, but once I was on, I didn't want to leave. Growing up, my mom would commute with me in and out of the city every day for my ballet training—an hour and a half to SAB and an hour and a half back home. It would make for very early mornings and very late nights, especially during Nutcracker season. The rides back home in those harsh New York winters were just brutal. However, being on that stage every night, even if it was just for 30 seconds, made it worth it every single time. I loved being onstage so much, it is surreal to me that dancing on that same stage is now my job. A true full-circle moment.
Who inspires you most or is a particularly important model or mentor?
I would have to say that Principal Dancer Jovani Furlan is my main inspiration within the Company. Both of my parents immigrated from Brazil to a town called Danbury in Connecticut, where a good chunk of the population are also Brazilian immigrants. So when I started training at SAB, it was definitely a culture shock. Nobody in my classes looked like me, spoke the same language, or shared the same culture. Once I started performing with the Company I started to notice something as well—not one Brazilian dancer onstage. Because of this, it was always a struggle for me to find inspiration within the Company. So when Jovani joined the company in 2019, it was a game changer for me. For the first time, I could see myself represented within a dancer at NYCB. Someone who speaks the same language, who shares the same culture. Seeing him perform on that stage gave me the confidence to believe that one day I could do it too. Thankfully, two years later, that dream came true for me. I don't think that there have ever been two Brazilians dancing in the Company simultaneously, so it feels super surreal to be a part of that history. I hope that one day I can be what Jovani was to me: an inspiration to the next generation of little Brazilian boys who will see me dance, and be reminded that they can do it too. I hope that this is just the beginning.