NYCB's 2015 Art Series Collaborator
By Luke Crisell, January 13, 2015
Dustin Yellin moves like he talks, which is to say: extremely fast. One recent evening he was hurtling through the 24,000 square feet of Pioneer Works, the arts center he has built in Red Hook, Brooklyn, pointing out particular areas ("That's the physics lab, the artists' residencies, the radio station, the classroom, the performance space, well, one of them…") as various people tried, unsuccessfully, to slow him down and others tried to keep up. Stairs were climbed two at a time, up and down, and he was shouting to people three floors above him from the massive museum space on the ground floor, barely breaking his stride to hear their responses. At one point he asked: "You interested in space time continuums? We have a lecture about astrophysics and time later. You should really stick around." Now, Yellin, 39, brings this indefatigable energy to New York City Ballet for the third installment of the Art Series, and, as you may have noticed, he's brought a small army with him.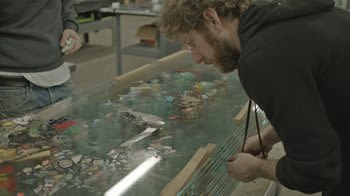 The 15 3,000-pound sculptures currently on view on the Promenade were made specifically for NYCB's 2015 Art Series, but are part of a larger installation Yellin calls "Psychogeographies." When finished, this will consist of around 100 sculptures. Technically astounding, they're created by a process Yellin keeps close to his chest, but which involves compiling clips and fragments taken from a taxonomy of paper cuttings arranged on glass slides, individually layered, which are then fused together to create 3-D sculptures of the human form. Yellin finds the theory of Psychogeography, defined by Guy Debord in the '50s, "very interesting," but says it's not where the name comes from. Rather, "I called them Psychogeographies because they feel like they're sort of these maps of our psyche. DNA maps, marked with images found in our collective consciousness that's extrapolated into media—whether that's magazines or books or garbage on the street," Yellin explains. "So they're sort of these humans trapped inside of these microscope slides that are made up of this cultural DNA." In laying bare skeletal arrangements which seem mutable and impermanent, Yellin brings new beings into a shadowy half-existence where they're destined to remain, petrified, forever. They're born from a synthesis of art and science which defines Yellin's work, and which he both presides over and cultivates at Pioneer Works.
The space began life as an iron works. Yellin bought it three years ago, raising the $3.7 million himself. Heavily influenced by the ideals of Black Mountain College in Asheville, North Carolina, the famous liberal arts school with a faculty that included Walter Gropius, Willem de Kooning, John Cage, and Merce Cunningham, Pioneer Works is a utopian vision that hasn't simply come to life but seems to hum with unchecked energy—the space, though cavernous, seems unable to contain the multitude of facets sparking away within it. It has also revitalized the neighborhood that Yellin, born in California and raised in Colorado, has called home for the last 10 years.

"The idea is to have all the disciplines percolating simultaneously, so you have physics next to music, next to film, next to poetry. All of it happening"—and here he bangs his iPhone on the table with each syllable—"At. The. Same. Time. So if you come in off the street, you just get bombarded with an entire world of possibility that you had no idea was there. You get exposed to process, how science is done and how art is made."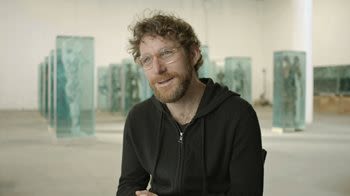 Not only is this great for the public, of course, but the people working in Pioneer Works don't have to go far to make some magic happen. "We had a painter who started working with a geneticist to come up with an algorithm for printmaking," Yellin says, breathlessly. "Some artists are designing environments for the oculus now so we're creating a virtual reality lab." This fluidity between disciplines is the fulcrum of Yellin's approach to apparently everything: "There's no difference between anything for me. Whether you're surfing or you're making a sculpture or you're making free energy or you're in the ballet.

It's all the same." His own studio space, filled with assistants meticulously assembling more sculptures—lying striated on palettes—is next door. "I couldn't live [in Pioneer Works] because it would be a bad idea psychologically. I can't have my studio [there] because the mission will get misinterpreted." In the far corner the sculptures Yellin created for City Ballet stand in neat formation, each its own world, a frozen explosion. Seeing them like this, it's not hard to understand one of Yellin's initial sources of inspiration for the project: the Terracotta Army, which he saw in Xi'an, China.
Yellin is refreshingly honest about the practicalities of being a contemporary artist working today, albeit an extremely ambitious one. He created Pioneer Works largely through the sale of small-scale pieces and sculptures from his Psychogeographies series. "It's a single installation," he says. "Only because of economics have they been separated. If I could, I would keep them all together, all the time." One day, he hopes to call at least 48 back for a large-scale exhibition, but until then to have 15 of them on display in Philip Johnson's storied building at Lincoln Center is clearly a thrilling prospect. "It's a dream gig for me. I couldn't even show [sculptures in the series] before because I was building Pioneer Works and they'd be like, 'We need electricity.' And I'd be like, 'Well, do I not sell something so I can hold it so I can have a show with it? Or do I just be like, 'Sell it, and we've got electricity.'" He hits the table. "Sell it, we got stairs." Bang. "Sell it, we got walls." Bang. "Sell it, we got bathrooms."

Later that night, the astrophysics lecture fills up fast. Attendees have come from far and wide on one of the coldest nights of the year and quickly the seats are all taken, leaving people standing everywhere, waiting to hear a discussion between preeminent scientific figures debating such questions as "Will black holes explode in firewalls?" Has all this, I ask, surpassed Yellin's wildest dreams at this point? "My wildest dreams are completely surpassed," he says, slightly more pensive than earlier. "But you get new dreams. Sometimes, I just feel too grateful and too lucky. Like I'm going to go to the doctor and they're going to be like, You're dying. Or I'm going to get on a plane and it's going to go down. It's really uncanny that all the stuff that I dreamed about when I was 18 or 19 is now real."
Photos © Sam Wootton and Nick Bentgen