Meet the Newest Members of the Corps de Ballet
By Madelyn Sutton, Malik Winslow, April 12, 2022
As the 21-22 Season continues to unfold, four apprentices have been elevated to the ranks of NYCB's corps de ballet. To get to know them a little better, we asked Ruby Lister, Quinn Starner, Kennedy Targosz, and Rommie Tomasini, all of whom were students at the School of American Ballet before joining the Company, a little bit about themselves and their journey to becoming members of the NYCB family.

Interviews have been condensed and edited for clarity.
Ruby Lister
What have been some of your favorite moments as an apprentice with the Company?
I got to perform Serenade on the opening night of NYCB's Fall 2021 performances. It was the first ballet, the first show after the pandemic, and my first performance as an apprentice with NYCB. I will never forget that night. Before the curtain went up all the Serenade corps women were standing onstage under the blue lights, many tearing up a little, anticipating the first time performing on that stage in a year and a half. Despite a little blurry vision and some shakiness, I savored every moment. I often replay those moments in my mind when I need a little motivation; the dramatic first note, the audience's roaring applause, exchanging smiles with the other dancers onstage whom I had always seen from the audience. We were all in it together. I am so incredibly grateful for that opportunity and experience. I wouldn't trade it for anything.
Are there any ballets you are looking forward to performing?
I'm really looking forward to performing Symphony in Three Movements since it will be my first Stravinsky ballet. I grew up playing piano and have always loved Stravinsky's works. During the early pandemic days, my grandmother and I would watch videos of ballets on YouTube and we'd talk about the choreography, and she'd tell me what she knew about the music—she has a degree in music. Stravinsky was often a topic of conversation, and the Balanchine-Stravinsky ballets were always a favorite of ours. The counts are definitely tricky but the rehearsals are always so fun for me. I can't wait to finally do it onstage!
How do you unwind after a tough day of rehearsals or a performance?

Other than the basics like food and an ice bath, I'll often play iMessage games with my little sister. We're both competitive but we always have fun with it. They usually beat me unless it's Mancala, my specialty (My sister's pronouns are she/they). I'll also play piano some nights if it's not too late and I won't wake anyone.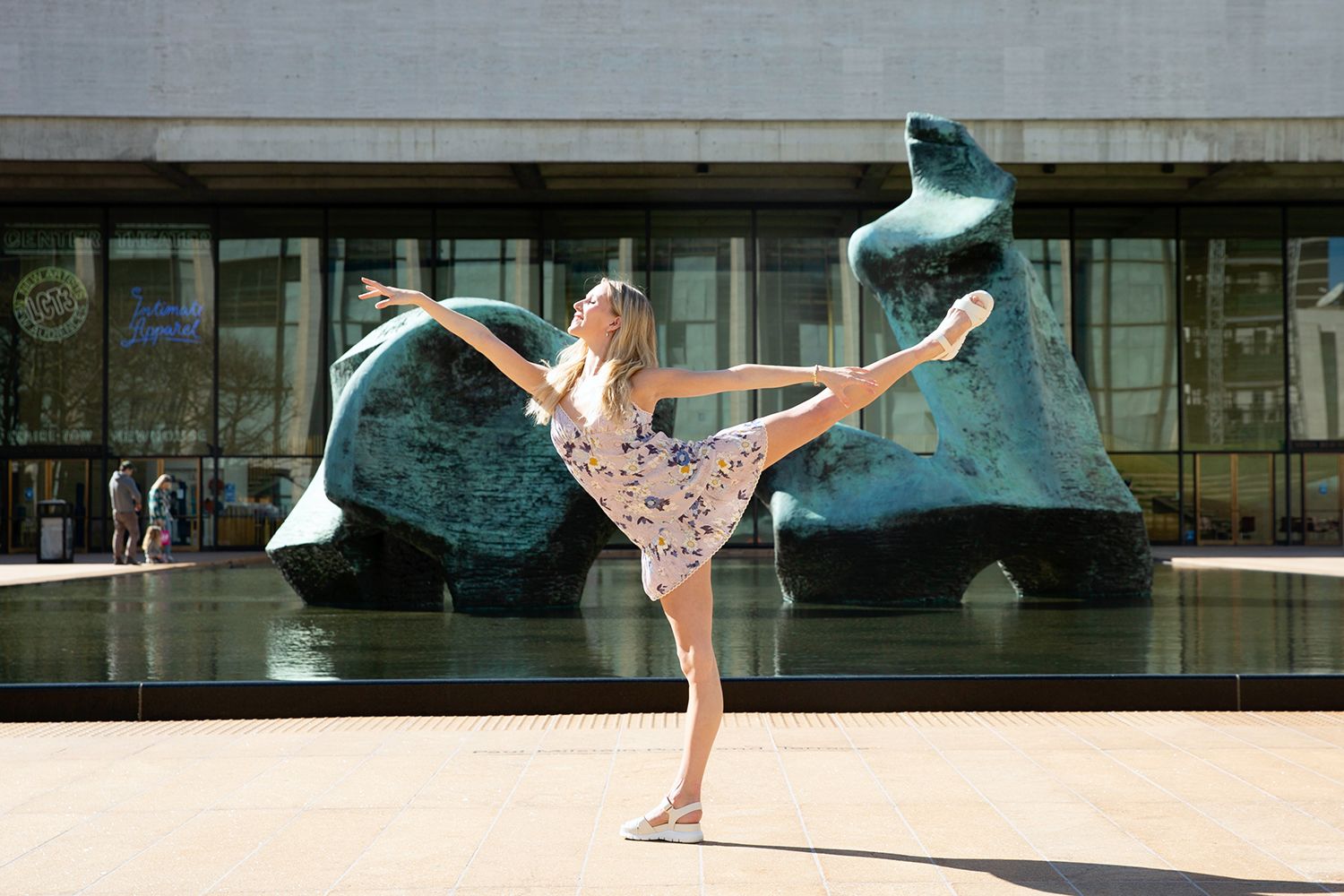 Quinn Starner
What did you do when you first found out you'd be a part of the Company?
When I found out I got into the Company, I started crying with tears of joy. I couldn't believe it. The announcement happened on our first day back to start rehearsals for spring performances. I was so surprised! This is the news that you wait and hope to hear! I called my parents right away to tell them this amazing news. New York City Ballet has always been my dream company and it just felt like a dream come true.
What have been some of your favorite moments as an apprentice with the Company?
Dancing in George Balanchine's The Nutcracker® with New York City Ballet was so special to me. I have always loved dancing in that ballet since I was a little girl and I have watched the NYCB Nutcracker for so many years—actually being able to be a part of it was so incredible. I remember during my very first show, when the snow started to fall, I thought to myself, "Is this real life?" I just couldn't believe that I was onstage dancing in NYCB's Nutcracker. Looking out into the audience is really a surreal moment every time I am onstage. It feels like I am dreaming. Nothing in the world can compare to dancing on this stage.
What makes you unique as a dancer?
I grew up dancing all genres of dance. I participated in many competitions when I was younger, competing in all styles, and I now feel like that has helped my dancing—it has improved my musicality so much. I feel my diverse training has given me a better understanding of how I can take choreography and make it into something more, and bring a piece to life.

Kennedy Targosz
What do you like about living in NYC?
I love living in NYC for many reasons. I like the variety of places you can get to just by walking. NYC has some of the best museums, parks, theaters, shopping, and restaurants in the world, and it is known as the art capital of America. The diversity and culture is amazing, and I enjoy the fast pace of the city; you can never be bored. I also love the fashion.
Do you have any special memories from SAB?
One special memory I have from SAB was the Showcase at the end of my last year at the School. Due to COVID, we were unable to do the Workshop Performances. Instead, we were fortunate enough to be able to film variations in small groups and perform them on an outdoor stage in Lincoln Center. Working on the variation from Donizetti Variations with Kay Mazzo and performing with my friends was definitely a highlight, especially after spending over a year doing virtual classes at home.
Are there any ballets you are looking forward to performing?
One ballet I look forward to performing is A Midsummer Night's Dream. It was the first ballet I ever saw NYCB perform, so it has been something I have wanted to dance for a long time. I love the choreography, story, music, and the costumes—it all feels so magical.

Rommie Tomasini
What did you do when you first found out you'd be a part of the Company?
I was in shock. It was the Company's first day back from our layoff before spring season, so when Mr. Stafford walked in to teach class, he first welcomed everyone back, then suddenly announced the new corps de ballet members. Then we just started class like a normal day! I was overwhelmed by the reality that there was finally no more uncertainty as to whether this would be my home as a dancer.
What do you do when you're having an off day, or an off week, to get back into the right headspace?
When I'm having an off day, something that works for me is to take time to reflect and realize it's okay to feel however you're feeling; not everyone feels 100% all the time. Taking a moment, going on a walk, listening to music, and seeing people outside of work helps me reset and get back into a good headspace.
Do you have any special memories from SAB?
My favorite memory growing up at SAB was being backstage during Nutcracker. Talking with all the Company members, asking for their signed pointe shoes, and writing our names on the wall backstage were all such memorable moments, because it was so exciting to be dancing next to the people that sparked my interest in ballet. To this day it still feels surreal dancing next to them onstage.