Studio Visit: Ailina Fisk
Meet NYCB's Archivist
By Madelyn Sutton, Malik Winslow, October 5, 2023
Ballet is a uniquely ephemeral art form, dependent as it is on experience and recollection. This is particularly true for New York City Ballet, which prioritizes the incomparable experience of witnessing a performance live, because no matter how wide the screen, a recording will fail to capture something ineffable about the experience. Like a single snowflake's path from the sky to the ground, the unfolding of a work from the repertory whenever it is danced onstage is unique, and melts into the endlessly growing foundations of the Company's history. For the dancers, audiences, orchestra members, and the many artists and technicians who take part in producing an evening at the ballet, memories remain the primary record of what took place. And yet the repertory and craftsmanship must be preserved for future generations, in spite of the fleeting nature of rehearsals, coaching sessions, and these live performances.
In 1999, the Company officially took on this challenge by establishing the Archive, to "protect and organize archival materials, ranging from documents, photographs, and videotapes to costumes, musical scores, and scenic designs, as well as correspondence and original print media." As such, the New York City Ballet Archive plays a key role in establishing and maintaining what the fall performance period celebrates: the foundation of the Company. To better understand the work required to protect and propagate this history, we spoke with Archivist Ailina Fisk.
Please tell us about your history with dance.

My very first ballet class was at the local YMCA when I was three years old. For our recital we danced to "Make 'em Laugh" from Singin' in the Rain, which I'm sure was fitting for a recital of 3-year-olds! My mother signed my sisters and me up for all kinds of dance camps and classes, so we learned Irish dancing, Hula, hip hop, jazz, twirling, and Kabuki to name a few. But my dance classes became serious when I was about six and enrolled in the Etgen-Atkinson School of Ballet in Dallas, Texas, studying with Ann Etgen and Bill Atkinson (the same studio as former Principal Dancer Sterling Hyltin before she joined the School of American Ballet!). I adored my ballet classes and would admire the old ballet photographs that decorated the studio walls. Before starting high school, my family moved to Austin, Texas, and I began classes at Ballet Austin 6 days a week. After ballet class, I would stay up late browsing ballet history websites, and it was during one of those nights that I stumbled upon the page on New York City Ballet's website about the "Archive." I was in absolute shock that there was a place where ballet artifacts and costumes were kept and that there was an "Archivist" in charge of it! Right then and there I knew what my life calling was. Somehow my mother agreed to let me miss a week of school and we flew to New York City and got a personal tour of the archive with the NYCB archivist at the time, Laura Raucher. That trip solidified my goal of becoming the Company's archivist, and the next summer, I was excited to be the Archive's intern!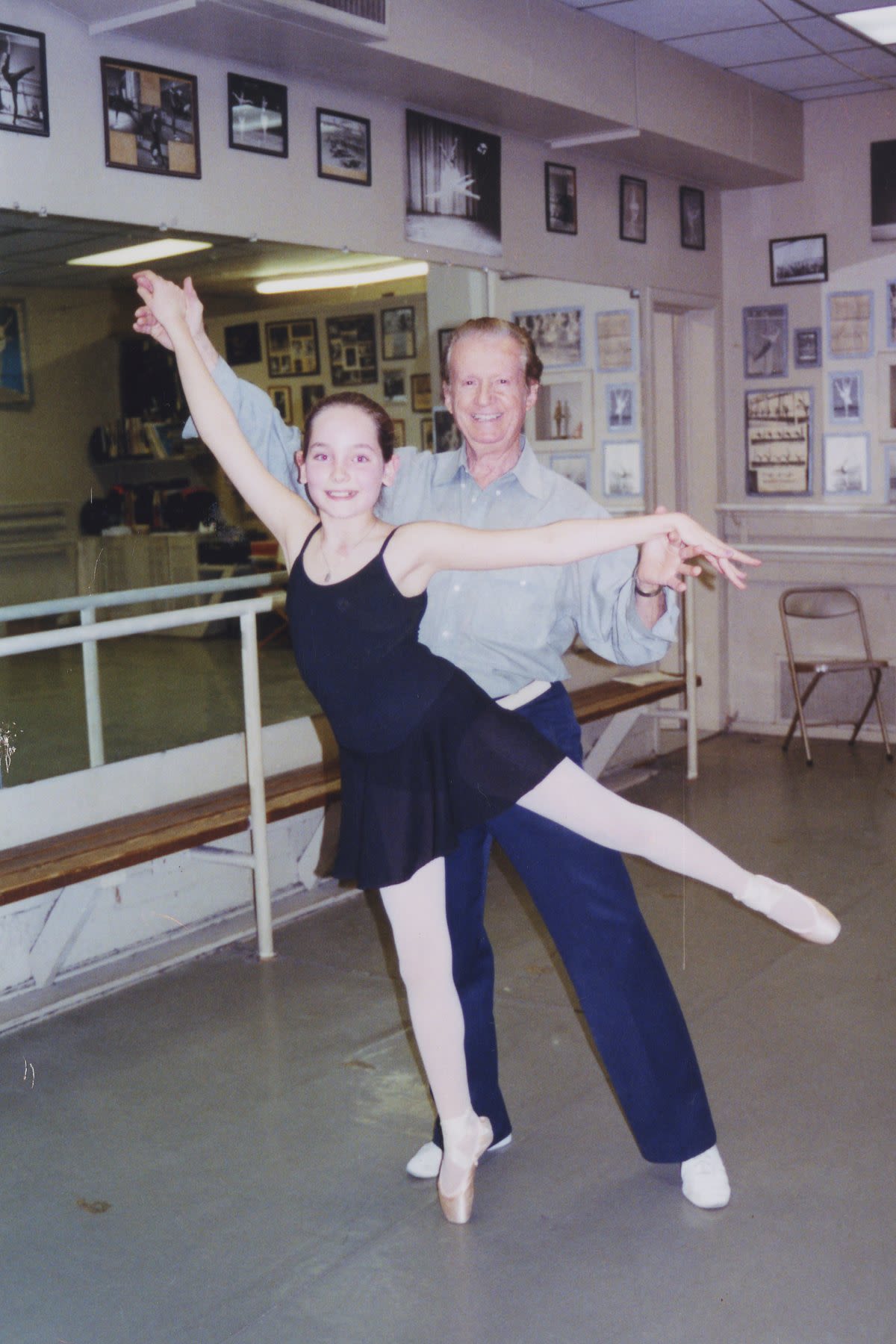 What drew you to explore library sciences and archival work?
I'm an old soul and have always been drawn to vintage clothing and collectibles. I began collecting ballet memorabilia and books specifically, and this was the beginnings of the extensive personal ballet archive I have today. I recognized historical value in crumpled costumes and fading photographs and soon had a ballet library of 1,000+ books. I didn't know it at the time, but I was doing rudimentary archival tasks with my collection, like creating a cataloging system and performing basic conservation on damaged and fragile items. Once I discovered the archivist career path, I was accepted for an internship at the Jacob's Pillow Dance Festival Archive and a Dance Heritage Coalition Fellowship. Next, I focused on obtaining my Masters in Library and Information Science to be one step closer to my goal. While in college, I saw an urgent need to rescue the personal archives of former dancers who were downsizing or had passed away. I established Ailina Dance Archives at that time to be a repository for the archives of these dancers and a resource for others needing archival assistance or digitization of their materials. I initiated digitization projects for the Frederic Franklin collection at the Jacob's Pillow Archive, Clive Barnes Foundation, and Glen Tetley Legacy archive, which were all remarkable collections to work on.
How did you end up working with the Company?
While attending Marymount Manhattan College as a Dance Studies major, I applied for a semester internship with the NYCB Press Office, eager to have some small role in the Company. Well… that one-semester internship turned into three and a half incredible years! I learned so much about the inner workings of the Company, which continues to aid my work as the archivist today. I feared my chance to be the NYCB archivist was over when I met my husband and we were stationed all over the country for his career as a Captain in the US Army. But my stars aligned and the archivist position opened up soon after we permanently settled in New Jersey. I do not take the immense responsibility or privilege of this position for granted. New York City Ballet has an unsurpassed history in the fields of ballet, music, art, design, and fashion, and I strive to ensure that history is preserved for future generations.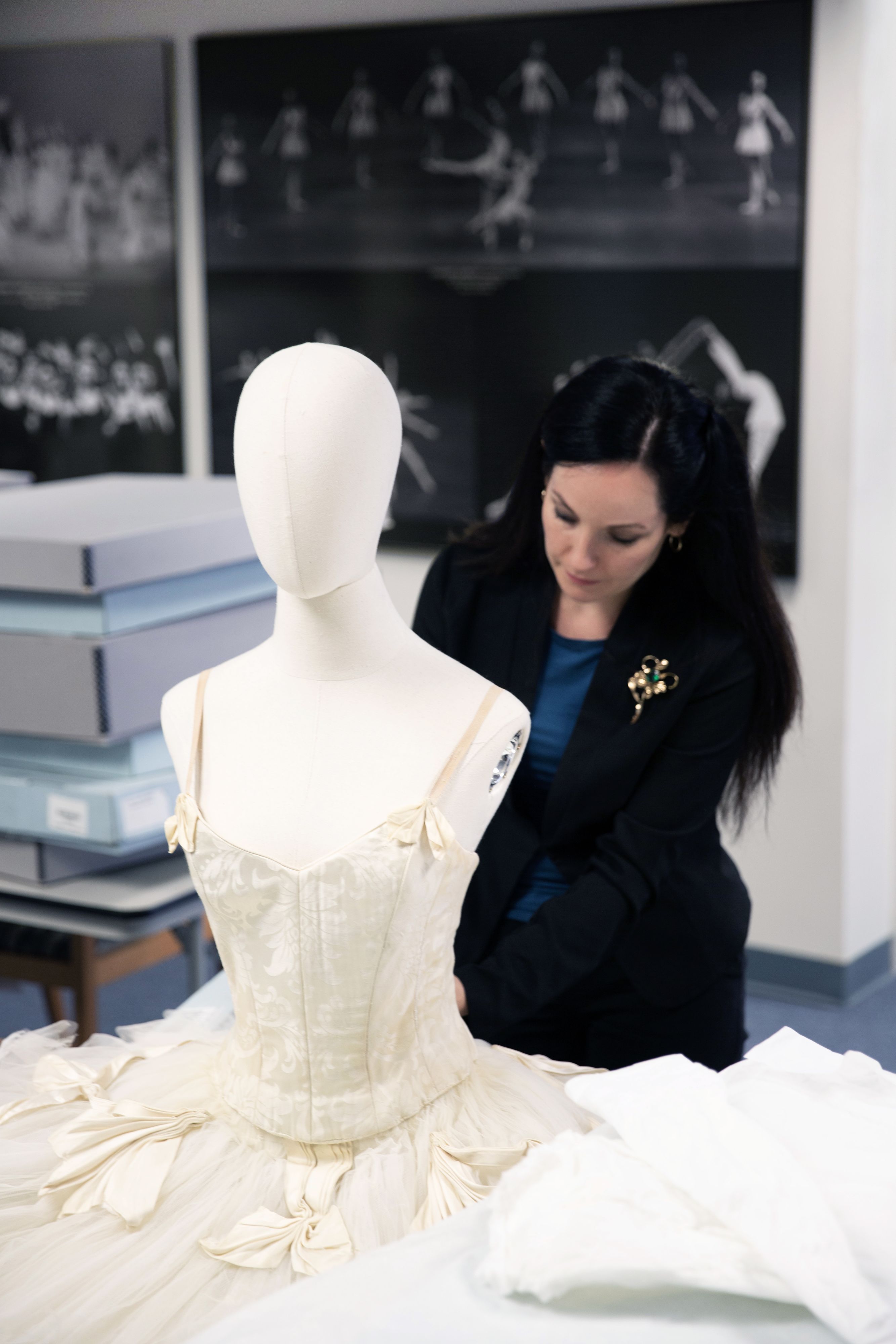 Please describe the day-to-day and general responsibilities related to your position with the Archive.
A friend recently compared my job to being a ballet archeologist, and I love that analogy! Essentially, my job is to document, collect, and preserve the history and products of the Company and make them accessible to our staff and external researchers. NYCB staff and researchers around the world send requests for archival photographs or research inquiries, and I go on a mission to fulfill those requests utilizing our extensive collection. It may be surprising to know that New York City Ballet is one of the very few ballet companies in the U.S. to have an archivist on staff. It is truly commendable that NYCB leadership took the initiative to establish a formal archive years ago and continue their support today in preserving our great history.
What are some of your favorite, or the most interesting/unexpected discoveries you've made since taking on this position?
Recently, while photographing costumes at the Archive, I came across a costume for the Siren from the Balanchine ballet Prodigal Son. There were no dancer names written inside the costume and no other identifying information on the archival tag attached to it. From the feel of the fabric and unique design details compared to the costume used today, I knew it was an early version, and immediately started researching. I flipped through photographs of the great Sirens of NYCB history, including Maria Tallchief, Yvonne Mounsey, Suzanne Farrell, Karin Von Aroldingen, and even as far back as the Ballets Russes dancer who originated the role, Felia Doubrovska. Finally, bingo! Without a doubt, it matched the costume worn by Diana Adams in 1959!
Other gratifying moments at the Archive are when I can put a name to a photograph previously labeled as "unidentified person." I'm not shy about asking NYCB alumni for help in identifying former dancers or obscure ballets! They are living ballet history and valuable resources, so I am appreciative of their help in ensuring that our archival collection is as accurate and complete as possible.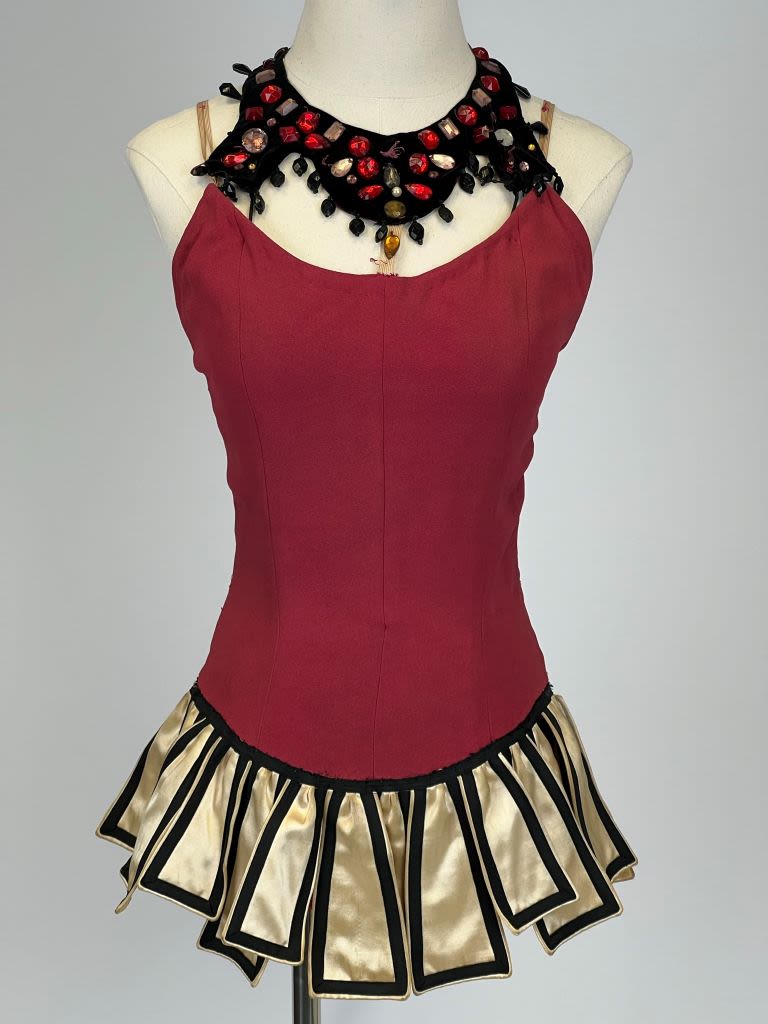 Are there any current or upcoming projects you're particularly excited about?
We have several major projects happening simultaneously at the Archive, including the creation and transfer to a new database, digitization of the photograph and costume collections, and continual processing of materials sent over from the Company. I'm particularly excited about the recent collaboration sharing historic costumes from the Archive on NYCB's social media pages as part of the 75th Anniversary celebrations.
Please share your thinking about the role of the Archive, both related to dance or ballet in general, and to NYCB. Why is it important?
The field of dance archiving is unique, with inherent challenges. The ballet itself is a fleeting moment in time experienced separately by the dancers onstage and the audience. The primary method of passing down the choreography and associated knowledge is by demonstration and word of mouth from dancer to dancer. The dancers' bodies become an archive of the choreography, technique, and muscle memory. As much as I would like to, we can't keep NYCB's alumni in tidy little boxes at the Archive! Therefore, multi-faceted documentation is crucial to try to capture the ballet's essence and choreography using approaches such as videography, photography, oral histories, dance notation, and preservation of artifacts such as costumes, designs, and company files. Having this documentation benefits future generations of dancers, teachers, and researchers with resources to study and enjoy. And it provides great value and service to the ballet company when their historical documents are preserved and accessible.
Are there any ballets this season that you're especially excited about watching?
NYCB's repertory is wonderfully vast, so I love how the programs have multiple ballets to create a scrumptious sampler for the evening! I'll be seeing every program this fall, since I don't want to miss the fantastic lineup of historic, iconic, and innovative Balanchine ballets. Being from Texas, Western Symphony is always a favorite of mine. But I was most looking forward to Bourrée Fantasque, which I'd never seen performed live. It is always thrilling and emotional to have the archival photographs I handle at the Archive come to life before me onstage. I'm grateful to today's NYCB dancers who carry on the NYCB legacy, while also forging new chapters in its history.