Studio Visit: Linnette Roe
Meet NYCB's Shoe Room Supervisor
By Madelyn Sutton, Malik Winslow, December 15, 2021
One of the greatest longstanding fascinations of ballet continues to be the pointe shoe. It raises the dancer to an ethereal height, extending the length of their lines and accentuating their movements, transforming them with each step into a vision of poetry made manifest. Extremely short-lived and handmade, no two shoes are exactly alike—each pair is tailored to its wearer, and further molded, worked on, and finished by the dancer themselves.
NYCB provides every member of the Company with footwear, including pointe, flat, jazz, and character shoes, with more than 10,000 pairs passing through the Theater each year. Manning this many-footed ship is Shoe Room Supervisor Linnette Roe, who oversees the ordering, distribution, fitting, and more of every shoe that hits the stage. Though every performance period presents its unique challenges, the return of George Balanchine's The Nutcracker® to Lincoln Center and all the multifaceted demands it places on the shoe room have Roe on her toes.
We spoke with Roe about her essential role with the Company, her history as a dancer, and the future of ballet footwear as she sees it.
Please tell us a little bit about your background.
I was born in Ohio but was raised in San Diego, CA. I had my first exposure to Balanchine at California Ballet when a guest artist set Concerto Barocco on the company, and Balanchine's style just seemed to fit with me. So, I attended North Carolina School of the Arts for college to push my training more, and within three years had landed an apprenticeship at Pacific Northwest Ballet. I was a late bloomer in the world of ballet and came to a professional company a little later than most. But I enjoyed a 12-year career there and retired as a principal dancer in 1999. I would have danced longer if it hadn't been for a severely arthritic joint in my left foot, possibly exacerbated by dancing in an ill-fitting shoe. So, it interests me very much to be helping this generation of professionals in any way I can to increase the longevity of their career by making sure their shoes are exactly right for them.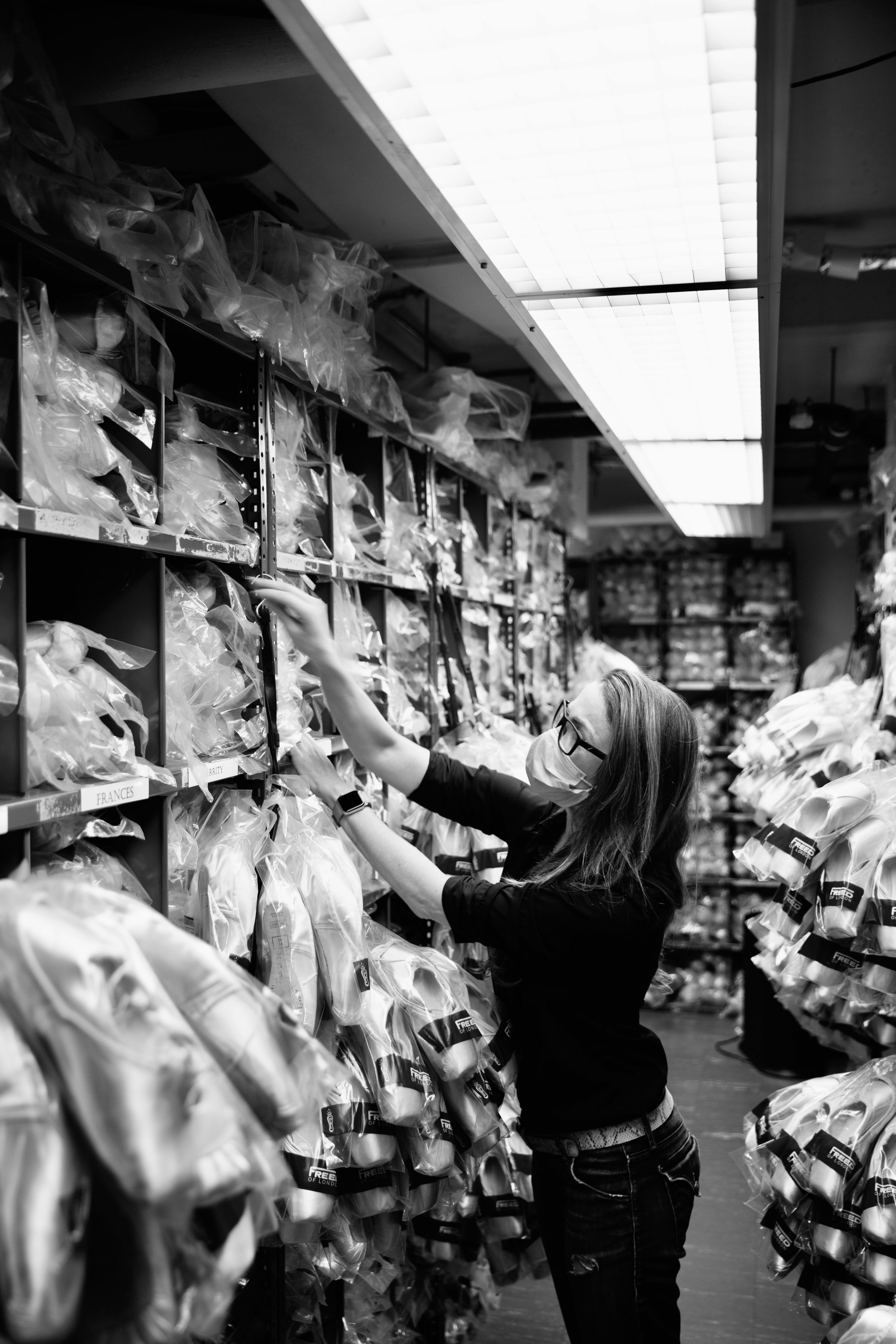 How did you come to be the shoe room supervisor with the Company?
I have been here for over five years now and I came to be here purely by serendipitous timing. I had moved to NYC because my son was booked on a CBS television show in 2014 and was still a minor, so he needed a parent to be on set at all times. But his schedule was erratic and I could never get a job because we had to stay available for the show at all times. The very same day that the network staff called to say my son could now come to the set alone, I opened up a job board online and there it was. I applied immediately and was interviewed within 24 hours.
Who was a mentor for you as shoe room supervisor? What can you tell us about the history of this position?
I would say the dancers are my mentors. Although I have extensive knowledge about ballet and pointe shoes, things change—the shoe makers, the product, the turn-around times for customs, the dancers' bodies, etc., and every dancer has a different foot, a different need, and different injuries that we work through together. So every day I learn from them, and I'd like to think they have learned from me as well.
As for the history of this position, I know it has evolved quite a bit from my predecessors' roles in terms of creating this wonderful space that we now have. There are stories of dancers crawling over boxes in a tiny storage room to get to their shoes, and now we have this wonderfully laid-out room.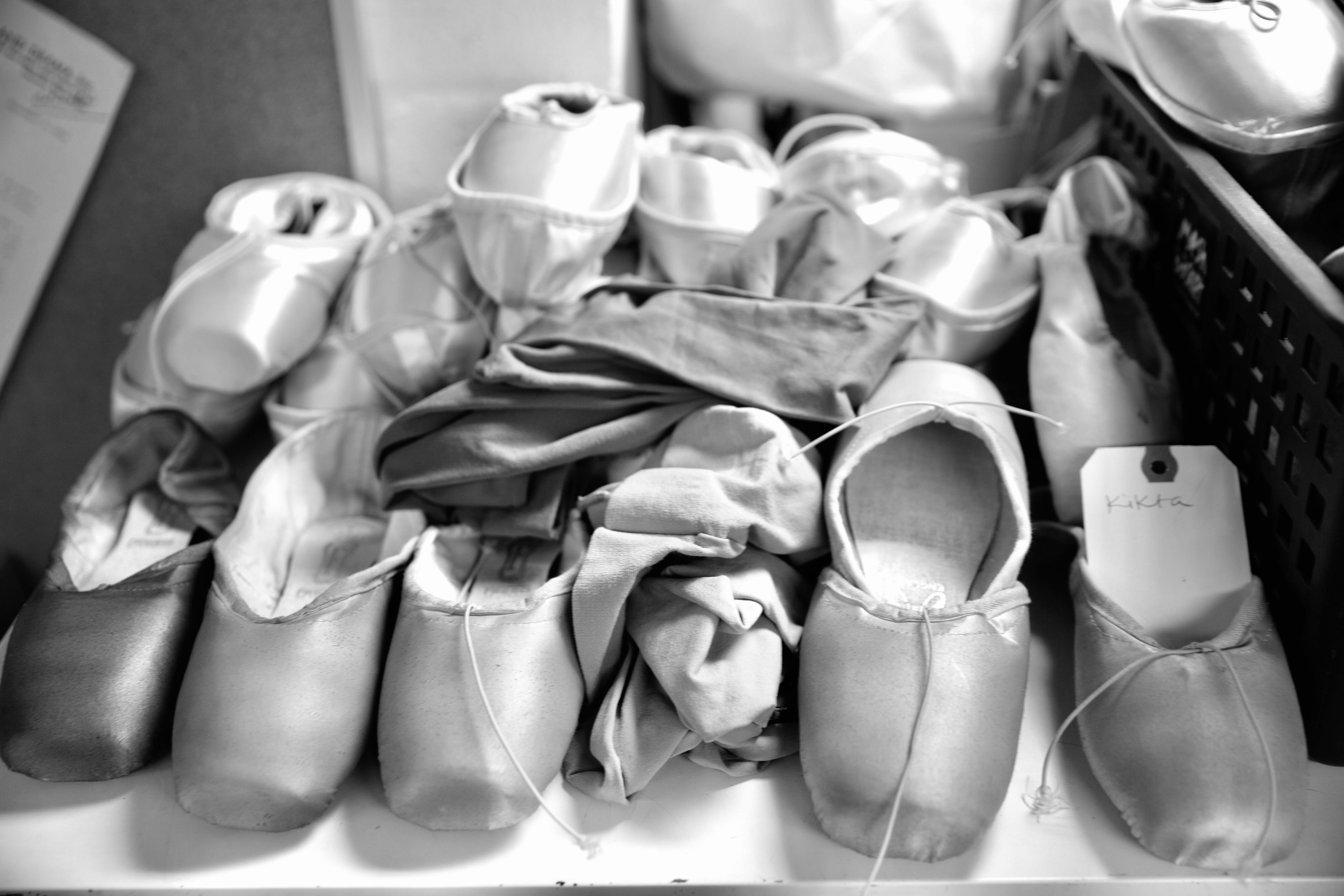 What are some of the unique challenges for the shoe room during The Nutcracker?
The one thing that is unique to Nutcracker is the sheer volume of kids involved. So in addition to the Company, I am now responsible for fitting, buying, and altering over 160 pairs of shoes for the kids. And this year, because of vaccination schedules, we have a totally different-sized crop of young dancers which presents some new challenges—but also maybe some advantages. The other challenge is the length of time that we are doing the same ballet, using a high number of shoes, of which many are painted or dyed. So, unlike a [repertory performance period] where we may do six performances of a ballet with painted shoes, we are now doing 40 shows and the Mice (both adults and kids), Tea, Marzipan, Hot Chocolate, Coffee, all require specialty colors. And, we will now be color-matching to flesh tones as well for certain roles.
Can you share any special memories of The Nutcracker or other past performances?
I have so many, but two things stand out: One was the shoe challenge when we did SOMETHING TO DANCE ABOUT [Jerome Robbins, Broadway at the Ballet, with direction and musical staging by Warren Carlyle, premiering in 2018], and I had to step into the world of Broadway to find out how they do such fast quick-changes with women's heeled character shoes. I had no idea that a shoe with a buckle could be altered with a quick-change hook and still be reliable enough to hold during a show. I was a nervous wreck that whole week that someone wouldn't make their change in time, or worse, the shoe would fail during the performance.
But I think my most special memory is the very recent retirements of so many dancers at one time. Watching Lauren Lovette, Lauren King, Abi Stafford, Ask la Cour, and Maria Kowroski say goodbye to their careers brought up so many of the emotions of my own retirement, while trying to savor the moment of what this meant to them and soaking up every last minute I got to see them onstage. And I look forward to seeing what they do in the future.
Can you describe the role of shoe room supervisor as you see it and share what you think audiences might not realize about what maintaining the Company's footwear entails?
This is a very difficult one to sum up because shoe supervisors across the country all define their role differently. Some are part of wardrobe staff and some are part of administration or stage management. NYCB is very lucky to have a job designated just for shoes because a company this size requires it. In my position, I take care of all custom pointe shoe orders and flat shoes for men and women. In addition, I help the wardrobe staff with specialty shoes, including sneakers, boots, and heeled shoes. Basically, if it goes on a foot—man, woman or child—I put it there.
I do this job alone, except for Tim Foster, who has been helping here for years doing the painting and dyeing of shoes. He is wonderful at mixing and layering colors and helping me stay on track with getting dancers to drop off their shoes on time to be painted!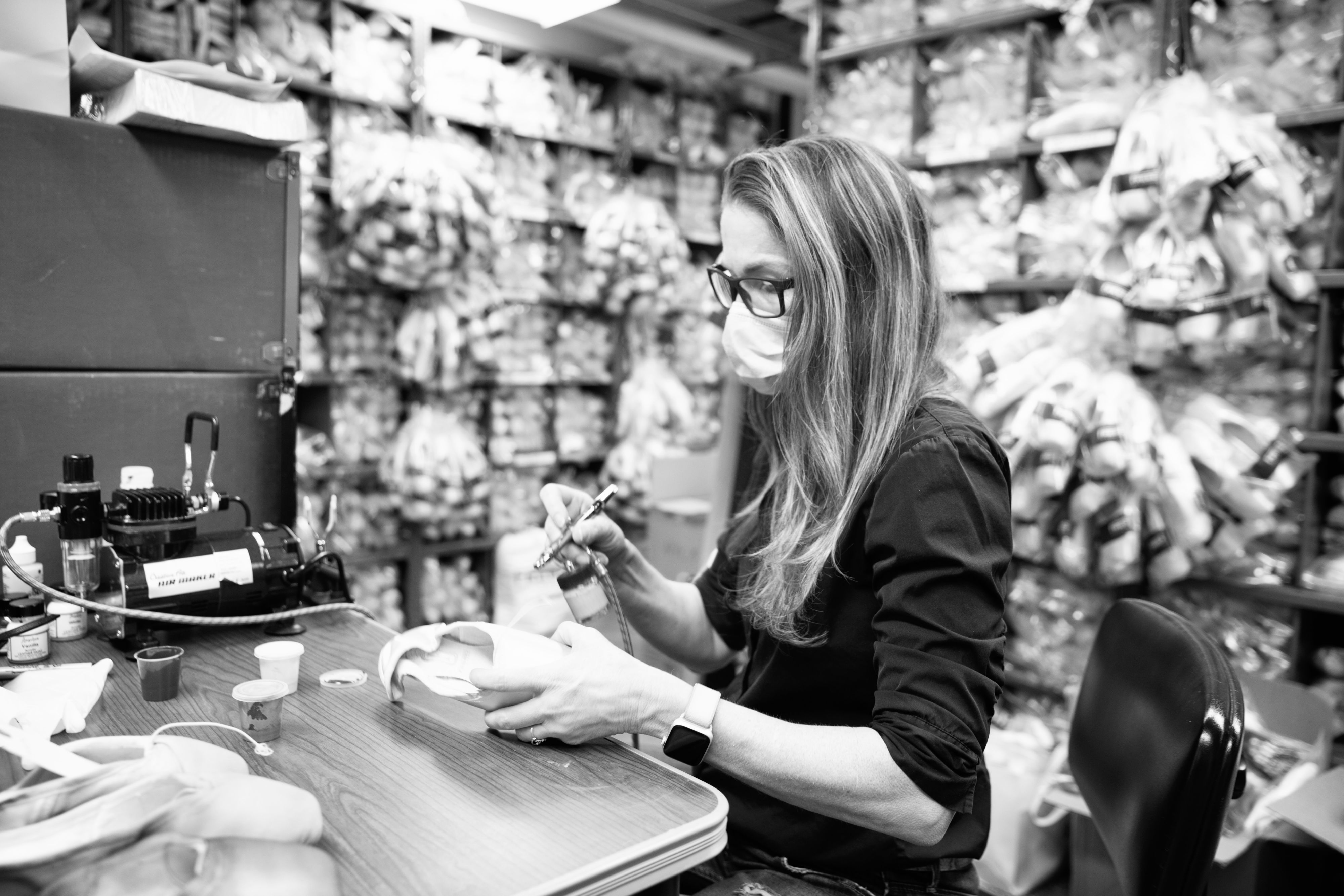 I think what audience members don't realize is how much detail goes into a custom pointe shoe and how each one is so different, because from the stage they look the same. Just one dancer can have 10 different specs on their shoe, and they may be on their 30th iteration of tweaking that design. In addition, anything I order or change today may not show up for 3-24 months because they are bespoke, handmade by cobblers in England for Freed or Australia or Thailand for Bloch. So much discussion goes into the insole, the fabric height on the side, the vamp length, the platform shape, the amount of paste used, etc. The list goes on and on. And that's just the women. Many of the men also have custom shoes, and it is a process that can take years before they settle on one maker or brand of shoe. And to complicate matters, we now have supply chain issues since COVID began, with freight and product shortages, so I'm trying to navigate that as well.
How have recent changes in pointe shoes—for example, including different hues to represent the diversity of dancers—affected your role, and your sense of the future of the pointe shoe in general?
The addition of two new colors from Freed and four new colors from Bloch is a move in the right direction; it's long overdue, and I'm really excited to see these shoe companies adapt to these changes. Pointe shoes were developed in the first place to elongate the leg and extend a dancer's "line." Currently we use paint or makeup to match flesh tones to achieve this look, but it changes the way the shoe feels or breaks down, and [dancers] lose that shine that comes with untouched satin. Although our shoe colorist Tim Foster will still likely need to use paint for other reasons, it is so nice to now have shoes come in these satin flesh colors, because every dancer deserves to put on a fresh satin shoe without paint on it. As far as the future of the pointe shoe, I think it's now more about how it will affect ballet in general; I think we're going to be seeing a lot of choreographers and costume designers start to design their ballets differently to incorporate the use of natural colors—either a bare leg or a tight that has been dyed to match the dancer's upper body.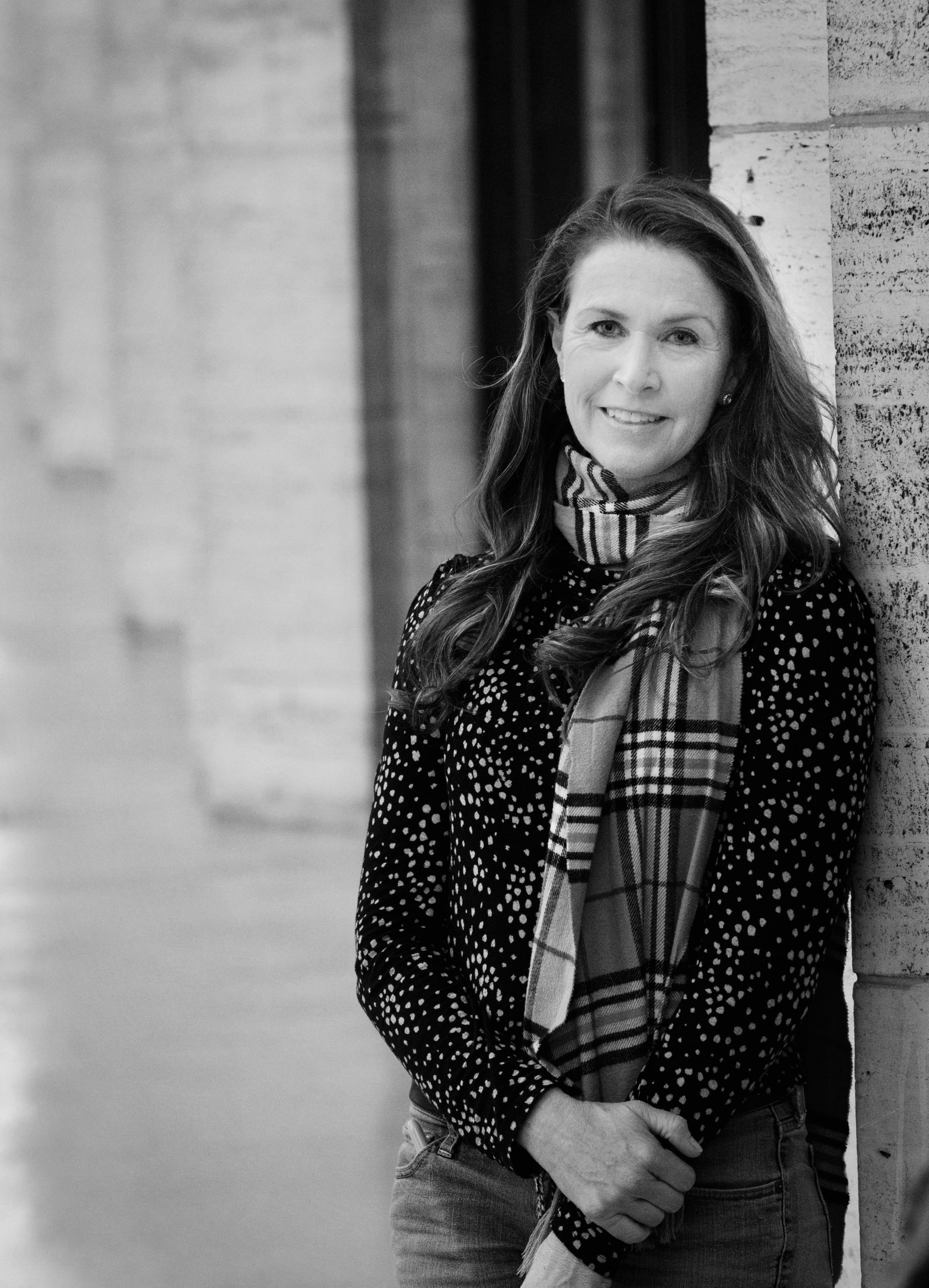 We've learned that you're leaving New York City Ballet after Nutcracker. How did you go about finding your replacement? And what did you look for?
First of all, I have to say that I have absolutely loved my job here and I am sad to leave. But what many people here may not know is that when I retired from professional ballet, I immediately transitioned into landscape design and horticulture, and have spent much of the last 22 years working in that field. I'm very excited about what I'm pursuing next, which is another dream I've always had: to own my own garden center/nursery, and I'm finally making that dream a reality.
But the hardest part of this was the actual act of leaving this job and knowing that it was going to leave a hole, and that any interruption in the shoe order was going to affect the dancers going forward. So I started putting a lot of thought into who I knew that already lived in New York and holds the special set of skills required for this position. I feel that anybody in this position should have danced, and they should know a lot about pointe shoes—how to fit them and how to order or tweak a shoe when an injury arises. It is also essential to know something about retail, especially when it comes to inventory and budget management, and the very careful balancing act of keeping these orders going when the order times can range from 4 months to over a year—and it's different for each dancer.

So that was a hard one. And I really felt like I couldn't leave until I had someone in place that was willing to do the job, was available, and had that set of skills. I did find someone, and I think he will be a wonderful addition to the staff. He's a long-time New Yorker, a former dancer, a current pointe shoe-fitter, and has an extensive background in retail, and most importantly, loves New York City Ballet and is familiar with the repertory, having danced many of the ballets in the past. He and I will spend the next month off and on training him throughout Nutcracker so that he can roll into the winter [repertory period] prepared and ready, because we have some pretty shoe and boot-heavy ballets coming up—like Carnival of the Animals and Swan Lake.
This is the latest in our ongoing series of Studio Visits, where the artists and professionals of New York City Ballet provide a firsthand glimpse behind the curtain into what it takes to bring our repertory to life onstage.