Daniel Ulbricht was born in St. Petersburg, Florida, and began his dance training at the age of 11 at the Judith Lee Johnson Studio of Dance, studying with Lenny Holmes.
He also studied at Les Jeunes Danseurs with Javier Dubraq and attended the Chautauqua Summer Dance Program, training with Jean Pierre Bonnefoux and Patricia McBride.
In 1999, Mr. Ulbricht was invited by the School of American Ballet (SAB), the official school of New York City Ballet, to continue his training during their Winter Program.
As a student at SAB, Mr. Ulbricht performed with New York City Ballet as a Jester in Peter Martins' The Sleeping Beauty.
In December 2000, he became an apprentice with New York City Ballet and in November 2001 he joined the Company as a member of the corps de ballet. In January 2005, Mr. Ulbricht was promoted to the rank of soloist and principal dancer in May 2007.
GEORGE BALANCHINE
Harlequinade (Pierrot)
Ivesiana (The Unanswered Question)
A Midsummer Night's Dream (Oberon, Puck)
Mozartiana (Gigue)
George Balanchine's The Nutcracker®

(Candy Cane, Tea, Soldier, Cavalier)
Prodigal Son
"Rubies" from Jewels
La Sonnambula
Stars and Stripes
The Steadfast Tin Soldier
Symphony in Three Movements
Tarantella
Tschaikovsky Suite No. 3
Union Jack
Valse Fantaisie
Variations Pour Une Porte Et Un Soupir
Vienna Waltzes
AUGUST BOURNONVILLE
La Sylphide (Gurn [NYCB Premiere])
PETER MARTINS
Eight More
Fearful Symmetries
A Fool for You
Les Gentilhommes
Hallelujah Junction
Harmonielehre
Jeu de Cartes
Naïve and Sentimental Music
The Sleeping Beauty (Bluebird)
Swan Lake (Jester, Pas de Quatre)
ALEXEI RATMANSKY
Concerto DSCH
Odesa
Pictures at an Exhibition
JEROME ROBBINS
Fancy Free
Fanfare (Tuba)
The Four Seasons (Fall)
Interplay
A Suite of Dances
RICHARD TANNER
LYNNE TAYLOR-CORBETT
Melissa Barak
Warren Carlyle
SOMETHING TO DANCE ABOUT Jerome Robbins, Broadway to Ballet
Peter Martins
Friandises
Grazioso
Ocean's Kingdom
Romeo + Juliet (Mercutio)
Robert La Fosse
Annabelle Lopez Ochoa
Justin Peck
The Most Incredible Thing (The Gambler)
Rodeo: Four Dance Episodes, Rotunda
Alexei Ratmansky
Namouna, A Grand Divertissement
Christopher Wheeldon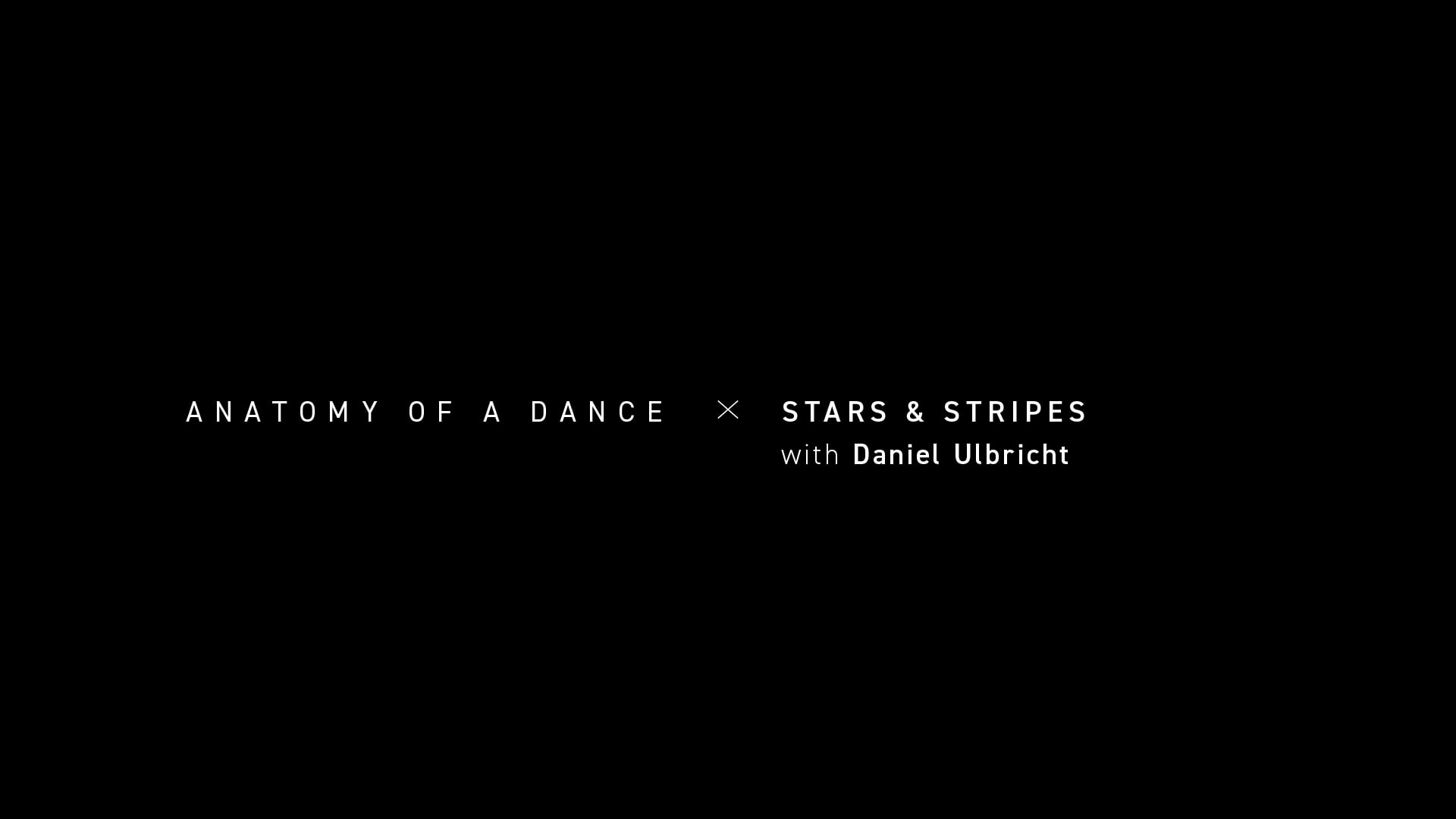 ANATOMY OF A DANCE
STARS AND STRIPES
Every time you dance it, it has to be alive," Daniel Ulbricht insists in discussing the Third Campaign of Stars and Stripes, George Balanchine's ode to America. Watch Ulbricht's expertise in building energy and camaraderie onstage while delivering a "white glove treatment" that maintains the choreography's polish for future interpreters' benefit
Anatomy of a Dance
Daniel Ulbricht on Rodeo: Four Dance Episodes
In his Anatomy of a Dance, Principal Dancer Daniel Ulbricht explains why performing Justin Peck's Rodeo: Four Dance Episodes feels particularly American. He paints a picture: "Imagine that you are plowing a field here with your friends, you take a break on a hot day and decide to dance instead."
OTHER PERFORMANCES
Mr. Ulbricht has performed internationally as a guest artist, and is the founder and director of Stars of the American Ballet. He is the co-founding director and producer of Dance Against Cancer.
HONORS
Mr. Ulbricht was the Janice Levin Dancer Honoree for 2003-2004.

Portrait © Paul Kolnik