A Taste of Stravinsky
By Madelyn Sutton, April 27, 2022
The people that come together to build a New York City Ballet performance are many—from the dancers, to the choreographers, to the composers; from the scenic designers, to the stagehands, to the lighting designers; from the conductors, to the musicians, to the rehearsal pianists; the list goes on and on, and each figure on that list is key to making any particular work in the repertory come to life. As such, each of these people is touched by the core elements of a work, and has some acquaintance with the vision and history that lie at a ballet's core—the connections are many, but intimate. This web of connections is particularly rich in the case of those ballets that have come to define the Company in some way, or intersect with key moments in NYCB's history, or represent lasting effects on the art form whose first expressions originated on our Lincoln Center stage.
All three descriptions are true of so many of the pieces that premiered during or were revived for the 1972 Stravinsky Festival. Developed as a tribute to the work of a composer whose legacy is inextricably connected with that of the Company, the Festival was a showcase for the creativity and artistry that arose from interactions with Stravinsky's music. On the 50th anniversary of that initial tribute, NYCB is celebrating the composer with another Festival—another opportunity to revel in Stravinsky's multi-faceted output, the ballets it inspired, and the ways in which his work has touched the lives of the artists who interact with it today. We asked many of them: What is your favorite taste of Stravinsky—what would you suggest to whet the appetite of someone invited to the absolute feast of the 2022 Stravinsky Festival?
"My favorite Stravinsky moment is the experience of dancing to the music of Symphony in Three Movements. I was lucky to perform the ballet in my first SAB Workshop when I was 16 years old. It was my first experience dancing to Stravinsky, and spending many weeks learning the ballet from faculty member [Susan] Pilarre, who was in the original cast, allowed me to learn the music without having to rely on counting. I later danced one of the five couples, the third male soloist, and finally the central pas de deux couple with the Company, and I loved the freedom of giving myself over to the music without having to worry about the complicated counts."—Principal Dancer Jared Angle
"My favorite Stravinsky moment was when I was a new dancer in the Company and I got thrown into the five couples in Symphony in Three Movements. I was shocked by the power of the Orchestra and the incredible energy onstage throughout the first and third movements, even though I was just trying to get the steps right. I felt in those moments that I had never danced that full-out and I had goosebumps several times throughout the ballet. I'll never forget that performance!"—Artistic Director Jonathan Stafford
"Through my years of having had the privilege of playing in the NYCB Orchestra, Stravinsky has become possibly my favorite composer. There is something very special about the way we play Stravinsky here, a crispness that most likely matches the music to the steps onstage. We have played Symphony in Three Movements so many times, yet it never gets old. We have played it with so many different conductors, yet it always retains its identity. It never ceases to amaze and thrill me."—Associate Principal Flute Laura Conwesser
"One of my favorite Stravinsky moments is the end of the first movement of the Stravinsky/Balanchine ballet Symphony in Three Movements, when the corps of ballerinas does the 'ripple diagonal.' So simple, yet so satisfying!"—Resident Choreographer Justin Peck
"One of my favorite musical Stravinsky moments is the opening of the Firebird. It has this wonderfully snaky, ominous line in the low strings, underscored by an almost imperceptible roll on the bass drum, which puts you subconsciously on edge, as would a rumble of thunder in the distance. Perfectly sets a terrifying tone for the story about to unfold, and draws you into it fully!"—Violinist Sarah Pratt-Parsamian
"Stravinsky is one of the most challenging composers that we perform at NYCB. As a player you are part of an extremely difficult orchestral score. You have to count like crazy in his rhythmically complex music. You need to be able to transition from leading your section when suddenly Stravinsky throws you a solo where you have to be the primary voice. Examples of this are in Apollo and Agon. Taking part in a Stravinsky Festival with all these wonderfully colorful and demanding scores being brought to life in such a short time span is one of the absolute highlights of being a part of New York City Ballet. Having said all that, my absolute favorite ballet that we perform is Firebird." —Principal Viola Katharina Kang Litton
"Firebird is the epitome of a perfect ballet for me. The combination of Stravinsky's music, Balanchine's choreography, and Chagall's set designs and costumes is the trifecta of perfect artistry. I have great admiration for these three geniuses and always feel honored to be a part of the ballet's legacy. In the final tableau of the ballet, the music of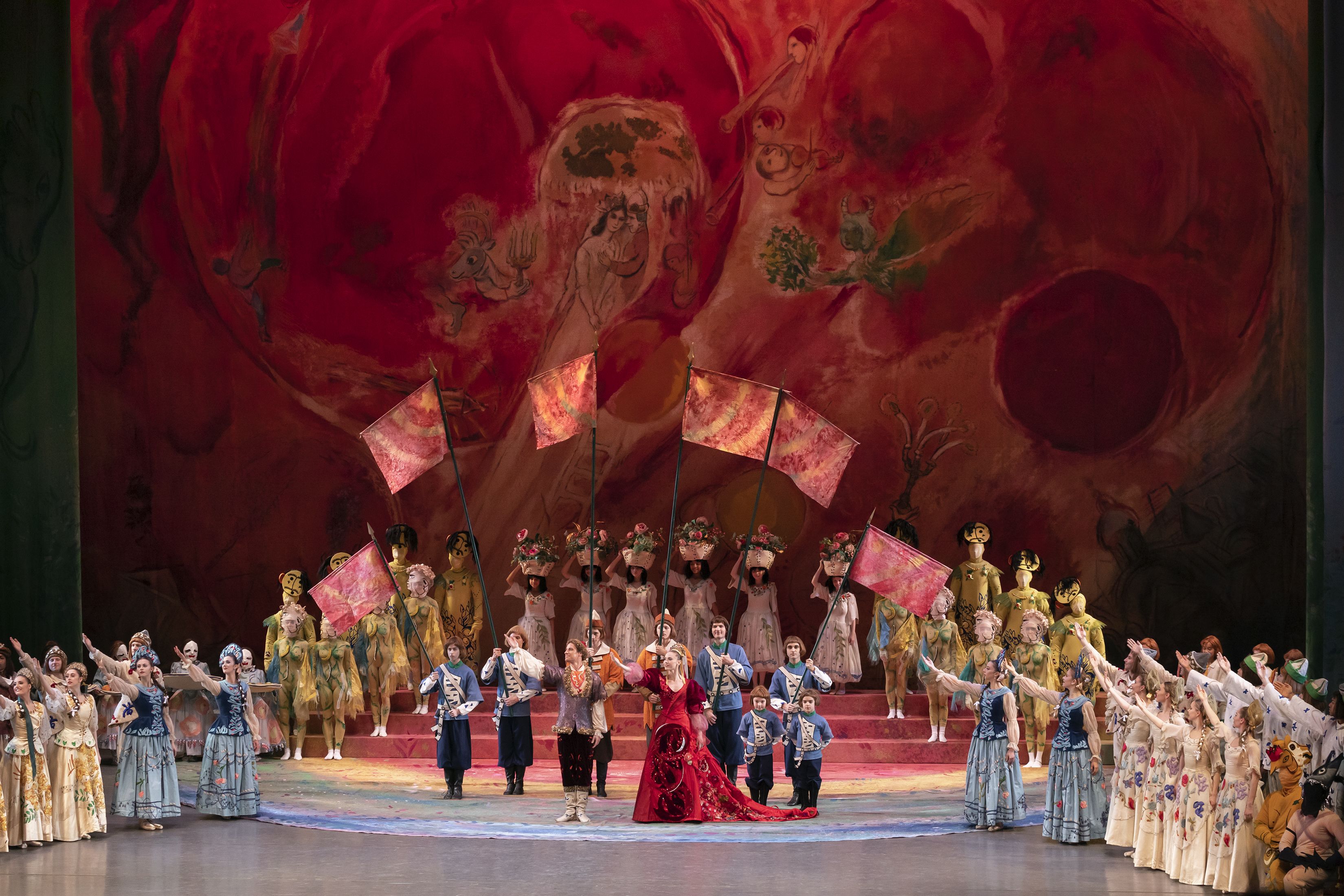 Stravinsky is complex, dynamic, and deeply soulful—it never fails to bring tears to my eyes. To 'see the music and hear the dance' is truly meaningful in Firebird."—Repertory Director Kathleen Tracey-Zicht
"I remember hearing stories about Stravinsky jotting down a short motive on a bar napkin, and then posting the napkin on his wall, next to and above a collection of other short motives on other bar napkins. His friendship with Picasso always struck me as something inevitable and obvious, because Picasso's art was almost the visual embodiment of some of Stravinsky's music—at times, as mathematical as it is artistic. But my favorite moment from Stravinsky is a notable exception: the horn solo in the Finale of Firebird. A peaceful sunrise and consonant respite from the often tribal geometric nature sounds that make his music so unique. He reminds us that he can change gears at any moment to pull at our soul, too, if he chooses."—Principal French Horn Dan Wions
Enjoy George Balanchine's Symphony in Three Movements and Firebird, along with Justin Peck's Scherzo Fantastique, on the Stravinsky Festival I program.
"Personally, I have always been more of a Tschaikovsky girl, but there are some feelings I have only experienced dancing to Stravinsky. The first that comes to mind is the finale of Stravinsky Violin Concerto. To dance Balanchine's choreography to the deep rhythmic pulse of that finale music is so thrilling. The whole group of men and women collapses and then strides across the stage with pride, tapping our toes in every direction and then jumping, stamping out the unusual rhythm in counts of five instead of the usual counts of eight, and then finishing with a simple twirl off-pointe and pose. Just perfection—I always felt totally fulfilled when the curtain came down. As I prepare the 48 children in Jerome Robbins' Circus Polka for the Spring Gala, I am constantly reminded of what an incredible tool Stravinsky's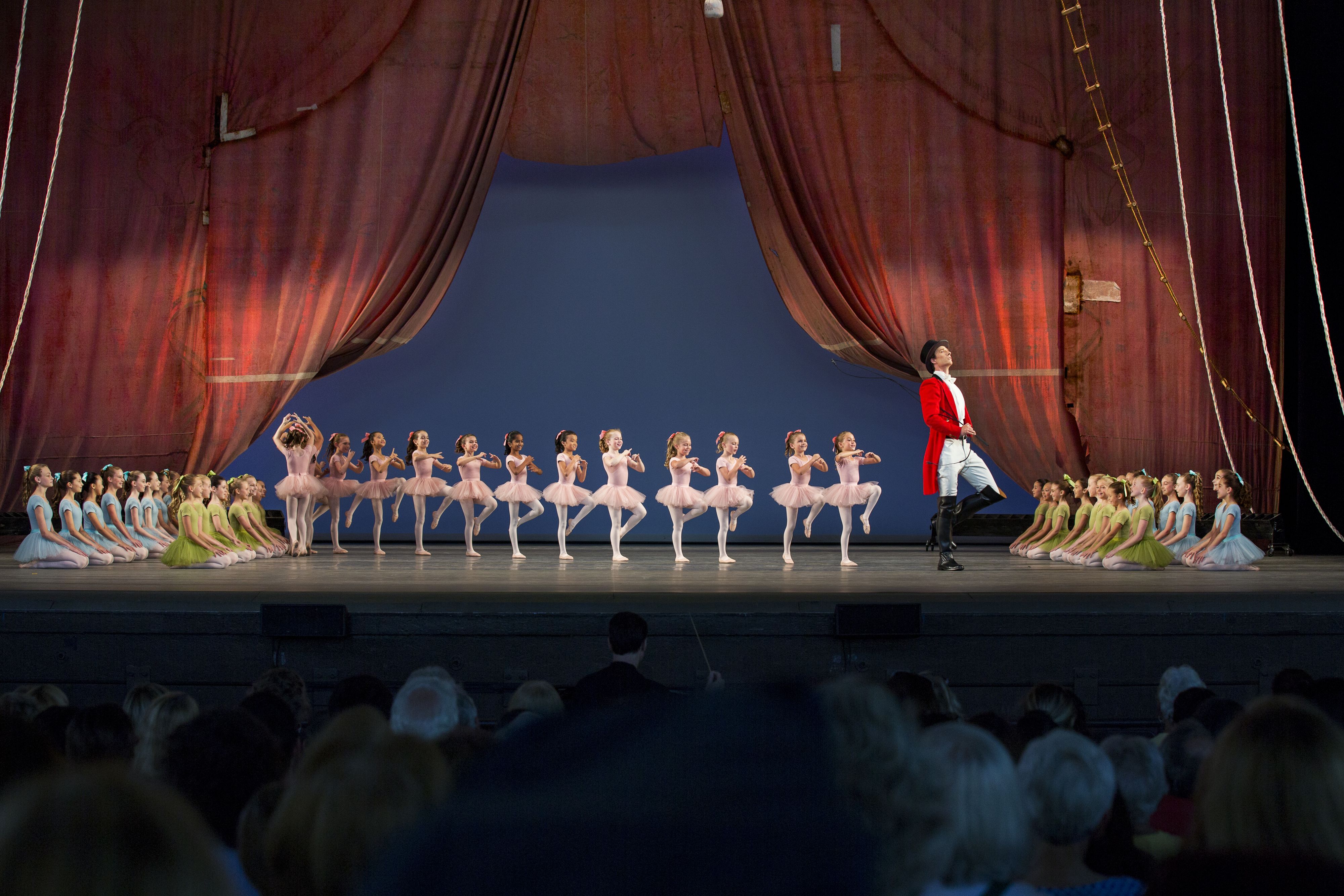 music is for teaching. I tell the students, who are between the ages of nine and twelve, that math is a very important part of learning to be a dancer. Stravinsky proves my point: We count nines, twelves, eights, tens, and the children have to keep track of all those numbers. They learn to understand formations and movements within the framework of the music. When they arrive at their final pose, creating I.S. with their little bodies, they pay tribute to the genius of Igor Stravinsky."—Children's Repertory Director Dena Abergel
Jerome Robbins' Circus Polka and Balanchine's Stravinsky Violin Concerto appear together, with Balanchine's Scherzo à la Russe and Silas Farley's world premiere work, Architects of Time, on the Spring Gala program for one magical night, on Thursday, May 5.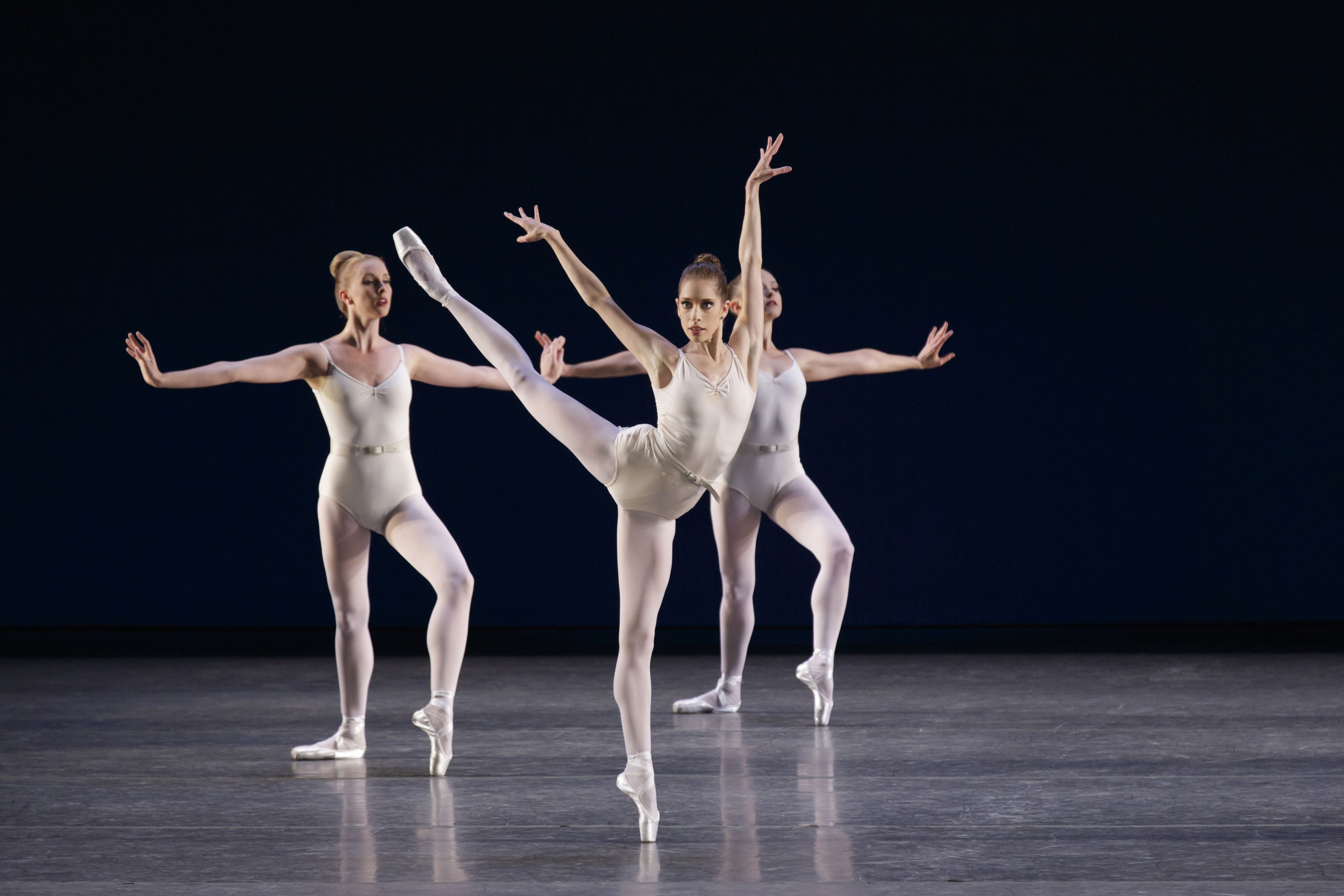 "I don't think I could choose just one section from a Stravinsky piece that was my favorite because all of the ballets that Balanchine choreographed to his music were my favorite to dance. It always felt like the music was a puzzle that required solving before you could really understand the dance. In fact, when I was preparing to first dance Movements for Piano and Orchestra, I not only studied tapes of the ballet, I also studied a tape of the conductor leading the orchestra so I could best understand the music and feel like I knew it inside and out."—Repertory Director Rebecca Krohn
"I love Stravinsky's ending sections, and below are two kinds he uses a lot (not just in our NYCB rep but in his work in general). There are slow epilogues that seem to sum up or comment on the piece as a whole, as in Apollo and Orpheus. Another Stravinskian ending type is when he sets out energies throughout a last movement that culminates with an inexorable logic in very fast finale sections. This is heard in Symphony in Three Movements and the Violin Concerto. Balanchine frequently used these moments to create finale steps that feature the entire cast of a ballet on stage finally dancing in unison at great speed."—Pianist Alan Moverman
See Balanchine's Stravinsky Violin Concerto and Scherzo à la Russe, as well as Peck's Pulcinella Variations and Farley's Architects of Time, on the Stravinsky Festival II program.
"The Stravinsky ballets at NYCB (both by Balanchine and Robbins) were my first loves and some of my earliest roles as a young dancer in the Company. These pieces were pivotal in helping me find my voice and my place as an artist—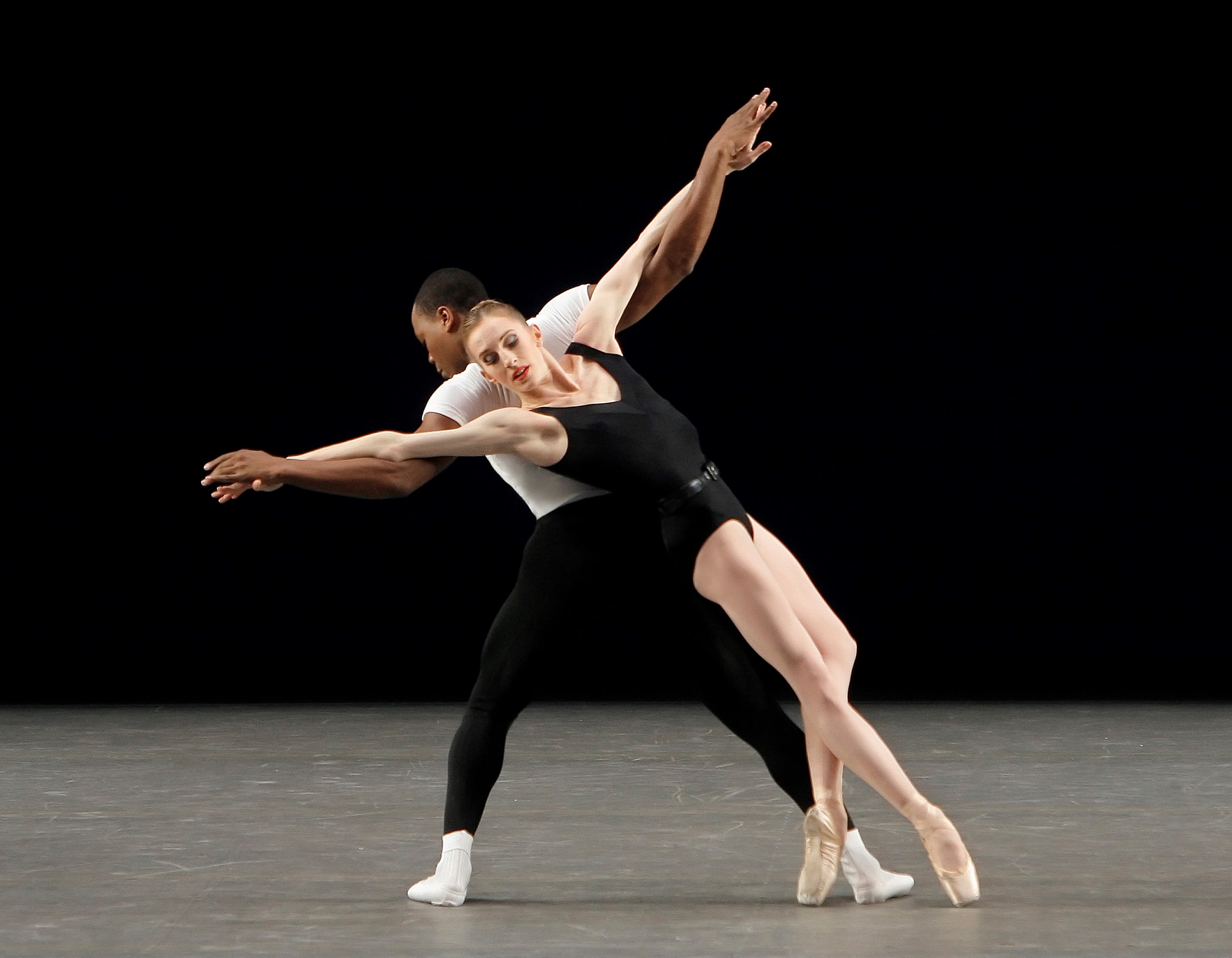 Agon, Symphony in Three Movements, and The Cage, in particular, brought me to NYCB and ultimately put me on the map. Stravinsky said that his Symphony in Three Movements celebrated his arrival in America. I feel the same about that piece in my own life—it was my first principal role at NYCB, and it launched everything for me as a ballerina."—Associate Artistic Director Wendy Whelan
"My favorite Stravinsky moment is the Pas de Deux in Agon. Prior to joining NYCB, I'd only heard Stravinsky in concert or in a performance of Rake's Progress. Seeing his music come to life through Balanchine's choreography was, and continues to be, a revelation that I never get tired of. Each new pair of dancers brings something unique to the music that is always fresh and exciting."—Resident Lighting Designer Mark Stanley
"I love the final movement of Duo Concertant, when the lighting illuminates the hands of the two dancers and everything else that surrounds is dark. It is a glorious moment onstage, highlighting the emotional content of Stravinsky's score for piano and violin as well as the rapport between the two dancers."—Pianist Elaine Chelton
"If I absolutely had to choose, I would say Duo Concertant. There is a special world created within that music with the four artists and piano onstage—an intimacy much like a snow globe, with notes falling delicately in place of the snow. Nothing else in the world seems to exist in those minutes."—Principal Dancer Sterling Hyltin
Balanchine's Duo Concertant appears alongside Divertimento from 'Le Baiser de la Fée', Rubies, and Robbins' The Cage on the Stravinsky Festival IV program.