A Ghostly Idea Among the Living
Balanchine's Pavane Returns to the Stage
By Madelyn Sutton, February 14, 2022
In Maurice Ravel's Pavane pour une infante défunte, George Balanchine may have met his match for insouciant responses to the interpretations of critics and audiences. With such a title (usually translated "Pavane for a Dead Princess"), the composer could hardly have been surprised at listeners' curiosity—to which "dead princess" was Ravel referring, and why? Written for piano in 1899, the only specific "princess" who Ravel would confirm in relation to the work was Winnaretta Singer, Princesse Edmond de Polignac, heir to the Singer sewing machine fortune and patron of the arts–particularly the arts of Ravel and Claude Debussy–in her chosen home of Paris.
"Do not attach to the title any more importance than it has. Do not dramatize it," Ravel wrote. "It is not a pavane for a dead child, but, rather, an evocation of the pavanes which could have been danced by such a little princess as painted by Velázquez at the Spanish Court." Popular in 16th-century Europe, the pavane was a rather grave dance of "advancing and retreating," in which partners would step toward and away from one another in gestures best suited for displaying courtly attire at formal events.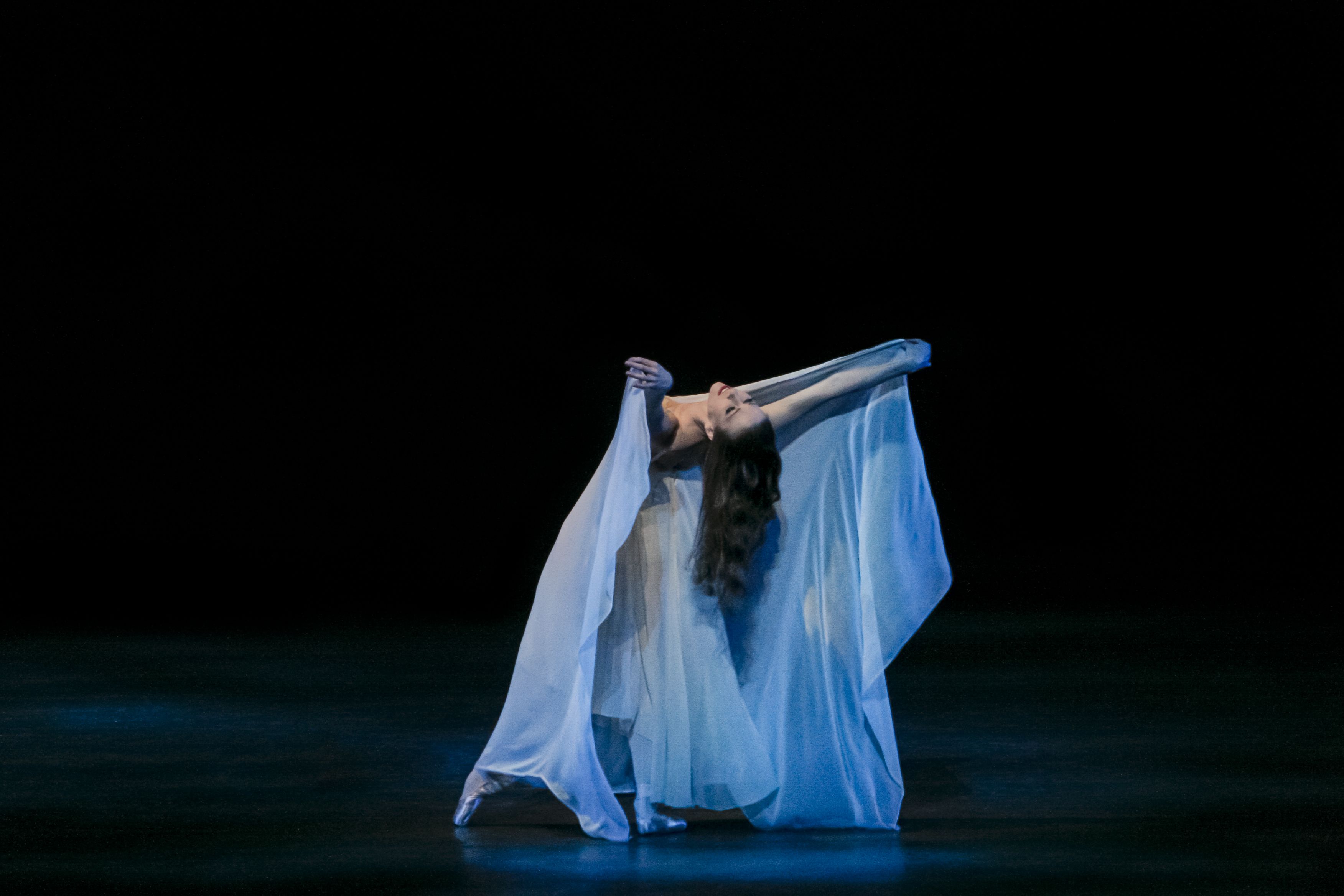 Orchestrated in 1911, Pavane plays less as a soundtrack for formal "peacocking" (one potential origin for the term "pavane": pavón, Spanish for "peacock") and more as sweet reminiscence—intimate, nostalgic, even mournful. The piece opens with a plaintive melody from the French horn, soaring over tip-toeing strings; the melody passes to the flute, back to the horn, to the oboe, the clarinet, and the bassoon as the strings and harp swell to an increasingly wistful counterpart. Ravel later bemoaned the work's simple A-B-A-C-A structure, but such a structure serves to increase the poignancy of the melody as it returns, each time with a new tenderness or intensity. In its less-than-seven minutes, Pavane manages to effectively convey the sense of a memory—of longing, or loss, the composer has never further explained.
Balanchine's choreography is similarly moody, conjuring with its single dancer—dressed in a silky white slip-like dress and wielding a diaphanous scarf—an almost otherworldly vision. His description of the ballet captures its simple poetry, and his usual incorporation of both the intended qualities and later-attached connotations of the score:
The dance to this music is arranged for a girl who responds to a ghostly idea among the living. ...the girl moves like the wind, yet royally, in a processional manner. In control of her long train, she lets it swirl about her, then covers her face with it and stands alone, grieving.
To say more isn't really necessary, and would only serve to steal a little magic from the ballet's spell.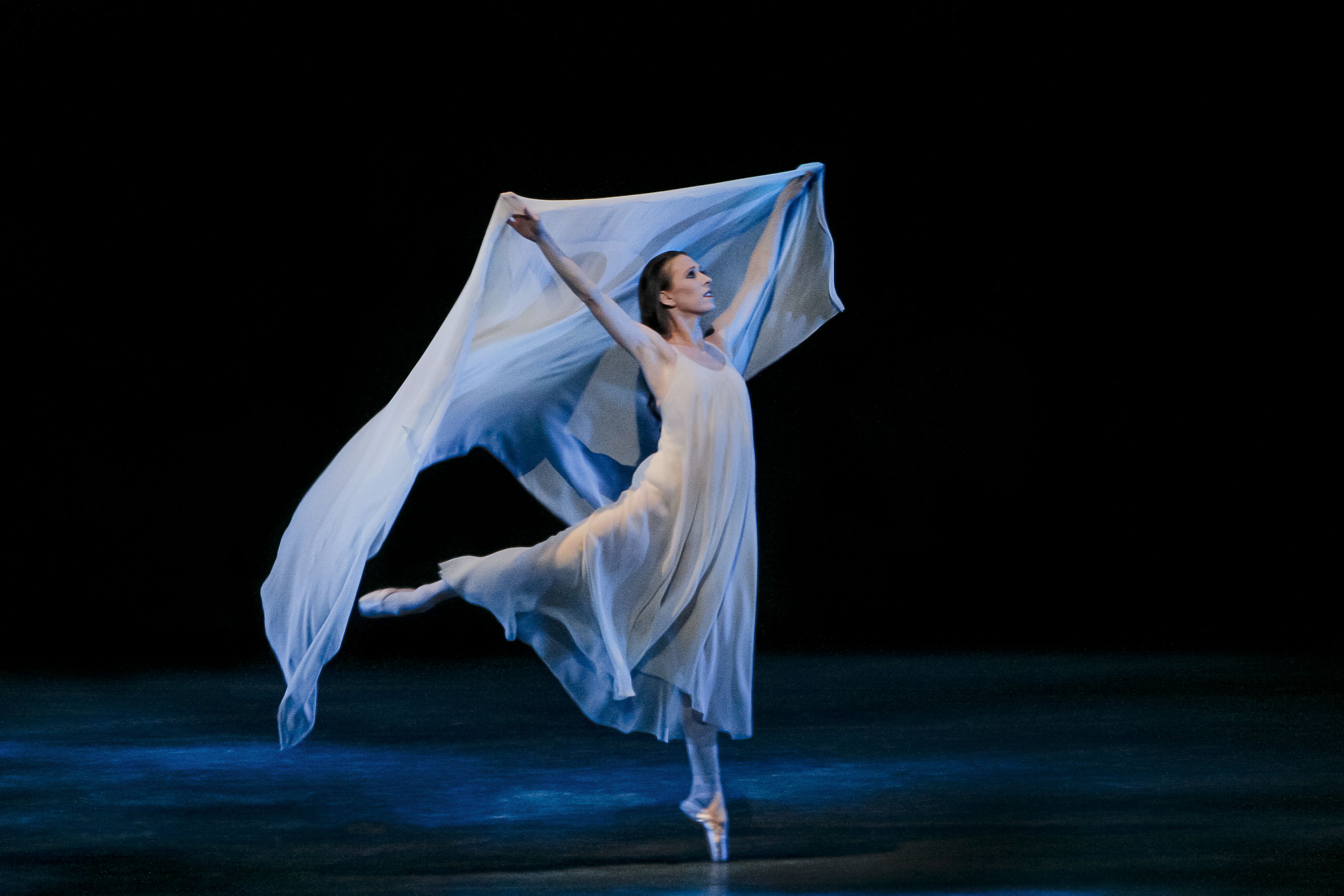 At the time of Pavane's 1975 premiere as part of the Ravel Festival, critics were generally unmoved; perhaps they were unprepared for a melancholy tone poem from a choreographer so revered for his neoclassicism and formal invention, and for selecting challenging music that leaned more toward intellectual stimulation than emotional manipulation. Last performed on the NYCB stage 15 years ago by then-Principal Dancer Kyra Nichols in her final season, Pavane's potency was not lost on its 2007 audience; in a review for The New York Times, dance critic Alastair Macaulay wrote of Nichols, "In one phrase, as she slowly advanced, placing her points with delicate decisiveness, I felt again that old reaction to the Balanchine experience: 'This matters.' And while she dances, nothing else matters in the world."