Celebrating 50 Years of Jerome Robbins' Dances at a Gathering
By Amanda Wicks, May 9, 2019
It's been over 50 years since the premiere of Jerome Robbins' beloved ballet Dances at a Gathering, which he created after a 13-year absence from the ballet world. His resulting ode to Chopin drew on 18 of the composer's pieces, including mazurkas, waltzes, and études, while his choreography — heel-toe steps, assertive gestures — nodded to the music's underlying Eastern European folk origins.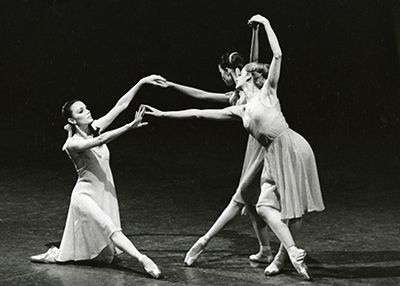 On its surface, Dances evokes a romantic feel, but Robbins didn't let it rest there. Writing about Chopin in his journal, he noted, "He's rough & painful & loving. He is full of stabbing notes and kissing notes." In keeping with those observations, the piece's five female and five male dancers flit and fly about the stage, flirting and coy and capricious, each moment reflecting the complexity and joy Robbins clearly found in Chopin's music.

When Lincoln Kirstein approached Robbins about doing a ballet in 1969, he originally considered working on a pas de deux for Principal Dancers Patricia McBride and Edward Villella. Upon seeing the work-in-progress, though, George Balanchine entreated Robbins to expand it. "Make more, make it like peanuts," he reportedly told his friend, though later it was often recounted as "Make it like popcorn." Whether peanuts or popcorn, Dances is a treat, sumptuous and colorful.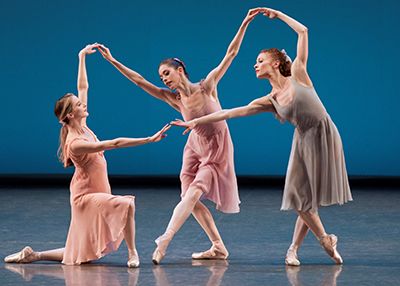 Part of that color arises from the costumes designed by Joe Eula, who would go on to become the creative director at luxury American fashion label Halston one year later. The hues he selected came to signify each character's name. For the women, there was apricot, pink, mauve, blue, and green; for the men, mustard, olive, blue-green, plum, and brown. Those shades have changed slightly over the years, but the characterization ultimately remains tied to the phrasing. Violette Verdy debuted the green girl, imbuing the character's exaggerated posturing with a coquettish attitude that has never left the solo.
Like many a creative work, it's tempting to interpret Dances based on what we know about Robbins, but he insisted his ballet was simply a celebration of Chopin. Yet, the initial response was so ecstatic that audiences and critics alike attempted to read into the heart-on-sleeve emotions practically exploding from the choreography. But Robbins pushed back. He wrote to Ballet Review shortly after Dances opened, stating in all caps "THE DANCERS ARE THEMSELVES DANCING WITH EACH OTHER TO THAT MUSIC IN THAT SPACE." In other words, don't analyze it too much.
That didn't stop people from trying to decipher the meaning behind the partnerings as well as the specific phrasing Robbins choreographed for each one. In 1977, Verdy rehearsed Paris Opera Ballet dancer Isabelle Guerin, who remarked that the steps told a tale. Principal Dancer Tiler Peck echoed that observation in 2018, saying of a particularly difficult moment in her pas de deux as the pink girl, "Normally you'd do a promenade holding on to your partner." But this partnering requires more self-reliance, and it's easy to see a metaphor in Robbins' meaning. "You're doing it by yourself and he's just walking along," she said.

Even though Robbins eschewed ascribing a particular story to the ballet, that doesn't mean it lacks a narrative. It's a space to insert oneself. As Principal Dancer Megan Fairchild, who has danced the roles of both the apricot and green girls, said about the ballet, "It feels more personal, more subtle, more introspective."

Since its premiere, Dances has remained one of Robbins' most cherished ballets. What started as an ode to one of his favorite composers has endured thanks to the exuberance he captured on stage. Simply put, it is a carousel of revelry — that was Robbins' wizardry, and why this ballet continues to delight more than 50 years later.