Behind the Camera: Erin Baiano
An Interview with the NYCB Photographer
By Malik Winslow, January 28, 2021
Erin Baiano's track record is nothing short of impressive—the SAB alum and former ABT dancer had a featured role in the iconic dance film Center Stage, worked as the assistant to legendary dance photographer (and fellow NYCB documenter) Paul Kolnik, thrice chronicled the Met Gala, and is now one of the Company's primary photographers for performances, events, and behind-the-scenes access. We spoke to Erin about her career trajectory to date, and its parallels with that of the late, prolific NYCB photographer Martha Swope – as well as how these unprecedented times have impacted her image making.
NYCB: We should start with a little background about the history of NYCB's photographers. You gave a series of Ballet Connoisseurship talks at the School of American Ballet that delved into this topic – can you tell us about that experience?
Erin Baiano: I was just showing a little bit of the lineage of photography at City Ballet, mostly focusing on Martha [Swope], Paul [Kolnik], and myself. There were a lot of photographers who were great and inspirational, like Costas and Steven Caras. But I went along those lines because Paul was Martha's assistant, and I was Paul's assistant. A lot of the knowledge gets passed down, like with ballet; it's verbal and it's visual.

I shared some of their work and my own, and talked about my origin story, and how Martha was very similar, because she was a dancer. She knew Jerry [Robbins], and Jerry was like, "Why don't you shoot this little thing I'm working on?" The "little thing" was West Side Story. She jumped in with a genius.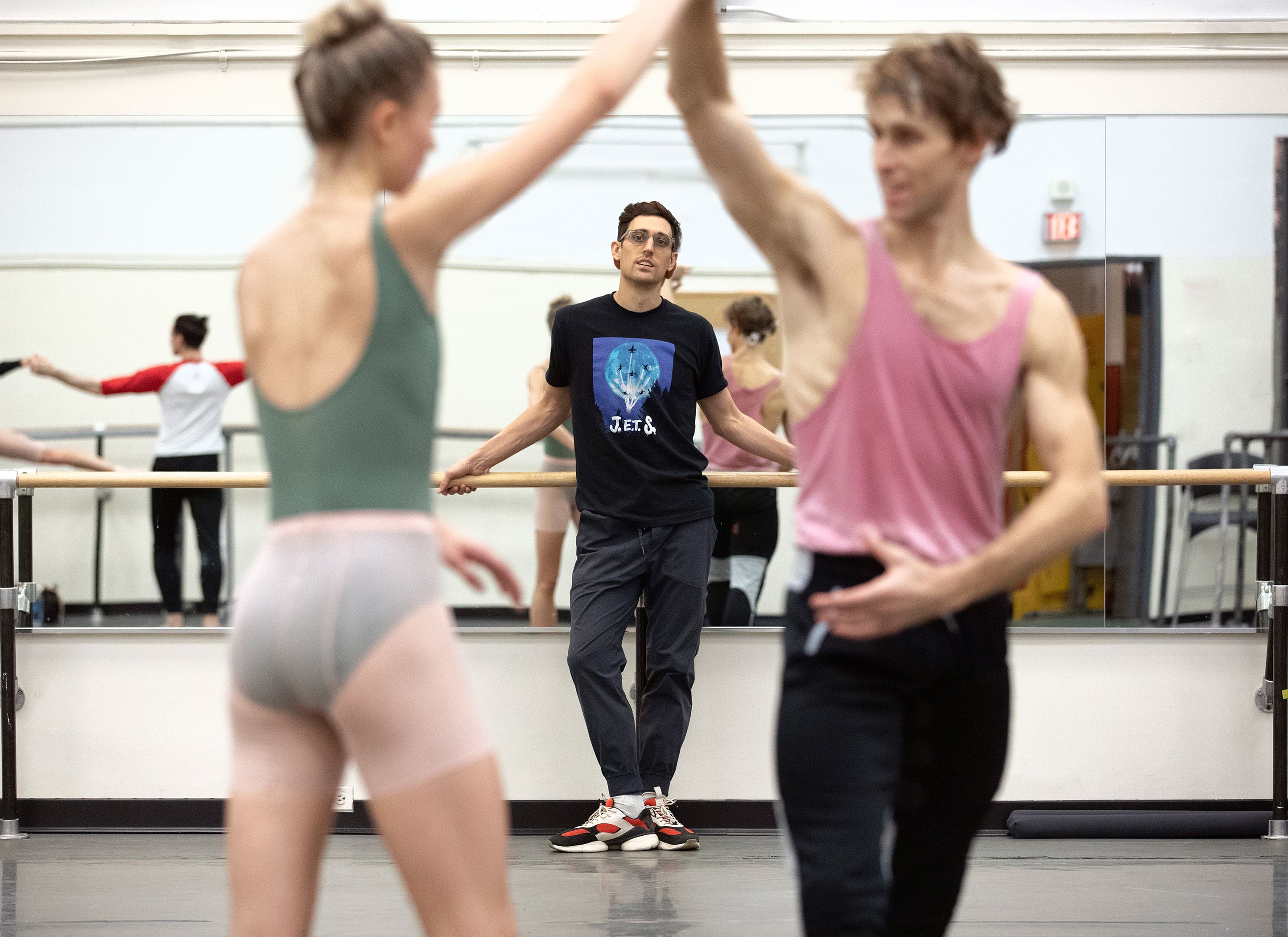 I came to the school the year after Balanchine passed away [1984], so I felt like all my ballet teachers, and Paul, were my connection to Balanchine. [Paul] was there for a lot of new choreography and rehearsals.
Martha was so connected to Jerry, Paul was so connected to Balanchine's choreography, and I feel connected to Justin Peck's choreography. You know, being in the room when [choreographers] are making ballets, witnessing the creativity… The photos are valuable now, but they get more valuable over time. You're bearing witness to this slice of creation. You get to see the original cast, then you get to watch how it gets passed on to other companies and how they interpret it; it's really nice.
You documented the creative process and world premiere of Justin Peck's Rotunda, which was NYCB's last live, onstage premiere before the pandemic. What was that experience like?
One of my favorite things is to shoot processes and collaborations. It is always extraordinary to document a ballet from its early form to what we see on stage. Rotunda is a beautiful, communal ballet with gorgeous music by Nico Muhly, muted yet colorful costumes by Reid Bartelme and Harriet Jung, and clean lighting by Brandon Stirling Baker.
There is something very intimate about Rotunda, the way the dancers interact and communicate with each other, instead of performing for the audience. Justin Peck's ballets are often a challenge for me to shoot, because the movement is often continuous, and the way he phrases music holds surprises. That being said, they are some of the most enjoyable and rewarding ballets to photograph. It's not just about freezing a perfect arabesque, but about fleeting moments and relationships. My hope is that the photos show how extraordinary the dancers are in this beautiful ballet.
Can you tell me about the origins of your career in ballet?
I grew up on the Upper West Side, and went to Ballet Hispánico for about a year, where I got a lot of great performing experience because we did a lot of community outreach. We did other types of dance, like flamenco, but I really liked ballet. Someone eventually told my mom, "If she's serious about ballet, the School of American Ballet is the place to train."
I ended up auditioning and getting in when I was nine. I started in Third Division—the pink leotards. I went through the School and ended up at the American Ballet Theatre, which I loved. It was a big change for sure, style-wise and repertory-wise, but I enjoyed my time there—about 7 years. And I ended my run there with Center Stage!
How did the experience of being in that film impact you professionally? What were your best on-set memories and biggest challenges?
My favorite part about doing Center Stage was that I got to spend time with people that I'm still friends with today. That's when I really got to know [NYCB Principal Dancer] Jared Angle and [NYCB Repertory Director] Craig Hall, because we had so much down time. We would play charades, ping pong, Trivial Pursuit… and Jared would win everything, because that's what he does!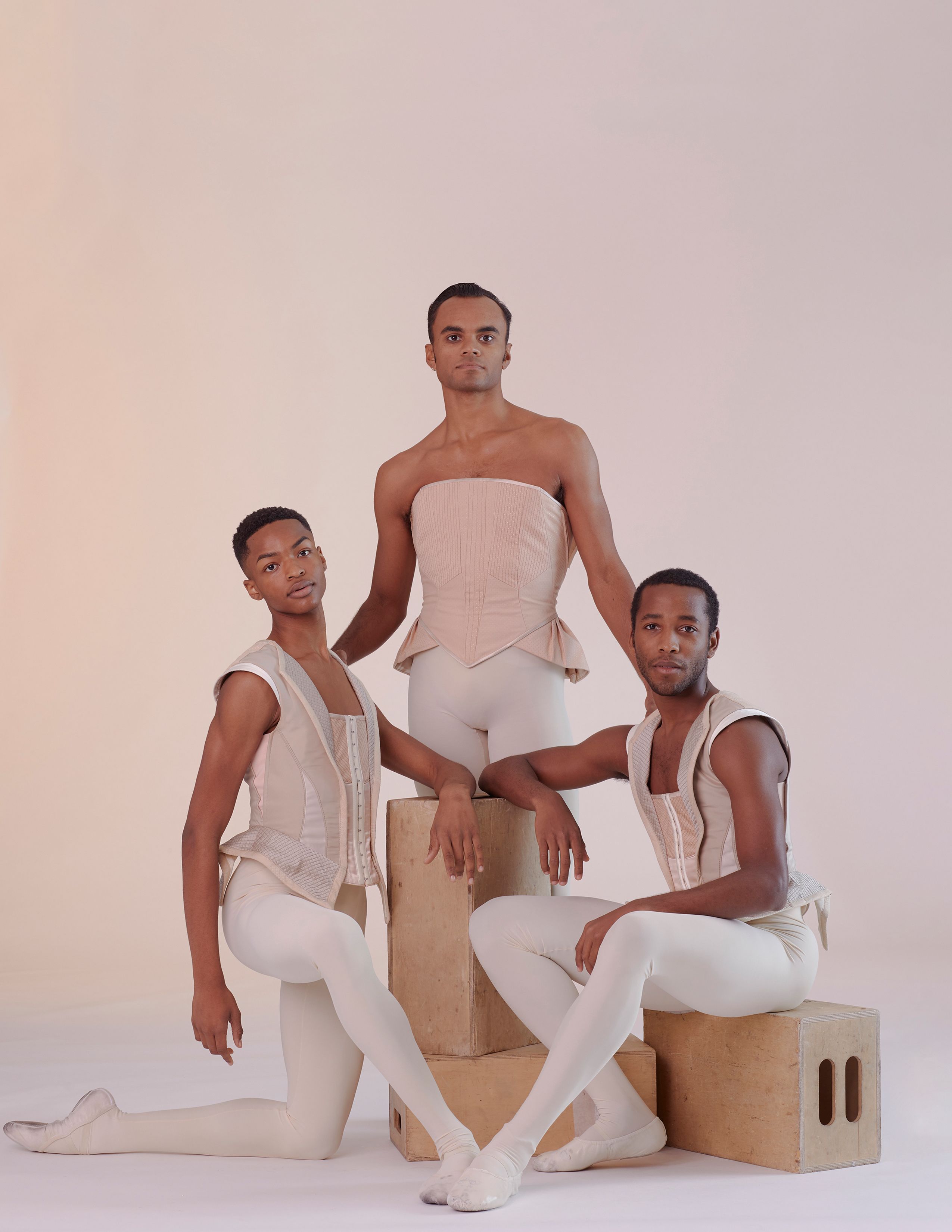 Some of it was not that fun. It was the middle of summer, and when we were rolling in the ballet studio set that they built out in Brooklyn, we couldn't have the air conditioner on, because it was too loud. And the days were really long.
My best memory was shooting at Lincoln Center, because it was home. When we came into the dressing rooms for the first time, we were so impressed that the set dressers had done their homework, that it looked so lived-in and real. We were all really impressed by the "movie magic" aspects of it. So much so that I asked the Assistant Director if he would hire me as a production assistant for his next project, and he did!
So, I worked on Woody Allen's Autumn in New York, with Winona Ryder and Richard Gere. But I figured out that I didn't want to be a PA or become an Assistant Director. I was always into the production aspect of it, though, which led into my interest in photography.
How did that initial interest develop into the photography career you have now?
I sort of surprised myself, because I wasn't a shutterbug initially, which I definitely regret because ABT went on tour to a lot of great places. And then when I started working for Paul, it was like this Denzel Washington quote [from his University of Pennsylvania Commencement speech], "If you hang around the barber shop long enough, you're gonna get a haircut." I was doing administrative work at Paul's photo studio, and I ended up picking up a camera because he was double-booked. He was starting to get a lot of Broadway work, because he shot Contact at Lincoln Center, and Susan Stroman really loved his work.
So, I went to shoot City Ballet during a matinee with Paul's analog Canon, armed with these index cards that he kept with notations on every movement of each ballet. I got shushed because I was overshooting, and probably didn't get a ton of great photos that night, but I really loved it and started pursuing it soon after that.
What was one of the more memorable NYCB programs that you shot early on?
Monumentum pro Gesualdo and Movements for Piano and Orchestra was the show that stood out; I remember being so worried about making sure the exposure was right for their white costumes.
You also had to change film mid-ballet, which was noisy and not easy! Back then, we were out in the open, in the audience. Everything was such a process. For example, at night, if we were doing a rush for The New York Times, Paul or I would shoot the show, run the film down to the Times for them to process the negatives, take them back to the studio, then Paul would look at them all through the loupe, then scan the negatives and do all the retouching… all after the show. Now, it's a lot easier.
What other types of photography do you pursue?
That's where I feel like I've deviated a bit from Martha and Paul's path, because not only did they shoot ballet, they also shot a lot of contemporary dance; Martha shot amazing Martha Graham photos, and Paul still shoots for Ailey, and they shot a lot of Broadway. I still shoot other dance companies, but outside of NYCB I shoot more portraiture and fashion photography, which I love. I love editorials, and shooting Fashion Week—which didn't really happen, with no audiences last year. Fashion seems frivolous to most right now, and it's not the most sustainable, so the industry is going through a lot of changes. But that's how I ended up shooting Fashion Week for the Times and T Magazine; I even got to go to Paris a few times, which was really fun.


How does your process compare and contrast with Paul's?
One thing he taught me that I still do to this day is that I don't shoot on continuous [or burst] mode. Since cameras are so fast now, you'd think that if you're going to shoot action, you'd just hold down the shutter and let it shoot a million frames. But his timing is a lot more deliberate; he takes single shots. If someone is going up for a jump, you either get it, or you miss it. The shutter also makes a lot of noise.
Process-wise, Paul has it down to a science. He can go in with a minute to spare and be ready. I need a little more of a dancer's prep time to get warm, centered, and in the zone. Just like when I was a dancer, when I would often be the first one in the studio, arriving early to stretch.
But I think we both get a little bit of pre-show jitters still, and I think we're also both very self-critical. Mine definitely comes from my dancer background.
Are there differences between the ballets you enjoy watching most and the ballets you enjoy shooting?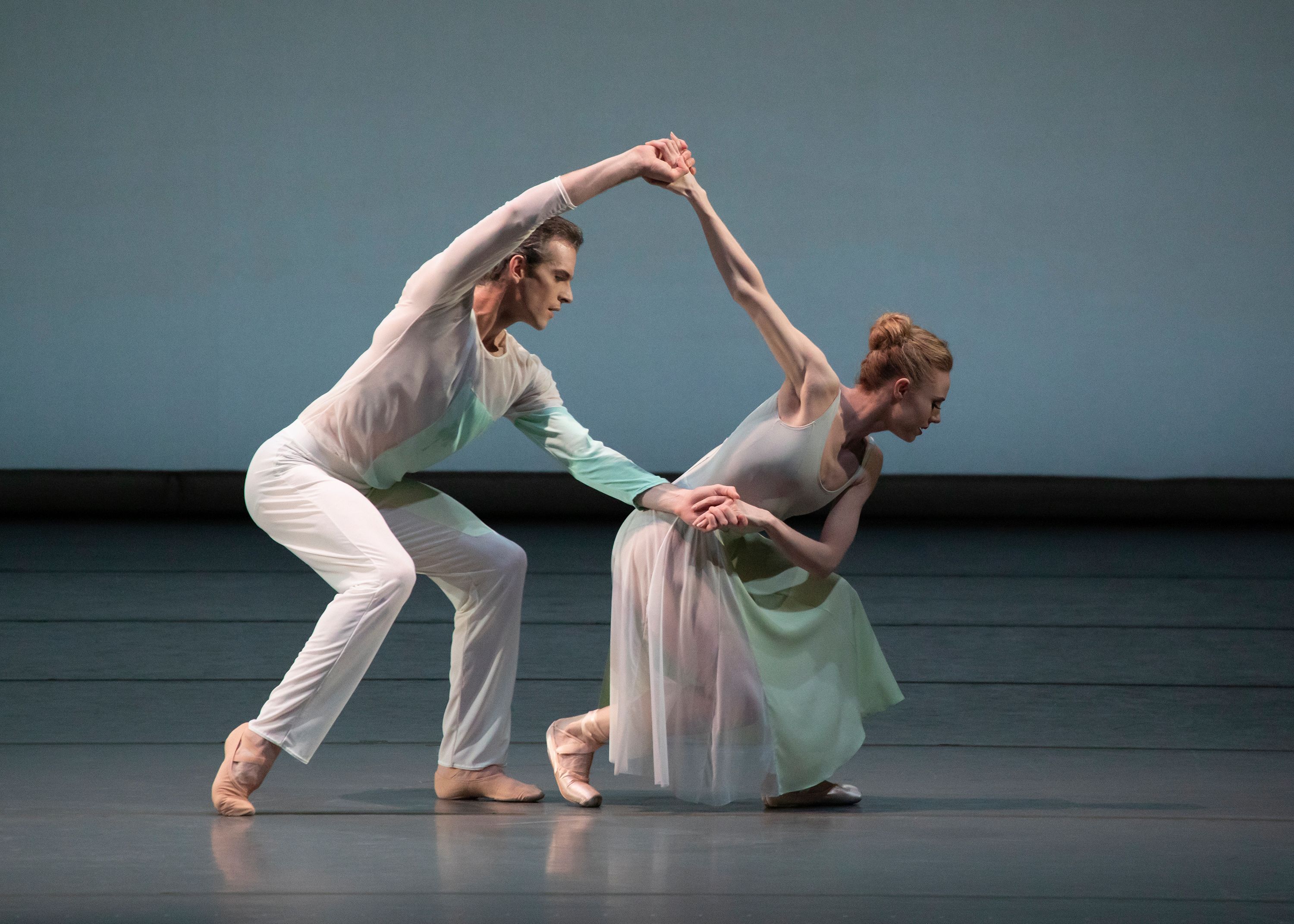 People ask me all the time if I'm able to enjoy the ballet while I'm shooting it, and I think I am—you're still watching the show, you're just watching with more precision, looking for shapes and moments. I love watching Justin Peck's ballets, but they are not easy to shoot. Bright may be the easiest [Peck ballet] to shoot. The Times Are Racing is almost impossible for me! The musicality throws me for a loop – but I love watching that ballet.
What makes a ballet "easy" to shoot?
Ballets with a clear end to the movements that don't flow so much into each other. It can still be a fast ballet, but maybe the timing is more decisive. Some of the ballets are very dark, which makes it difficult, especially at night—I've had to bump up my ISO [which controls brightness] to something outrageous. I don't mind shooting the same ballet over and over, like Nutcracker or Swan Lake, because the different casts make it fun. The appreciation for the dancers always makes it fun—seeing someone in a new role, seeing people progress.
What is the most challenging aspect of capturing dancers during performances?
If there's a lot going on in a ballet, sometimes I'm not really sure where to look, and I have to find "parts," and I find that really challenging. You have to make snap decisions on what you think is important about the moment.
Then, there's the frustration of knowing a moment is coming, and still missing it, and getting mad at myself for the rest of the night. But you have to remind yourself that it's not a video game, you don't get 400 points for getting that arabesque!
What was your favorite ballet to dance?
I really enjoyed the [Agnes] de Mille ballets we did at ABT, because they were so different from what I was used to. They really took the acting and developing characters seriously. And Lar Lubovitch's choreography has always been a favorite to dance. And the corps of [George Balanchine's] Theme and Variations was so fun!
I loved all the Balanchine ballets, all of my [SAB] Workshop ballets were really fun. The first year I was in it, I was in the corps of Stars and Stripes, when I was in C1 [the first of three levels in Advanced Division]. The following year, I was in the corps of Allegro Brillante (nonstop dancing), and then the first [green] trio in Danses Concertantes, which is hard because you have to do the whole opening, and then go right into your pas de trois. The following year, I was the first soloist girl in Who Cares?, to "S'Wonderful."
Can you speak to the impact of the pandemic on your work? Where are you sourcing inspiration and motivation now?
It hasn't been easy. I think in the beginning, when we didn't have much information, I thought it would be a brief blip and then back to business as usual. I felt extremely uninspired. I felt pressure, especially seeing on social media that many photographer friends, maybe out of panic, were being super productive. And I felt like being the exact opposite. But I was happy to see that I wasn't the only photographer feeling that way; The New York Times did a feature on 27 Black photographers, and one of my favorites, Dana Scruggs, expressed similar feelings.
But I started to miss shooting and began photographing my neighbors. We would go to the roof, mostly, and stay distanced—it kept me going, and it was really nice to get to know them. I've lived here for a decade, but only knew my immediate neighbors. We'd formed this WhatsApp group, and I just said, "Can I photograph you?" I entered the series into a contest and made it to the second round with an opportunity to receive funding to continue it, but it was postponed due to the Black Lives Matter movement.
I was also able to get back into the studio and shoot an editorial with Ehlie Luna, our NYCB makeup artist. The shoot was part of an initiative to bring fashion back to New York, showcasing these new studios and their capabilities. It was a little nerve-wracking at first, trying to make sure everyone was distanced and that the windows were open, but it went well.
Eventually, I was fortunate enough to teach photojournalism online for the School of the New York Times during the summer. Gradually, jobs came back; I was able to shoot behind the scenes photography for the NYCB video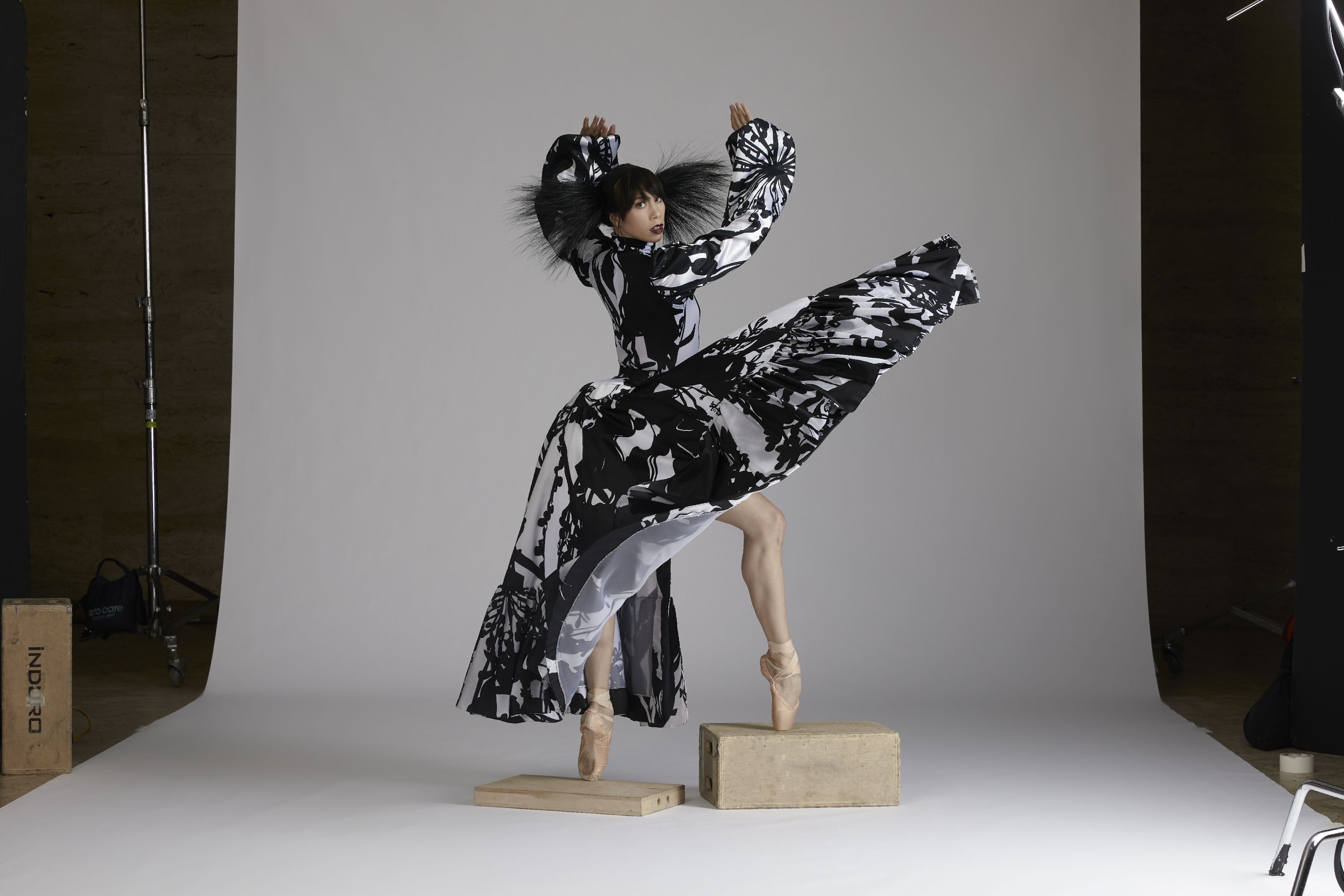 premieres, and picked up some other freelance editorial and dance photography work. To keep my sanity and my skills sharp I did some personal portrait projects. I found the motivation to photograph my neighbors, as we all got to know each other better during lockdown, and we were able to social distance outside in my neighborhood.
I have also started a portrait project about what it means to be Asian American during these times when race is a huge part of the public consciousness. I was very inspired talking to [NYCB Soloist] Georgina Pazcoguin and Phil Chan about their anti-discrimination initiative "Final Bow for Yellow Face."
I've also become reacquainted with my film cameras, since I do not usually get to use them on jobs. The one fun skill I have acquired during quarantine is shooting "virtual portraits". Everyone in the arts has been forced to learn new skills—from shooting and editing video or making home lighting setups for online meetings. Virtual portraits require more collaboration than in-person shooting, so it really feels like a partnership. One of the most difficult parts of the pandemic has been not giving in to despair. I think dancers are having similar thoughts about how work ties in with identity and self-worth. Like everything, it is a constant effort to remind ourselves that we will see the other side of this.

Do you envision a shift approaching in the way dance photography is done? What changes do you anticipate?
One trend that I think is here to stay is the use of video screenshots in place of high-resolution stills. We have seen so much dance on video that it's sometimes more convenient to take a screenshot than to hire a photographer. Our eyes have become accustomed to lower-resolution imagery. I do, however, think that there will always be a place for good still photography, and that photographers will be more innovative in capturing dance with new technologies. Phone cameras have improved tremendously, providing greater accessibility to photography.
Dance is having a major moment in the public eye, which brings both negatives and positives. Ballet is so specific that I sometimes fear for quality control in commercial media, but it also raises awareness of this magnificent and difficult art. I think that we will see greater inclusivity—more women and faces of color both behind and in front of the lens. I think we will see more site-specific dance photography, now that we must utilize the outdoors. For myself, I anticipate having fresh eyes on a world I know so intimately and an even greater appreciation of what dancers do.
To keep up with Erin, visit her website: erinbaiano.com and follow her on Instagram @erinbaiano.
Header photo of Erin Baiano by Sonny Figueroa; all other photos by Erin Baiano