Meet the Newest Dancers in NYCB's Corps de Ballet
By Madelyn Sutton, June 10, 2020
During the course of the 19-20 Season, four apprentices were elevated to the ranks of NYCB's corps de ballet. To get to know them a little better, we asked Lauren Collett, Uma Deming, Malorie Lundgren, and Cainan Weber, all of whom were students at the School of American Ballet before joining the Company, a little bit about themselves and their journey to becoming members of the NYCB family.

Interviews have been condensed and edited for clarity.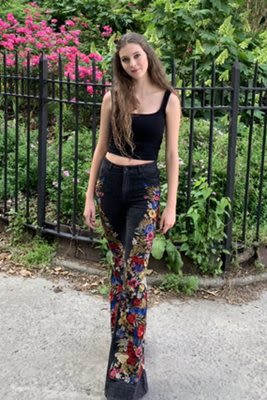 LAUREN COLLETT
What did you do when you first learned that you'd be joining the Company?
I got into the Company for Nutcracker, and was told after an SAB class that I was getting my apprenticeship and had to start, and be in rehearsal, in literally 30 minutes. I remember trying to write my email address down on a piece of paper so that I could get emails about rehearsals and I was shaking so much that you couldn't even read it. I called my mom but had no time to really process what was happening. It was the happiest day ever.

What was it like enrolling in the school, becoming an apprentice, and joining the Company all within the space of three years?
I worked so hard to get into Winter Term [at SAB] and once I finally got there, the work was just the beginning. I learned something new everyday, about myself and my dancing. Then, becoming an apprentice with the Company was a totally different experience. You no longer have your teachers by your side 24/7 and you have to push yourself every day, but it also gives you room to really take your dancing to the next level. You now can customize and tweak your dancing to make it original.

What do you like about living in NYC?
I love every part of New York. I think being able to be my own person and having that sense of independence is something I really love. I also love fashion, and I love the fact that you can wear whatever you want and nobody cares.

What makes NYCB special, to you?
I love being surrounded by my friends and people I look up to and aspire to be everyday. I also love the fact that we are constantly learning a new ballet and then performing it. It's such a quick environment and it really shows how intelligent our Company is. There's also no comparison to our repertory, in my opinion. You can go to the ballet every night of the week and see something so different.

What are you most proud of, other than dancing?
I am really proud of my cat. I'm very obsessed with animals and before I got very serious about ballet, I always wanted to be a vet. I'm proud to have the responsibility of taking care of another life. She makes me so happy!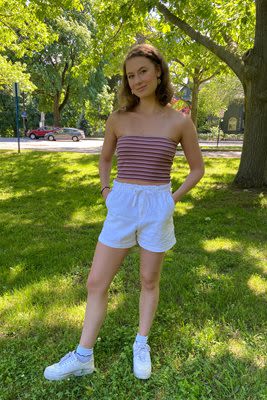 UMA DEMING
What did you do when you first learned that you'd be joining the Company?
My friend Lauren Collett and I were informed we'd be corps de ballet members together. We celebrated by going back to her apartment and cooking up a big pot of chili! This all happened the day following my birthday.... quite the gift.

What was it like receiving the Danish American National Culture Exchange scholarship and training with the Royal Danish Ballet, while a student at SAB?
It was a great honor, as a student, training at the Royal Danish Ballet. To study the Bournonville technique where it originated was an experience I'll never forget. It was also my first daily experience getting to train with a professional company.

What have been some of your favorite moments as a member of the Company?
A memorable ballet for me was when I got thrown into [performing] Serenade while I was an apprentice. Similar to many dancers, Serenade was one of the first Balanchine ballets I was introduced to; it's known as one of his staple ballets here at NYCB. It was definitely surreal to even be in the back of rehearsals as an understudy learning it. Getting to perform it was a shock and nerve-wracking, but one of the best times I've ever had onstage. Working as one cohesive group since being in the corps de ballet has been a joy. Getting through a tough ballet is such a satisfying feeling, and doing that with your friends is the cherry on top!

What was it like working with Lauren Lovette on originating a role in her ballet The Shaded Line?
The Shaded Line was my first time being choreographed on while in the Company. Lauren has been such an inspiring figure for me, so it was a dream to be a part of her process. We really delved into her story and vision from the get-go. She had all of us moving our bodies in a way we weren't entirely used to. It was super exciting to discover new things for me as a dancer in this process, as well as (hopefully) fulfilling Lauren's hopes for the look of the ballet!

What do you like about living in NYC?
I love the energy of the city, there's never a dull moment. Though it's been my home for six years now, and I've explored a lot of it, I've come to realize it would take more than a lifetime to explore it all.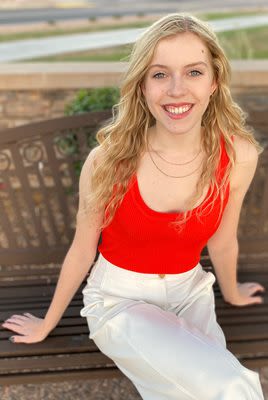 MALORIE LUNDGREN
What did you do when you first learned that you'd be joining the Company?
I found out that I would be getting my corps contract during a rehearsal for Episodes. I was an understudy and needed to step in for the two shows that were happening the last week of performances. At the end of the rehearsal, [NYCB's Ballet Mistress] Rosemary Dunleavy just said, "After you perform this on Tuesday, you'll be a corps member!" I don't think I processed what she had said right away… I was too surprised for even happy tears. That night was the last show of Swan Lake. I had so much energy during the show, I couldn't stop smiling!

Do you have any special memories of being a student at SAB?
SAB Workshops will always be close to my heart. It's one of the only times you'll be able to spend months working every day on just a few ballets. I had so much fun performing in Western Symphony, La Source, Scènes de Ballet, Concerto Barocco, and Bourrée Fantasque! I also met the greatest people while living in the dorms at SAB. After four years, the girls I lived with are like a second family to me!

What do you do to get back into the right headspace when you're having an off day?
When I started as an apprentice, I thought every day was an off day! I was so nervous to be taking class with all of these amazing people that I felt like I forgot how to dance! When I remind myself to just enjoy what I'm doing and not worry so much about little things, I feel and dance much better.

What have been some of your favorite moments as a member of the Company?
My first show was Emeralds. I remember standing onstage listening to the Orchestra begin to play, the curtain going up, and then I was looking out into the audience. The view from the stage is beautiful! That moment calmed all of the nerves I was feeling leading up to the show. It was a surreal experience because just a few months earlier I had been sitting in the audience watching the same ballet.

What are you most proud of, other than dancing?
After I graduated from high school, I wanted to keep learning. I've been taking classes at Columbia University to keep school in the mix. The campus is so different from the rest of the city; it's the perfect escape on my day off.
CAINAN WEBER
What did you do when you first learned that you'd be joining the Company?
When I first found out I was going to be a part of the Company I was ecstatic, but I was sitting in [former NYCB Principal Dancer and current SAB Chairman of Faculty] Kay Mazzo's office, so I tried to keep it contained. Once we had finished the meeting, though, I rushed up to my dorm room and called my parents!

Are there any specific ballets you are looking forward to performing?
I'd love to be able to dance Piano Pieces by Jerome Robbins, and [George Balanchine's] Apollo has always been a dream role of mine, along with Allegro Brilliante. There's a pretty big handful of ballets I'd love to perform someday, a few too many to name, but I hope I get to dance at least a couple of them eventually!

Who inspires you most, or is a particularly important model or mentor to you?
There are a good few people that I'm inspired by and look up to, some of whom I dance with in the Company now. But Mikhail Baryshnikov is a man that I've admired since day one. Before I ever had a male ballet teacher, I used to watch videos of his variations on YouTube and try to teach myself the steps that I saw him doing.

What are you most proud of, other than dancing?
Outside of dance I'm probably most proud of my nephew Donovan. He's super smart, always learning something new or figuring out how to do something he shouldn't be able to do as a one-year-old. He's such a happy baby, and he may only be one, but I'm proud to be his uncle!

What makes you unique as a dancer?
I think that my jump is probably what makes me somewhat unique as a dancer. I've always enjoyed grande allegro and petite allegro in class and it's what I'm best at, in my opinion. I like traveling and being as expansive as possible, but I can always work on my control!