A Virtual Collaboration
By Madelyn Sutton, April 8, 2020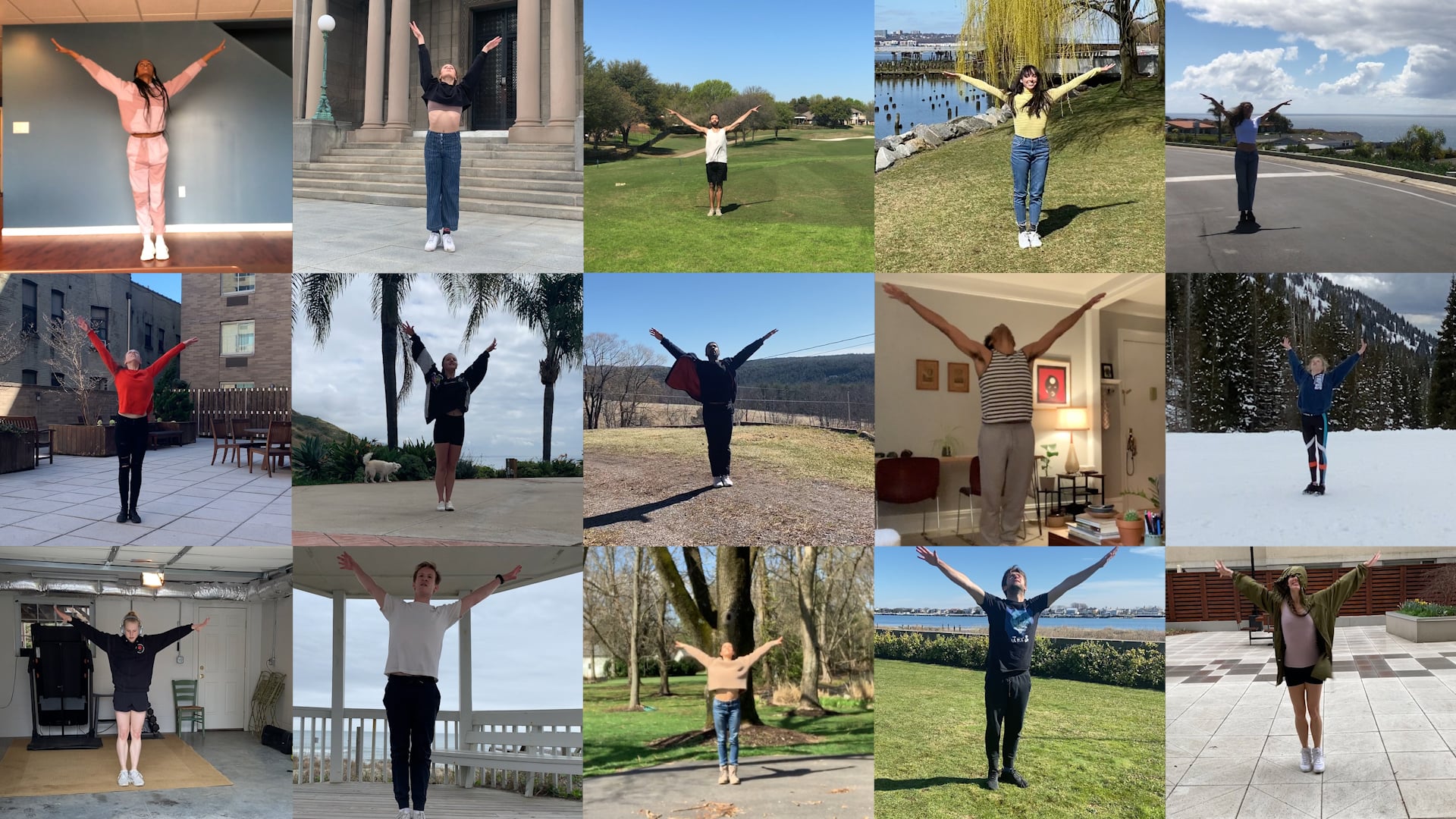 The Times Are Racing
Watch the socially-distanced collaboration featuring dancers India Bradley, Harrison Coll, Naomi Corti, Uma Deming, Silas Farley, Baily Jones, Claire Kretzschmar, Lauren Lovette, Lars Nelson, Unity Phelan, Brittany Pollack, Kristen Segin, Taylor Stanley, and Indiana Woodward, with Repertory Director Craig Hall.
The social distancing required to help prevent the further spread of COVID-19 has consigned NYCB's many dancers, choreographers, ballet masters, and teaching artists to their homes, far from the familiar ballet barre—and each other. Using garages, living rooms, and nearby parks as their impromptu studios, they work to maintain their practice. But keeping the social connections alive that are so inherent to being a member of the Company is important, too.

Via a virtual collaboration, NYCB presents a separate-but-together performance of a short excerpt from Justin Peck's The Times Are Racing. Premiering in January 2017, this ballet incorporates not only the classical movements familiar to NYCB audiences, but tap, hip hop, and the sort of dancing that comes from individual expression within a communal effort. The Times Are Racing is an especially appropriate ballet for a project like this, not only because it's a sneaker ballet that's usually performed in streetwear-inspired costumes, but because it was choreographed with the NYCB family of dancers in mind.

Recreating the ballet brought back memories of its 2017 premiere for the participating dancers, whether they experienced it from the audience or the stage. Here are some of the recollections they shared about the premiere, and the experience of collaborating remotely.
"I remember being in the audience when the huge beat dropped and everyone in the theater made one large GASP (including myself). I knew right then I was about to watch something incredible," recalls India Bradley, who was a student at the School of American Ballet when she saw the premiere of The Times Are Racing—as were fellow Corps de Ballet Members Naomi Corti and Uma Deming. For Uma, seeing the premiere made her feel closer to the other SAB students. "My peers and I were all up in the fourth ring," she writes. "It completely captivated me for 24 minutes. The sense of community and raw love for dance was something I think everyone in that theater could feel." And that same sense of togetherness and community affected Naomi long after the curtain fell: "I left the performance feeling like I was on top of the world! My roommate and I couldn't stop dancing and jamming out our entire walk back to the dorms."
Soloist Brittany Pollack originated a lead role in The Times Are Racing, performing in the premiere described above. "[It] was one of the best feelings I've ever had onstage during my career so far at NYCB," she writes. "I felt a sense of community, a sense of freedom, and a sense of hope onstage that I'll never forget. The audience escaped my mind while I was dancing, and I actually got emotional during the performance."
"Dancing this ballet onstage while knowing that it was the audience's first time ever experiencing it was electric," echoes Corps Member Lars Nelson. "It was also a great experience getting to perform it with Justin. It's not often we get to perform something with the choreographer as well, so it had a unique feel to be dancing this with him."
For Kristen Segin, another long-time member of the corps de ballet, the experience of performing The Times Are Racing was downright transcendent: "During one show, after I fell onto the floor and rolled onto my back, I had a moment to stare at the ceiling stage lights before moving again. At that moment, I had a crazy out-of-body experience. I just remember thinking of how special this ballet is and how much I love my job. It brings tears to my eyes right now just thinking about it." Rather than turning inward, Soloist Claire Kretzschmar felt a distinct connection to the other Company members onstage. "Each time that I look at another dancer, no matter how tired we are, it feels like we are sharing a story or are part of a secret club," she writes. "In the end especially, I get to see Kristen Segin a lot since we share the same role on opposite sides of the stage, and it feels like we are initiating the unlocking of a puzzle as we are the last two to fit into our spots before the formations onstage change."
Long before the premiere, the ballet began as an obsession of Justin Peck's with a four-part song cycle by musician and composer Dan Deacon, "USA I-IV," a sonic exploration of America that combines sections performed by orchestral instruments with vibrant electronica and ecstatic vocals. Peck's choreography similarly weds the many styles of movement that contribute to his conception of contemporary American dance. Essential to this, as the rehearsal process demonstrated, was the NYCB dancers' input. "The first time Justin taught us this combo was unforgettable," recalls Soloist Harrison Coll. "We were all in sneakers jamming out to Dan Deacon's music on high volume, taking turns breaking down the sequence like it was a hip hop class. Everyone was allowing themselves to break free of their classicism just for a moment and allow their soul and emotion to really drive the movement. I feel like everyone was truly awakened to another dimension of their physicality that day."

Claire writes, "At one point before the premiere, Justin said that he wanted the finale steps to look like we were each jamming with a pair of headphones on, but doing so amidst a community of dancers onstage." In the process of recreating the ballet for this virtual collaboration, she returned to that idea—and made it a part of her performance. "I used my headphones to play the music so I could dance on the right counts, and I thought that it would be a cool look." She adds, "It was fun to make something like this to share with others again."
"The Times Are Racing is always a cathartic experience, and it is even more so now. In every performance of this ballet I throw all of my energy and feelings into every step," Kristen writes. Like Claire, Kristen used accessories to help recreate the sensation of performing the ballet on the NYCB stage: "To brighten my day, I also chose to wear an outfit that is very similar to my electric orange and black Opening Ceremony costume. It was so much fun to play dress up and virtually dance it out with my friends again."
And that sensation of togetherness, despite the separation demanded by the current situation, united many of the dancers as they prepared their portion of the video. "Collaborating on this put me in the best spirit as it gave me an opportunity to do something I love, in a place that I love, connecting me to a community of dancers that I love being a part of, in a time when I felt this was unattainable," writes Corps de Ballet Member Baily Jones. "It made me smile knowing that some other dancers of NYCB were doing the same sequence of choreography from the comfort of their own backyards too," adds Brittany. "I felt united for those few moments." Corps de Ballet Member Silas Farley put this cross-country sentiment into the simplest terms: "Even while apart, we are one."
And despite the distance between the dancers, some Company members found other ways to share the experience of recreating The Times Are Racing's finale. "I asked my sibling Gabi to help me record this and play the music from their phone as well," writes Soloist Indiana Woodward. "I taught Gabi some of the moves because they thought it looked so freeing and fun to dance." Naomi's family helped as well: "I went out into my street and had my mom film me. I was self-conscious about dancing in front of my neighbors at first, especially because I couldn't play the music and film at the same time. Once I started dancing, I got lost in the steps and didn't want to stop filming it. I ended up really enjoying silently dancing for my neighbors, even for just a few minutes."
"It was done all in one take, and I couldn't help but smile," Soloist Unity Phelan says about the recording process. "My boyfriend [former NYCB dancer Cameron Dieck] is working from home and is very busy, but we carved out two minutes to run out on the patio to film this quick clip."
"This is one of my all-time favorite ballets and whenever I watch it, it fills me with so much joy and happiness," writes Ballet Master Craig Hall." Along the same lines, Unity writes, "This ballet has so many wonderful messages that are only conveyed through movement." So, what messages might we take away from this collaboration?
Principal Dancer Lauren Lovette shares that the project helped her cope with the overall situation in unexpected ways. "It took me much longer than anticipated to remember the choreography, but when I sat there watching my friends dance their hearts out on my computer, my heart swelled with emotion. I sat there at my laptop with tears in my eyes and a new connection to myself that had been shut off for days … I felt alive again. I felt the blood back in my body again, and I knew that I had taken the first step to getting back to myself."
"Filming this video was such a turning point for me," echoes Harrison. "I've been injured since September, so I've been waiting and waiting to finally be able to dance again. [It] was literally the first time I really tested my body's strength again and there was a sense of liberty when I realized I wasn't even thinking about my injury. I was like, 'Alright, let's just go for it.' And that's what The Times Are Racing is all about—taking all of those emotions, fears, and anxieties that you may be experiencing, throwing a hoodie and some headphones on, and dancing it all off."