Jenelle Manzi's Holiday Treats
December 19, 2018
NYCB corps de ballet member Jenelle Manzi is on a mission to create treats that are both indulgent and wholesome. Jenelle, who's always had a love of baking, cut gluten and dairy from her diet several years ago after discovering that her food sensitivities were causing chronic inflammation that affected her dancing. But she missed her favorite baked goods – so she took matters into her own hands, creating gratifying versions of tempting treats. Her recipes have been featured on Coveteur, Bon Appetit's Healthy-ish, and DanceSpirit, and her baking side project was recently profiled in Pointe.

She's created this exclusive collection of Nutcracker-inspired recipes that takes you on a healthy journey through the Land of Sweets this holiday season. Enjoy!
Spicy Hot Chocolate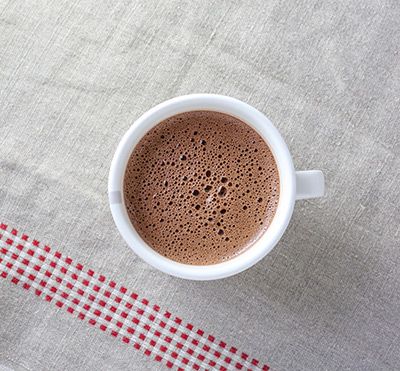 Jenelle says: Who doesn't love drinkable chocolate? This hot chocolate is rich and balanced with the perfect amount of spice.
Serves Two
Ingredients:
• 2 ounces unsweetened chocolate, chopped
• 2 tbs unsweetened cocoa powder
• 2 tbs coconut sugar (or to preferred taste)
• ¼ tsp ancho chile powder (or to preferred taste)
• 1 tsp vanilla extract
• 2 cups full fat almond milk, oat milk, or coconut milk
• 1 cinnamon stick
• Marshmallows, optional
Method:
• In a medium pot, whisk together chocolate, cocoa, coconut sugar and chile. Place pot over medium-low heat and whisk until chocolate begins to melt.
• Slowly whisk in your almond milk. Drop in cinnamon stick and bring to a low simmer.
• Remove pot from heat. Cover pot tightly and steep for about an hour.
• Taste for sweetness and add more coconut sugar if you prefer. Reheat over low heat and strain the chocolate into a measuring cup and pour into mugs. Serve with marshmallows if desired.
Cardamom Coffee Latte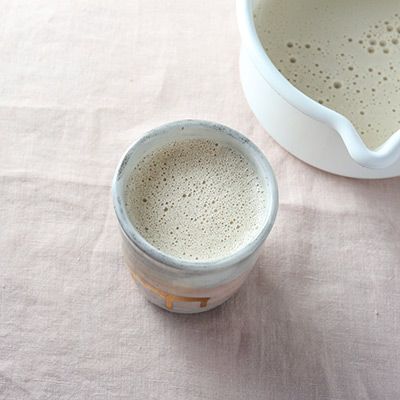 Jenelle says: Good coffee is good coffee. But sometimes we need something extra. Smooth and warming cardamom is used to add a bit of spice and decadence to your morning latte.
Serves one
Ingredients:
• 1 cup full fat unsweetened almond milk (homemade preferred)
• ¼ tsp ground cardamom
• 1 tbs coconut butter (almond butter works too)
• 1 tsp vanilla extract
• ½ cup extra strong black coffee
• add tbs of maple syrup if you like sweet
Method:
In a saucepan combine the milk, cardamom, coconut butter, and vanilla. Bring to a low simmer over medium heat.
Transfer the milk to a high speed blender and whirl away until smooth and frothy. Pour half a cup of your hot coffee into your mug and top it with the milk and enjoy.
Turmeric Ginger Matcha Latte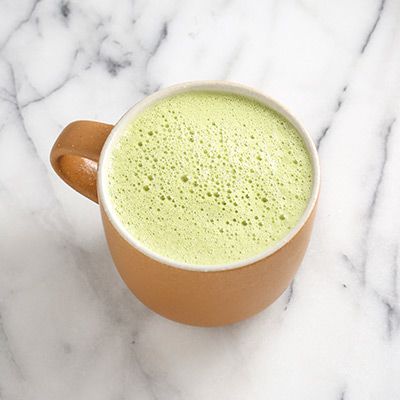 Jenelle says: Sometimes before an early morning workout I prefer to have a latte with a light snack and save a proper breakfast for afterward. This is why the added fats and collagen are important. This latte has the best of all worlds - a steady energy boost from the matcha, a protein boost from the collagen, and anti-inflammatory benefits from the turmeric and ginger.
Serves One
Ingredients:
• 1½ tsp matcha powder (Cap Beauty has a great option)
• 1 tsp peeled and finely chopped fresh turmeric
• 1 tsp peeled and chopped ginger
• 1 tbs coconut butter (almond butter can also work)
• 1 tbs collagen peptides*
• 1 tsp maple syrup (coconut sugar will also work)
• ½ cup hot water
• 1 cup full fat almond milk
*optional, can easily omit
Method:
Combine these ingredients into a blender and blend at high speed for 2-3 minutes, strain and pour into a mug, enjoy!
Candy Cane Sugar Cookies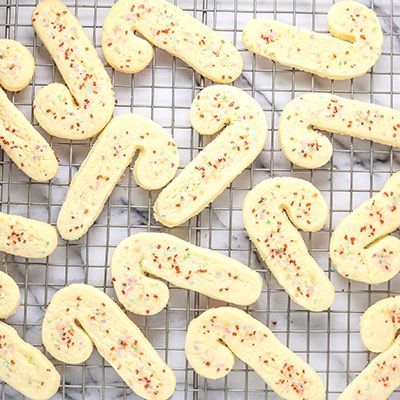 Jenelle says: These cookies have a chewy crispness on the outside and a softer interior. I tried to combine the fluffy soft texture of frosted sugar cookies with the crispness of a classic cut-out. And then, of course, making them gluten-free. For ease and simplicity, I used a flour blend in combination with almond flour which adds lightness to the dough. Feel free to decorate them however you want!
Makes 12-14 cookies
Ingredients:
• ½ cup softened butter
• ⅔ cup organic sugar
• 1 tsp pure vanilla extract
• 1 egg
• ½ tsp baking powder
• ¼ tsp sea salt
• ⅔ cups preferred gluten free flour blend
• ¾ cup almond flour
• 2 tbs arrowroot
• Sparkling Sugar Sprinkles
Note: Depending on the flour blend used texture can vary - add a tbs of preferred milk (can be dairy free) to help moisten the dough if it's too dry
Method:
• Preheat oven to 375 F. Line two baking sheets with parchment paper.
• Cream softened butter and sugar in a stand mixer (medium speed) until fluffy, add in your egg and vanilla and continue to mix.
• Add in your baking powder, salt, flours, and arrowroot and continue to mix (low/medium speed) until smooth and combined. Lastly, add in your milk (if needed). The dough will be very sticky, but moldable.
• Allow the dough to chill in the refrigerator for at least 30 minutes. Remove from the refrigerator and begin to roll out your dough on a well-floured surface. Roll to about ¼ inches thick.
• Press your candy cane cookie cutters* into the dough and place your cut outs on your prepared baking sheets. Sprinkle and decorate your candy cane cut-outs.
• Bake your cookies for 10-12 minutes and allow them to cool before transferring them to a plate.
*The dough can be a bit sticky, so it's best to make sure your dough is very cold and also to dip the cookie cutter in flour before using it. These cookies can also easily be made into simple round sugar cookies instead of cut-outs.
Marzipan Bites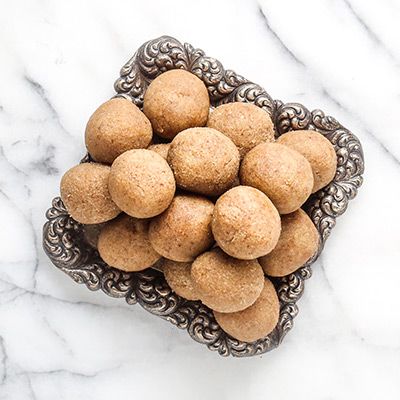 Jenelle says: This is a spin-off of traditional marzipan as they are vegan and refined sugar-free. They are still sweet, satisfying, and full of that delicious almond flavor we know and love.
Makes 16-18 bites
Ingredients:
• 1 cup almond meal
• 8-10 soft medjool dates (pureed to make a paste for best texture)
• 1 teaspoon orange blossom water (you can sub vanilla extract)
• ¾ teaspoon pure almond extract
• Pinch salt
Method:
• Blend everything together in a food processor for several minutes. You want to form a paste that is malleable and smooth, but still solid enough that you can roll it into small balls.
• Roll the dough into small balls and place on a parchment lined baking sheet. Allow to cool and set in the refrigerator for at least an hour before serving. Store your marzipan in an airtight container in the refrigerator.
Spiced Sugar Plums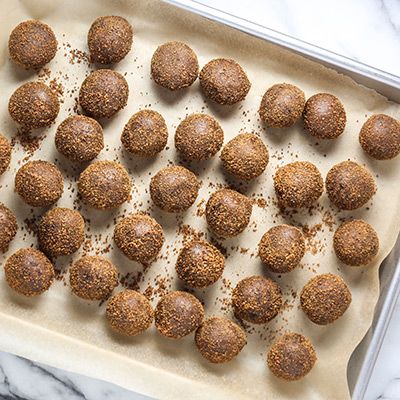 Jenelle says: Originally sugar plums were simply sugar coated coriander – a sweet and spicy treat that later evolved to include dried fruit and other spices. I tried to incorporate inspiration from the many versions old and new while adding my own twist to make them a bit more smooth-tasting. And instead of using cane sugar I opted to dust them with cinnamon and coconut sugar.
Makes 32-34 rounded sugar plums
Ingredients:
• 1 cup shelled walnuts
• 1 cup almonds
• ¼ cup oat flour
• ½ tsp sea salt
• 2 tsp orange zest
• 1 ½ tsp ground cinnamon
• ½ tsp grated nutmeg
• ¼ tsp ground allspice
• ¼ tsp ground coriander
• 1 cup chopped pitted dates
• ½ chopped unsulphured apricots
• ½ cup chopped pitted prune
• Coconut sugar and cinnamon for dusting
Method:
• Preheat oven to 350°. Place almonds and walnuts on a parchment paper lined baking sheet and toast in oven for 10 minutes. Set aside to cool.
• Place almonds, walnuts, and oat flour in a food processor and pulse for 15-20 seconds or until you have a flour-like consistency.
• Meanwhile, combine orange zest, cinnamon, nutmeg, allspice, and coriander in a medium mixing bowl. Add dates, apricots, and prunes and mix well. Add the fruit and spice mixture to the food processor and continue to blend until a sticky dough forms.
• Pinch off rounded tablespoon sized pieces of the mixture and roll into balls. (Rinse your hands often, as mixture is very sticky.) Roll balls in coconut sugar and a sprinkle of cinnamon, then refrigerate in single layers between sheets of parchment paper. Store in an airtight container for up to 1 month. Keep in mind that their spiced flavor improves after sitting for a few days, so it's best to make in advance.