Two Iconic Roles by Some of Their Many Interpreters
By Madelyn Sutton, December 15, 2021
The Second Act of George Balanchine's The Nutcracker® is rich with the many confections, choreography, and characters that all come together to make this unparalleled work an experience cherished by balletomanes of all ages. Though dancers and audience members alike have their favorite moments—whether the blizzard at the end of the First Act, or the acrobatics of the Candy Cane divertissement, or the awe-inspiring expansion of the Stahlbaum Christmas tree—there are two roles that in many ways capture the special magic and grandeur of The Nutcracker in just their featured variations: Dewdrop and the Sugarplum Fairy.
"I was so fortunate because I lived in Chicago, and Mr. Balanchine brought The Nutcracker to Chicago the first year they did it in New York," recalls SAB Chairman of Faculty and former NYCB Principal Dancer Kay Mazzo, one of the many dancers we spoke with who has performed both the Dewdrop and Sugarplum Fairy roles. "It's why I came to SAB eventually, because I said to my mother, 'That's what I want to be. I want to be that Sugarplum Fairy.'
"Balanchine was rehearsing all of us children at the time, and he impressed me," Mazzo adds. "I was eight years old, and he impressed me because he treated us like grownups. He treated us like we were professional dancers—'Come here and there, do this, do that. Here you go, go over here. No, you're too close.' You got the feeling that you were respected. Here was the man that put this ballet on the stage, and he was treating all of us so gently, so knowledgeably, and it made me understand that this was the guy I wanted to dance for."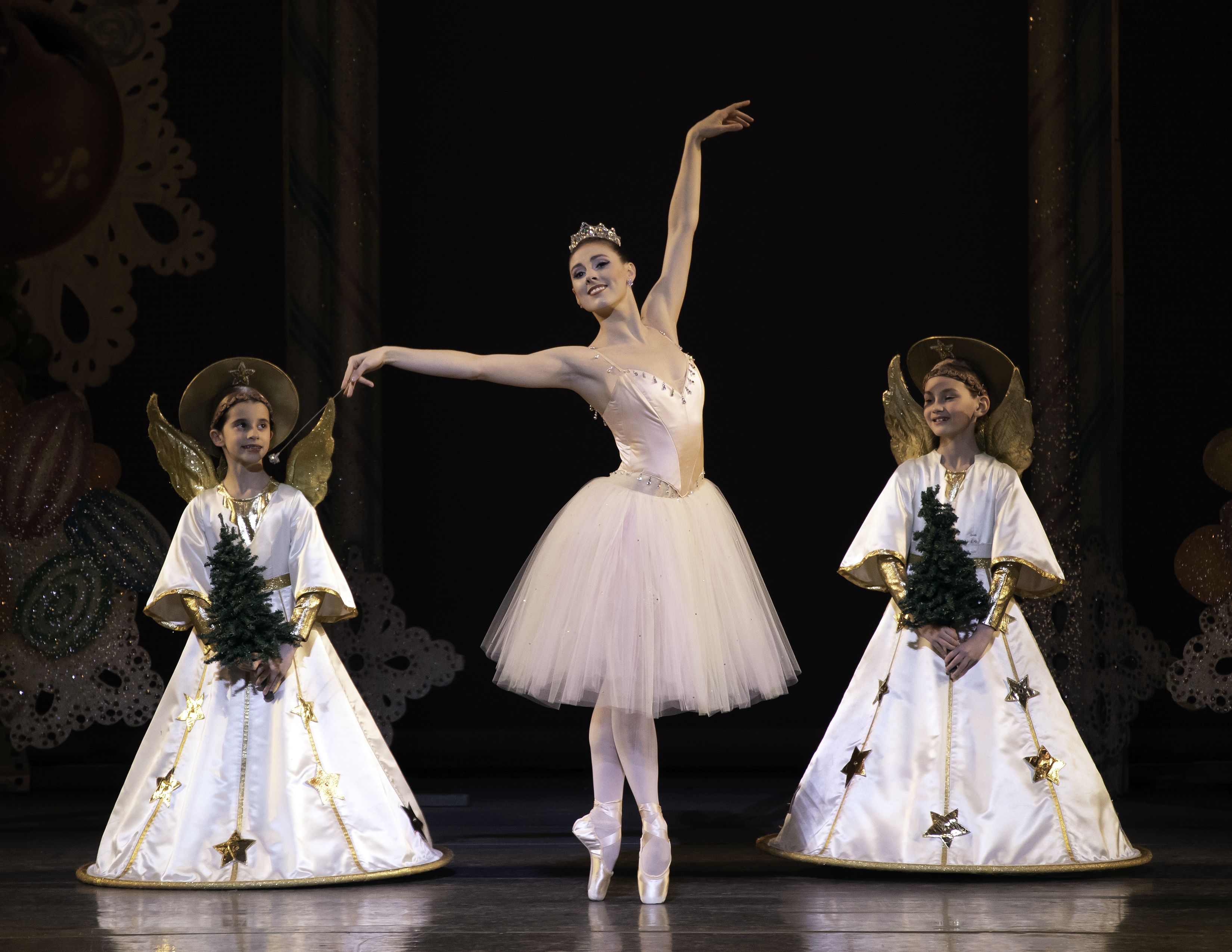 Both roles are particularly formative for many dancers in the Company, first as children and beginning dancers watching from the audience, then as corps de ballet members. "The Nutcracker was the first [ballet] I saw that made me want to dance in the New York City Ballet, so the production has a special place in my heart," shares Principal Dancer Tiler Peck. "We went at Christmastime, and my dad always tells me that I turned to him and said, 'Daddy, I'm gonna dance on that stage someday.' It just seems so magical, especially around holiday time; you see the Sugarplum Fairy up there—and now that I get to actually be the Sugarplum Fairy, hopefully inspiring another 'me' out there, it's really cool. It's a full-circle moment.
"Dewdrop is extra special to me because it was one of the first principal roles I was ever given, at 16," Peck continues. "It's weird—it was choreographed a long time ago, but it feels like it was choreographed on me. It feels so natural and it's just something I can never get enough of—I look forward to dancing it every single time. I always feel like I could dance it even after Nutcracker season is over. I know the flowers would kill me, but I wish we could do it more than just during Nutcracker season."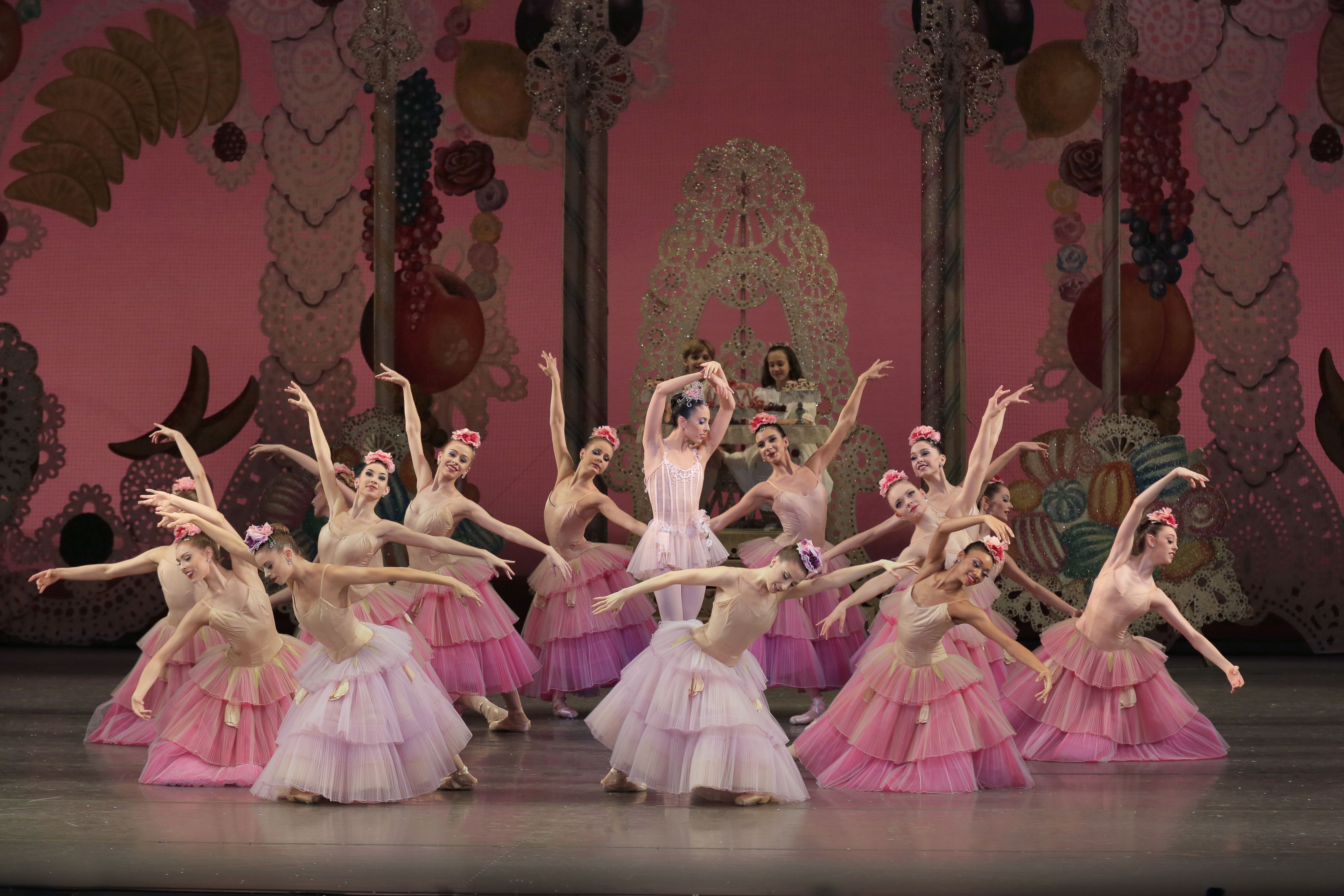 Soloist Brittany Pollack had a similar experience as a young audience member: "I always remember seeing Dewdrop as a little girl and being enthralled by her beautiful, sparkly costume as she danced amongst the most gorgeous flowers," she says. "Dancing as the Sugarplum Fairy and Dewdrop is a dream come true. Even 15 years later, I still get goosebumps when I am dancing these roles."
"For everybody, and for me especially, [Sugarplum Fairy] really represents your first try as a principal," says Principal Dancer Megan Fairchild. "I was 19 and I was with [former Principal Dancer] Joaquin [De Luz], and he was older and he was all confident, and I was like, 'I don't want all of my colleagues watching me in the wings!' I was very, very nervous. It was only my third Nutcracker with the Company. I felt a little bit in over my head.
"I remember that very first Sugarplum because I cried afterwards," Fairchild adds. "My variation was good, but our pas de deux was just so bad—it was worse than we were capable of doing and that's why it was upsetting. I just wasn't consistent in it yet. And then, fast forward a little more than a decade later, doing the Live from Lincoln Center [recording] for PBS and movie theaters with Joaquin in 2011, I was really, really nervous again. But I handled it much better and I have an amazing DVD I get to show my daughter now." (Fairchild similarly had one of her Dewdrop performances to enjoy with her family, too, with a Marquee TV stream of a 2019 Nutcracker.)
The process for learning these seminal roles has changed over the years, though one thing that remains the same is the lasting, meaningful effect they have on the dancers. "It was Nutcracker season again, and one day the ballet mistress Una Kai said, 'Mr. Balanchine wants you to learn Dewdrop, so look at the ballet,' because we didn't have any videos of the ballet at that time," remembers SAB Faculty Member and former Principal Dancer Suki Schorer. "So I would stand in the wings, and I would get swept away by whoever was dancing Dewdrop. I remember watching [former Principal Dancer] Jillana do it, and then [former Principal Dancer] Allegra Kent, and I forgot to learn the steps! And I thought, 'How am I going to learn the steps? I just fall in love with the ballet and the movement!' So I decided that I would just look at one entrance, and then I'd run to my dressing room and write down the entrance before I forgot it. Since Nutcracker was going, repeating, repeating, repeating, I had many times to come back and look at the different entrances. I'd do entrance one, half of it, and the other half of entrance one, and then I would come back and do entrance two, and that's how I learned it.
"A few years later, again, I think it was Una Kai who came to me and said, 'You know, he wants you to learn Sugarplum,' and I thought, 'Me, learn Sugarplum?'" Schorer continues. "It didn't seem like it was the right part for me—I'd always looked up to the Sugarplum like the 'queen of the candy land' and the 'queen of the ballet,' and she had to carry the whole ballet. I think about some of the corrections that Mr. B gave me for the beginning of the entrance, when she welcomes the angels to cross in front of her as she bourrées forward, and I was very sweet and saying, 'Come on, little ones, crossover, crossover.' Mr B said, 'No, don't be so sweet, you're the queen of this realm and you have to direct them with more force and power, you don't need to get down on their level and say, "Honey bun, move across the stage."' So that was an interesting interpretation of the role. And if you think about the original dancer, Maria Tallchief, she had incredible strength and power, and I'm sure commanded them to go this way and that way."
"Sugarplum has taught me how to approach a role with calm and poise, along with creating a deep connection and trust with my partner," shares Principal Dancer Indiana Woodward. "It's a role that really allows you to grow as an artist. Dewdrop has also been immensely helpful in my growth: It demands that you really learn how to trust your own abilities onstage. It also has taught me how to be free onstage and to approach such a well-known role in my own way. These two roles have so much depth to them, and even though we do them every year, you can grow as an artist every time."
But who are Sugarplum Fairy and Dewdrop?
From the familiar plaintive chords and rapid-fire strains of the harp that open the Waltz of the Flowers, Tschaikovsky's score transports the ballet from the humor and play of Mother Ginger and her Polichinelles into a dream; at the heart of this reverie is the gossamer tutu-ed Dewdrop. As The New York Times describes, Dewdrop's variation "consists of several short bursts of rapid dazzle, with a few turns and jumps that can be the ballet's most breathtaking moments of skill, and which thrillingly crest the music's waves." Though her appearance is as fleeting as that of real-life drops of dew, her effect on the unfolding drama is undeniably lasting, and for the many dancers who've performed the role, Dewdrop is similarly important.
The Sugarplum Fairy opens the Second Act with her first onstage appearance, welcoming Marie and the Prince to the Land of the Sweets, surrounded by her angelic retinue and accompanied by the tinkling celesta throughout her charming variation. A patient and regal ruler, her second appearance reveals her to be an aspirational figure of romance, elegance, and beauty as well. As George Balanchine writes in his Complete Stories of the Great Ballets, "...the Sugarplum Fairy and Her Cavalier perform the grandest dance of all, a pas de deux to climax the occasion. This is exactly the kind of dance that Marie would like to do, too, one day, and she and the prince rejoice in the splendid tenderness of the royal couple."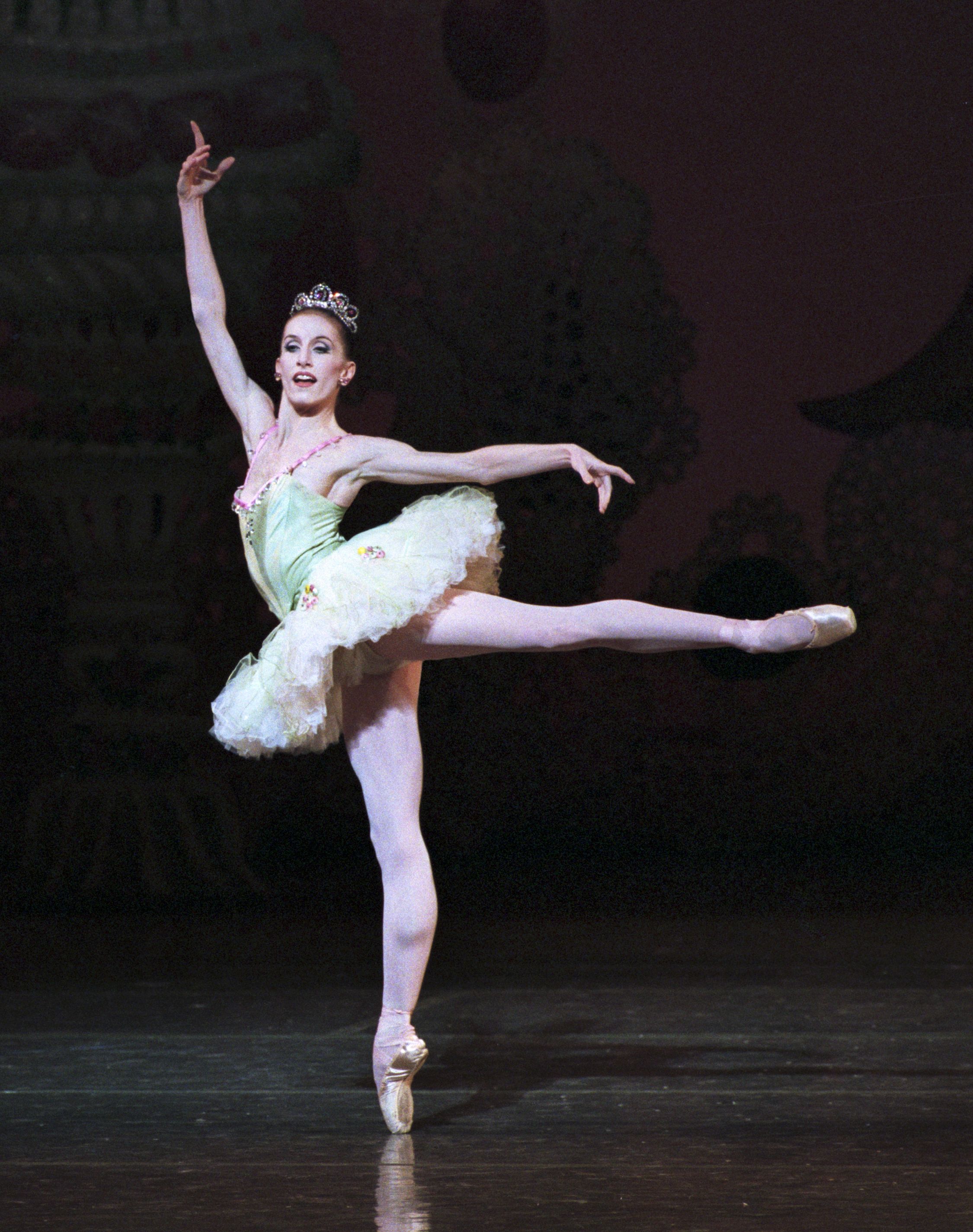 "Dewdrop was always a favorite role of mine," shares Associate Artistic Director and former Principal Dancer Wendy Whelan. "It was a role that just called out my name, and I felt comfortable in it right away. To me, the Dewdrop is effervescent, airborne and glamorous—a feminine force of nature. I have a million and one images in my mind to describe her. The Sugarplum feels more like a landscape, with shadows and sunlight—purity and suspense. The combination of qualities of these two characters is a metaphor of what we might all secretly strive to become."
"In my mind, the Sugarplum Fairy has a very maternal warmth about her," says Pollack. "She is motherly, caring, and gentle. I am particularly looking forward to performing as the Sugarplum Fairy this year as a new mom. I want to bring this unconditional love onstage with me."
"Dewdrop is much shorter-lived, so she has to come out with a bang and shine from the start," adds Principal Dancer Unity Phelan. "With only five entrances, Dewdrop is like a shiny gemstone that shows different facets with each moment onstage."
Principal Dancer Sterling Hyltin sums up the contrast nicely: "The Sugarplum Fairy and Dewdrop are apples and oranges to one another," she says. "Sugarplum is commanding, majestic and regal, while Dewdrop is ethereally effervescent. You never know how suddenly Dewdrop will appear or how she will fall from the petal, but she will be sure to be shimmering when she does. Sugarplum's presence, most especially in the grand pas de deux, heralds her unmistakably as the leader and protector of the Land of Sweets."
The two roles are certainly as demanding—and beautiful—as any in the repertory, and just as their "personalities" contrast, so too do the challenges they present. "Dewdrop requires more attack in its steps than Sugarplum, so I have to muster up some extra oomph for that one," says Soloist Claire Kretzschmar. "Sugarplum requires a calm, steady strength and a deep trust of your cavalier. It takes me more time to finesse this role because of the pas de deux element, but the rewards for fine-tuning both roles are fantastic."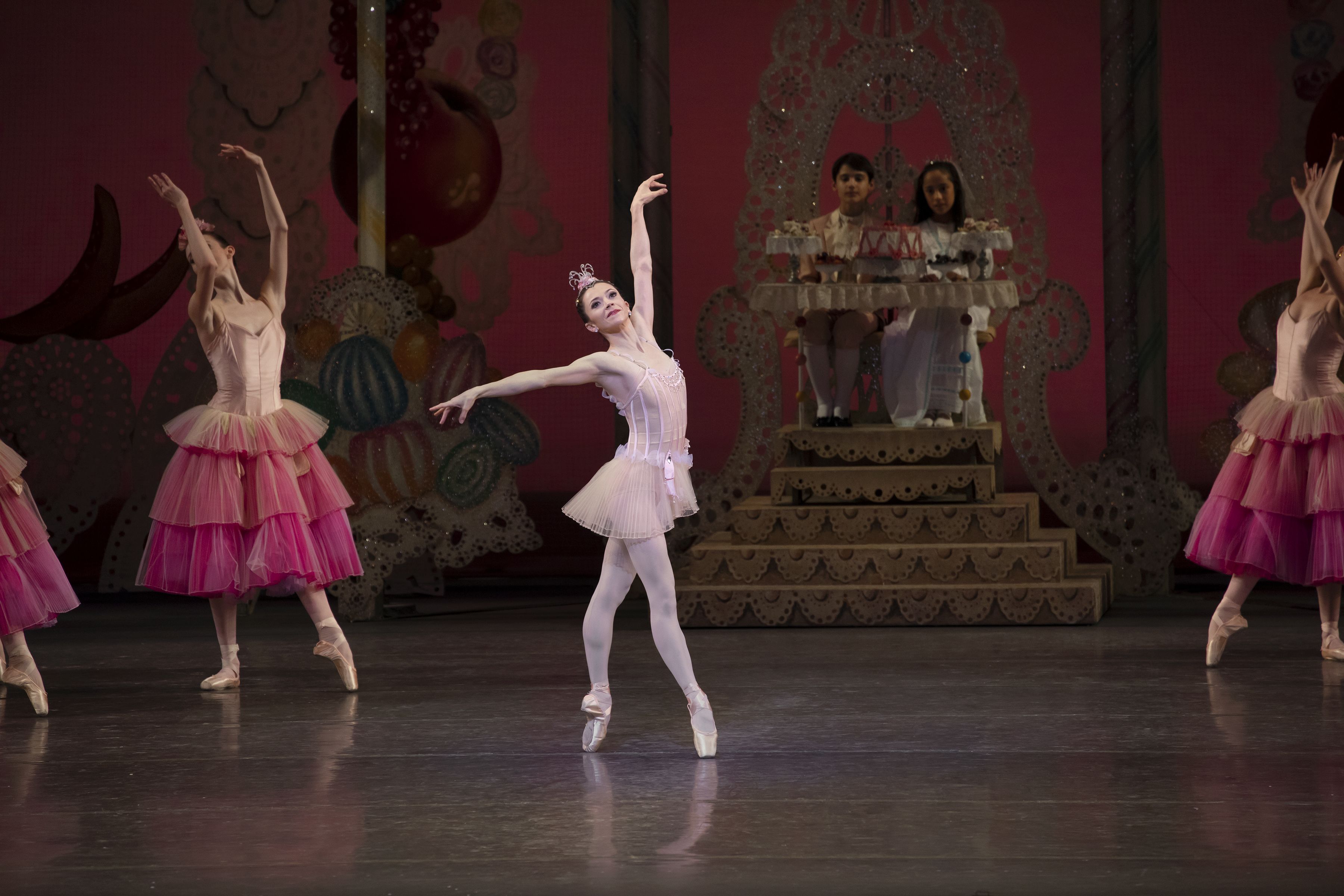 "Dewdrop is fun because it's one of the few times as a woman that you're doing a big principal role, but you don't have a partner," says Fairchild. "Through the entire rehearsal process, it's up to you, and when you get out there onstage, it's just you, in the moment, and you're not having to collaborate with someone. While that is a very rewarding experience and it's comforting to be out there with someone, you also can take a little bit more risk and be more in the moment in Dewdrop, because you're not having to be consistent in your timing so that your partner knows what to expect."
"I always had to believe myself more into the role of Sugarplum," says Whelan. "I would often rehearse both roles together, practicing one dance after the other. Which was, for me, always fun to do, as an energetic stamina challenge."
"I approach Dewdrop with a 'go for broke' energy," adds Corps de Ballet Member Ashley Hod. "You have moments of rest in between entrances, so I like to start fresh every time I go out there, then give 110% for every step. That high level of energy doesn't calm down for me until the dance is completely over and I'm in a chair recovering backstage!"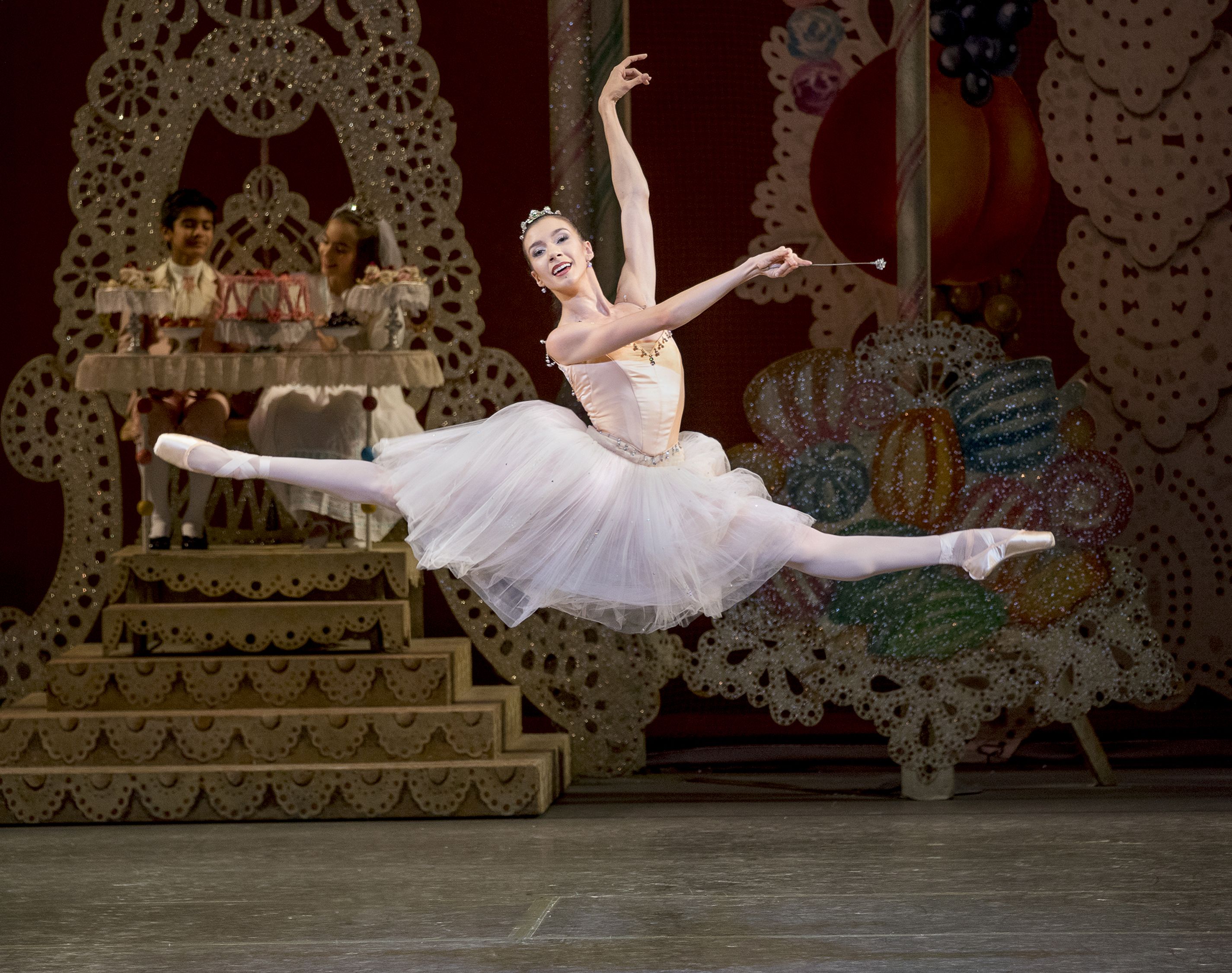 "One partner that I'm remembering was Anthony Blum, who was a very good partner," recalls Schorer about dancing the Sugarplum Fairy role. "But this particular performance, when we ran to do the 'sit lifts,' I didn't get up to his shoulder, I just got to his chest—I was sort of sitting on his chest, and he was holding me, and then I had to go to the other corner and run back and do the same jump again. And again, I missed the shoulder and just got to the chest.
"In those days, Balanchine often gave you two performances in a row. This particular one was the matinee and I was going to do [the same role in] the evening, so Tony and I got together and went up to the main hall to practice my jumping onto his shoulder. As we were practicing, Mr. B walked into the studio, and I kept landing on Tony's chest. Either Tony didn't get down low enough or the timing was off, or I didn't jump high enough by this time, I don't know what happened. So Mr. B said, 'I know what we'll do,' and he had a twinkle in his eye; 'We change the step,' he said—'Now don't tell anyone, and we'll do the flying Bluebird lift where you land up on the shoulder, but in a fish. They'll be so shocked when they see you running and you don't try to jump again.' So we did that, and a lot of people in the wings were waiting for me to either get to the shoulder this time or get to the chest, but we fooled them all."
"In the Sugarplum pas de deux, some parts are really loud and cymbals are clanging, but other parts, it's very, very quiet," Schorer continues. "In fact, during the part that makes me nervous, before the step-up-turn, I remember a snowflake coming down from the snow scene—just one was leftover somehow, and it was so quiet. It's so quiet, even if I breathe, the audience can hear it. When the music is big it carries you a lot, but when the music is quiet, you have to be really on and perfect and make no mistakes—everything very delicate, in place, and controlled and regal."
In the 1954 premiere of George Balanchine's The Nutcracker®, Maria Tallchief danced the role of Sugarplum Fairy, and Tanaquil Le Clercq danced Dewdrop—two of the most iconic dancers of the Company's founding years, performing two of the most iconic roles in the repertory. "It's kind of ironic that these two women created these iconic roles, because just like the choreography, they could not have been more different from one another," says Whelan. "I was blessed to share a little time in the studio with each of them. Each offered me both valid and opposing advice. Over the years, I worked on Sugarplum with four different repertory directors, and each one brought incredible insight not only into the outward technique, but also to the subtle, inner maternal essence of Sugarplum."
"Maria was really commanding, and Tanny had this sort of creature-like quality, so it makes sense," agrees Peck. "[Former Principal Dancer] Sally Leland taught me Dewdrop, and Sugarplum was taught to me by [Former Principal Dancers] Sean Lavery and Merrill Ashley."
Fairchild also learned the roles from Sally Leland and Sean Lavery, respectively. "It's like everything we do in New York City Ballet," she adds. "You know that there are these amazing dancers that established the roles before you, and they were the ones that were there with Balanchine in the room. We're all in this Company because we honor what they did and respect it so much. So every time you step onto the stage in a Balanchine ballet, you have that kind of weight on your shoulders, to do it justice. And Nutcracker is no different."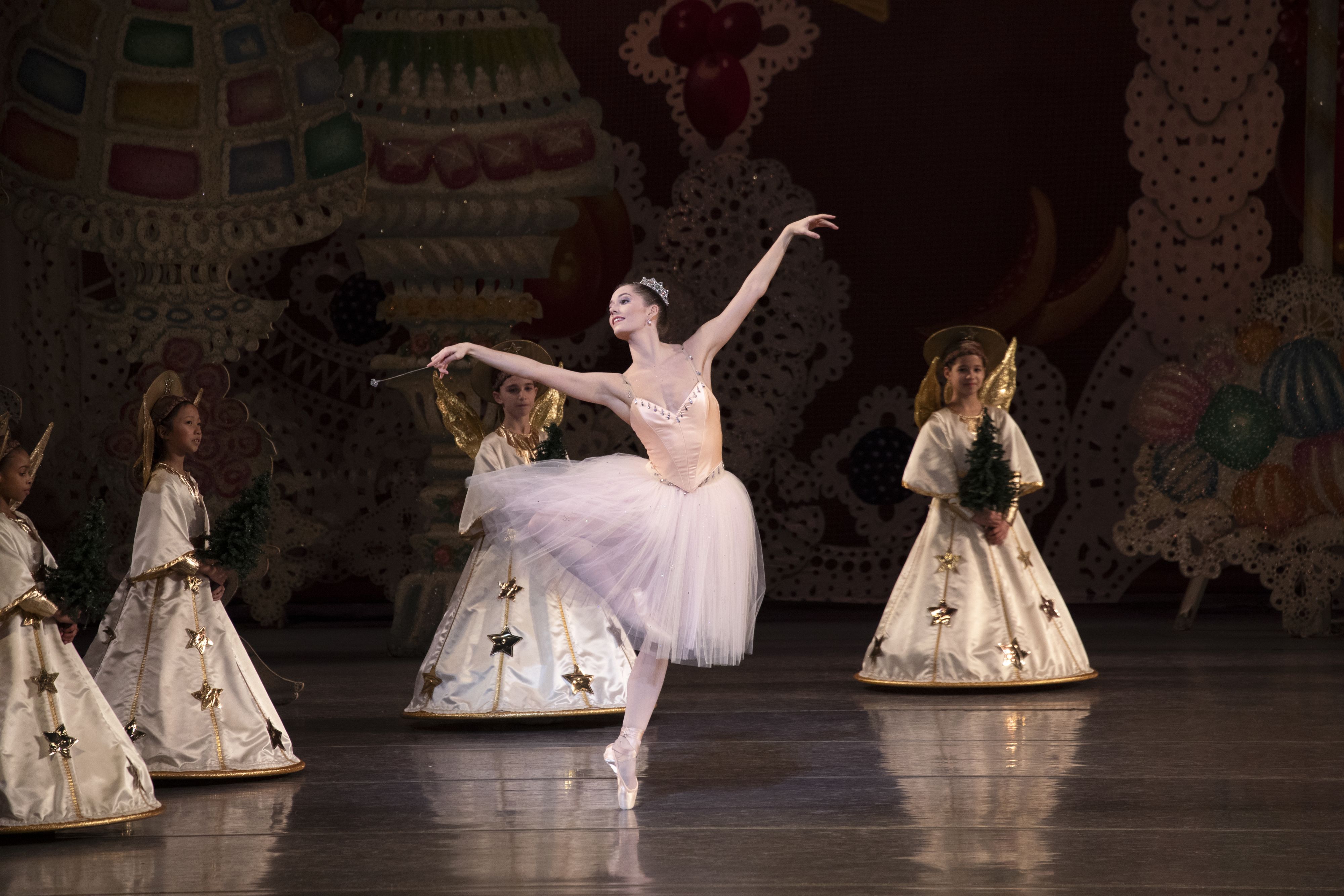 "The wonderful thing about Sugarplum and Dewdrop is that every dancer does them differently," says Phelan. "I love watching other peoples' renditions of these roles because they always highlight each dancer's ideas of what the steps mean and how they should be done. There is no correct version of Sugarplum or Dewdrop, just different dancers putting their own twist on them."
"Dewdrop—I had seen Violette [Verdy] dance it so beautifully," says Schorer. "Each of the ballerinas dances it differently. That was wonderful. That gave you the freedom: You didn't have to be like somebody else. And that's what Balanchine wanted—each one to be unique and bring their own flavor or perfume to the role. There I was, seeing all these varieties out there, the French flavor, the gorgeous flavor, the long [former Principal Dancer] Diana Adams legs for days, the delicateness of Allegra; everyone had their own magic touch. I hope I left my magic touch—or at least a touch."
Each dancer's interpretation leaves its indelible mark, just as singular performances in either role have the potential to stand out in a dancer's memory. "In our last Nutcracker season before the pandemic, it was five minutes to curtain and I was getting dressed to be the hostess in the party scene when I found out the casting was switched because of injury, and I had to do Dewdrop in that same show," recalls Hod. "I remember frantically sewing pointe shoes after the party scene as I was getting my hair done during the intermission. Regardless of all the chaos, I probably danced my best Dewdrop that night because I felt so free and had no time to be nervous. It was a night and a performance I'll never forget!"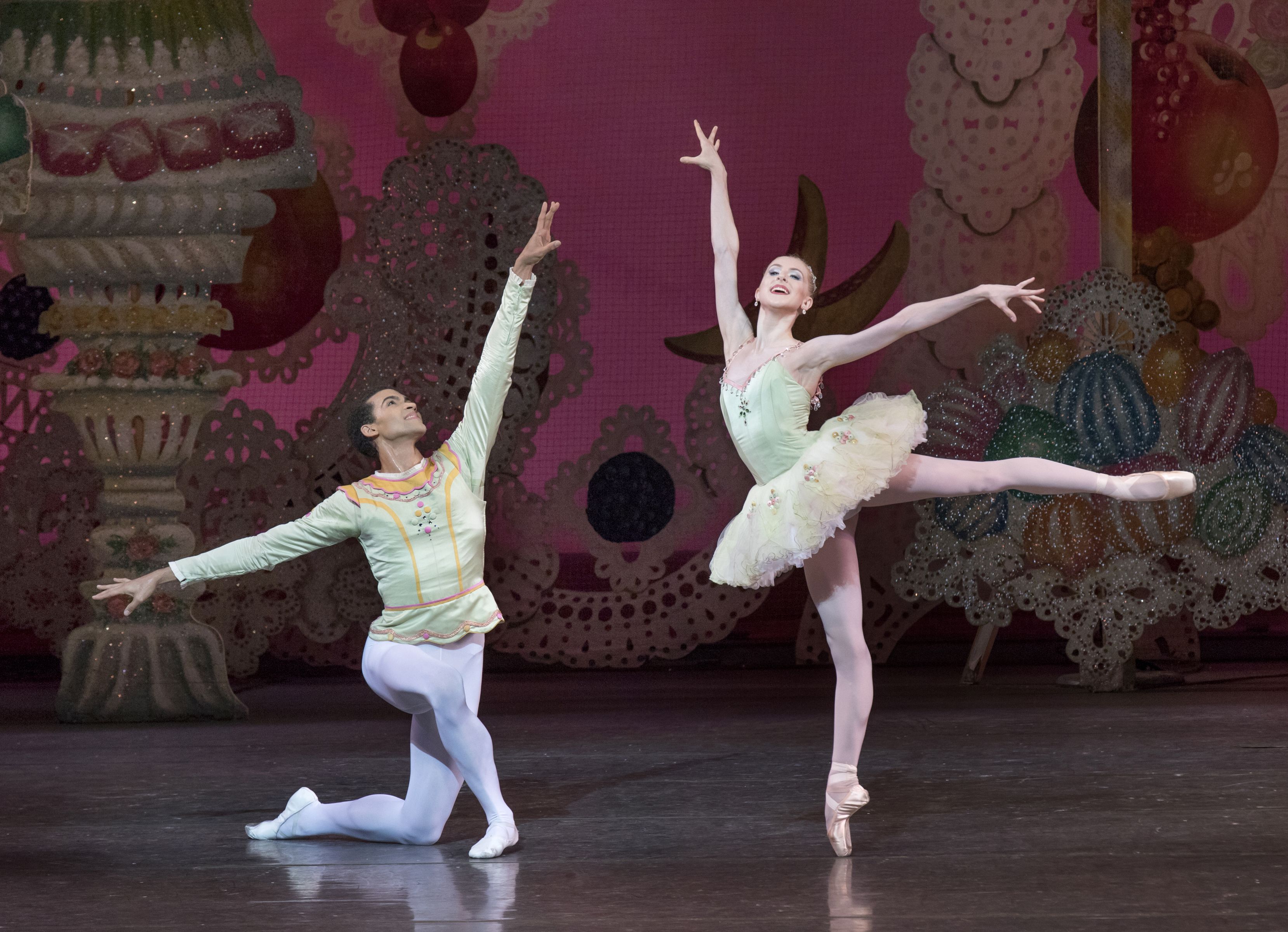 "I remember rehearsing and debuting Sugarplum with my good friend Silas Farley (who retired from NYCB in 2020)," shares Kretzschmar. "We would have rehearsals with repertory directors and then have side chats to iron out the kinks and make sure we were on the same page. It really felt like we were shaping a piece of art for perhaps the first time in our careers with NYCB. For the performance, both of our families watched in the audience, and it happened to be Silas's dad's birthday, which made it an extra special gift to offer."
"Performing Sugarplum the year before COVID, that was when I returned to the stage after my neck injury, when I had been told I would never dance again," says Peck. "I'll never forget that performance. The whole Company felt like a family, I felt like they were rooting me on—they were watching me in the wings, and I could feel the audience was with me. I could really feel New York wanting me back on the stage, and it was really emotional for me. I'll never forget that moment."
And the memories are newly created with every generation—a tradition continuing this year, with the Company's return to the stage following last year's cancellation due to the pandemic. "My son was in it for three years—he was one of the party boys, then he was Fritz, then he was the prince," says Mazzo. "My daughter was in the party scene and an angel. So my poor husband says he's the only one who hasn't been in The Nutcracker. It was much more nerve wracking to me watching my children onstage than being out there dancing myself, because at least I was in control, but when it was my kids it was much more difficult. But they loved it. We go every year with them.
"My husband and I were married on December 21, because it was the only time I could really get a few days off," she continues, "so we always go to see Nutcracker right around that time and celebrate our anniversary and have that wonderful, wonderful experience. When my son was about four, I brought him backstage and had him watch it from the wings, and he loved it. I'm 75 years old now, and I would miss not seeing it."