Coppélia's Real Girl: Swanilda
Tiler Peck, Sterling Hyltin, and Erica Pereira on Coppélia
By Elisabeth Donnelly, May 18, 2018
In our age of digital innovation, with the illusions of options all around us, it's human nature to be perennially in love with some far-off ideal, where the fantasy hardly matches up to the reality. While our modern times like to tell this story as drama, this natural, goofy, utterly human instinct is the source of George Balanchine and Alexandra Danilova's Coppélia, a romantic comedy featuring mistaken identities, dolls that – surprise! – come alive, and a thwarted marriage plot.
Swanilda, a charming young village girl, may lose her beloved, fickle Frantz to something like love at first sight: another girl who he spied sitting quietly, reading a book on the balcony. But fun and games are about to ensue, as little does Frantz know that Coppélia, his ideal, isn't actually a real girl – she's a mechanical doll, the invention of mysterious Dr. Coppélius.

The ballet may be named after the mechanical Coppélia, and its leading men may alternately fall for her stiff-armed charms and placidity, but this is Swanilda's story of bravery in the wake of romantic disappointment as she chases after Frantz, getting herself in a situation where she toys with Dr. Coppélius in his workshop, "playing" a Coppélia that's come alive. The role of Swanilda requires a range of skills for a performer, especially the role-playing central to the comic second act: how do you play a girl, playing a doll?

Coppélia was first performed by NYCB in 1974 with Patricia McBride in the role of Swanilda, featuring choreography by George Balanchine and Alexandra Danilova, after Marius Petipa's 1884 edition. The version the pair created for NYCB was a reinterpretation of the ballet that Danilova performed as Swanilda with the Ballet Russe de Monte Carlo and lingered in Balanchine's memory. To make it more enticing to modern audiences, he put his stamp on the work with an all-new third act.
I talked to Soloist Erica Pereira and Principal Dancers Sterling Hyltin and Tiler Peck about what the role of Swanilda asks of a ballerina, and how they calibrate playing a girl, playing a doll, and fooling Dr. Coppélius.

"It's funny to me that both of the main characters are kind of not the brightest bulbs," says Pereira, talking about Frantz and Dr. Coppélius' obsession with Coppélia. "They both think this doll is a real girl and they're vying for her attention. That's the weirdest part. They're vying for this thing that's an inanimate object."

Whereas Swanilda is "witty, funny, she's a little sassy – it's very human, her role," says Peck. "A lot of times in ballet, you're playing a creature, but it's very fun to play this human character and then to change into the doll. There's a lot of colors in this ballet."

Talking to Hyltin in her dressing room, she observes that the thing about Swanilda is that she's the "smartest person on the stage, by far." As a performer, this means that to perform as Swanilda, jesting with Doctor by pretending to be the doll, she works out the details beforehand, to convey all the right information to the audience. "You have to find the gestures that are the most authentic reaction possible for you, and stick with those. Every little detail is so fine-tuned and personalized." She describes the precision required as "you have to show every thought, you have to think of something, you have to turn away from Dr. Coppélius with your head down and you have to anticipate every moment." She shows me, visually, the difference between a thought-out gesture and one that's less precise, and the difference between the two paints a portrait of a clever girl thinking and scheming on her feet.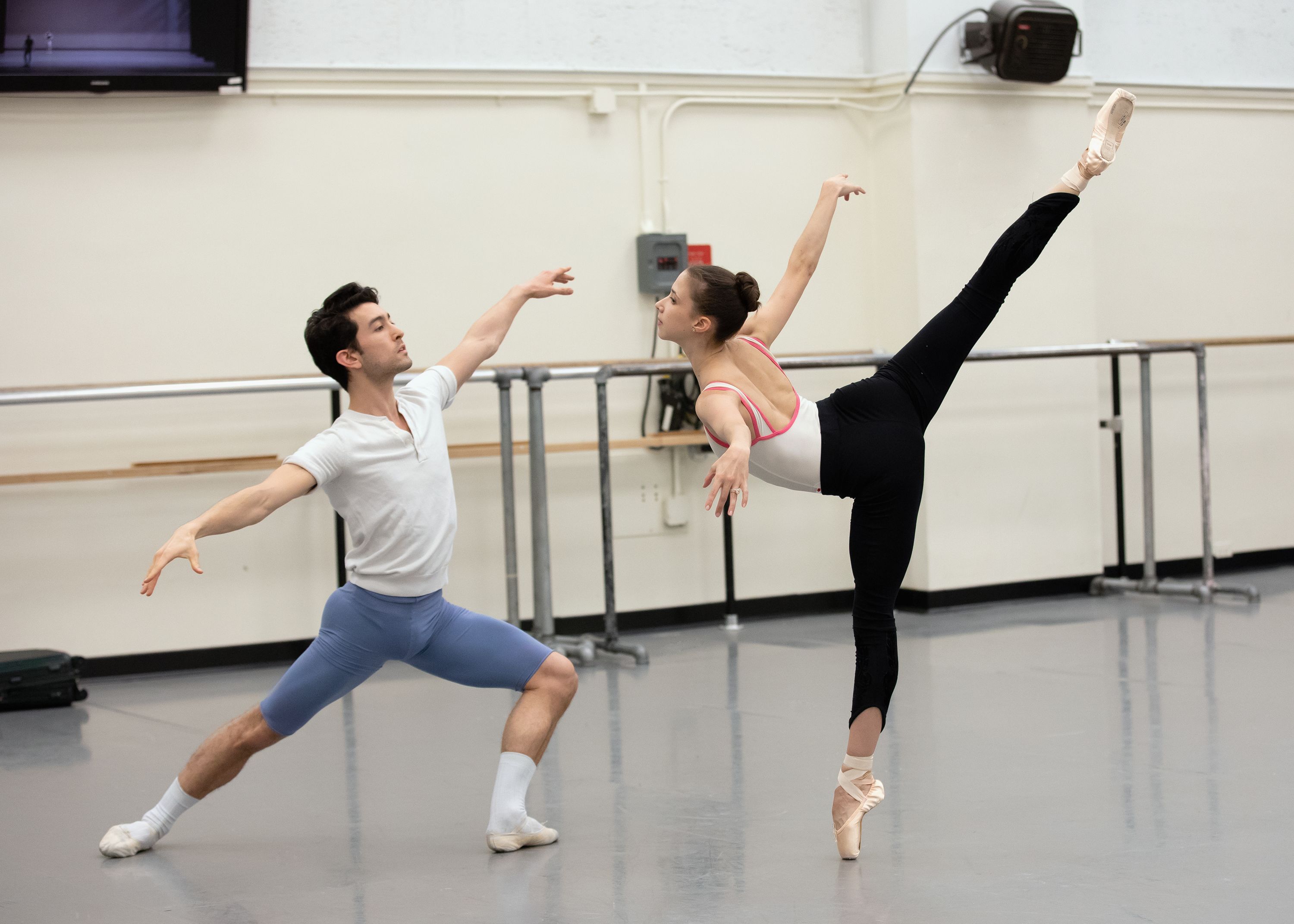 Pereira made her debut as Swanilda in Spring 2018, when this interview was conducted. She says, "It's surreal to me, getting to this role, which I've been wanting to do since I got into the Company." So far, learning to dance as a girl playing a doll has been a fun challenge: "To be rigid is the opposite of what we're told to do, and it's hard for me to keep my arms placed in a certain way. My arms start shaking because they're not used to it." She's been working on how to be a doll, and not a young woman. "I'm trying to channel a glazed look in my eyes, and to stare beyond myself," she says, echoing the traditional subtitle of the ballet, The Girl with Enamel Eyes.

Peck adores the role, saying it's one that's very dear to her, and had been her favorite full-length to dance for years, until she made her debut in Swan Lake in fall 2017. She's been performing Swanilda for nearly a decade, and she notes that one aspect of playing a doll requires "not using your face as much." While every movement is sharp, "typically you'd be expressive," she says, "and it's about kind of forgetting the audience is there and just being very dry, in a sense. Then it's fun because there's certain moments in the second act where you show you're really not the doll, you get to hit [Dr. Coppélius'] back. It's just so fun."

For this production of Coppélia, the dancers had a very special guest coaching them: former NYCB dancer Patricia McBride, Balanchine and Danilova's first Swanilda. Hyltin says, "there's a lot of things with Danilova that Patti's been telling us about, and there are these [Marius] Petipa moments in it that really bring you back home. There's nothing like dancing classical ballet, and it's being very articulated right now with Patti being here."

Peck adds, "I just love hearing from former dancers who did the roles, especially to hear what Balanchine said. I can never get enough information about the role. Then, you take what they say, and you try to make it your own."

While Swanilda is pretending to be Coppélia for much of the ballet, she's also on her own journey. Hyltin notes that in some ways, Coppélia is a story about how people are perennially placed on a pedestal, "but really, Swanilda's the most real. She's this girl next door in a small town. She's so fun and brave."
Coppélia illustration © Victoria Maxfield. NYCB Performance photos © Paul Kolnik. NYCB Rehearsal photo © Erin Baiano