A conversation with designer Ellen Warren
By Madelyn Sutton, January 23, 2023
Though this will be her first commission for the Company as costume designer, Ellen Warren may be familiar to New York City Ballet fans. Before launching her custom leotard brand, Louise Apparel, Warren (née Ostrom) studied at the School of American Ballet (SAB) and was a dancer with NYCB for nine seasons, from 2003-2012. She then returned to her hometown of Portland, dancing as a guest with Oregon Ballet Theatre. Throughout her career as a dancer, Warren crafted leotards for herself and her colleagues; these rehearsal looks, designed to address fit issues she'd dealt with over the years, caught then-fellow NYCB Dancer Justin Peck's eye.
When the San Francisco Ballet commissioned a new work from Peck in 2016, he turned to frequent collaborators Sufjan Stevens and Brandon Stirling Baker for the score and the lighting, respectively, and asked Warren to create the costumes. The resulting ballet, In the Countenance of Kings, features six lead dancers and a 12-dancer corps, all dressed in black tights or skirts with sleeveless white tops accented with stripes in different primary hues. In 2019, Peck recreated this creative quadrilateral for Reflections, commissioned by Houston Ballet (and featuring then-Houston Ballet member and current NYCB Principal Dancer Chun Wai Chan); the costumes were simple yet striking tops and tights in contrasting orange, navy blue, mint and forest greens, and tan. As Peck embarks upon Copland Dance Episodes, his first evening-length work for the Company, he's again partnering with Stirling Baker and Warren to present a momentous, vibrant vision of America.
We caught up with Warren between rehearsals to speak to her about her career, her inspirations, and her role in bringing Copland Dance Episodes to life.
I'd love to hear about your background with NYCB and how it led you to what you do now.
As I'm getting further away from it and looking back, it was such a special time in my life. It was a very fulfilling, demanding, immersive time with City Ballet. I started making leotards for myself towards the end of my career there because I always had fit issues. After I left the Company, I had sewn about 10 leotards in different colors and sent them to [former Soloist] Savannah Lowery, who is still a dear friend; she sold them to NYCB dancers, and I got a lot of positive feedback. It made me think, "Okay, I like making things." And honestly, it's through Justin that I do what I do now. The leotards caught his eye in the studio, he reached out, and we collaborated. This will be our fourth collaboration now—we did one for the Nantucket Atheneum Dance Festival, one for San Francisco Ballet, then Houston Ballet, and now City Ballet.
You and Justin were dancing with the Company at the same time—did you know each other well as dancers?
We were in the corps together. I wouldn't say we knew each other well, but we were friendly and danced in many pieces together. We're both tall so I'm sure we were paired together at some point. It's funny, though, a ballet doesn't readily come to mind. I'll have to ask Justin if he remembers any! It was very warm to see each other again after so many years—and this time around, with Copland, comparing notes on being new parents.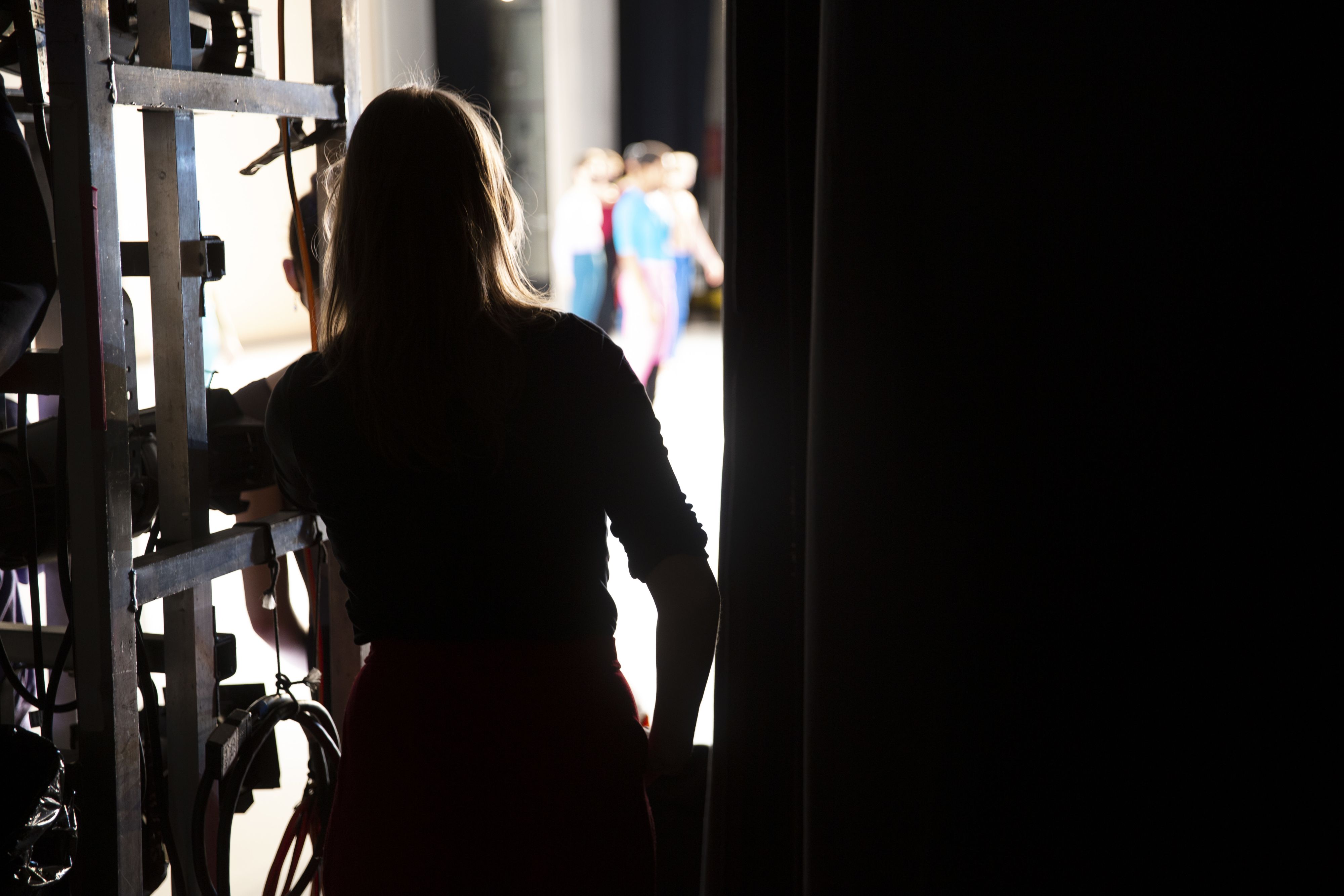 I noted from the Louise Apparel website that you love "the dance fashion of bygone eras and those wonderful, candid photos of dancers rehearsing our cherished masterpieces in their now-vintage styles." Can you talk a bit more about the inspirations for your work?
I could stare for hours at those old images. I like to go to the New York Public Library dance archives and type in City Ballet, or Jerome Robbins, and hone in to see what they're wearing. It's always so simple. I love not only seeing what they're wearing, but also the history—what are they rehearsing? Which studio are they in? Because they were in the same buildings. So it's inspiring in multiple ways. For my own style, I've always liked vintage looks. Sometimes [my leotards are] almost a full replication or very similar replication of what dancers were rehearsing in [in those days].
Louise Apparel takes orders on a monthly basis, and you describe the company as a "one woman show." Do you have visions of expanding the business, or do you prefer to keep it at this intimate scale?
It's hard, because I enjoy aspects of keeping it small. I have a lot of repeat customers and I love that I know their names; I write a note with each leotard, and it feels so special to get to sew something and know who's going to wear it. But I also do everything else the business needs. While I cherish making the leotards myself, and the control I have over every facet, I have a pretty huge vision of what I want the business to become.
It began with that first big commission with Justin for the San Francisco Ballet. I had the opportunity not just to design the costumes, but because they don't have a costume shop that builds them, I was like, "I'll sew them too." Within that process, I was gathering all the dancers' measurements, and I discovered that just like myself, not everyone was a small, medium, or large. So many dancers' bodies didn't align—some are small up top and a medium [bottom], and their torso is short or long. But I had to make 30 or 40 costumes. So I created this custom-fit method and size guide for constructing leotards—a pattern where you choose your top-half size, bottom-half size, and length. It really was so simple. I found a way to offer it to more people, and I have a patent pending right now. I decided to pursue it because I didn't see anyone else doing it this way.
That experience sparked my thinking that I want dancers to feel good in the studio and confident and comfortable in what they're wearing; I want them to feel like, "This leotard fits my body perfectly," not "My body is wrong, and this leotard doesn't fit it." It's something that I not only want to expand in dancewear, but also in swimwear, and not just women, too—all different body shapes. It's such a vulnerable moment—a dancer in front of the mirror, a human or a postpartum body in front of the mirror; all of our bodies deserve to feel good and comfortable in their most vulnerable, skintight apparel. So yes, I have massive dreams of my custom-fit method serving everyone. But right now it's just me.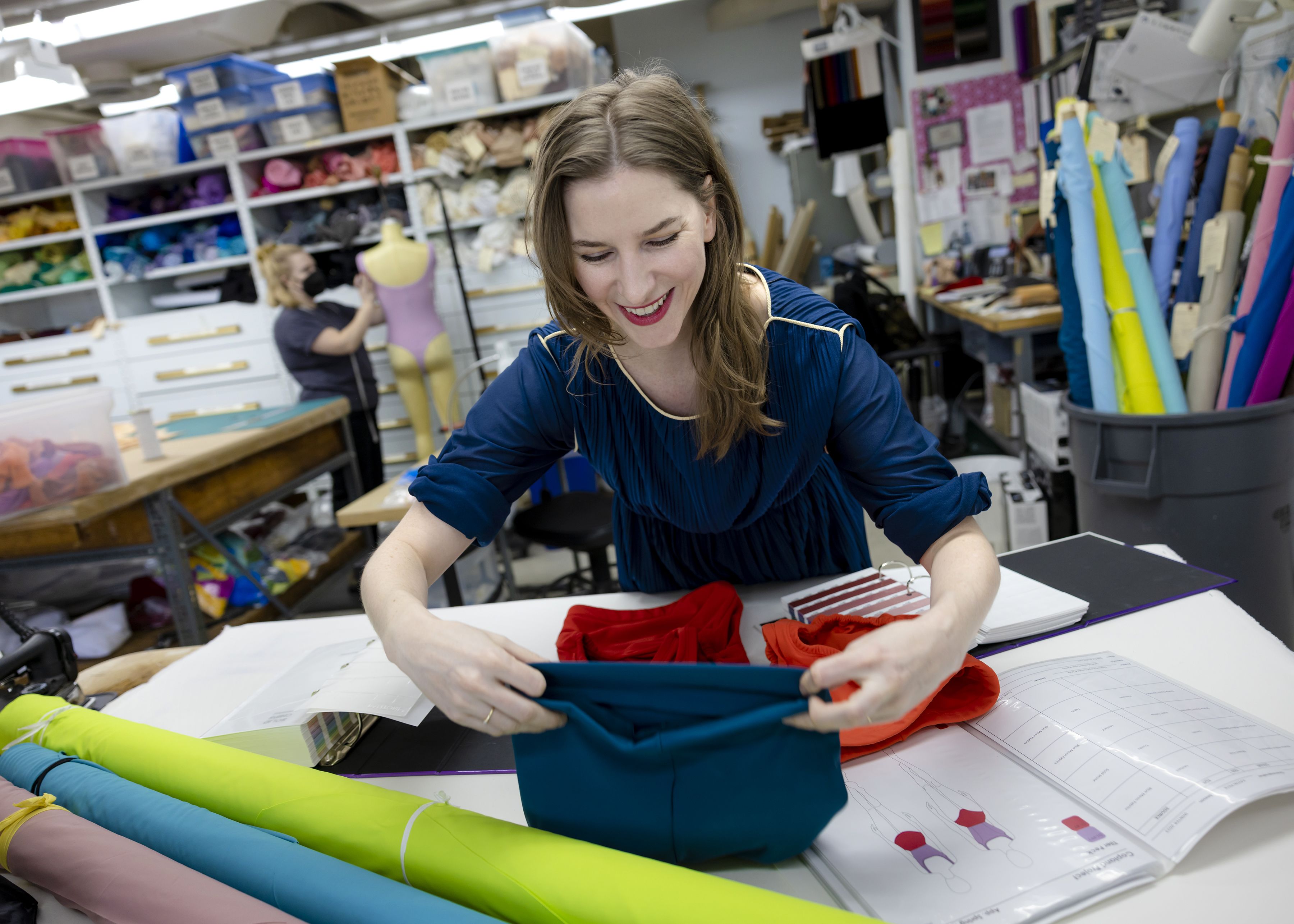 The costumes you designed for Justin's In The Countenance of Kings strike me as a little reminiscent of Karinska's Black & White looks for Balanchine, but with a pop of color. What was your creative process for creating these looks?
Justin's made it easy [to collaborate with him], as the main person I've worked with. Other commissions I've had were recreations, or one-off creative projects [for which] someone already had a strong vision that I essentially sewed for them. But with Justin, he likes what I already make. So it's not so much in the structure of the costumes that I had to think; he already knew what he liked. It's in the color where I really bring more thought and creativity to it. For Countenance of Kings, I was inspired by old Hollywood theaters, the signs for the Paramount or the Gypsy, an art deco feel.
It's funny, I have a million leotard design ideas. I sketched out and sent Justin all these ideas, and he was like, "This is all great, but the simple ones you already make are what I really like." The space where I really came in design-wise [for Copland Dance Episodes] was again with color. This ballet has 60 different colors amongst the 30 dancers, and no two dancers wear the same color set. I had so much fun with it, because I have such a strong sense of what colors I like and don't like together.
That fits his costume aesthetic in general, which is always rather athletic and very practice-oriented.
Not too costumey, really—like an elevated rehearsal-wear, which is essentially what I strive to achieve in my brand as well.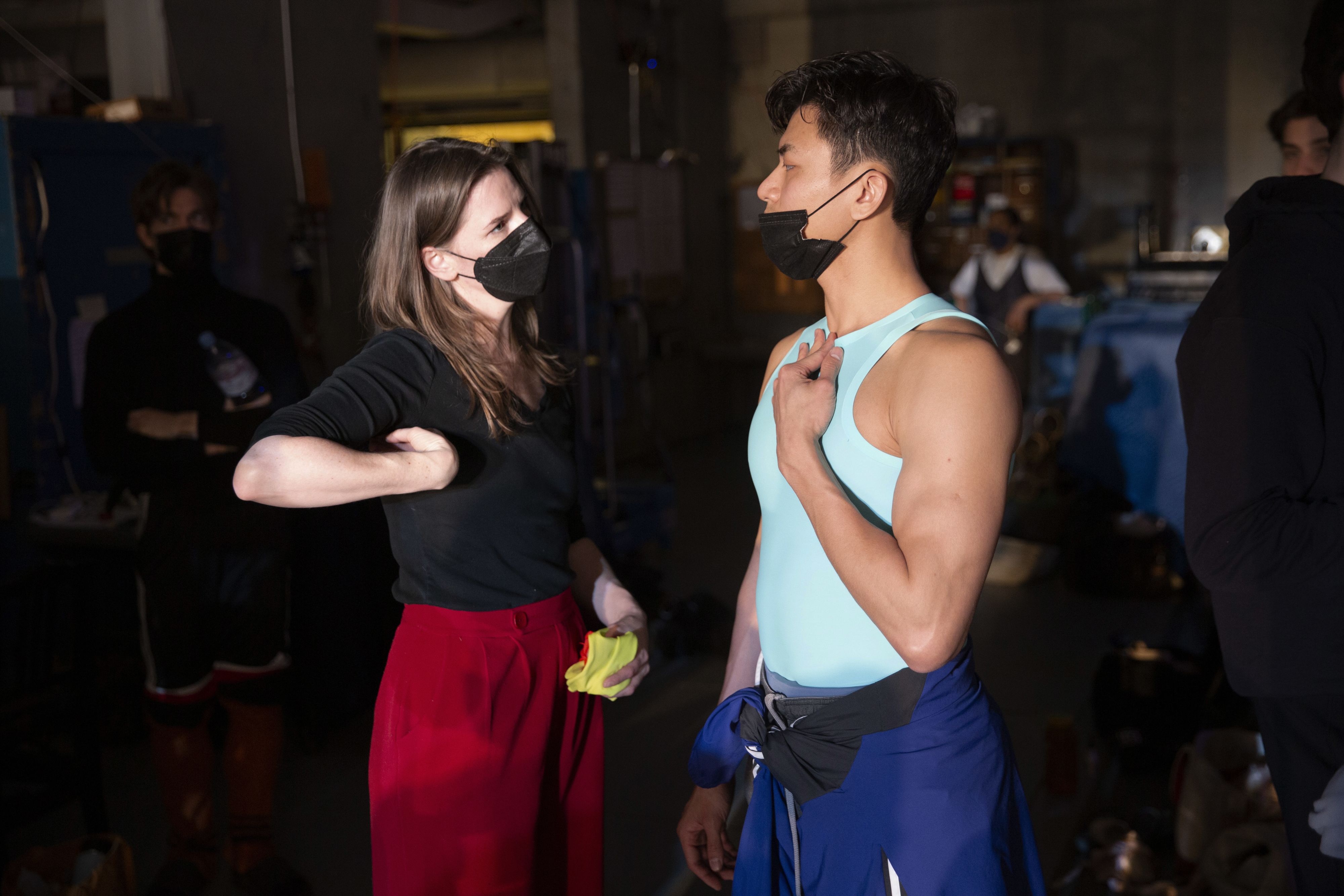 What's it like to return to the Company in this new guise?
It feels like a gift. It was a tough departure because I left due to injury. It wasn't my choice to move on. I worked through coming back in therapy; I wasn't sure how it would go. And it was just wonderful. It all felt so good, and it was so interesting coming back with a new lens. Just walking into the [Rose] Building, with SAB on the fifth floor, and the history—it was like I was walking through my previous life. Going into the costume shop, but being on the other side, was so fascinating. It made me think, "I wish I paid attention then," I would have come in here all the time. I would have soaked up as much as I could.
It's such a challenging career and so consuming, being a dancer, so it was quite special to come in and actually look at all these photographs and posters, walking down the hallway [in the Rose Building], and being in the studio, without having to worry. I wasn't thinking about my body, what was hurting, and calculating how to get through the week. I was able to wholeheartedly sit, enjoy, and absorb the music and movement before me. This time around, in this new capacity, I'm hyper conscious of how fleeting and extraordinary this moment in my life is.
Are you hoping to continue pursuing costume design alongside Louise Apparel?
I think if someone comes to me, I'll do it. It's a nice departure from sewing, sewing, sewing; I work by myself, so I love to work with someone else and to be on the creative side and see how something comes to life. I'm not seeking it out, but if anyone reaches out, I'm game.
Is there a fantasy ballet you'd love to re-costume?
I can't say I've ever had that thought. With City Ballet [repertory], you see the ballets so many times, as well as the old images, so it's almost like, "Oh, how dare I!" But it's interesting because Justin is taking these familiar Copland scores, and what he's seeking is to have people see this music in a different way than we've all known. It's so great that he has that vision. But I can't say that I have any ballets for which I think to myself, "I want to redesign that."
What has been unique about the process of creating the costumes for Copland Dance Episodes?
I'm working with 60 unique, specific colors, so City Ballet's fabric dyer, Marie Deserto, is a huge part of this piece and such an unsung hero. I had never realized the talent that someone has to use to figure out and painstakingly dye these colors. It's all just blown me away.
I'd also like to share the gratitude I'm feeling to be a part of this piece because it feels—I don't know if "epic" is the word, but this is a massive undertaking for City Ballet. Before, being in pieces as a dancer, you're so focused on, "What does my body need? What am I doing? What do I need to be here and dance this?" This new lens I have allows me to see the community it takes to bring something to life, for everyone to unplug and experience something together. I am grateful to be a part of it. It feels so special, the space that Justin's creating with this vision. I just hope everyone can feel that.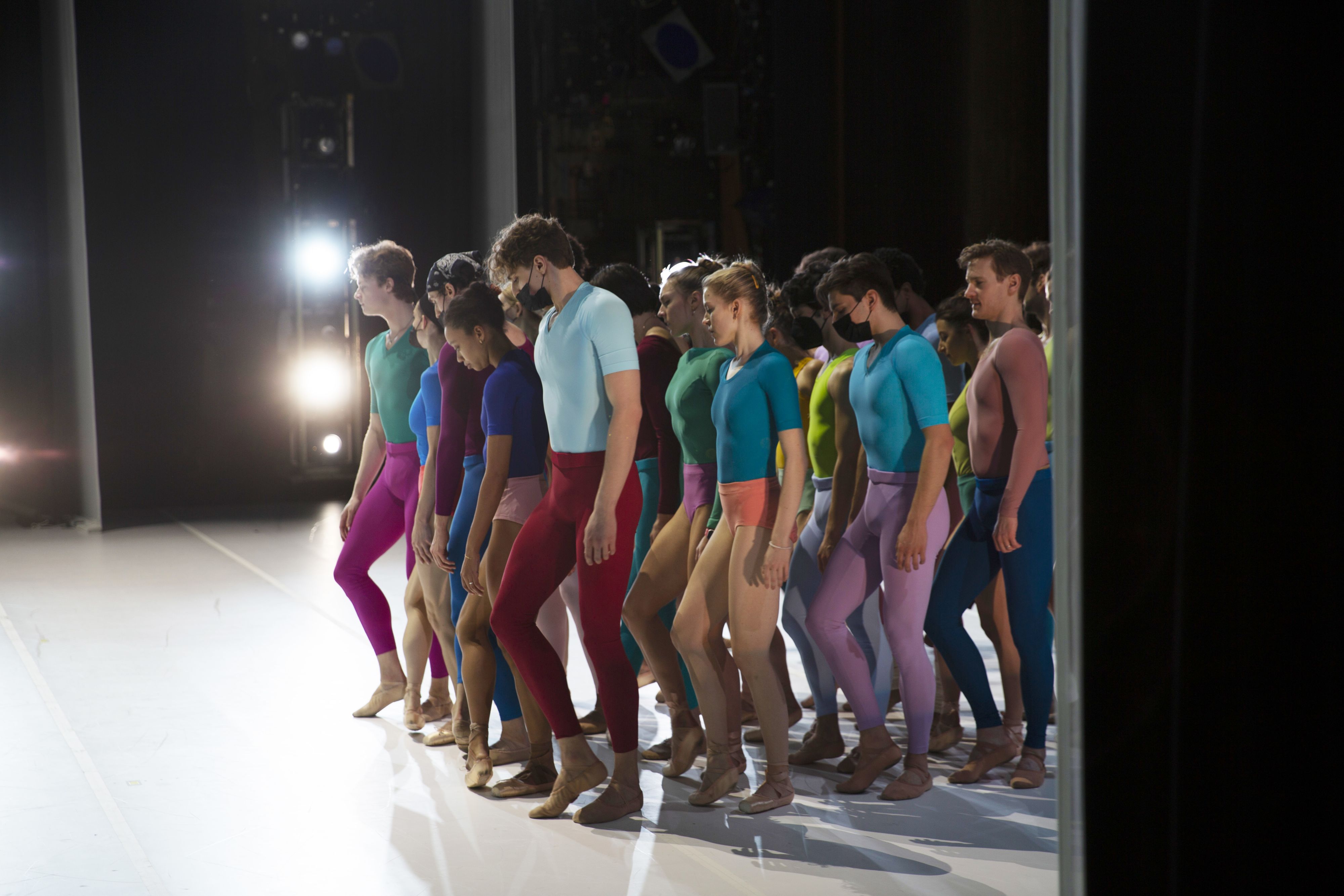 Photos by Erin Baiano and Malik Winslow