An Interview with Justin Peck and Anthony Huxley
By Madelyn Sutton, April 30, 2021
After more than a year spent away from the Company's home at Lincoln Center, Resident Choreographer Justin Peck has returned with a world-premiere work. Choreographed on Principal Dancer Anthony Huxley in a moving solo set to the original String Quartet version of Samuel Barber's Adagio for Strings, the ballet will premiere via a new film directed by Sofia Coppola that serves as the centerpiece of New York City Ballet's first-ever virtual Spring Gala. Though this represents the first onstage work for both Peck and Huxley since the COVID-19 pandemic began, it is not their first collaboration. We spoke to the two artists about their shared history, the challenges of creating and performing amidst the current health and safety crisis, and the upcoming premiere of this momentous work.
The two of you have worked together many times over the years. What have you learned from these collaborations? What is inspiring about working together?
Peck: Anthony and I have known each other since our earliest days at the School of American Ballet. We both [enrolled at SAB] in the same year, for the winter term, and we lived in the same suite in the dorms. At that point Anthony was miles ahead of me in terms of his technique; he was always this incredible dancer and artist and had this immaculate ability that everyone in the program looked up to and admired, and he was just an exemplary individual in terms of the Balanchine style and the Balanchine technique. So I got to observe him a lot when I was a student, before I was even thinking about choreographing, and then we joined New York City Ballet in the same year. We were both invited to become apprentices [in 2006], and we started dancing side by side at that point.
Then, when I started to choreograph, one of the first pieces I ever created was for the New York Choreographic Institute, a piece called Quintet. It was set to a Mendelssohn score and Anthony was a featured soloist in the piece. It was an ensemble piece for 10 dancers, but it had a lot of moments that really featured him. We had a really good time working on that piece and working together—I feel like the energy amongst the whole cast was really positive. It was one of those experiences that set me off on my own choreographic trajectory. And we just continued to work together on and off on various ballets as I started to make more work for the Company.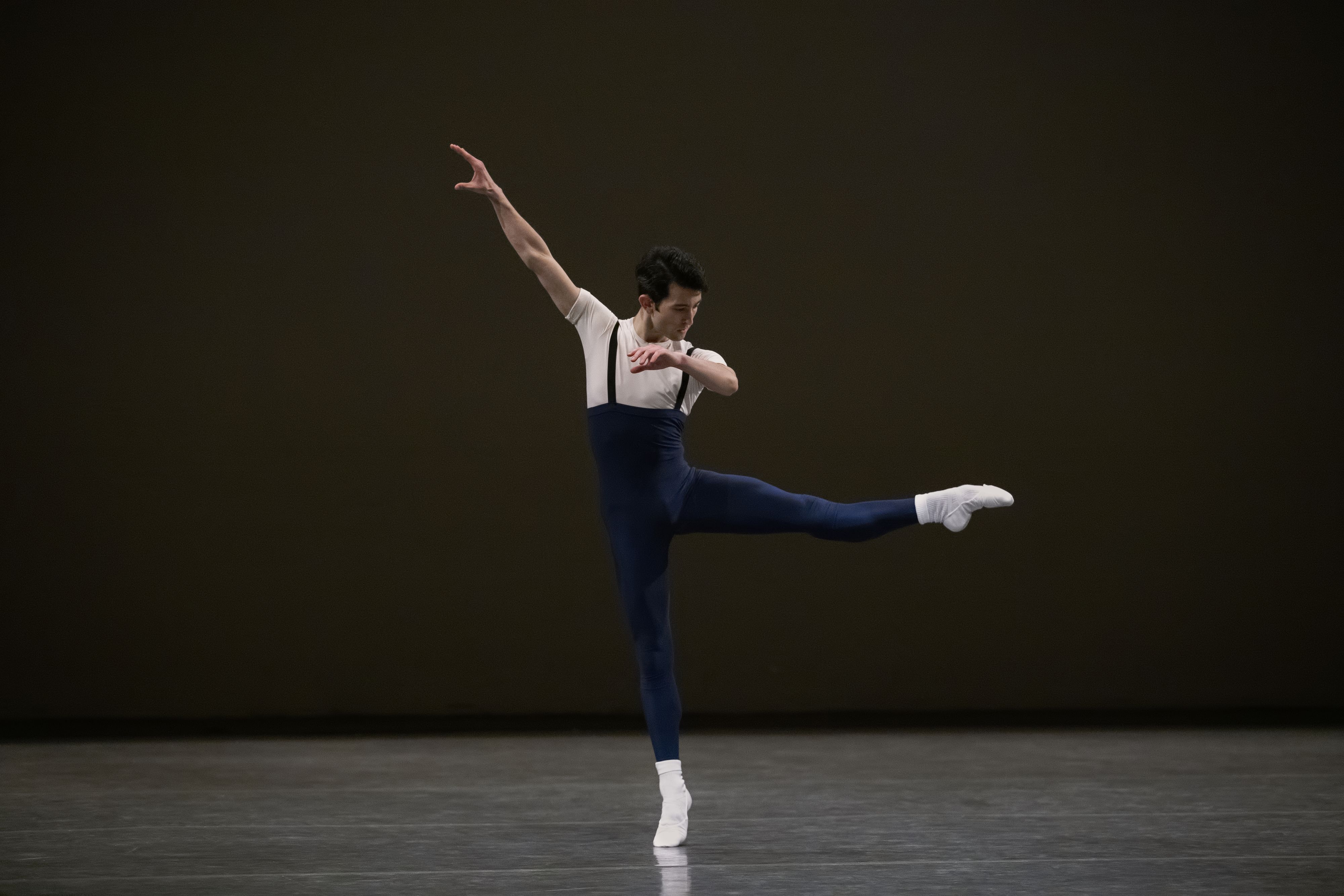 In terms of my working relationship with Anthony, it's really led to this moment where I've been able to collaborate with him on this solo, which is pretty substantial. [The piece] draws from that history and provides a vehicle for Anthony to perform and to bring what's so special about himself to a piece of choreography.
Huxley: Since we've known each other for over a decade now, [working with Justin means] having a choreographer who knows you and knows what you're good at, and having somebody want to showcase you and your strengths. Since Justin is our Resident Choreographer, all the roles he makes are very specific for each dancer, and I think that shows. I sometimes feel like the parts that I do, I can't imagine other people doing it; everything feels so tailored to each person, in a way—and I think that's part of Justin being there with us every day, for years and years and years.
Peck: It makes replacing the original dancers very challenging—I've had that challenge on several occasions. Or if another company performs the work, it's not quite the same, because it doesn't have the distinction of that original dancer who premiered and helped shape the ballet.
Huxley: That's what makes the ballets so special—because they're ours.
Justin, is this the first work you've choreographed that's for a solo dancer?
Peck: I've never created a standalone solo. It just came together in a really beautiful way for this project because of the limitations. I didn't want to go into a process working with multiple people and having to deal with the COVID restrictions, so that practicality was taken into consideration.
I've always loved the string quartet version of Barber's Adagio for Strings, which came before the string orchestra version of Adagio, but I could never figure out how I wanted to choreograph it. I always thought about different ways of approaching it and I never envisioned it to be a piece for a single dancer like this. But then, when this project came about, it just clicked into place—the stars aligned. It became very clear that this could be a way of approaching creating something for Anthony and for New York City Ballet, to be captured on film.
Speaking of the COVID restrictions, how did that affect the creation and rehearsal process and your preparations for the film shoot?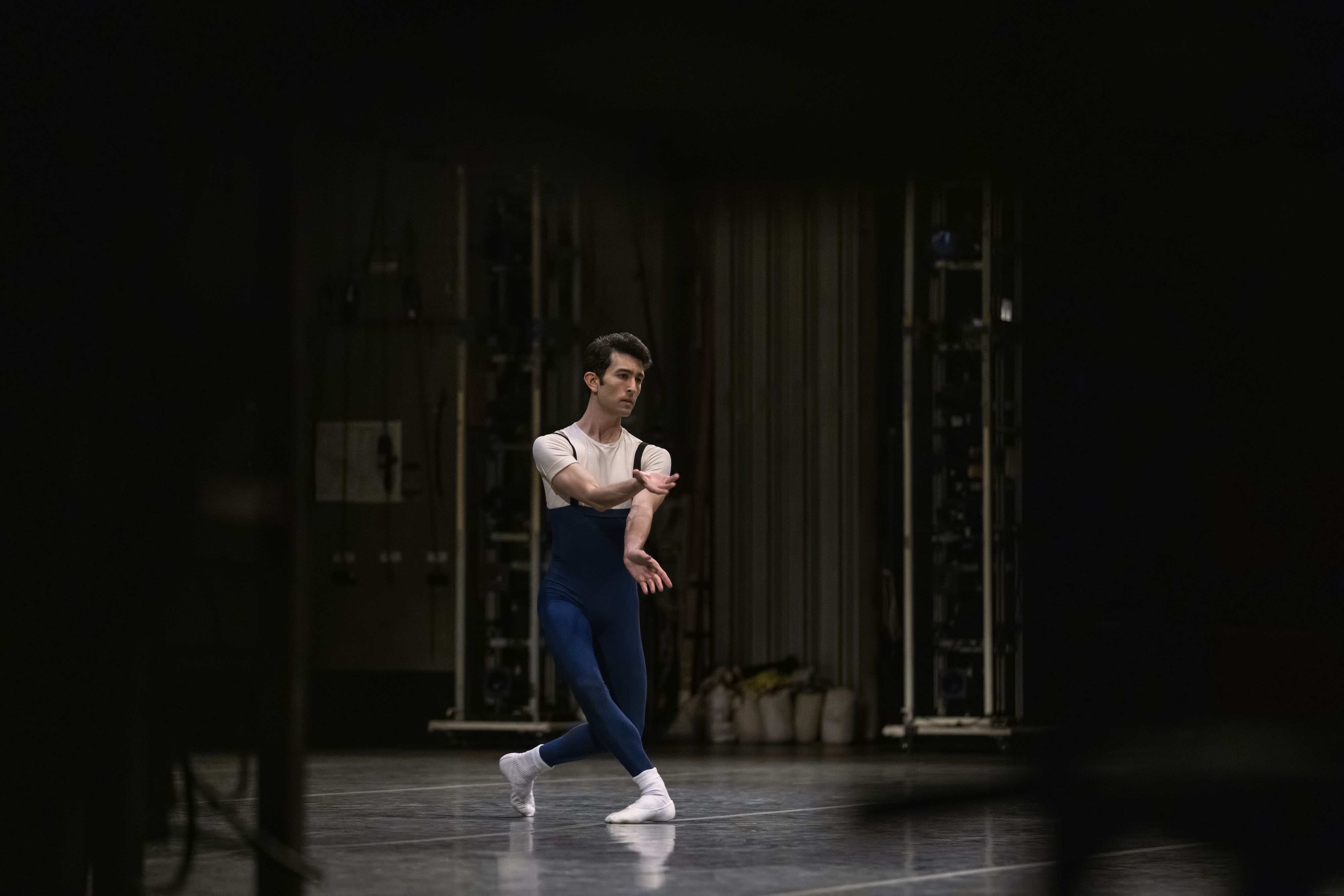 Peck: On one hand, it was amazing because we were able to rehearse in our theater. We choreographed the whole thing right onstage because it was the most open space that we could be in—the safest place for us [to be working]. But it was also challenging because we didn't have any mirrors. We were choreographing just looking out into our house, into the audience, into the empty seats. I hadn't realized how much we really use the mirrors as a tool to study movement, especially as it's being generated. I would demonstrate something and it was difficult for Anthony to see what the full movement was. I would have to show a step multiple times, facing him and then facing away, so that he could study and familiarize [himself] with what it is and how it looks, and then translate that visual onto his own facility. So it took longer to make the solo because that slowed us down a little bit.
Huxley: The first day—I don't want to say it was miserable, but it was definitely difficult. I think we're just so used to looking in the mirror and making sure it looks right, especially with new ballets, because as Justin was saying, you see two people in the mirror and you just copy what you see. I would see Justin do something and then I thought I was doing it right, but I wasn't. That was the hardest part. But I think by the end of the process I kind of enjoyed not having the mirror because we're just so used to fixating on it, rather than learning an entire ballet and having no idea how I look—just feeling it. After the two weeks [choreographing the work] were over and I rehearsed it by myself, I had a mirror and I was like, "Whoa!" And then I had to go in and try to fix a few things that I thought didn't look quite right. It was a different process that I learned to like by the end, to just feel it, in a way, and not make it all surface.
Peck: It's true. The process of creating or learning choreography is two parts—it's visual and it's also a kind of feeling of choreography in the body. So we were really limited to just the feeling of the movement, and the visual was handicapped. But it was nice to be working in our theater, on the stage, and feeling the beauty and the vastness of it. And I think it really influenced the solo in a big way, too, in terms of what it was saying and how it was performed, how it's danced and how it was shot, too—how it was designed to be shot. It was very informative.
Justin, you've been choreographing for screens big and small quite a bit recently—the West Side Story film and Thank You, New York, which you also directed, to name two. Were you thinking about the work differently knowing it would be performed for the camera—do you see it changing when it's performed for a live audience?
Peck: I think it works really well as a live expression, which I hope it eventually makes its way into being, and it's just as strong as a dance that's captured or presented on film. We tried to really take advantage of disassociating with the proscenium and the way that we typically view dance, which is, traditionally, sitting out in the audience and looking at the stage and seeing the dance exist in this box of the stage. We used steadicam, we used dolly tracking shots, and we used some static shots, and I collaborated quite closely with our director Sofia Coppola on that. She said she rarely uses steadicam, but I sent her a couple sample shots that I did to give her a sense of the options, and that allowed her to see the dimensions of the theater. She really liked one shot in particular where I tracked around Anthony, and that inspired her, I think, to include steadicam for this piece. So we have a few really gorgeous shots that circle around Anthony and show him from all angles, which is really challenging for most dancers. But Anthony looks amazing from all angles.
I spent my whole career trying to cheat my technique so that it looked good from the audience, from the front, because as a dancer, I was always kind of faking it till I made it, so I would never be able to survive this kind of vantage point. But Anthony is really remarkable in that way, and I think it's an amazing opportunity to show him from all angles.
Anthony, how did you prepare for creating and rehearsing the work, and for the film shoot?
Huxley: Because of COVID, there was a big break where I had to rehearse [the ballet] on my own. I would get a studio for an hour and just go through it by myself; at the time, I was trying to build my stamina up just in case they wanted to run it several times—luckily, we didn't have to. So I was just going about it on my own, and I would run through it once, just to get it all gelled together; then I would go through it again and try to get through it, which I rarely did. I think once [it's performed] again, I'll build up [my stamina] and then I'll be able to do the whole thing.
Peck: We were in masks the whole time—it's important to acknowledge that. Anthony was wearing two masks, so it's a little harder to breathe when something's really physically intense in that way. He didn't really not wear a mask until we filmed it. But in terms of the process, we made the solo a couple months before we filmed it, and I think that helps the material gel in the body; then we revisited it several weeks later and fine-tuned it and talked about how we would approach capturing it on film.
This will be one of the Company's first new works premiering onstage—filmed, of course—since the theater's closure. What does this mean to you?
Peck: I didn't think too much about that, now that you've pointed it out. I wasn't doubting that we would be returning to the theater, and in a way, this is encouraging proof of that. I think the film speaks to the Company's return to the theater in a poignant way that lives within the feeling of the situation, which is the fact that we haven't been in the theater for a year and we're just testing the water now. We're dipping our toes in and seeing what it feels like again. And I think that quality very much runs through this solo, in terms of how Anthony engages with the space and with the theater and the theater's architecture, without laying it on too thick.
Anthony, what was it like to be back and working on the stage?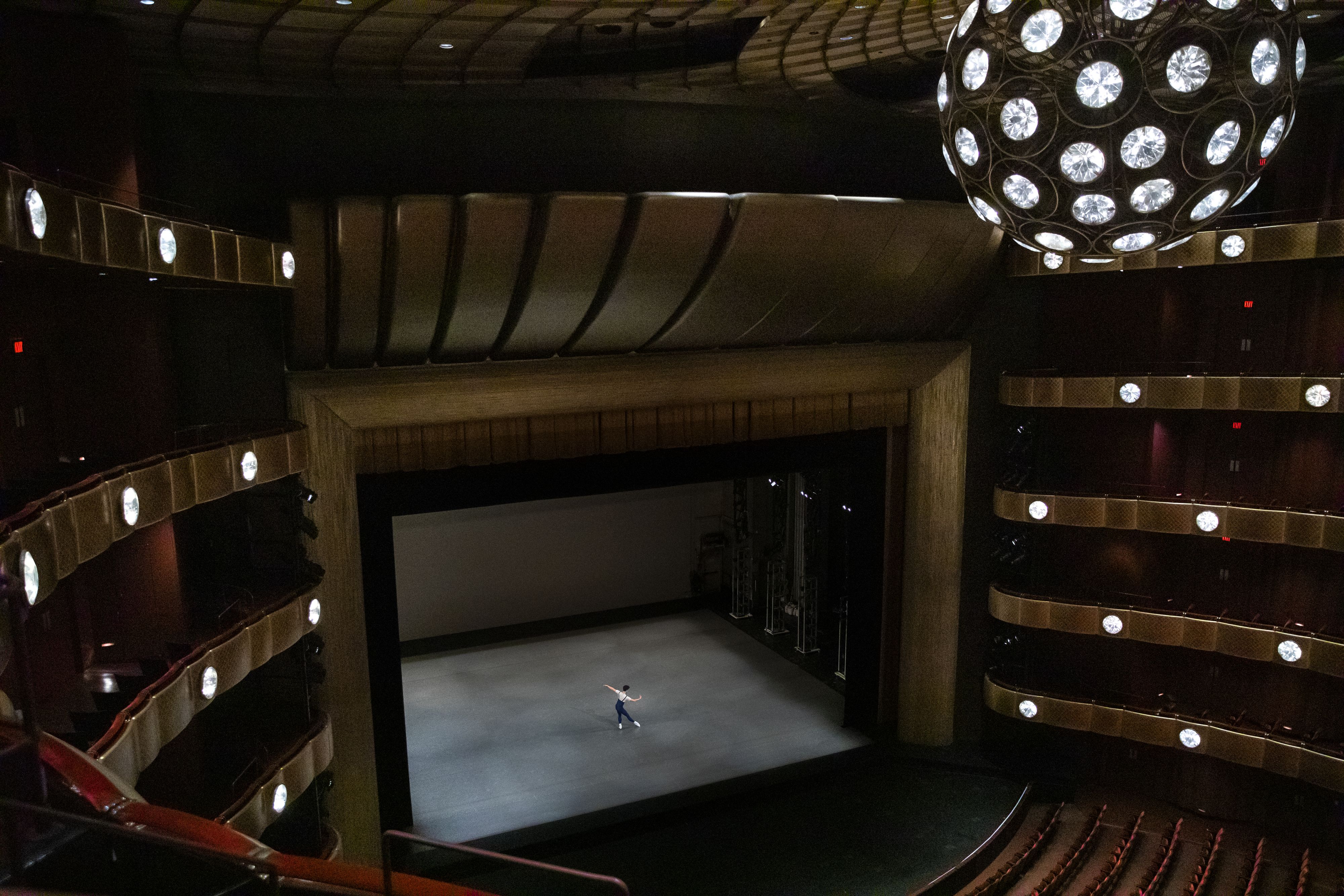 Huxley: At first, it was definitely strange. You're just so used to feeling the energy in the theater—there's always something going on, tons of rehearsals, people running around, the backstage crew is doing stuff, but for those two weeks it felt like an empty cave. Once in a while the people cleaning would vacuum and that was pretty much the only thing we'd see. It was just the five of us, with the understudies and [Repertory Director] Craig Hall, so it felt kind of lonely and it was eerie at first. But I think that informed how the piece turned out because the final product is just this vast open space. Justin gave me this thought about exploring this wide open space, and I thought to myself that it felt like you're in a cave, going through it, and you're hearing the echoes.
Barber is an interesting choice for the score - he's such an important American composer whose music, in particular Adagio for Strings, is familiar to a general audience, and has other cultural connotations - but he's rarely used for choreography. What drew you to this piece of music?
Peck: Barber's arguably one of the great American composers and I'm always interested in working with American music. I was researching this piece recently, after I had choreographed the solo, and I discovered that it's played at a lot of funerals. It's a pretty heavy piece and I never thought of it as being heavy in that way; it just goes to show that music, especially abstract music, has to be met halfway by whoever's listening to it. I have my own interpretation of what that music is that works from a very personal place, and maybe someone else would hear it and think of a funeral, but for me it's something else. So, that's the beauty of working with classical music like this as a choreographer.

I've always wanted to work with Barber's music in some way. This is obviously one of his most iconic pieces, and I think there's something about the parameter of creating a solo for a single dancer and having that work in relation to—and sometimes in counterpoint with—such a grandiose score that pushed me in a way that I like to work as a choreographer. The score was performed by musicians from the New York City Ballet Orchestra in a really beautiful recording that feels very alive.