Reid & Harriet on Their Decade-Long Collaboration with Justin Peck
By Madelyn Sutton, January 20, 2022
Reid Bartelme and Harriet Jung are well-known to the New York City Ballet community, having designed the costumes for works premiering on our Lincoln Center stage since the early 2010s. The duo have collaborated with choreographers as diverse and significant both to the Company and the international dance world as Kyle Abraham, Christopher Wheeldon, Pam Tanowitz, Matthew Neenan, Mauro Bigonzetti, and more. One of their earliest commissions came from the then-burgeoning dancemaker and current Resident Choreographer and Artistic Advisor Justin Peck, and from that initial project, the three artists have worked together on more than six ballets for the NYCB stage, shaping and growing a decade-long collaborative practice as their respective careers have developed.
This fall, Peck will premiere his latest work for NYCB, Partita, set to Caroline Shaw's Pulitzer Prize-winning composition Partita for 8 Voices, which will be performed live at several performances by originating octet Roomful of Teeth. The ballet features a set design by visual artist Eva LeWitt, whose late father Sol LeWitt's Wall Drawing 305 provided the initial inspiration for Shaw's piece. Rounding out the creative team behind Partita are frequent Peck collaborators Brandon Stirling Baker as lighting designer and Bartelme and Jung, who designed the costumes.
In anticipation of this latest joint creation, we spoke with Reid and Harriet (joined by studio dog Parker) about their own partnership, their dance costume design practice, and their ongoing collaboration with Peck.
Please tell me a bit about your background—how did you come to collaborate and the decision to do so on an ongoing basis?
Reid: We met at [the Fashion Institute of Technology (FIT)], where we were both doing adult transition education.
Harriet: He has a previous career and schooling, and before FIT, I studied molecular and cell biology. FIT was a career transition move for me. So both of us were in the evening and weekend program, because we both had jobs to do during the day. We were in the same cohort, and we started noticing each other and our projects.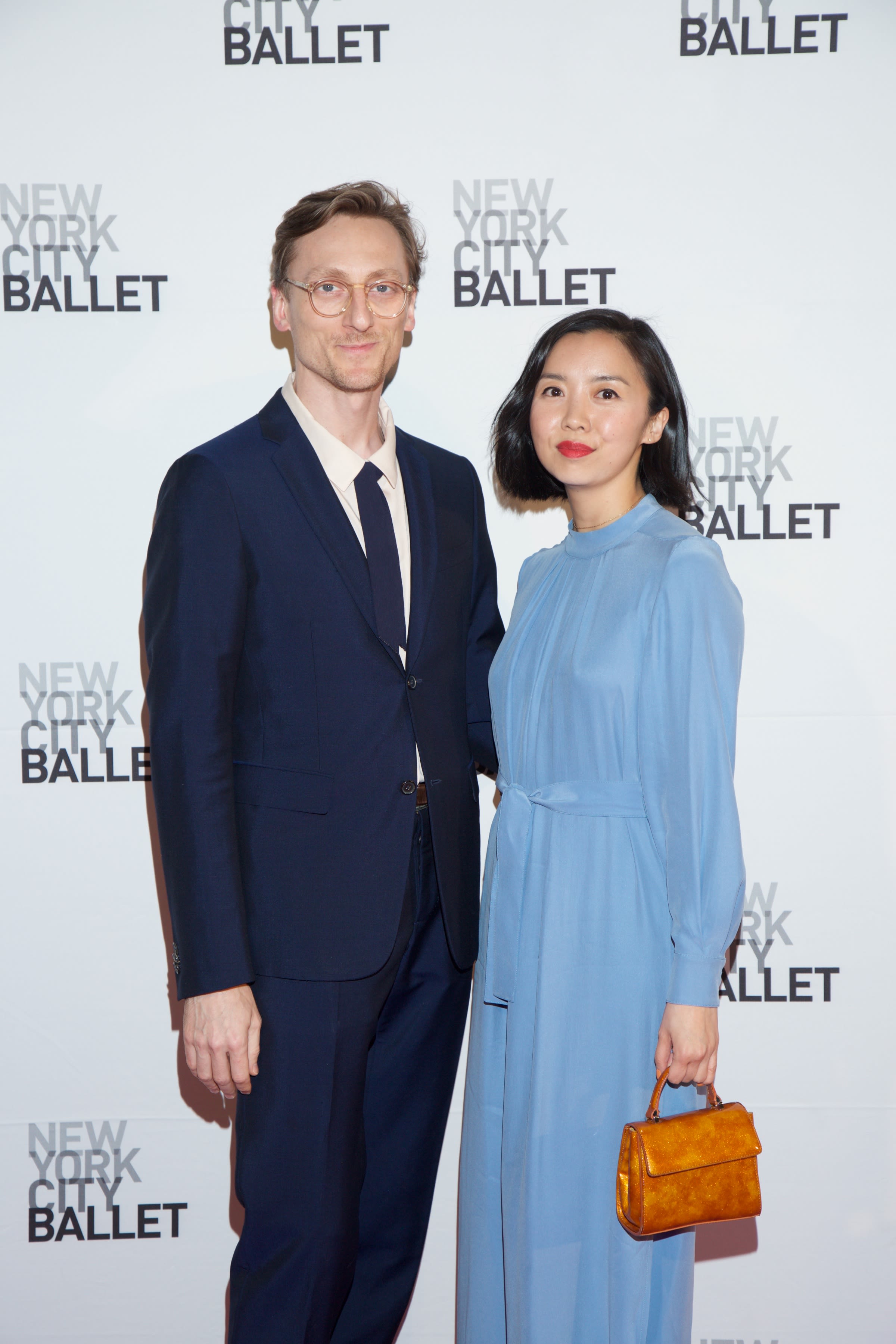 Reid: I had come from a background in dance—I had been a dancer for many years, and I was dancing at the time for Lar Lubovitch [Dance Company] as I was going through FIT, but dance people that I knew started asking me to do costumes for them while I was still in school, because the moment you tell someone, "I'm in a fashion design program," they're like, "Can you make my costumes?"
Harriet: I was working at Jill Stuart as a designer. And then Reid would say, "Hey, I got this request for costumes, do you want to collaborate?"
Reid: Because there weren't opportunities for collaboration at school, but we were always in conversation about whatever work we were doing in our design classes. And we both did a program at FIT called "Art Specialization," where they pick 20 people in the graduating group to be in a special class where you only draw for the last semester of school, which is great, and your work automatically gets into the presentation at the end [of the year]. So we both had that experience, though a year apart, because I took a year longer to finish school than Harriet.
So while she was working for Jill Stuart, we remained in conversation about the work we were doing, and I started to accumulate more and more of these dance jobs, and whenever Harriet was available we would collaborate. The very first job we did, when I was definitely still in school and Harriet may have been in school, was a solo for Fall for Dance [Festival] that Andrea Miller made for a dancer called Drew Jacoby, my roommate at the time. That was our first collaboration, but I think we'd actually been hired at that point by Justin [Peck] to do this [Youth America Grand Prix Gala (YAGP)] Gala, a duet for [former NYCB dancer] Robbie Fairchild and [NYCB Principal Dancer] Teresa Reichlen called Furiant, but it just hadn't happened yet.
Harriet: And that was our first Justin Peck job.
Reid: And that was in 2012.
It's interesting that your backgrounds are so different prior to FIT—dance and science. Do you think that informs your work?
Harriet: I don't know if our backgrounds are why we work well together—more important than that, we share a common aesthetic and the way we view design is similar.
Reid: Yeah, there's a shared ethos around how we want things to look and around quality. I think both of us have a certain idea about quality, wanting to present things that feel excellent, and we have a different way of getting there, for sure. But I think that's how we started our relationship in school—I was drawn to Harriet because I was like, she really understands something about clothing and about proportion, and maybe I don't have those skills yet. But I recognized it in her work. I think Harriet at that point had more experience, obviously with women's clothes, and with fashion in general.
Harriet: And although I have this science degree, before that I attended an art-specialized high school and I went as a fine arts major.
It sounds like dance costumes happened almost organically because of Reid's dance background, and dancers he knew asking for costumes—not necessarily that you planned that for the future of your brand.
Reid: When Harriet got the job at Jill Stuart—which, for an entry level position out of FIT, was the best you can do, really—she was on a small design team designing dresses. She had a desk where she drew pictures of dresses. Which is crazy, because most people are making, you know, digital flats of a baby's t-shirt for the Gap or something, which is a nightmare. So I saw that and I was like, amazing, I want a desk with pencils in a cup too, that's my dream. And I thought, I'll keep doing these costumes because they force me to figure things out that we don't actually learn about in school. There was a lot of negotiating things like stretch fabrics and movement that we don't really address at FIT, because it's all about ready-to-wear.
When I was just about to graduate, I got a job for Christopher Wheeldon, which came about from [NYCB Associate Artistic Director] Wendy Whelan, who knew me through friends, and she had been a fan of Shen Wei [Dance Arts], which was a company I danced for. I honestly couldn't tell you why, but she asked Chris if I could design this piece he made, again for Fall for Dance. And at that point I thought, Wow, Chris and Wendy, this is big, maybe this is my job. So the summer after school, while I was doing that job, I started to see what was possible—maybe this could be a job, and at that moment, Harriet started to see the cracks in the facade [of working at Jill Stuart], basically. She was like, this actually isn't that fun.
Harriet: My goal in going to FIT and moving to New York was, I'm going to be a womenswear designer, that's what I want to do. And then I got this job as a designer for a womenswear label. And after collaborating with Reid I saw the freedom I had, just working for myself, basically, with a partner. That really appealed to me. At that time I felt like I had much more creative freedom as a costume designer than designing dresses for this label Jill Stuart. So I stayed at Jill Stuart for about 3 and half years, and I remember in the middle of that thinking, I want to transition into costume design and working for myself as my full-time job. And here we are!
Reid: I graduated in 2012 and you graduated in 2011, but in 2011 we had already started. We made a letterhead, we made a website. I still had a Hotmail email address.
Harriet: I was like, you have to get a Gmail account.
Is there a general way that you approach every commission?
Harriet: It depends a lot on what the project is, but also how the choreographer is trying to approach the project. For example, for this project [Partita], Justin had a direction already in mind. Whereas with some projects, choreographers are just like, "Here's the music, here's some rehearsal footage, let me know what you think." So it varies, but for this piece Justin did have a direction in mind.
Reid: And that was because he'd already established this relationship with Eva LeWitt, who's doing the set—that visual universe was already in place by the time we were brought into the project. So we then have to come into this conversation like, we need to create costumes that can exist in this visual universe. It's always good to have some parameters, and a set is always a very useful parameter for us.
Can you identify any recurring themes or inspirations that come up in your work?
Harriet: We like to reference older fashion houses and designers. We've definitely looked at Pierre Cardin a lot.
Reid: Our first dance for Justin was, like, 100% Claire McCardell.
Harriet: That's not always the case. But that is something that does happen again and again.
Reid: I'm always thinking about Georgia O'Keeffe and her clothes, but no one lets us design costumes like that.
Harriet: Sometimes I reference Korean traditional clothing.
Reid: Another point of departure for us is looking at the context of the situation, like, what is the space the dance is being performed in, who are the people performing the dance, and what is the history of their relationship as a company or as a group of individuals? What is the dance lineage of the person making the dance? So, you know, there are all these contexts that we like to look at, and I think a big part of the component that I bring that is separate from what Harriet brings is a dance history. I'm always thinking about that. Which can be very limiting for me, when I'm like, "Well, you can't do that, because that's never happened." And then Harret will be like…
Harriet: WHY!
Reid: And I'll be like, "Yeah, I don't know, actually."
Harriet: Yeah, "Actually, that's good. Let's do it."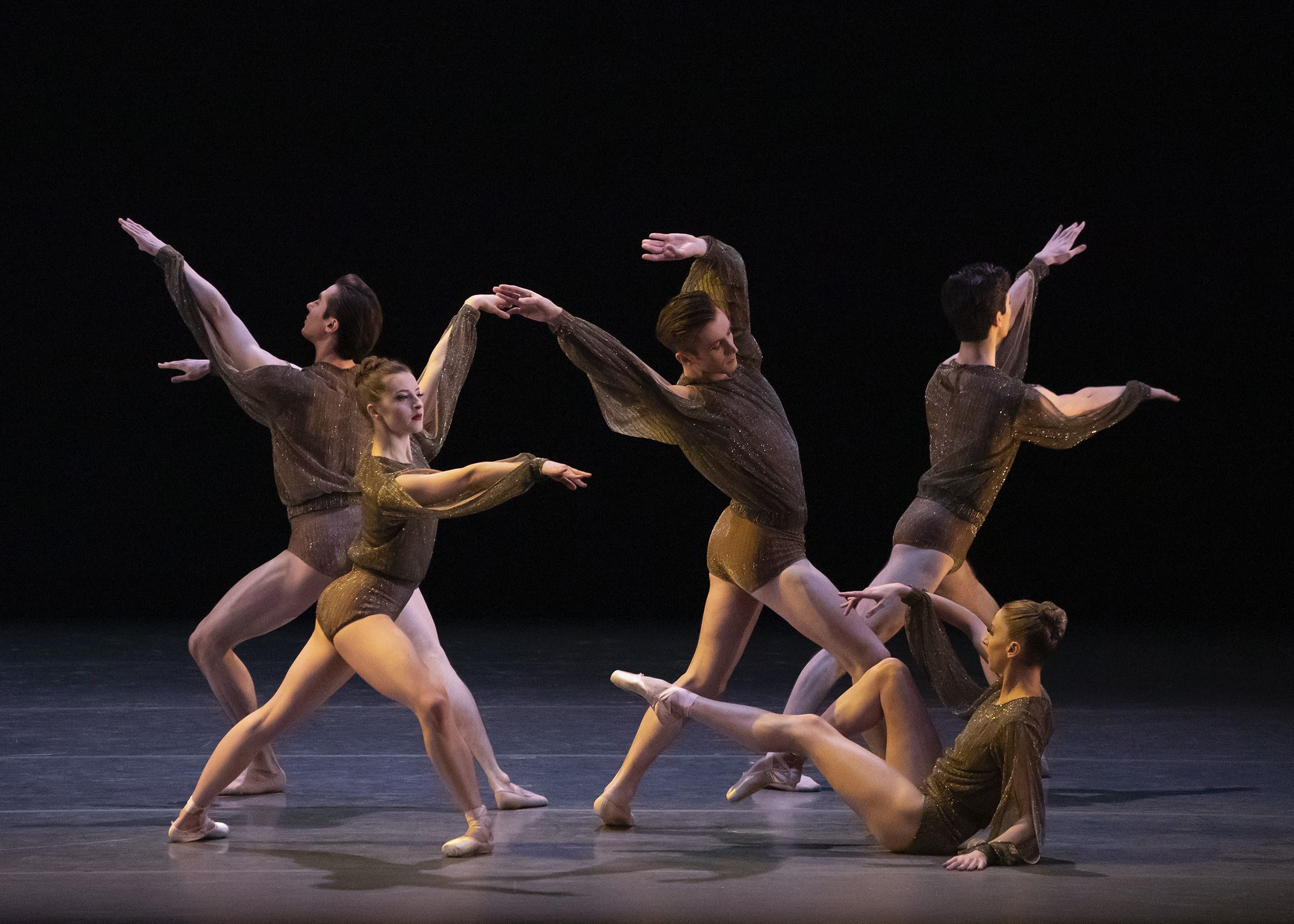 You've collaborated with Pam Tanowitz (whose Bartók Ballet, with costumes by Reid and Harriet, returns to the stage this winter), Justin Peck, Andrea Miller—powerhouse voices in contemporary choreography, and all very different. How does your process or thinking change with these different styles?
Reid: I think that question is more tied to the choreographer who's building the work, because we've done many dances for Justin at New York City Ballet, and his thought process is very, very tied to what has happened historically at NYCB. And when we're working with someone like Pam for a New York City Ballet commission, she's not tied to those, I don't want to call them restraints, but in a way there are these limitations that come from history or come from one's perceived notion of history. We take our cues from the choreographer, so we have to switch our mode of thinking depending on the situation. So, definitely with Justin, our thought process is very tied to what has happened before at NYCB, and the way in which that particular costume shop has approached making costumes.
Reid & Harriet and Justin at NYCB
How did you first come to collaborate with Justin?
Harriet: The YAGP—Well, we've told the details of that many times, but we'll do it again. This was when we were, when I especially was like, who is this person? Justin Peck, I don't know this person.
Reid: I had designed something for Avi Scher, who'd been a [School of American Ballet] student and had gone on to have a dance career. He was using dancers from New York City Ballet in his pieces and choreographing in New York. And [former NYCB Principal Dancer] Janie Taylor had designed something for Avi on a program where I had also designed something for Avi. So, I think Janie told Justin, there's these people; and then he emailed and said, "I don't know who you are, but I would be curious to see some of your work, to see if we'd be a good fit."
Harriet: And then he sent us a CD-ROM of a recording of a rehearsal, from the Choreographic Institute.
Reid: Oh yeah, because at the time, Justin had not had a dance on the main stage of New York City Ballet. And I had heard rumblings of his name, but I had never seen Justin's work. So we basically auditioned for the job, probably in a more thorough way than we needed to. But I just had a sense, we need to take this one kind of seriously.
Harriet: I remember Reid coming over with this CD-ROM and he was like, "This person is talented. Let's look at his work." And so we did, and I was like, that's cool. And then he asked us to redesign a piece that we thought needed a redesign…
Reid: …In the repertory at New York City Ballet, so we could all understand what it was we were talking about and looking at. And we made a website, a Tumblr.
Harriet: And we combined our portfolios because we were like, "This is Reid & Harriet," and we were presenting it as, we're a design duo.
Reid: It was some of [my work], some of hers, and then this special project, which was a redesign of a dance (that we're not going to tell you what it was). I mean, I don't know how seriously Justin took it—I think he probably took it seriously that we took it seriously, but I don't know how closely…
Harriet: Right, like, did he actually have several applications? I don't know.
Reid: And then, I think we had a meeting, or something.
Harriet: And I remember things like fitting Tess Reichlen at a cafe, because none of us were established enough to get space.
Reid: We built that set of costumes at FIT, in the classrooms, and had fabric printed in the print lab at FIT. It was a very school-made project, but it came out, he liked it, and we liked it too.
Harriet: He liked it and he still references it sometimes.
Reid: I'm like, can you not?
Harriet: He's like, "Kind of like Furiant," and we're like, "Let's move on."
And not long after that came Paz de la Jolla, the creation of which is captured in Jody Lee Lipes' documentary Ballet 422, with you and Justin working together fairly early in your careers.
Reid: Just in terms of what has happened in the course of our relationship to Justin, it's remarkable that there's this document of the first real process that we were in with him, and it was nearly an accident that that happened. [Then-artistic director] Peter Martins pulled a piece from a Winter [2013] program, and at the last minute said, can you make something quickly? And then Justin was like—this must have been in December—do you want to design it? So it was our first work for New York City Ballet, and it was for a lot of dancers…
Harriet: We were like, "Everyone has to be different."
Reid: There was a camera crew sometimes—I think the idea was that they were making one of those promotional videos for the piece; at the time, Ellen Barr was in charge of Media [for the Company], and her partner Jody Lee Lipes came in and was filming stuff for the promotional video. I think Jody got carried away with footage, and ended up building this documentary, which we didn't know would exist until long after that whole process was over, and then Justin was like, "I think they're making a documentary."
Peck had designed some of his own costumes at that time, and will often collaborate with [NYCB Director of Costumes] Marc Happel—is that unique among choreographers you work with? Does he get more involved?
Harriet: It depends with Justin, sometimes there's more free range and other times it's very specific, and then there's all the in-between.
Reid: There are specific dances where from the beginning he basically tells us, "I'm gonna be very involved in the visual contours of this dance because I have an idea already." But then there are other dances where he's like, "I don't know, have fun." So there are many variations of how that plays out.
You've collaborated with Justin on every work he's done for the Company since 2018's Easy—Principia, Bright, Rotunda, Anthony Huxley's Solo for the 2020 Virtual Gala. How has your working relationship evolved over the years?
Reid: We've never talked [with Justin] a ton. It's often been like, we think about it, we draw something, he considers it, and either it's okay, or we change it.
Harriet: Or we shift it.
Reid: But there's not a huge amount of language that happens for any of the dances, I would say.
Harriet: I agree. It's not super involved. We definitely have clients, Pam Tanowitz is an example, where there's a lot more discussion and back and forth.
Reid: But it's interesting because with Pam, it's almost as if we have more freedom.
Harriet: I think because we have more freedom, there are more check-in points. We check in with her to be like, this is the direction we're thinking, because there was no initial direction—in contrast with Justin, especially lately, there's been a direction set, and it's not like we think of something out of the blue. So in that way there's less to talk about.
Reid: And Justin has a very good editing eye. He has a good sense of when something doesn't feel right. So with Justin, we have, on more than one occasion, gotten into a situation where we've had to reroute; it's not like everything goes smoothly from the beginning, and the costumes get produced, and we were all on the same page the whole time. That sometimes happens. But for example, with Rotunda, which was a couple of pieces ago at NYCB, there was a whole set of costumes that went onstage a week before the premiere. It just didn't feel right, and he expressed that, and we were also feeling that, and then we changed it all. And because we also have a specific kind of relationship with Marc Happel, we understand that we don't want to be the ones putting undue stress on the costume shop—that is a very precarious situation for us because we understand the stress of that for them. So in that particular situation, Harriet and I were like, okay, how can we not only change all the costumes, but also make this so that it's very little work for the costume shop? I don't know if this has ever happened at NYCB, but we basically just went through their garbage drawers, drawers of extra stuff, and picked out tights and leotards and things that were around.
Harriet: We put them on ourselves. Immediately we were like, what do you have in your shop? We started trying things on, taking photos, you know, layering things, and that's how the looks came about.
Reid: One trip to Century 21 to get a cardigan.
Harriet: There you have it. Rotunda.
Reid & Harriet and Justin at NYCB
Justin's works for the Company can definitely be seen as inheriting the legacies of Robbins and Balanchine—the inclusion of vernacular dance, Broadway influences, neoclassicism, and an emphasis on the non-narrative. Another way in which he fits into that lineage is that he is crafting a particularly American choreographic language with a lot of his ballets, with his use of music by Sufjan Stevens, Aaron Copland, Samuel Barber, and in the use of sneakers and streetwear. Because you work together so frequently, I wonder if you consider yourselves co-shaping that language to some degree?
Reid: I'm really curious how I would look at that question if so much of his body of work hadn't been designed by us, if I were looking at it in an alternate history, I wonder what it could look like. But yeah, I mean, obviously, we're both American, I don't know if that means anything…
Harriet: Right, that means lots of things, but I will say he does bring out a sort of sportier American sportswear side in us, and that's not actually how we design for most. We don't do that for everybody.
Reid: But I would say that in general, the ethos of Reid & Harriet does have this kind of pared-down, streamlined American minimalism to it. If we're looking at, what is the DNA of Reid & Harriet, it does in a way come from this kind of… Calvin Klein's a bit extreme, but…
Harriet: Because we can also get pretty ethereal and abstract, but with Justin we lean towards more pedestrian sportswear. A touch of the athletic, more human.
Reid: And it's also that some of the pieces we do for him, even if it is tight-fitting, not-outside-of-the-dance-classroom clothing, it's grounded in what has happened before at New York City Ballet, specifically. So it's where Justin is coming from, historically and ideologically. He put our minds on that same path, so that there is harmony.
Are there any details you can share about the new work, Partita?
Harriet: This was one of those situations where Justin had a clear direction, and like Reid said, there was already a set in place when we were brought on, so we had to respond to this set and also Justin saying "This is what I'm feeling." It actually started off with him saying, "I would like the costumes to be white/off-white." He was very clear about that.
Reid: There've been many revisions for this work—more than any other piece we've done for Justin.
Harriet: I think we gave him some sketches that incorporated colors from the set because we wanted to be in conversation with the set. But he was expressing,"I really want the dancers to stand out and I think white/off-white, shades of white, would work best."
Reid: And we've done that for him before, with Heatscape for Miami City Ballet, which worked really beautifully with the Shepard Fairey-designed scrim.
Harriet: But for this one, we were feeling like the dancers could stand out and the costumes can still be in conversation with the set. We talked to Eva LeWitt about it and she agreed.
Reid: We'd been pushing him towards color with our sketches and revisions, and then at a certain point, he was very focused on white. So we did some white drawings and he was like "Good." We were like, "Okay."
Harriet: And then Eva was like, "Why did y'all do white?" And then we and Eva were like, "We have to reconsider color." So we spoke with Justin, and we had the shop make a mockup of a white look and a mockup of a pistachio green version. And once it was in fabric form and we sent the photo to the team, everyone gravitated towards the green, the color version. And then that led to, "Let's incorporate more color."
Reid: So it took this route that was very circular.
Harriet: Which sometimes happens; you think in theory, and then in practice or in reality, in the fabric, it's like, "Actually, I do like this other thing." So it was nice to see both versions in fabric form. So then we went back to, let's do color, let's do more than one color. And then we, with Justin and Eva, came up with a color story that we liked.
Reid: Eva's set is unusual in that it participates in the space dimensionally. It's in the vertical space, it's dimensional, it's all throughout. So it creates this kind of container for the stage, and it felt like a missed opportunity to have the dancers be in total contrast to what they were inside.
Harriet: Yeah, it's this environment—we really wanted it to look cohesive and again, have everything be in conversation with each other.
Reid: There's not a rule about that with sets, because I've seen sets where they strip back color in the costumes so the dancers kind of move forward from it. But even with Justin, we've done works, like Scherzo Fantastique (2016), where we really played on Jules de Balincourt's decor and we brought all of those vivid fauvist colors into the costumes. Those are some of our favorites—not only did we love them, but then we used them as inspiration for a line of bathing suits. They were very powerful.
Harriet: And that was one of the examples where Justin kind of let us do our own thing.
Is there anything about the past two years that you want to share - how it's affected your method, changed your thinking, etc.?
Reid: I do think that something about being forced to communicate digitally has opened up certain techniques for us; we've definitely moved away from paper.
Harriet: Yeah, now we both sketch only on our iPads.
Reid: It's incredible. You can sketch and revise and immediately email it to someone and have the colors be consistent digitally for people to look at.
Harriet: You can just text message it.
Reid: You can take a picture of a person and draw a costume over them and just send that. Like, for the Solo for [NYCB Principal Dancer] Anthony Huxley that happened in the Sofia Coppola [2020 Spring Gala] film, that was very last minute. And Justin was like, "Oh, I need a costume for Anthony," and I saw a dancer at the Australian Ballet who was wearing something similar. I took a picture of them and sent it to Harriet, I was like, what do you think of this for Anthony? And then we discussed it, revised it slightly—I basically just sent the photograph with a little bit of drawing over it to Justin and he was like, "Cool." That's a very Justin Peck aesthetic, that kind of tights-and-leotard look, but, make it a little bit fun for the 21st Century.