Dance Theatre of Harlem Artists on Collaborating with NYCB
By Madelyn Sutton, Malik Winslow, April 12, 2022
New York City Ballet (NYCB) and Dance Theatre of Harlem (DTH) have been intimately connected since their respective earliest days. DTH was co-founded in 1969 by Arthur Mitchell and Karel Shook, the former of whom was inspired to create a classical ballet school for the children of the neighborhood where he grew up. Mitchell received his own dance education from the School of American Ballet before joining NYCB in 1955 — just seven years after that company was co-founded by Lincoln Kirstein and George Balanchine. He was the first African-American dancer with the Company and performed lead roles throughout the repertory, originating, among others, a featured role in Balanchine's Agon, a seminal Black & White leotard ballet.
Though separated by five densely-populated NYC miles, the two companies have maintained this connection through various collaborations—a connection nourished in part by their shared history as well as congruent commitments to both neoclassical and classical repertory works as well as contemporary choreography. As NYCB Principal Dancer Anthony Huxley mentioned following a shared rehearsal, "They go all in—in the same way that we do."
After sharing the stage during last summer's inaugural BAAND Together Dance Festival (along with Ballet Hispánico, Alvin Ailey American Dance Theater, and American Ballet Theatre), the upcoming New York City Ballet premiere of Pam Tanowitz's Gustave le Gray No. 1, featuring two guest artists from DTH with two NYCB dancers, represents another exciting opportunity to see members of these companies perform together. The work was initially choreographed for—and performed only once by—two dancers each from DTH and Miami City Ballet, for The Kennedy Center's Ballet Across America festival. With costumes by frequent Justin Peck collaborators Reid & Harriet and a score by Caroline Shaw, whose Pulitzer Prize-winning Partita for 8 Voices also made its NYCB debut in Peck's winter 2022 premiere Partita, Gustave le Gray finds a ready home in the Company's Lincoln Center theater.
For the two Dance Theatre of Harlem dancers performing in its upcoming iteration on this spring's Visionary Voices program, the piece represents an equally ready opportunity to work with their NYCB colleagues. We caught up with them following their first rehearsal to learn more about their experiences.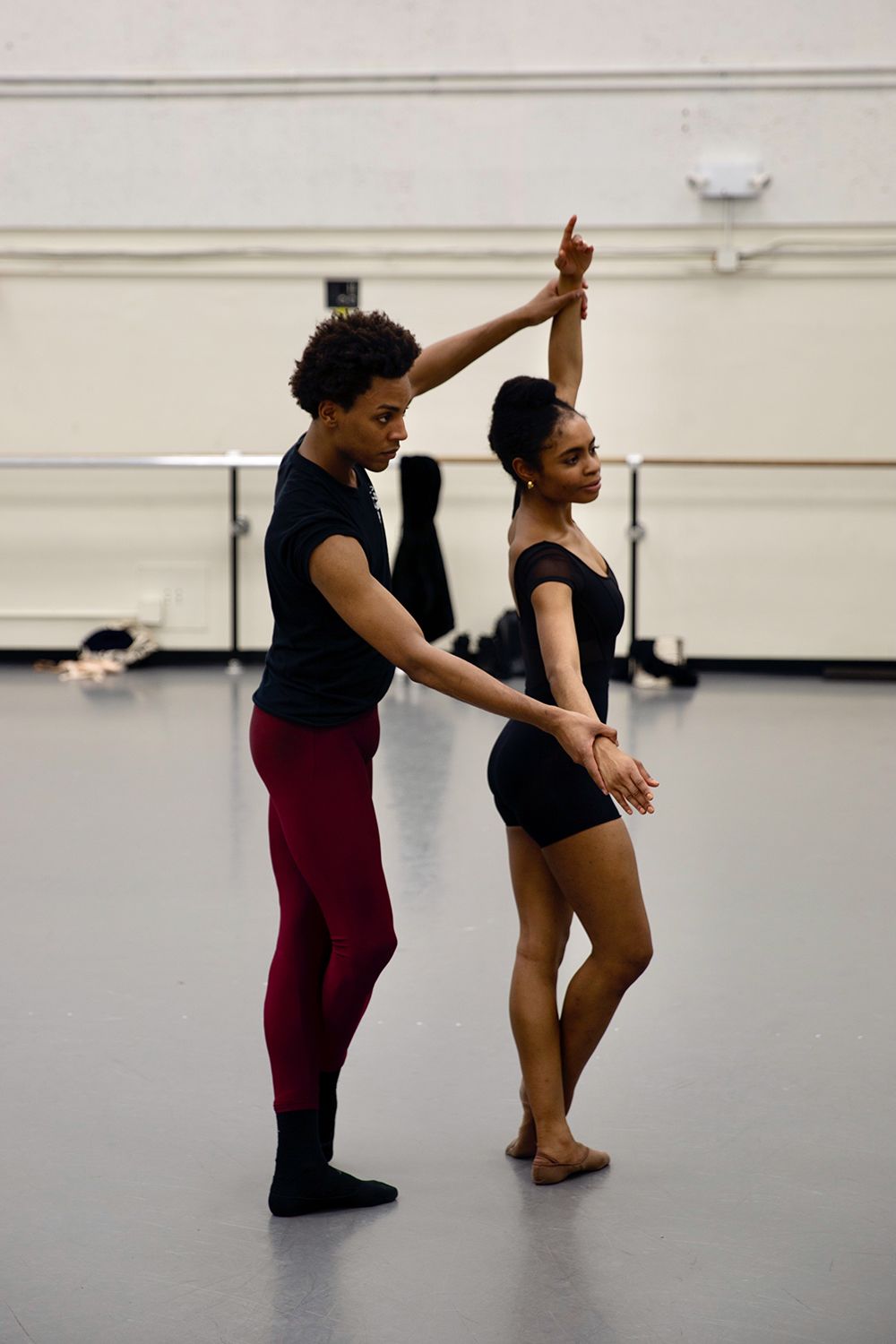 ALEXANDRA: I'll go first. My name is Alexandra Hutchinson. I am from Washington, D.C., and I went to Indiana University for college. Then I returned to D.C. and studied at The Washington School of Ballet. After I graduated from college, I joined Nashville Ballet in their second company for a year. And then I came to DTH four seasons ago. I'm really happy to be here.
ANTHONY: My name is Anthony Santos. I'm born and raised in New York City—Harlem native. I actually didn't start out with ballet. I was a musical theater kid with Rosie's Theater Kids [in Harlem] from fifth grade to senior year of high school, and I trained at Alvin Ailey for four years of high school. I pretty much started doing ballet when I went to University of North Carolina School of the Arts, under Susan Jaffe. She was like, "We're gonna make a ballerina out of you." I was there for four years, and then I joined DTH in 2017, straight out of college.
I feel like we really put the ego aside and we just focus on the art form. What we've learned from each other, at least from my point of view, is that the support, and pulling each other up when we're down, is so important—that's overall at DTH, but I see it with Alexandra often. She gives me energy when I'm at my lowest—"You've got this. Push through"—and we're always supporting each other and rooting for one another, which is a really fun thing. With City Ballet folks—it was our first rehearsal, but I felt like we've been dancing together for a while. It's kind of weird. I don't know how to explain that.
ALEXANDRA: It did. I think because Anthony has done this piece before, I've been really watching how he approaches the movement. I think that helps me with a little bit of ease, to not have to overdo it or push too hard, and just be there with other people and have real eye contact. When Pam was talking about "taking that mask or
shield off," I'm like, "Oh yeah, we're here together—the four of us are in this space." That brings another element that I don't usually think about. Sometimes I get intimidated that it's gonna be like, "They're so much better." So it's nice to be in a space where we're all equal.
ANTHONY: When we come it's just a few of us, and it's so many [NYCB dancers]. But It's very warm. It's not cold at all, which is nice.
ALEXANDRA: Yeah, because you don't really know what to expect. I felt so welcomed and happy to be here.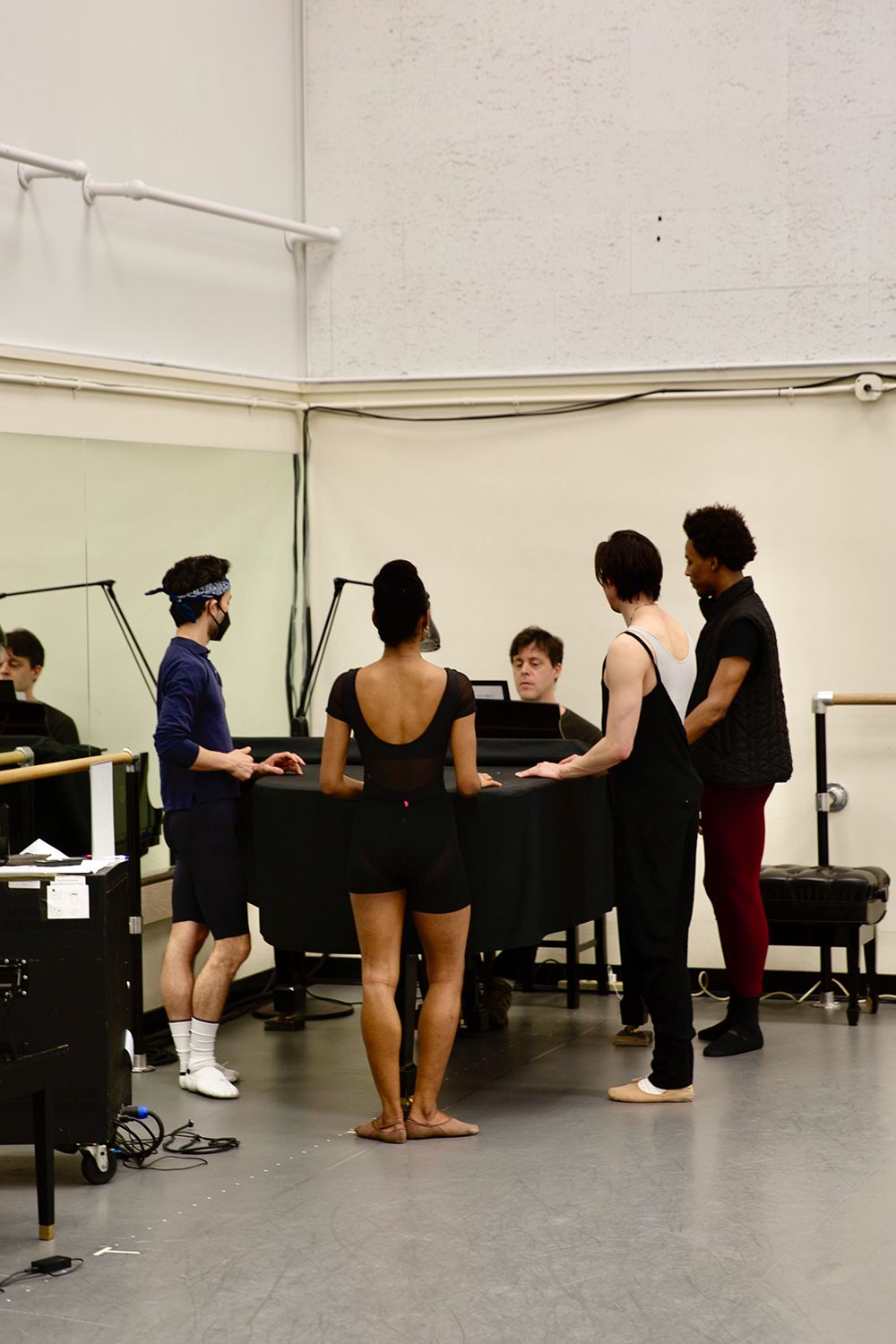 ANTHONY: [Rehearsing with originating piano player Sylvia Jung] was really fun. She was very involved—"So wait, when's your count for this step?" And then I'd always see her scribbling down notes or cutting out bars of music so she could arrange the perfect tune for us. It was very collaborative. Pam was asking the dancers, "What do you need?" And Sylvia, "What do you need?" So that it could all come together and be magical. That was really fun, and I've never done a ballet where you move the piano across the stage.
ALEXANDRA: It's the first ballet that I've actually had the pianist onstage, too. It's nice to be able to think about them being right there. And there are moments where I have to look over and acknowledge the pianist—I think that's really beautiful. Live instruments are so important and we don't have that all the time, so it's really exciting to have that element.
ANTHONY: And they have a groove, when they're really into whatever they're playing. Sometimes you can tell they're somewhere else for a second. I think that's really beautiful to watch, because the whole time we're dancing, we're performing for the audience. But I would look at Sylvia sometimes and she'd be so into the music. I can tell she is probably forgetting about the audience, which is beautiful.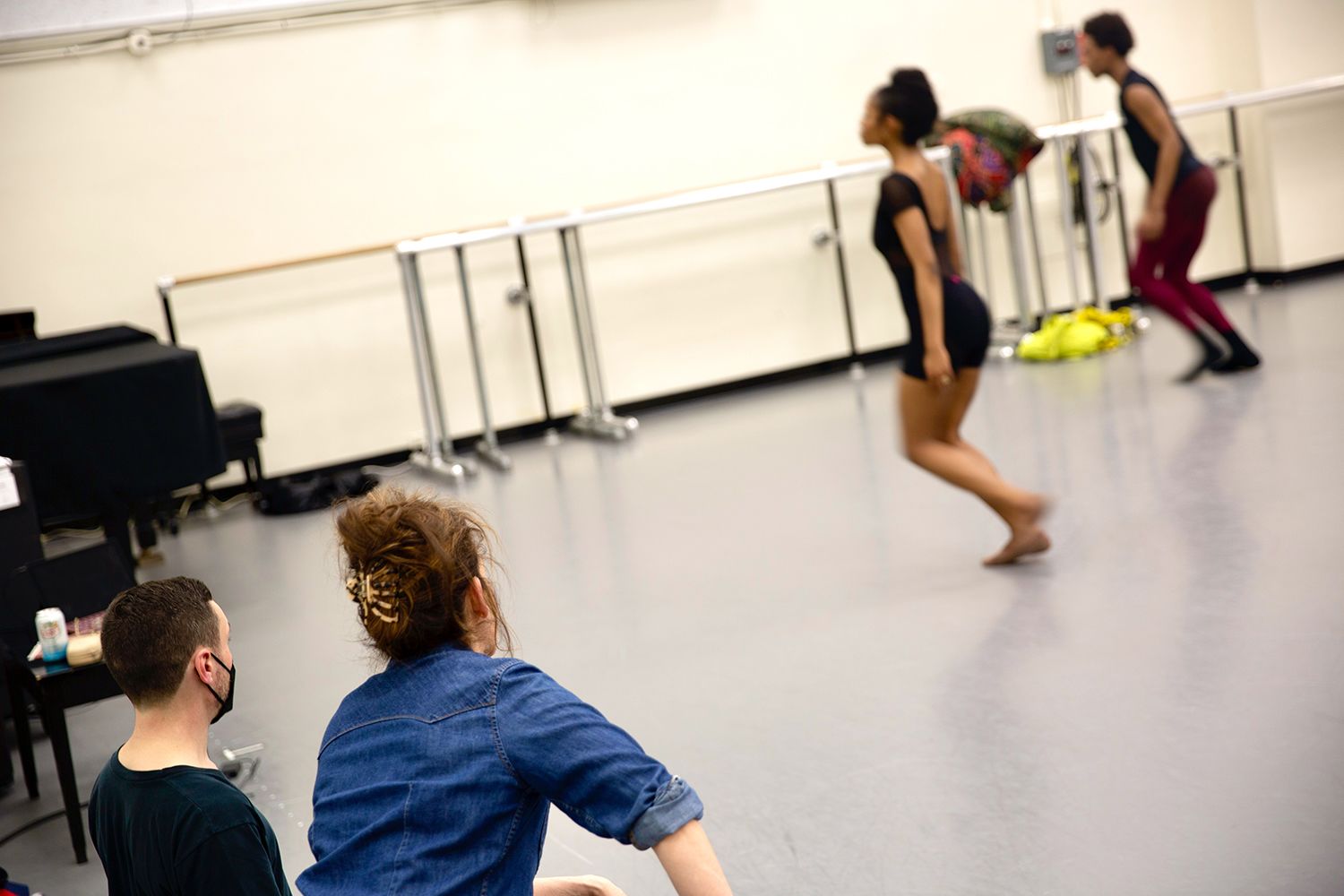 One thing I love about Pam is that she just says whatever's on her mind. The first time I met her, I was actually late to the rehearsal because I had a doctor's appointment. So I came in, and I just learned the choreo really fast. She was like, "Oh, I like you. You can learn the choreo fast. You're hired." She has this very pure energy, she wants you to have a good time. She wants you to laugh. It's a very intimate fun. She gets the work done super quickly, and you're able to laugh and joke and it's great. I love her rehearsal process.
ALEXANDRA: I'm looking forward to next week and getting more comfortable with everyone, too. I think that'll help with the energy that I'm giving.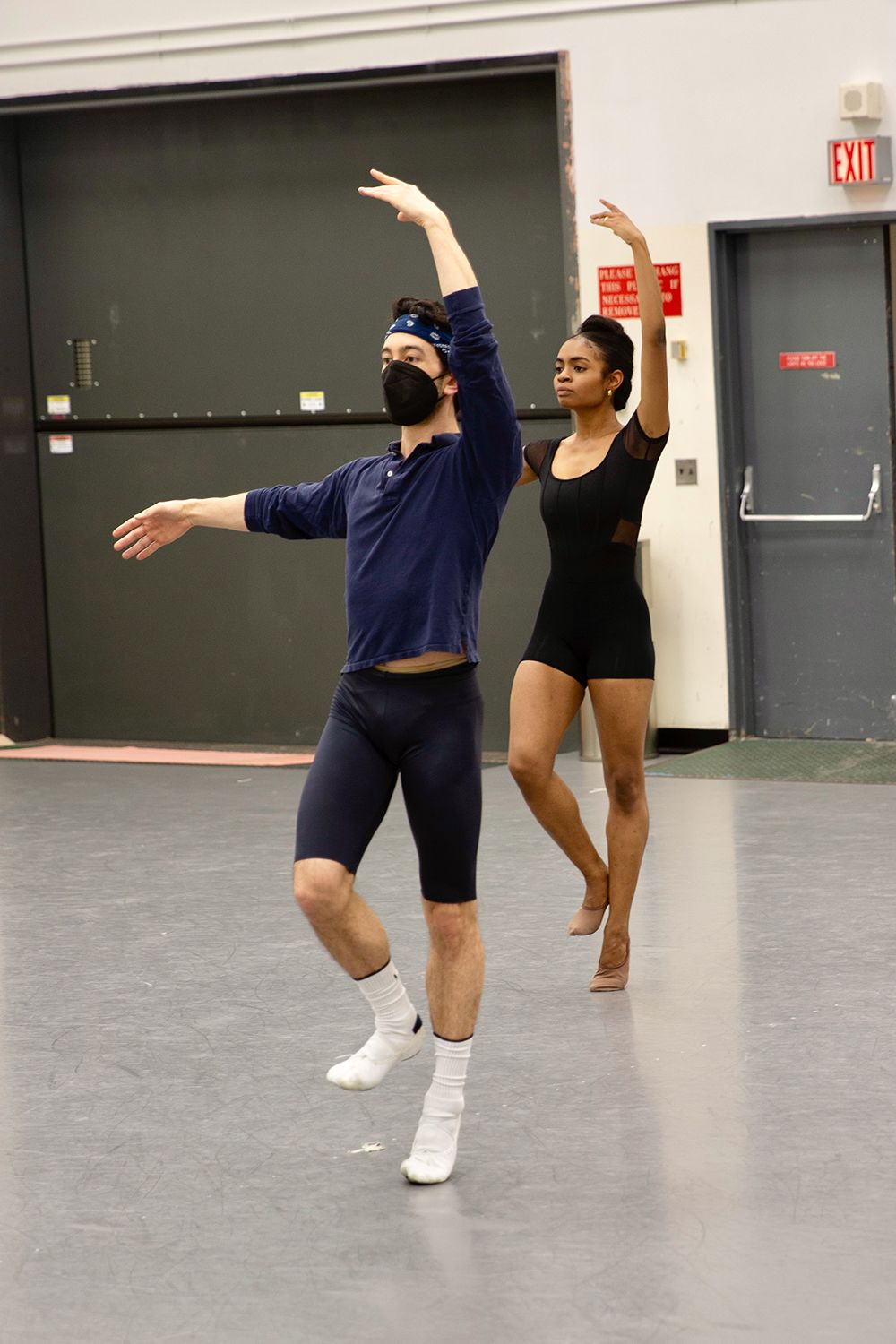 ALEXANDRA: I think [the score is] really beautiful. I love that we don't necessarily have specific music—there are cues for certain sections, but it's not the whole time, you're not thinking "Oh no, I'm late. I have to do this specific part, every single moment." You feel more connected to the dancers onstage, too. Then there are moments where you're like, "Okay, I have to wait for this cue." And then you're back together. I like that element, because I'm usually listening to every single note. You get to find your own accents throughout.
ANTHONY: [Pam] really plays with the musicality; some moments you're completely with the music, and then some moments, you're completely against the music. But that's a choice. We're creating a whole different rhythm on top of the score, And we go in and out of blending in with the score. The juxtaposition is really cool. I love the way she plays with the musicality in this ballet.
I feel like it's a good thing [that there are changes being made to Gustave]. We were all completely different humans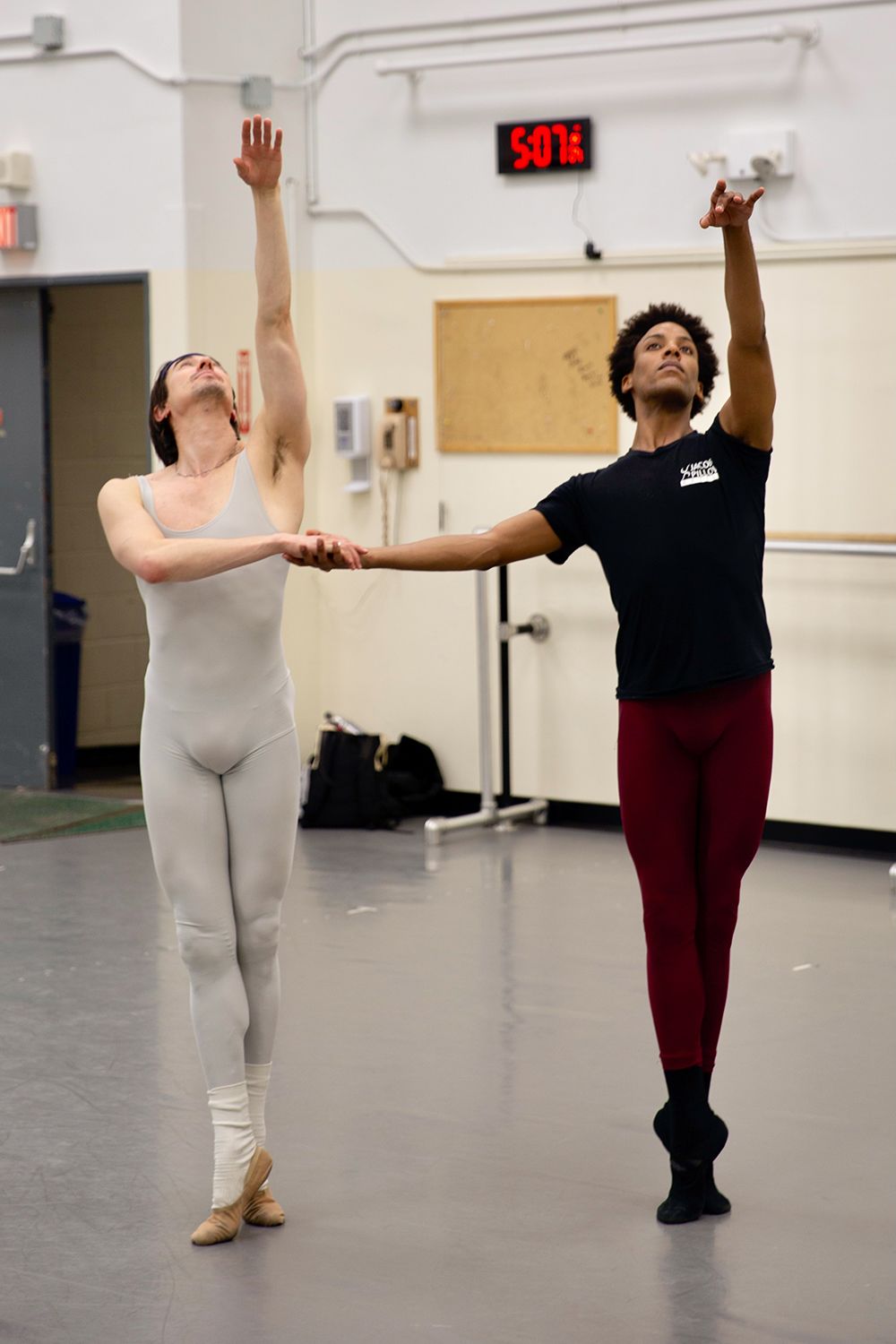 before this pandemic, so I'm a big fan of going back to something anew after experiencing these worldwide shenanigans that just shifted everyone's life. I think changes are inevitable. For me, personally, I think I'm just in a different headspace. I think I'm not as anxious and, "Oh my gosh, we're dancing with another company!" It's more that we're collaborating and we're creating art and we're sharing it with the people, so I feel a sense of calmness with this collaboration.
ALEXANDRA: It's honestly a dream come true to be able to perform here.
ANTHONY: And hopefully this will lead to more collabs. Ever since we performed in the BAAND Festival, I feel like all of the companies will.
ALEXANDRA: Yeah, we need more companies collaborating, for sure.
Conversation edited for length and clarity. Photos of DTH dancers Alexandra Hutchinson and Anthony Santos, NYCB dancers Daniel Applebaum and Anthony Huxley, choreographer Pam Tanowitz, and Solo Pianist Stephen Gosling.