Artist Stephen Powers Creates New Work For Justin Peck and NYCB
By Elena Goukassian, May 8, 2018
Stephen Powers' art studio on 4th Avenue in Brooklyn is extremely hard to miss. The corner storefront in Boerum Hill is covered in colorful signs, a couple identifying the space as "Art World ESPO" (complete with mascot pigeon) and a huge yellow one around the corner, reading "If you were here, I'd be home now."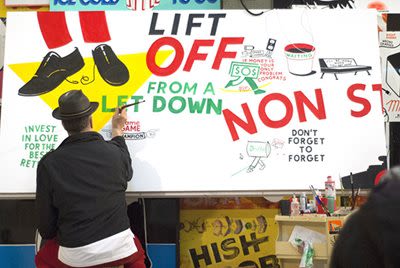 Walking into the space on a sunny afternoon, I'm greeted by a small yappy dog in a sweater, before coming face-to-face with Powers diligently working at a large table, a handful of assistants gathered around a desk in the corner by the window. The affable artist sweeps his drawings aside when he sees me, inviting me to sit across from him, as one of his assistants offers me a seltzer… or a beer. Talking to him about his new backdrop design for New York City Ballet with a beer in hand just seems off. I take the seltzer. On May 3, Powers presented his first collaboration with a dance company, a backdrop for NYCB Soloist and Resident Choreographer Justin Peck's world premiere ballet, Easy, celebrating the centenary of NYCB Co-Founding Choreographer Jerome Robbins and his frequent collaborator, composer Leonard Bernstein.

"I've been a great lover of dance my whole life," Powers says at the very beginning of our conversation, explaining that his collaboration with Peck began when the choreographer saw his work on Instagram and approached him for the project. "New York City Ballet's been great at doing these contemporary art interventions, and I've been watching with great interest. Justin's not only contemporary and young, but up to doing collaborations in different spheres."

Powers says it was surprisingly easy designing a backdrop for Peck's piece. "I was in Copenhagen at the time, and I made this lithograph to get the ball rolling," he says. "Justin saw it and said, 'I want that.'"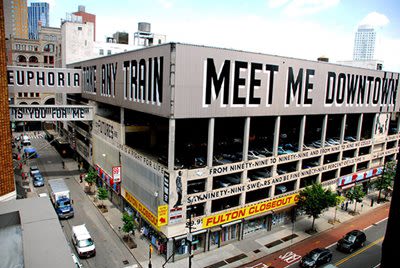 Powers first made his start in 1980s Philadelphia as a teenage graffiti and street artist under the name ESPO. When he moved to New York in the '90s, he began painting abandoned storefront gates with his tag in giant letters. If anyone approached to ask what he was doing, he'd say he was with "Exterior Surface Painting Outreach," which apparently sounded official enough to satisfy the question. But in 1999, Powers was arrested for vandalism, a move he claimed was retribution for his involvement in a protest against then-mayor Rudy Giuliani's attempts to censor the Sensation exhibition at the Brooklyn Museum — the one that included Chris Ofili's "The Holy Virgin Mary," the infamous painting featuring elephant dung as one of its materials.

Powers became a full-time studio artist soon thereafter. He has shown work at the Venice and Liverpool biennials, painted the streets of Dublin and Belfast as a Fulbright scholar, and created "Love Letters" in the shape of enormous mural projects in Philadelphia, Brooklyn, São Paolo, and beyond. Powers has a collaborative spirit, working with Kurt Vile to create the mural on the "Wakin on a Pretty Daze" album cover, and more recently, designing the admat poster for David Byrne's "American Utopia" tour.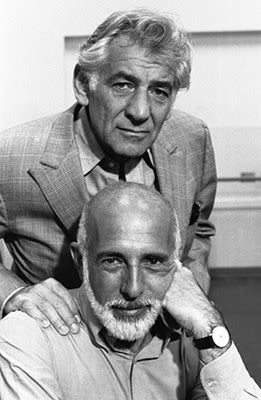 Powers' designs are often rooted in the design aesthetic of the 1940s through the '60s, inspired by Playbills, Broadway marquees, and the Golden Age of Hollywood. "The era that Robbins and Bernstein did their most famous work is the era I work in anyway," he says. (Robbins and Bernstein's most renowned collaboration, West Side Story, opened on Broadway in 1957, and the Academy Award-winning adaptation opened in 1961.)

In Powers' 30-by-60-foot NYCB backdrop, two pairs of fluorescent, intertwined legs appear in a lockstep dance move, with a key containing the word "you" on one side and a lock with the word "me" on the other. Encircling the dancing legs, arrows with old-fashioned phrases like "hurly burly" and "easy peasy" point this way and that, giving the dancing legs a sense of movement.

"They're all rhyming phrases. Some we use still and some are archaic," Powers says. "Justin's dance is all about coupling and uncoupling, so I chose cute couple phrases. They're all couples. Everything's a couple. I wanted the art to be light-hearted, romantic, flirty, fun, easy, conversational." The music, of course, also plays a role. Since Peck's choreography is set to Bernstein's "Prelude, Fugue, and Riffs," Powers sees his pairings of words as "riffs on language."

Below the dancing legs, a quote from Bernstein reads: "In a Concerto, who is the boss? The soloist or the conductor?" When Bernstein asked the question at Carnegie Hall on April 6, 1962, it was directed at the audience in reference to pianist Glenn Gould, who was performing Johannes Brahms' Piano Concerto No. 1 with the New York Philharmonic that evening. It appears the two virtuosi had butted heads about the tempo at which the concerto should be played. Powers says he used the quote as he felt it speaks to the nature of creative collaboration.

Bringing everything back to the centennial, Powers notes that the world of 1918 has a strange relevance today. "2018 is similar in a lot of ways to 1918," he says. "There's tension and fear, but also a tremendous amount of promise. It's a great moment to look back at Lenny and Jerry's work, a great moment for referencing and building on their work."
Steven Powers Photos © Matthew Kuborn
Leonard Bernstein and Jerome Robbins Photo © Martha Swope