The Making of the 2021 Summer Session Films
By Madelyn Sutton, August 25, 2021
In keeping with its more than two decade-long history of fostering and celebrating the work of international dancemakers, the New York Choreographic Institute held a partially-virtual summer session this past May. Though this marks the third session to be capped by the production of dance films, it was a "first" in many ways: The choreographers, Sophie Laplane and Alysa Pires, quarantined in Glasgow, Scotland, and Toronto, Canada, respectively, collaborated over Zoom with NYCB dancers who were finally able to gather in a shared studio space; and the films were produced on the Cornell Tech campus on Roosevelt Island, NY, through a unique alliance with Digital Life Initiative Research Fellow Michael Byrne.
The resulting films represent the Institute's ongoing commitment to the creation of new works as well as to the support of new ideas and new creative partnerships at the forefront of contemporary choreography. Though the films are markedly different from one another, they share the indelible stamp of their artists' visions and experiences throughout a uniquely challenging and, in some ways, uniquely inspirational context.
We spoke with many of the artists involved about the making of these films, which will be available to watch on our website: NYCI Artistic Director and NYCB Principal Dancer Adrian Danchig-Waring; Cornell Tech Research Fellow Michael Byrne; editors and co-directors of both films Emily Kikta, a corps de ballet member with NYCB, and Peter Walker, a soloist with the Company; choreographer and co-director Sophie Laplane, whose film yoyo features NYCB dancers Daniel Applebaum, Preston Chamblee, Meaghan Dutton-O'Hara, and Georgina Pazcoguin; and choreographer Alysa Pires, whose film Outside In was created in collaboration with NYCB dancers Victor Abreu, Isabella LaFreniere, Megan LeCrone, and Davide Riccardo.
Interviews have been condensed and edited for clarity.
COMMISSIONING THE CHOREOGRAPHERS & CASTING THE DANCERS
ADRIAN DANCHIG-WARING: When I came into this role [as Artistic Director of the Choreographic Institute] I noticed how few choreographers had returned after their first residency sessions. I saw room for growth, and a space to create ongoing relationships with the choreographers we support. I felt we had a responsibility to foster greater continuity of care for these artists.
Alysa and Sophie were two of the choreographers we had selected to return for second and third sessions. They were slated to show works at a Guggenheim Works & Process event last fall which was supposed to be the culmination of our 20th anniversary symposium. That whole plan fell apart due to the pandemic, but our commitment to still show up for these artists led me to reimagine how we could bring them into an adapted session. That's how they came onboard for this Cornell Tech video project.
ALYSA PIRES: The Institute offers a really invaluable opportunity for choreographers. We need space and bodies to work on our craft, and there are very limited opportunities to do that, especially in an environment where there is no expectation of performance; we share at the end [of a Choreographic Institute session], but it's meant to be a work in progress. And so the way a lot of choreographers, especially in ballet, get into choreographing, is through workshop-type opportunities at their companies; for someone like me, who is not a professional ballet dancer and who works outside of that world, getting into ballet and getting the experience of working with ballet dancers and working on pointe is almost an impossible nut to crack because the opportunities are so limited.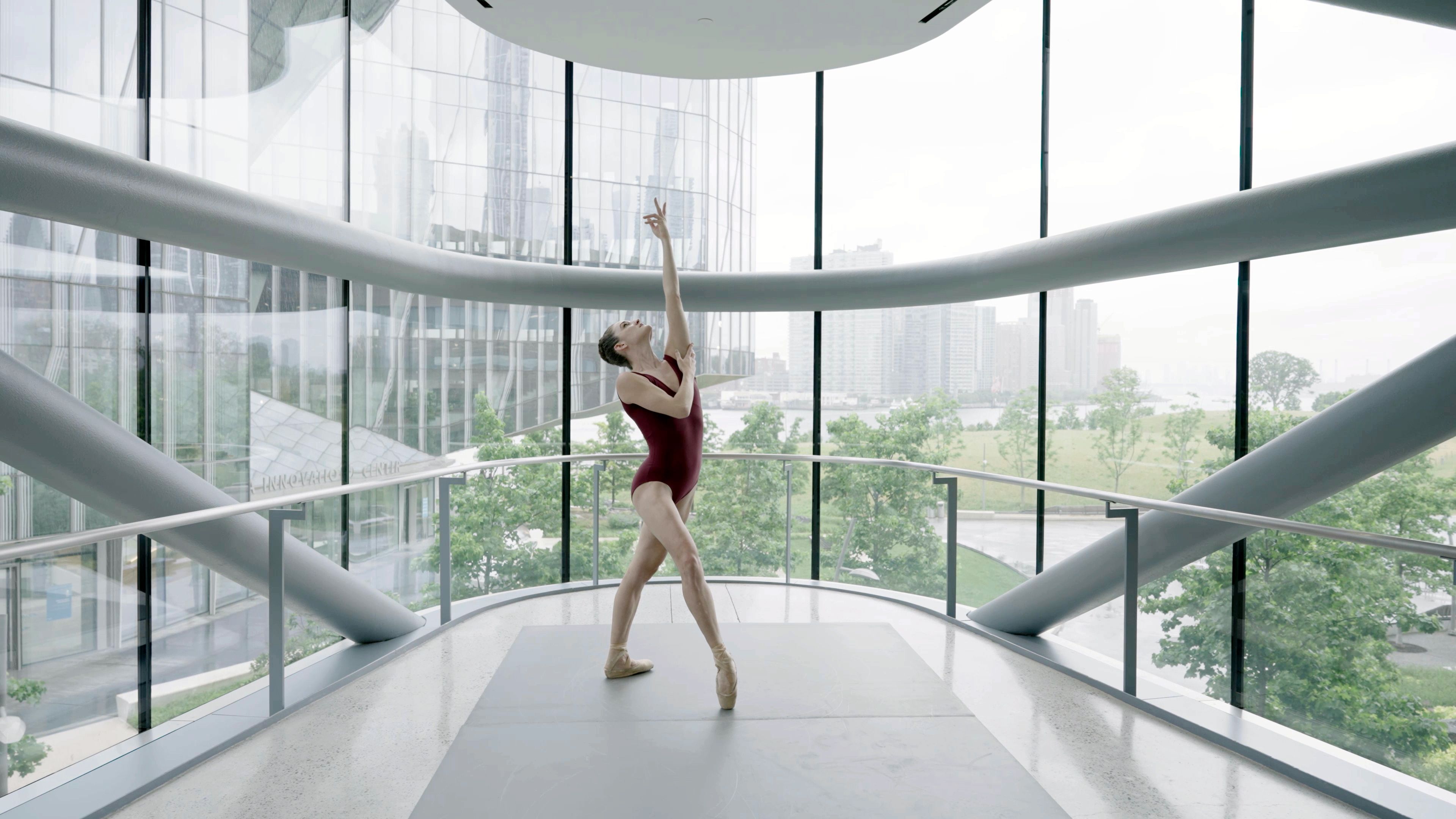 These experiences [with the Institute] have really helped shape the vocabulary of movement that I use—especially blending the more contemporary aesthetic that I use outside of the ballet world with pointe shoes, with ballet technique, with more classical partnering style. All of that exploration wouldn't have been possible without an opportunity like the Institute, because you can't really get a commission to work with a company unless you have experience, but you can't get experience unless you have a commission.... I'm so grateful and indebted to the Institute for that time, and to all the dancers who I've worked with over the three sessions I've taken part in, who have been really willing to explore that with me.
MEGAN LECRONE: I have participated in Choreographic Institute sessions on and off since I was an apprentice with NYCB. [I'm inspired by] getting to know and work with other dancers in the Company that I most likely would not get to collaborate with outside of an Institute process, and exploring and pushing the limits of what I'm capable of doing as a technician and artist.
VICTOR ABREU: This is my second time dancing for the Choreographic Institute as well as my second time working with Alysa. I'm always excited to be a part of this project because it feels as though the choreographer can bloom and have more experience; and it's great working with [Alysa]. Her choreography always makes me feel human.
ISABELLA LAFRENIERE: I've also had the opportunity to participate in several Choreographic Institutes throughout the years. In fact, I previously worked with Alysa for the 2019 Choreographic Institute. I always look forward to dancing with the Institute because it provides me the opportunity to explore and discover new movements and new styles.
SOPHIE LAPLANE: This is actually my third work with the Choreographic Institute. Vis-à-Vis, my first work with the Institute, was created as part of the 2018 Fall Session on [NYCB Dancers] Andrew Veyette and Megan LeCrone. The aim of that session was to work on the notion of the pas de deux from the perspective of connection and disconnection in the world today. We have infinite possibilities for connection and communication now, especially digitally, yet we are so disconnected from each other. It was an exciting collaboration with Costume Designer Mariko Ohigashi and Lighting Designer Ted Boyce-Smith.
My second session with the NYCI began with a loose conceptual framework—how we 'see' abstract art. Observing people at art exhibitions led me to think about how art is framed—what does the artist choose to show and what does the observer choose to see? The title 20/20 refers to clarity and sharpness of vision, and I worked on creating images that reflect this: Sometimes the dancers would frame the focal point and complement what was happening there, sometimes they would be the focal point. The tight construction of the piece was accompanied by Jack Gulielmetti's richly-structured musical score.
When the opportunity came up to do a third session via Zoom, I was very keen to explore a different way of working with the dancers, and as it was site-specific, it was a unique way of having the dancers interact with the Cornell Tech building. So the project was a new challenge.
GEORGINA PAZCOGUIN: I am a veteran Choreographic Institute participant. It's essentially a zero-pressure situation where you can do something really wild, and I think that lends itself to a very free-form artistic process. But what was really interesting about this most recent session was that it offered a chance to be in a room with colleagues. And after being isolated for so long, it was just so special to be able to be next to three close friends in this amazing studio. I've said it before, and I'll say it again, I will never take our studios for granted ever again.
CREATING THE WORK
ALYSA: I started with the music. I had previously used a piece by this composer, Poppy Ackroyd, for a much smaller project, and I just really liked the urgency of it—but it also feels really melodic and danceable, and there's something about the ease and joy of being back in the studio, and virtually being back in collaboration with dancers, and just wanting to feel that enjoyment.
ISABELLA: Although I was acclimated to the Zoom environment for ballet class, learning choreography on Zoom was more challenging. I will never forget the very first step Alysa gave us… It took the group about 10 minutes to decipher. We had Alysa face multiple angles before we understood what she was looking for.
ALYSA: I've done a few little Zoom things over the course of the pandemic, but this was one of the first times where the dancers were in a studio and I wasn't; sometimes I was fortunate to have access to a studio, even though at the time Toronto was in a full lockdown, but sometimes I wasn't. What I found in my earlier Zoom processes is that if the dancer was in a small space and I was in a small space, then we're sort of matched up—our limitations were the same; but for me to not be able to move as much as [the dancers] could... I often create a lot through my own body and through my own feeling of the movement, so trying to translate that to them is challenging.
Also, just from a communication perspective, there's a lot of detail in the pathway of the upper body and the arms in the work that I do. And so, saying, 'Which arm is the right arm? Is that your right arm? Is that your left arm? Which way are you facing?' It just takes longer than it does in person. But the dancers were so game to figure it out with me. And it's actually been good practice in terms of being more communicative, verbally, in my process, as opposed to showing physically, because I'm actually six months pregnant. So it's been good practice for what I imagine the remainder of my pregnancy and postpartum life will be. That was actually one of the draws for me.
ISABELLA: Similar to the ballets NYCB dancers are accustomed to performing, Alysa's choreography is always musical and requires you to move big and consume space.
ALYSA: I think what I've noticed in particular about working with students at the [School of American Ballet (SAB)] and then with [NYCB] Company members is the extreme musicality of their work. Often when I'm putting something together and it's a first draft or just broad strokes, as I like to say, I haven't quite nailed down all of the accents and all of the nuances of the music yet, and [these dancers] bring that so naturally. Sometimes I watch it back and I feel like I'm hearing the music differently because of the way that they're dancing it.
Because I come from a contemporary background, a lot of my work is performed in much more intimate spaces, so a lot of my contemporary work is very detailed in its gesture, and in these more finite details that you wouldn't be able to see on a massive stage. As I started working more and more with larger ballet companies, translating that to the viewers' experience from a distance has been interesting. So [choreographing for film] is actually allowing me to create a hybrid of those worlds, where I know that the audience will be able to see those details because they're closer than they'll ever be in real life. I think it gives me permission in that way, but the way that I conceptualize and the way that I generate the movement is not different.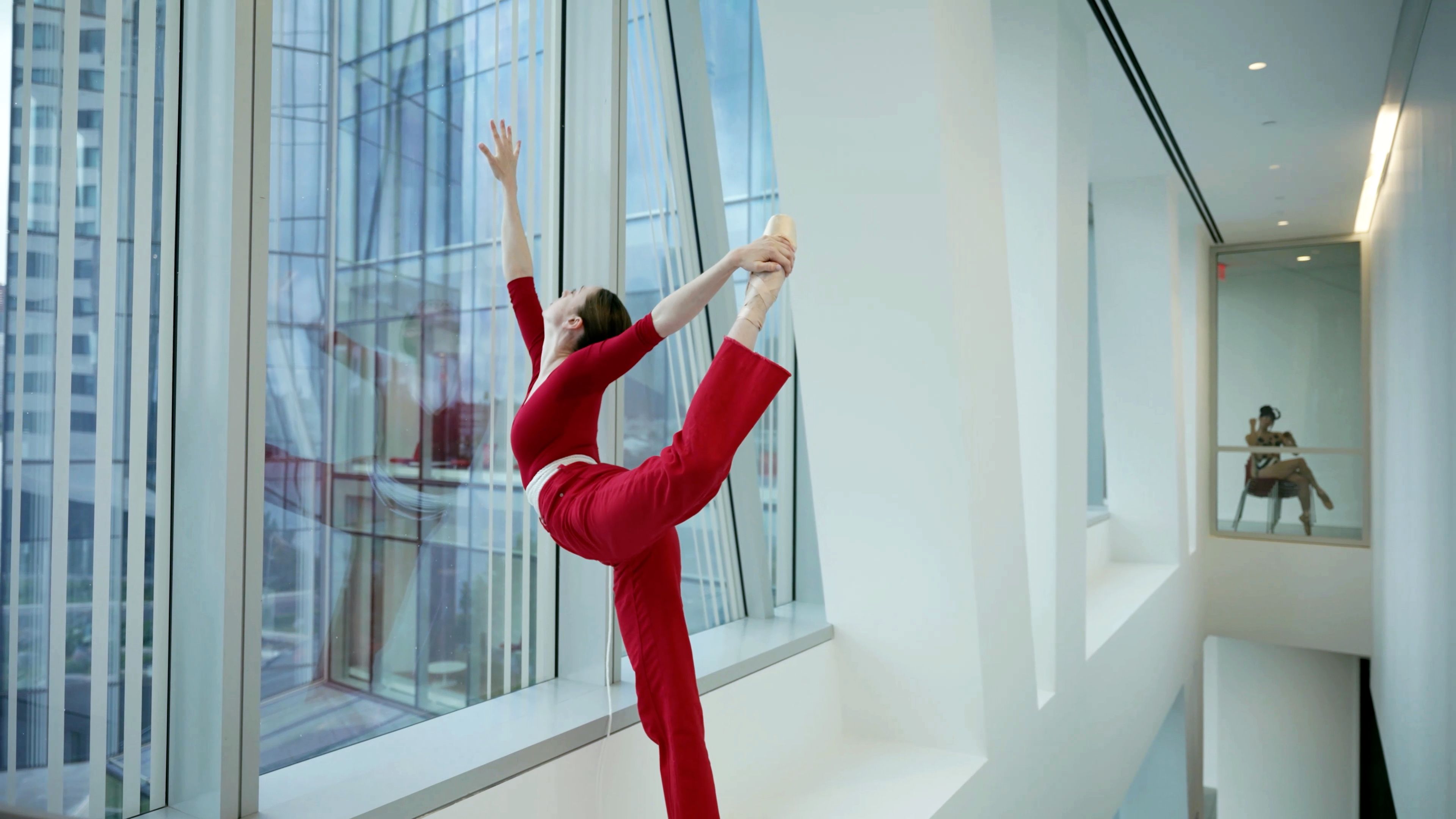 SOPHIE: In the initial stages of the choreographic process, I tend to work from the same starting point: defining a concept and working up a storyboard to map out the skeleton of the piece. In terms of working with the dancers, the biggest difference is that in dance for film, we tend to work more in sections, knowing that during the editing process the order of the sections may change according to how we are telling the story, so we don't work towards a complete run-through with the dancers. The dancers don't see the end result until they see it on film.
GEORGINA: And it's so brief. I wish we would have more time to steep in each other's artistic process. But I'm very open to Sophie's approach, which is more scenario-based; she would give us a feeling or a visual, and a mood board. With anything that I'm doing in the various offshoots of my artistic career, like acting, being open to this kind of approach is really important. So it was great to utilize those learned techniques in a way that was being applied to dance. I like that sort of cerebral approach.
SOPHIE: I had previously worked on three very different Zoom projects. Probably the one most technically challenging was Indoors, created during lockdown for the 36 dancers of the Scottish Ballet, all of them in their own homes. I was new to Zoom at that point and the first rehearsal with all 36 dancers was pure chaos! l learned a lot from that experience about the possibilities and restrictions of dance on film. For yoyo the dancers were together in the studio working with me on Zoom. One of the challenges is working within a tight time frame; things take a lot longer via Zoom, there's much more verbal explanation rather than visual or physical demonstration. This sometimes led to unexpected creative possibilities, when there was a different interpretation of my verbal instructions, which was inspiring.
GEORGINA: All of a sudden, you are using words and phrases, analogies, not just ballet vernacular, to get an idea across; of course, we still have access to our bodies, and Sophie could demonstrate what she wanted. But it also gave a lot of agency to the dancers in the room in an interesting way, because we're trying to articulate through language, not just bodily expression. I think that gets absorbed differently. We had a number of miscommunications or misinterpretations, and it was interesting to see how that organically flowed into the final work.
SOPHIE: It was also important to keep Peter and Emily, who worked on the editing of the film, in the loop at every stage of the process, so there was a real collaboration throughout.
EMILY & PETER: We probably had more creative conversations with the choreographers about what they wanted to see than we would have if they were going to be on set with us. For instance, Sophie made us a digital storyboard with photo references.
SOPHIE: The important thing for me when approaching choreography on film is to create a world and an experience that is different from watching dance onstage. It's not about filming a piece of dance, but rather creating a world of which dance is an essential element. This involves collaboration from the outset with the filmmakers who bring their technical expertise, opening up possibilities for making transitions, working on close-ups, using special effects, and so on. There's always a balance to be aware of: dance has to be at the heart of the film, it mustn't become so overwhelmed by cinematic effects that it gets lost.
With yoyo, there was an additional consideration: the dancers rehearsed in the studio, but for each section, I had to be very aware of the site-specific nature of the piece and to factor that into the process / choreography.
THE SITE: CORNELL TECH
MICHAEL BYRNE: I performed essentially as an actor with the Royal Ballet for about 10 years, mainly as the sort of "third waiter from the left" or similar, which afforded me real insight into the ways in which dance was made. At the same time, I was beginning my PhD research at Cambridge University, exploring the interaction of aging and dance—somewhat antithetical to the model of dancing, which is so youth-orientated—and the ways in which age is represented in dance. Now, my research at Cornell Tech's Digital Life Initiative is very much inflected by the collisions between dance, technology, and new modalities of making. So it was a dream opportunity to collaborate with Adrian and the Choreographic Institute, and to start exploring these themes further.
ADRIAN: Essentially, NYCB received a cold-call email from Michael. The type of research he's interested in and the kinds of projects he's pursuing felt like a natural fit for the Institute and the ways that we're growing by integrating technology into our practices and processes. For me, this project is a merger of two passions that have been slowly developing for a while: site-specific choreography and dance for camera.
MICHAEL: When Adrian first came across [to Cornell Tech's campus on Roosevelt Island], I had shortlisted what I thought would be suitable spaces, so we began by touring these spaces and getting a sense of what sort of creative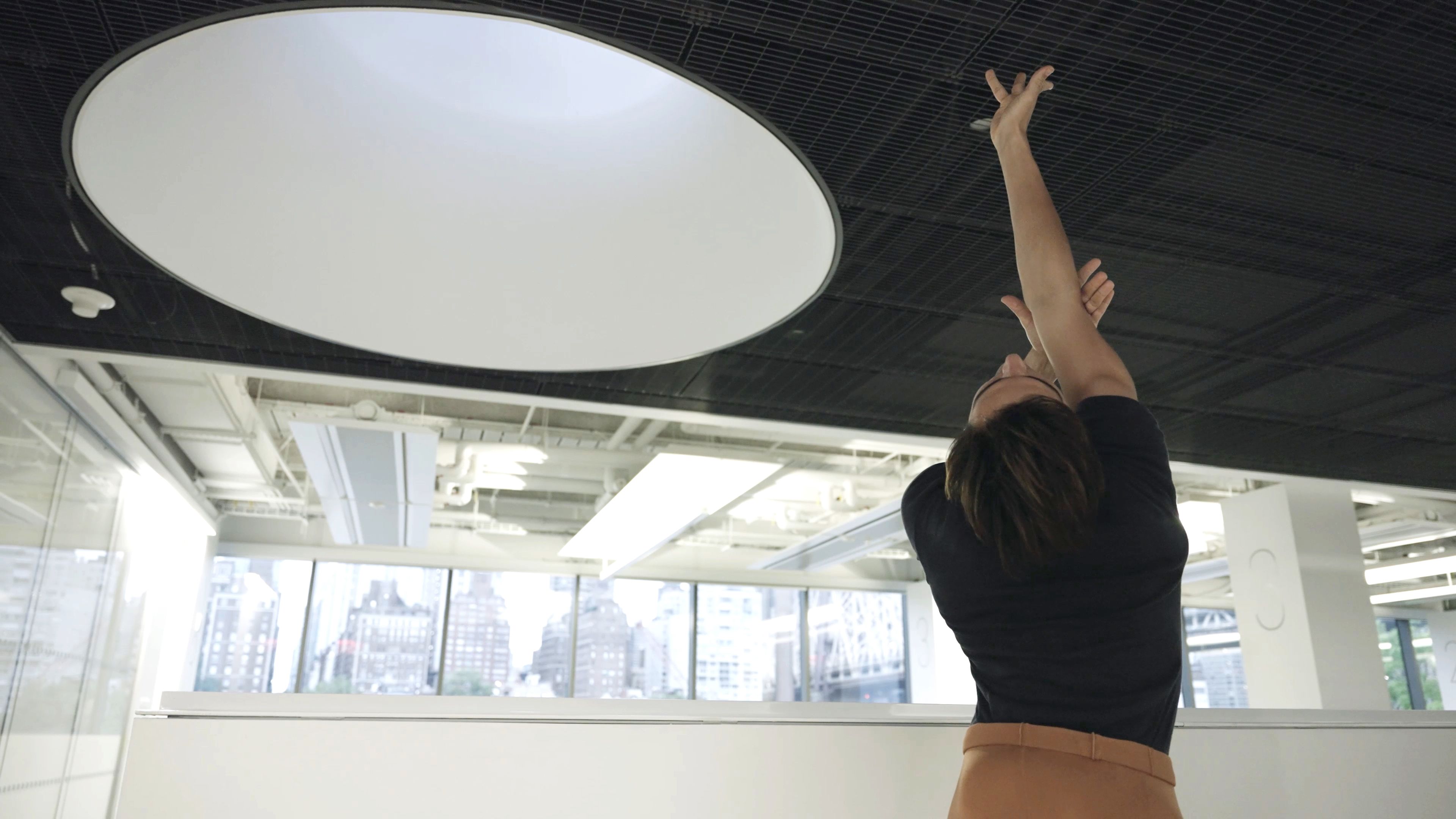 affordances they offered. Even though Adrian had certain prescriptive dimensions from the choreographers, he was also curating and adding his own creative inflection, which was really critical—he was very much shepherding that creative journey, which was fascinating to see.
We then arranged a second visit with Emily and Peter, who were bringing their own perspective to the spaces, looking at lighting sources, for example, and how to navigate spaces which are beyond the studio and theater. It was exciting, seeing how we might begin to activate these dancers in more dynamic ways beyond just confining them to a conventional box studio or theatre.
EMILY & PETER: Michael was a pleasure to work with—super enthusiastic and accommodating—he was very committed to helping us bring the choreographers' visions to the screen.
ALYSA: Obviously I was never able to go [to the Cornell Tech campus], being in Canada. So I really relied on Adrian and on Peter and Emily to talk me through the layout and send me pictures and videos. I was really interested in the architectural features of the space with its staircases and windows. It became really clear to me that there was something about being able to see the city on the outside, and this sort of urgency and bubbling of the music, and in the movement on the inside of the building, when there's all of that vast space outside that feels like it's just a couple of inches away.
ISABELLA: Cornell Tech is a hidden treasure! Although I have walked by it, I have never been inside. The architecture inside provided the perfect landscape to film Alysa's new work, and the beautiful views of NYC's skyline were certainly an added bonus!
MEGAN: The space was gorgeous and we were bathed in this natural light that fills the building. I enjoyed filming there.
ALYSA: There was something about these giant windows with this beautiful view—but there are these bars or beams that are sort of crossing and blocking them—something about that freedom and limitation kind of playing together. That's a concept that drove the movement; there's a lot of restriction in the movement, where they're restricting their own bodies, and then moments where they can let go and be free.
VICTOR: It was my first time performing for a dance film in a building. Unlike performing onstage, each section of the dance would get a new location; it gave new purpose to each location.
SOPHIE: The choreography was directly related to the space we would be filming in. Adrian sent me a video of the space with its different levels, materials, and volumes; my first impressions were of a futuristic, angular space. From there it inspired me to think about inside/outside the building, working on verticality, up/down (like a yo-yo). In this strange period of the pandemic, where we may be in lockdown, unable to go out, I wanted to focus on how the dancers would interact with the building and the energy they would bring to the space.
FILMING
MICHAEL: The atmosphere was just incredible, and wonderfully collegial. It was all-hands-on-deck, with everyone moving furniture and shifting things about, which in a way was wonderfully inspiring. We just used the buildings as a playground.
ISABELLA: Michael was a joy to work with. He was so accommodating, offering to help out the dancers and film crew in any way he could. He enjoyed watching the filming process and after many of the takes, I remember hearing him say, 'That was beautiful!' with the biggest smile on his face.
ALYSA: Emily and Peter and all of the dancers were so remarkable, especially with my not being there; it was kind of a test of trust for me, because we didn't have the ability for me to be live with them while they were filming. I would get little clips as it was going and try to send notes or information. And the dancers never saw the space until the day of the filming, and I had never been there.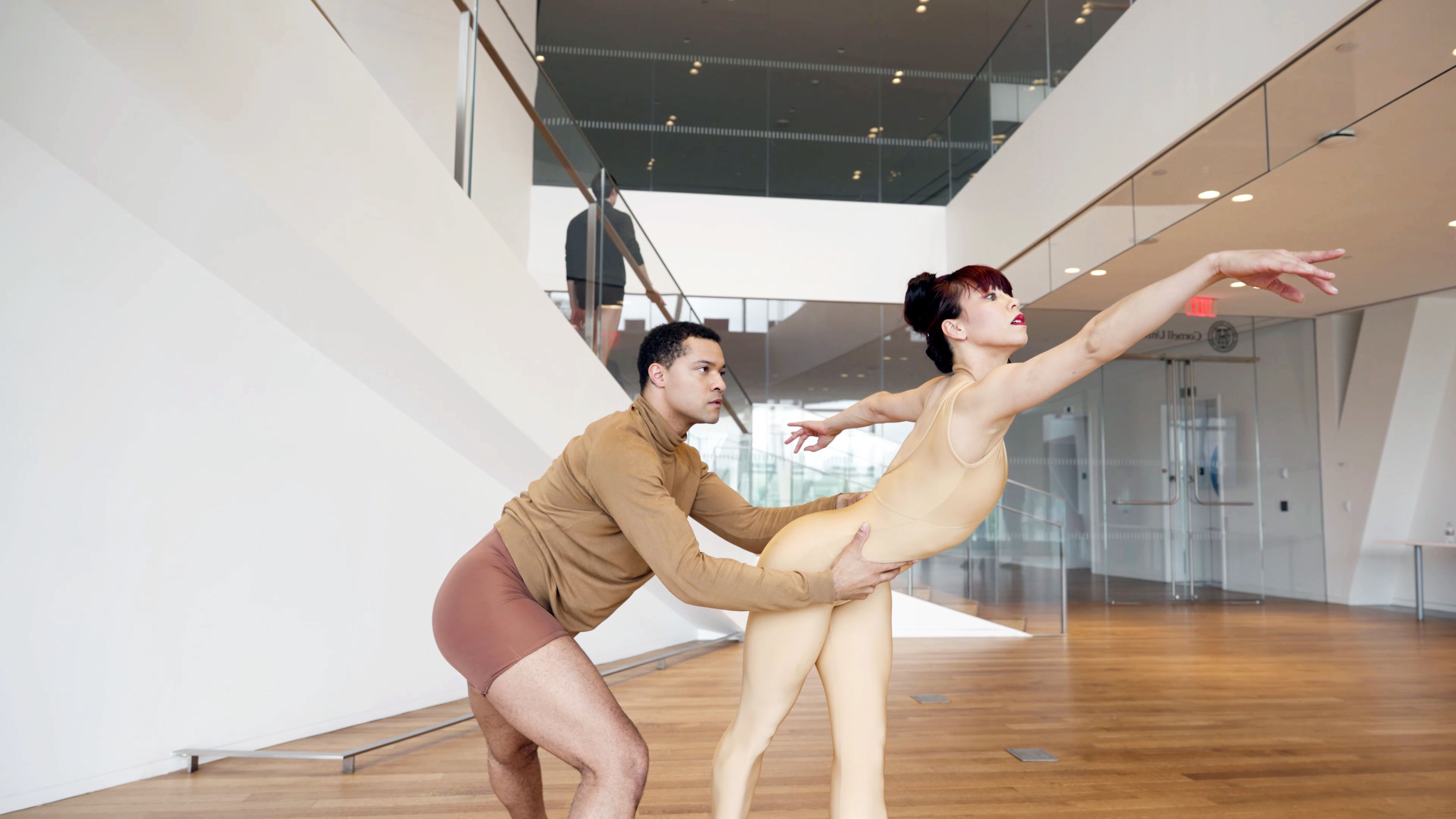 MICHAEL: Given the broader theme of looking at the intersection of dance and technology, it was fascinating looking at the ways in which Adrian was also mediating the filmmaking process through technology; he was taking lots of video footage and was constantly on calls, Zooms, and on FaceTime—so in a way, technology also felt very present in the room. I was very conscious of technology being used in a way to shepherd and marshall these various forms of hybrid-making, which I thought was really interesting.
EMILY & PETER: We always try to approach capturing dance as dancers first. We have learned a lot about technical filmmaking over the years while filming dance, simply by practice. It is easy to get caught up in the 'filmmaking' side of things because there is so much that goes into it, but we always try to return to our first area of expertise—the dance itself. Our goal is to maintain the integrity of the choreography and show the dancers at their best, while hopefully giving the audience a perspective they don't get when sitting in a theater.
THE TAKEAWAY
ADRIAN: Because of the limitations imposed by the pandemic, the Institute has really shifted its operating model from closed-door studio sessions, where we traditionally host showings for invited audiences, to bubbled residencies which culminate in some kind of video project. Even though we're not yet a mature producing organization, we've had great growth experience over the course of this year, between the pilot Summer Session in 2020, our Vineyard Arts residency last fall, and now this summer session.
VICTOR: Using a location like Cornell Tech made me not think of dancing for film as some sort of 'music video' but more of an art film. This piece and location gave me inspiration for my own work.
MICHAEL: The broadest theme was for us to explore the intersection of dance and technology, and to find ways in which technology can enhance or amplify choreographic movements in spaces beyond the theater and the studio—and that has various implications. And I think certainly, on the back of this extremely difficult year, we are exploring whether we can maintain those elements that have worked—not being entirely virtual, but looking at new kinds of hybrid forms of making in some dynamic way. And not just using tech for tech sake, but looking at a truly integrated collaboration.
This felt very much like a sort of breakthrough moment for Cornell Tech. It was the first time the campus had ever been activated in this way. The innovative architecture presented Sophie and Alysa with unique choreographic affordances, inviting opportunities to explore spatial relations in unconventional ways. Adding Emily and Peter's filmic sensibilities resulted in a dynamic union of design forms, both embodied and structural.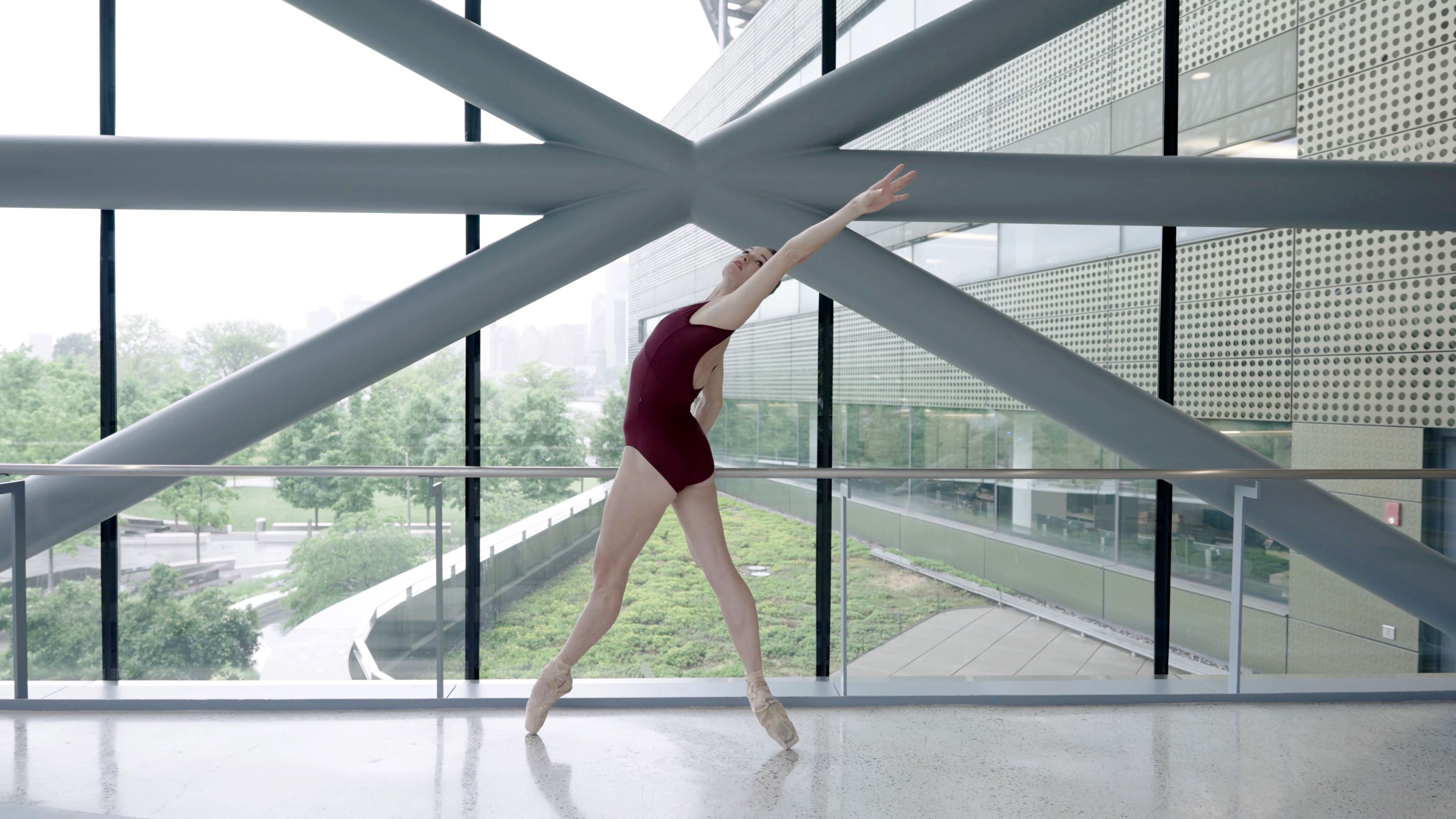 EMILY & PETER: Dance films have been a prevalent part of most dance genres for decades. However, this is less true of ballet, specifically. We think this time away from the stage has given our audience the opportunity to acclimate to ballet on a screen and hopefully come to appreciate it as more than a means of advertising. Dance films can never replace the experience of a live performance, but we are excited to see how we can incorporate this way of sharing our art form from a new perspective even as we return to the stage.
SOPHIE: I wanted to create a world suspended during the pandemic, where people are going forwards and backwards in their living environment, with no visibility. The yo-yo works on several levels: It reflects the boredom of inactivity, of being confined to the inside space. It also moves up and down, which references the different levels of the building. The dancer who uses the yo-yo at the beginning of the piece is very much in control—the tension builds, and later, things spiral out of control. In some ways the piece is about the resilience of dancers who keep going and overcome the restraints of the pandemic. All of these things are suggested rather than spelled out; it's impossible to say that a particular image is a symbol of a specific idea. I like the viewer to be intrigued and make their own interpretation of the piece.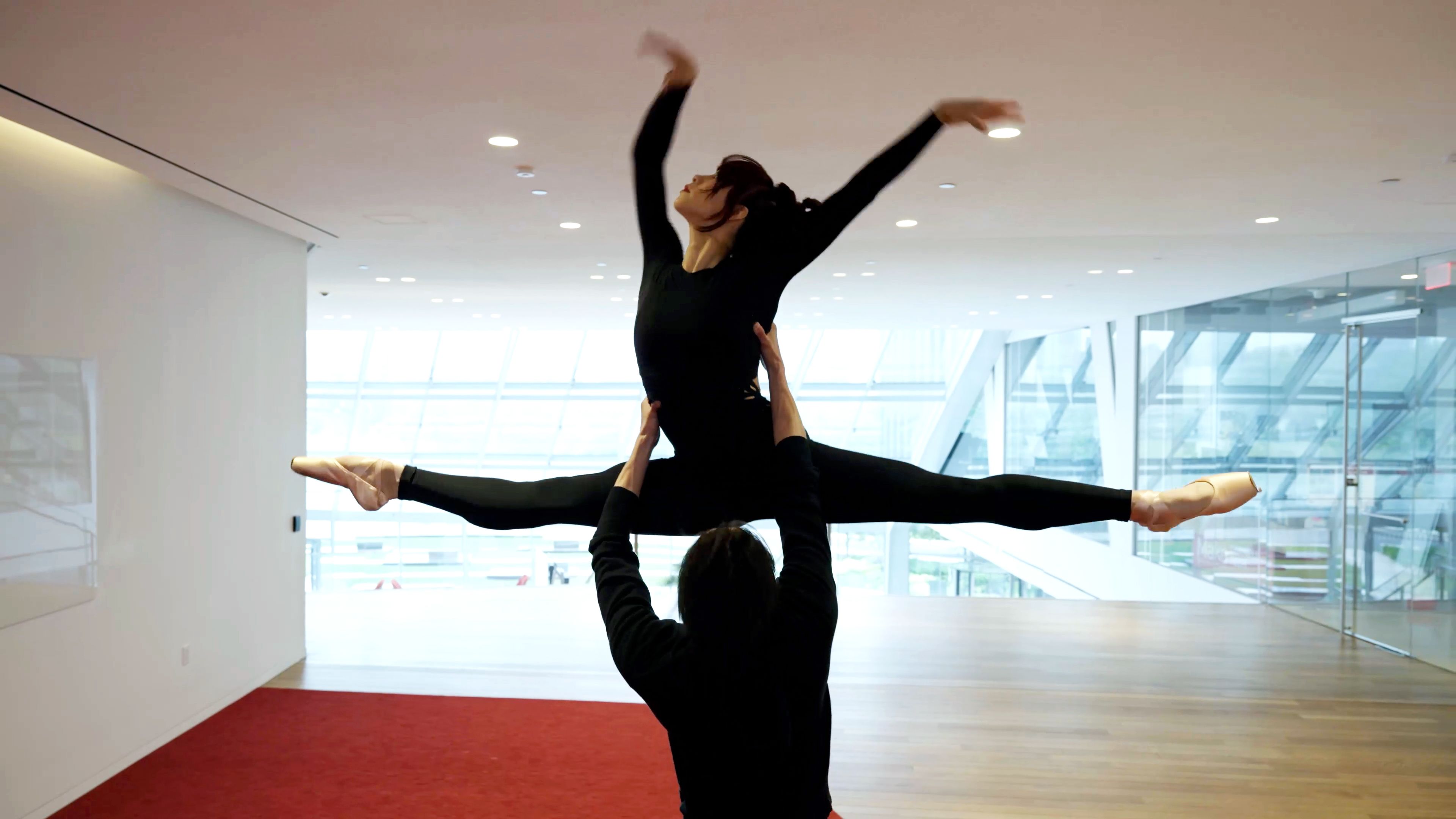 GEORGINA: I find the film so visually appealing. I have to give credit to Sophie and Emily and Peter, and how they edited the film, because that required a ton of work. Emily and Peter are so phenomenally talented; Sophie had this wild, very specific idea. And for them to do this across all of the boundaries… I feel like I've had dreams like this, it could mean so many things. And I think that's what's so great about dance on film—you can watch it again and again and again. This is art that is reflecting its time, but it still has fantasy to it.
ALYSA: We can't help but be who we are in the moment and we can't help what situations we're in when we come into the studio together. So it's inevitable—I feel like almost every piece I've made has become somewhat autobiographical in the sense that I can't not bring who I am in the moment into the work.
GEORGINA: My eventual takeaway is that we made this in the span of the craziness of life. I think it's really affirming to know that my identity as an artist is not solely limited to a physical place. The creative process didn't stop. And I think what's so amazing about seeing this work that we've created is that there's a way to be artistically expressive, and intelligent, and considerate of everything that we are learning and continuing to learn as humans.